416-993-4953

32 Grenville Street M4Y 1A3
GO Transit
GO trains and buses serve the inner and outer suburbs of Toronto, adjacent cities and satellite towns.
Beware of GO Transit Timetables
GO Transit Transit Times
HV> Dutch Railways has an incentive to let trains run on time: the higher the percentage of trains that arrive at the final destination with no more than a couple minutes of delay, the higher the government subsidy they receive.
So if a train is delayed more than a few minutes, the solution is simple: cancel the train at the penultimate station. Since it never arrives at the final destination, it doesn't count in the statistics (cf. Excel: the AVERAGE function ignores blank values)
Tuesday, October 13, 2015
So, where have I been this year, traveling by GO Transit?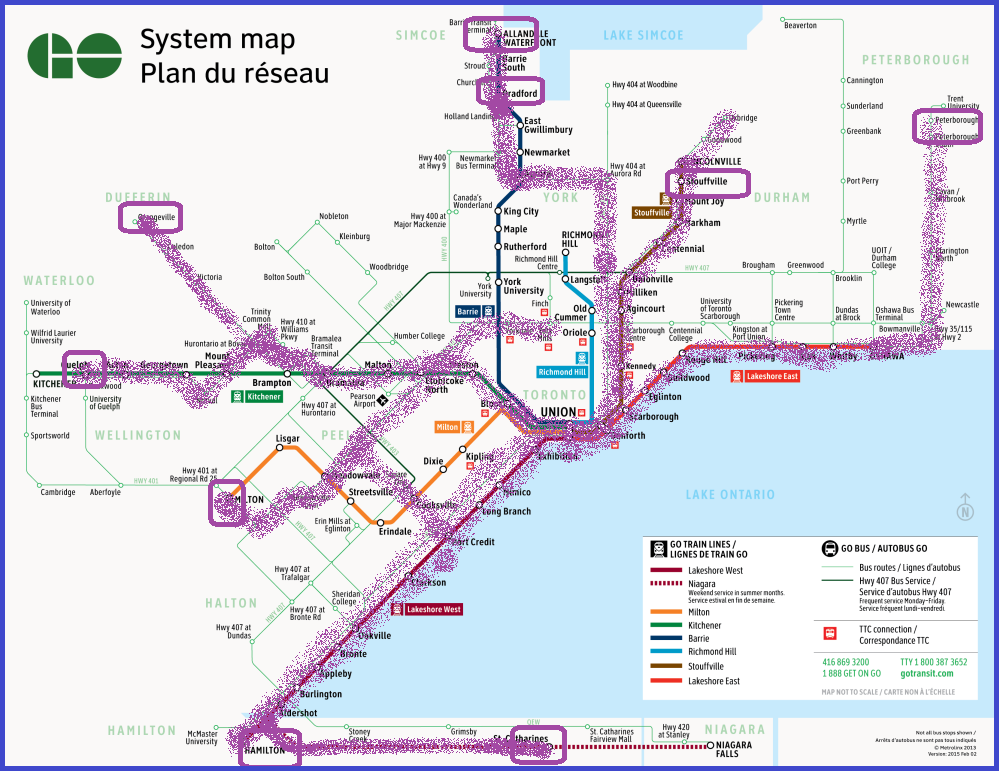 Friday, October 30, 2015
In a pointless fit of enthusiasm I decide to check with finality a trip to St Catherines by GO Transit and give up; I end up trotting off to the GO wickets at the Ytork Concourse.
Problem (1):†Since I live near College Subway station and want to travel to St Catherines I donít care whether I go by Train (Union Station) or by bus (Union Go Bus Terminal) or by bus (York Mills subway station). It makes little difference to me.But the GO transit web site insists that you pick on of the three.
Which means you have to pick the first one, evaluate a trip, then pick the seccond and evaluate and then the third and evaluate.
Problem (2):†GO Transit suggests trying their Go-link trip planner, but the same problem rears its ugly head.
You have to KNOW which is the best way to go before you start asking.
Problem (3): Try looking up the †schedules; if you donít know which bus route you need, how can you select a bus route schedule. And do you really go by GO bus, or is it a train? Or is it a Train/Bus combination?
Problem (4):†GO Transit suggests trying Googles trip planner, but the same problem rears its ugly head.
You have to KNOW which is the best way to go before you start asking.
The nice lady at the ticket-wicket agrees that the web site is hopeless and drags out a small pamphlet which shows that I should travel by GO train to Burlington and then switch to a bus. I find this off. If I am going to Hamilton I travel by train to Aldershot, the other side of Burlington, and then switch to a bus, but if I am going to St Catherines Ė much further than Burlington, Aldershot or Hamilton, I donít switch at Aldershot but descend prematurely ay Burlington
The ways of GO Transit are designed to confuse the user.
I am now trying to dream up a reason for NOT switching at Aldershot; the only reason I can come up with is that by switching at Burlington we can go straight to the Skyway bridge that cuts across the mouth of Hamilton Harbour.




Loading





416-993-4953 CPRGreaves@gmail.com
Toronto, Thursday, November 12, 2015 10:55 AM
Copyright © 1996-2015 Chris Greaves. All Rights Reserved.