416-993-4953

32 Grenville Street M4Y 1A3
VIA Rail
This all started back in January 2014, but the short version is I'd like to travel by Amtrak to Yuma AZ early next year (2016) and thought to experiment with VIA rail first, and before that GO Transit. By now I think I've got GO Transit under control for day trips from Toronto, so what about VIA rail for day trips from Toronto?
First off, you can go farther faster with VIA rail than with GO Transit.
Secondly, the principle remains the same for a day trip, no matter how you get there – pick a city or large town that supports a local bus transit system , spend the morning inspecting the town by bus, the afternoon strolling the downtown core, early evening a feast of liver-and-onions, then home in time for bed!
The Timetable
Mine is dated October 2014 and shows several "corridors"; only those that pass through Toronto are of interest to me. These corridors include Montreal/Ottawa (p10-19), London/Windsor/Sarnia (p20-25) and Niagara Falls/New-York (p26-27).
Where I write "Hours of travel" these should be taken as Union Station for origin; add an extra half-hour each way to walk or bus or subway between my home and Union Station.
Corridor Montreal/Ottawa
| Toronto | Coburg | Belleville | Kingston | Brockville |
| --- | --- | --- | --- | --- |
| 6:40 | 7:51 | 8:26 | 9:04 | 9:54 |
| 9:25 | 10:30 | | 11:39 | |
| | | | | |
| 19:33 | 18:28 | | 17:17 | 16:33 |
| 22:57 | 21:52 | 21:14 | | |
I could catch a 6:40 from Toronto (quite late for me!) and be in Coburg in less than an hour and a quarter. What's Coburg got to offer?
I could be in Belleville in less than two hours.
I could be in Kingston in two and a half hours. Kingston VIA station is, I know, some distance from the downtown core
I'm not sure that I want to spend three hours on a train and three hours back to spend six hours in Brockville.
Coburg offers the most day for the least travel, of course.
Corridor London/Windsor/Sarnia
| Toronto | Woodstock | Ingersoll | London |
| --- | --- | --- | --- |
| 7:35 | 9:10 | 9:24 | 9:45 |
| | | | |
| 17:52 | | | 15:42 |
| 21:51 | 20:11 | 20:00 | 19:40 |
Two hours to London is what it takes me to drive by car.
The early departure from London means four hours travel for only six hours in town, and there is no early pickup at Ingersoll or Woodstock
The 19:40 from London is not too late (I was 20:05 out of Guelph after all) and gives me ten hours in town up to eleven hours in Woodstock – possibly overkill!
| Toronto | Guelph | Kitchener | Stratford | London | Sarnia |
| --- | --- | --- | --- | --- | --- |
| 10:55 | 12:08 | 12:36 | 13:13 | 14:19 | |
| 17:40 | 18:52 | 19:20 | 19:56 | 21:07 | 22:18 |
| | | | | | |
| 23:20 | 22:07 | 21:35 | | | |
| 10:50 | 9:42 | 9:10 | 8:24 | 7:08 | 6:11 |
This gives me ten (more!) hours in Guelph, nine in Kitchener (hardly all-day).
A VIA rail trip to Guelph would let me buy a camera, model some clay, lunch at Vienna and supper at Angel's and only two hours of travel for ten hours of wandering.
The next train is early evening and will only get me someplace where I have booked a motel; that is, the day is spent at home with a late departure and straight to bed.
The trip home is an early start.
Worst case would be to leave Toronto on the 17:40, spend the night in a motel, and return on the 6:11 having seen nothing of the town!
Corridor Niagara Falls/New-York
| Toronto | St Catherines | Buffalo | Syracuse | New York |
| --- | --- | --- | --- | --- |
| 8:20 | 9:54 | 13:05 | 15:28 | 21:45 |
| | | | | |
| 19:42 | 18:08 | 15:14 | 12:43 | 7:15 |
Don't get excited; a day-trip to New York isn't a day-trip; I put in Syracuse and New York just to get a taste.
St Catherines is still in Canada and is only an hour and a half from Toronto; but St Catherines strikes me as a bit of a suburban sprawl. Perhaps that's because I've really only sped by it in a car on the QEW.
Buffalo would be passing through US customs on the train, but really only gives me two hours in Buffalo. I don't want to spend eight hours on trains just to spend two hours in Buffalo.
In terms of an overnight stay, stations worth investigating along this route include Syracuse, Rome, Utica, Amsterdam, Schenectady, Albany, Hudson, Poughkeepsie and Yonkers.
Plan A
Coburg for the day – Planning and Execution
This is a leisurely day trip. The early start is 6:40 and gives me ten to fifteen hours in town. The late start is 9:25 and gives me eight hours in town. That's certainly enough time for a light brunch, stroll around town, early supper and home. (And as it turns out a side-trip to Port Hope)
Plan B
Belleville for the day – Planning and Execution
Belleville on the 6:40, there in under two hours. Ten hours in town and home by ten at night.
Plan C
Kingston for the day – Planning and Execution
Kingston on the 6:40, there in three hours if you factor in the taxi trip from the VIA station outside town. Six hours travel for five hours in town isn't good. Kingston is just doable as an all-day trip; it might be better as an overnight stay.
Plan D
Brockville for the day – Planning and Execution
Brockville on the 6:40, there in three hours. Six hours travel for five hours in town isn't good. Brockville is just doable as an all-day trip; it might be better as an overnight stay.
Plan E
London for sure has a bus system. Two hours to get there, almost ten hours in town and home by (ulp!) ten at night.
Plan F
Guelph, Kitchener, Stratford etc I arrive halfway through the day. These look to me like overnight trips
Plan G
Montreal (Overnights)
Plan H
Sioux Lookout (Overnights)
Tuesday, August 04, 2015
So today I strolled down to Union Station and stood in a line-up for 23 minutes for a chance to speak with an excitable clerk whose heavy accent was difficult to understand. Like too many clerks nowadays this one is equipped to follow a script "When are you travelling; where from; where to; when coming back" and is not equipped to deal with someone who wants to ride to Coburg in the morning and come back in the evening.
Waiting in line for 23 minutes increases my level of frustration/aggravation. Why can't someone yank a clerk from behind the closed doors and whittle the queue down to size? It's lunchtime and some of us (not me though) have to get back to the office.
The booklet I am using is "No Good; out-of-date" and the clerk gets me a new one but claims "What is in there is wrong". The new one? Yes! So why ...?
Also the clerk expresses surprise that the map shows places you can't get to by VIA rail "In three years here I've never seen that orange line before". All in all a failure on the part of VIA rail to encourage me to be brave and explore the province, let alone the country.
The nitty-gritty: For about $37 each way (no reduction on a return ticket), and as long as I promise to board the train I nominate today (the 6:40 from Toronto and the 21:52 from Coburg we have a deal. Over seventy dollars for a day trip is a bit steep, I think, but clerk says that's the best rate, "Escape", "Senior" etc.
If I change my mind and come home on a different train, then penalties apply and I might have to pay a full fare, and yes, could be up to $100 lighter by the time I get home.
I am flummoxed. What transit services assigns "penalties" to their beloved customers? So for $74 I can lock myself into a timetable that pleases VIA Rail and does not allow me to stay for a late dinner (if I'm having fun) or to come home early (if the day is bloody awful).
There is some garbled information about a "gate" closing thirty minutes before the train leaves, so be there at 6:10 for the 6:40 train or else ... I can't believe this. This is a simple local inter-city train; it should be walk-on, walk-off. It seems very restrictive as a service; no wonder people prefer to fly to Ottawa, Montreal and Quebec City. Pity Porter doesn't fly to Coburg.
I skip my other six questions because it is clear that clerks here can't answer questions; provided you can make a commitment to travel and have money you're good, but if you want to learn how to make a commitment you have to go to the internet.
I am not at all impressed with VIA rail
On my way out I spot the lady in Gray Line with no customers, she sits on a stool looking bored.
I need to think this over a bit. $75 is what I could spend if I went to Guelph by Go Transit for the day, bought myself a breakfast, a light lunch, and a nice hot supper.
Or I could travel to the closest small town (Belleville, Kingston, Brockville being further will cost more) and take my food and drink in my shoulder bag. I could still ride the local buses and explore.
Or I could walk five minutes down the street to Enterprise and rent a car for 24 hours, drive myself to Coburg, park the car, do the town, and drive back to Toronto; drop the car off and a five-minute walk home. I know from experience it would cost me about $75 all up. And I could take my lunch in an ice-box and leave it in the car; not have to lug it around all day. Longer trips (Belleville, Kingston, Brockville) would cost me slightly more (in gasoline) but I would be coming and going on my own timetable.
If I were traveling as a couple, a rental car would cost us only half as much as two VIA rail tickets; but I'm not so it doesn't.
I know that I'm going to do it, Coburg, that is, but perhaps I should get my money's worth and make it an overnight trip – have all day Monday and all day Tuesday for $75 instead of only Monday. Plus the cost of a motel, meals etc. It'll be close to $200 for two days instead of $75 for one.
I decide to check out Greyhound after lunch ...
Below are two snapshots of my essay in booking online:-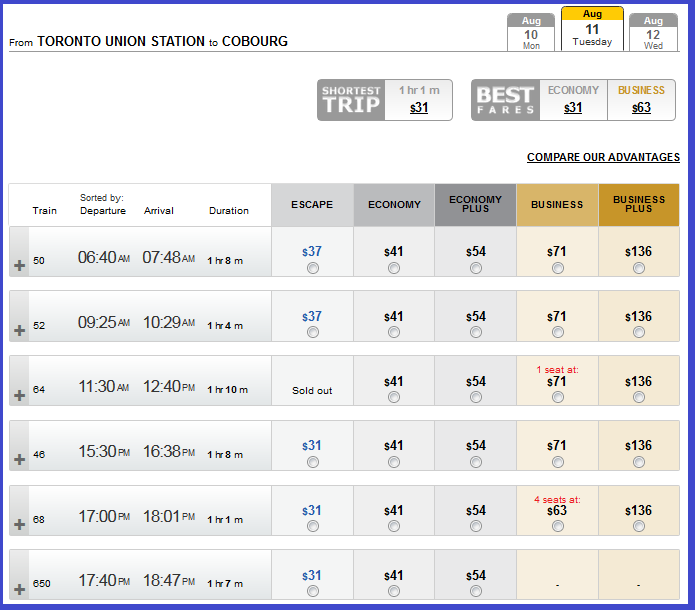 If I had booked the trip on Tuesday instead of waiting for Thursday (see below) I could have gone there for $37.
This web page shows 5 classes of fares, yet on Thursday I learned that there were at least eleven tiers of prices. VIA rail is not interested in moving as many people as possible; there's no thought of taking passengers fees and then adding an extra coach for a popular trip. We are committed to four carriages, and if more than four carriage-loads want to travel, then you'll pay a higher price.
This may make sense in the accounting department, but to me it is terrible compared to the Transilean method of long trains that can accommodate lots of passengers – a real encouragement to travel by rail.
Note that on the 11:30 trip there is but one seat left in business at $71. "Panic Now!" Is the message. Of course, if you have the money and are billing this to your client's expense account, what do you care what the price is. But it seems odd to have these quantum states (truly!) of fares.
Why not just set a total revenue required off the trip and escalate the fares (in the two real classes) according to demand? How do the airlines cope with this situation.
Note too that you can still go to Coburg for a mere $31, but that's because a trip some eleven hours later is not full in the "Escape slatted-seats" class. If your main aim is to get to Aunt Bertha's in time for Uncle Griswold's funeral two days later, this would suit you.
So I ploughed ahead and pretended I was ready to buy. I essayed with the early start (6:40) but a late departure (21:49) so we can't compare this at all with my purchase on Thursday (6:40-18:23 at $81.36), because who knows what the return trip might have cost if I'd looked at the 18:23 times on Tuesday (for next Monday; DO pay attention, it's really very simple ...).
In this potential booking I am not an Escapee, I am an "Economical Escapee".
Note again the Refund/Exchange Conditions; You pay a flat penalty of $20 for someone to tap the Enter key on a computer terminal, plus whatever fare difference they decide is merited. (This differs from the explanation I got from the accented clerk who, I swear, said I'd have to pay the full ticket fare, effectively shredding my earlier purchase).
Here's no escaping penalties when you purchase Escape; I think that with Business or Business Plus you don't get fined if you change your mind, but really this is just the old "Extended Warranty" scam implemented by all chain stores nowadays.
I didn't think to find out if the world tilted on its axis when I clicked on the "Shop For Fares" button because I thought that that was what I was doing at the time – shopping for fares.
Wednesday, August 05, 2015
I need not be stampeded; an objective is to "see what it is like traveling VIA Rail", and that includes exploring the process of buying a ticket and this business of "the gate".
Since Coburg is a small town I won't need as much time as, say, Guelph or Peterborough so the early start (6:40) and the early return (18:28) should be ample. Breakfast before I go, and a packed lunch/snacks should work. If by the time I buy my ticket there are no cheapos left, then I'll opt for Belleville; it will be a tad more expensive but the same options apply.
Thursday, August 06, 2015
So after my sad trip to the Greyhound desk I trudge back into Union Station. This time I get a clear-voiced receptionist. And yes, I booked a ticket:-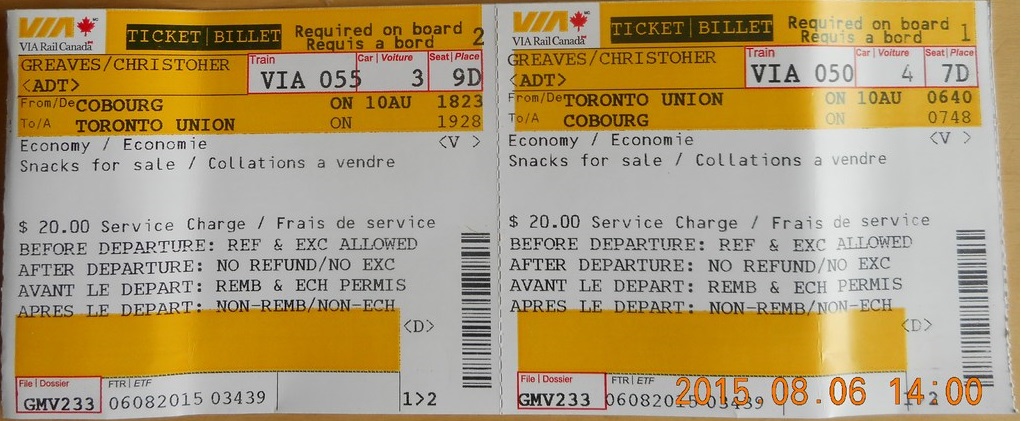 And they took $81.36 out of my bank account by Debit Card, because my $100 Bank Note (Cash) was no good without a piece of Federal Identification. Since I don't walk around with my Driver's License I did debit card; I assume this is how the feds track down mad bombers after suicide attacks on VIA rail. It's nice to know they'll know who else died after I am dead (ghoulish grin)
There appear to be eleven classes of tickets on VIA rail (the French Transilean system has done away with all classes for years now). There are 4 classes of "Escape", 2 classes of "Economy", 1 class called "Economy Plus" and 4 (or more, the clerk was a little unsure) classes of "Business".
I asked if all 4 carriages on the train got to the station at the same time, and the clerk answered "Yes", so it's a bit like flying on an aeroplane.
Apart from Business seating (Canada is too ashamed to admit that it has First Class and Second-Class citizens) all the seats are the same; there's no wooden-slat, plastic-vinyl and sweaty-corduroy sort of thing, and a 4th-class Escapee like me can find myself sitting cheek, as they say, by jowl with an expensive Economy-Plus chappie.
Seats are assigned on a first-come, first-served basis, so if you want a north-side facing-the-engine seat heading east from Toronto (so you can take photographs as you go) you need to book early.
The train leaves at 6:40 and the gate closes three minutes before, and the clerk thinks that aiming to arrive at 6:35 might be cutting it a bit fine, but I explained that I have timed the 6am walk down Bay Street and have it down to the second. The gate opens at 6:10, so I'll probably aim to get there for 6:15 which will give time for the early rushees to disperse, but still give me about twenty minutes to arrange my orange shoulder bag upon my lap and maybe peel a hard-boiled egg for breakfast. Assuming that I'm not sitting next to a fashion model who has paid an expensive Economy-Plus fare.
So what's the difference in these eleven seating classes?
Price.
Escape 4th-class is the cheapest, and when those seating assignments are gone, then Escape 3rd-class is the cheapest, and when those seating assignments are gone, then Escape 2nd-class is the cheapest and so on. The later you leave your booking the more polished and urbane you become, with the true procrastinators swanning aboard in Business Class.
Which is why I paid $81 today but could have paid $74 two days ago had I felt that I had understood the clerk that day. Although my ticket says "Economy" rather than "Escapee".
(Later I wondered how the scripted clerk would have dealt if I had insisted that I upgrade from the "Escape Class 4" fare to an "Escape Class 1" fare so I could say I was traveling First Class; I have a sneaking suspicion that their computer system wouldn't allow it. I'd probably end up talking to a manager or sent off to The Penalty Box)
So then I said that this was my first trip, and if it went well, maybe I should come back and book my next trips four or even five in advance, to make sure that I got not only a guaranteed north-side facing-the-engine, but also one of those 4th-class Escapee seats.
Which caused the clerk to start script-telling me about their points plan; every so-many kilometres earns you so-many points and ... so I said I'd look that up on the web, but she said whatever I did, don't register on the web, register by phone, because by phone they can include today's booking, provided I register within thirty days.
I smell another sales script lurking in the wings ...
So here I am, committed to the 6:40 from Toronto and the 18:23 from Coburg; a casual romantic getaway timed like clockwork, seat assignment in Car 3, Chair 9D. No Exchanges, No Refunds, No Delays, No Excuses; But Penalties if I step out of line.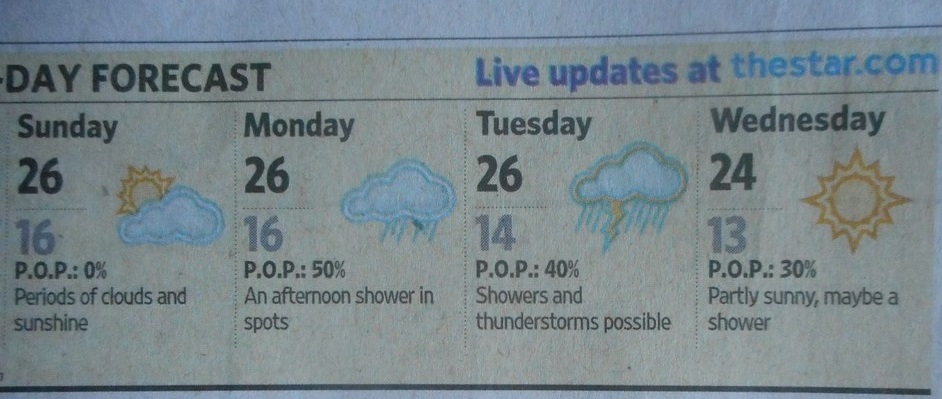 The negative aspect for me is this: I am retired and travel out of town (for the day) on a whim. If the weather for Monday turns bad, heavy rain and thunderstorms, I would not want to spend the day out of town sitting in rain-sodden buses. With GO Transit I can decide the night before (based on incoming weather) whether or not to go; postponing for a day or two makes little difference. But on Thursday I am gambling that Monday will be a lovely day. And if not, I might have to forfeit my train fare.
Monday looks good, and I may well sneak in under the (weather) radar. But I start to think that the business of booking weeks ahead with VIA rail is fraught with risk.
One strategy is to keep a Go Transit destination up my sleeve and wait until a Friday's forecast for the weather on the following Monday; if it looks good and I can still get a good price on a VIA Rail seat, go VIA rail, otherwise, drop back to a spur-of-the-moment GO Transit destination.
Friday, August 07, 2015
Next I considered costs in traveling to the remaining three towns along the route.
| Town | Dep | Arr. | Dep | Arr | Cost(return) |
| --- | --- | --- | --- | --- | --- |
| Belleville | 6:40 | 8:23 | 21:11 | 22:54 | $97.18 |
| Kingston | 6:40 | 9:04 | 20:31 | 22:54 | $122.04 |
| Brockville | 6:40 | 10:02 | 19:48 | 22:54 | $103.96 |
For all bookings I used August 24th, over two weeks in advance, Senior's rate, two way with taxes.
Note that Kingston, closer than Brockville, is more expensive; this may be because I have picked a Students-Return-to-University Weekend, or it may be because of the return train trip.
Note that I can leave Brockville (further away than Kingston) and land home at the same time as the Kingston train; I suspect that the trains (contents) merge at Kingston.
So to spend a day in any of these four town it becomes increasingly attractive, in dollar terms, to rent a car. Certainly if you are a party of two or more.
The downside of driving is that I can't read while I travel; but I can listen to podcasts ...
Remember how I stood on the platform at seven in the evening in Guelph and contemplated hopping on a VIA rail to get to, say Kitchener that evening and spending the next day in Kitchener? Well, if I were doing that on August 24th
| Town | Dep | Arr. | Cost(one way) |
| --- | --- | --- | --- |
| Guelph | 18:51 | 19:18 | $20.34 |
Below you will find a summary of places served by the "Escape" fare system.
Of course since all four carriages are attached to the one locomotive, this is the same set of locations served by Economy, Economy Plus, Business, Business Plus ...
| ROUTES | DAILY DEPARTURES | FARE |
| --- | --- | --- |
| | Economy class fares | starting at |
| Toronto Montréal | Up to 17 daily departures | $44 |
| Toronto Ottawa | Up to 16 daily departures | $44 |
| Toronto London | Up to 14 daily departures | $33 |
| Toronto Windsor | Up to 8 daily departures | $44 |
| Toronto Sarnia | Up to 2 daily departures | $41 |
| Kingston Toronto | Up to 26 daily departures | $41 |
I have my doubts about getting from Toronto to Montreal for $44; the web site does say "starting at".
Sunday, August 09, 2015
Last Thursday I bought a (return) ticket for $81.36.
This afternoon around 4pm I web-wondered how much it would have cost me had I waited until the day before my trip (today!) and wandered down to Union Station and purchased the same ticket.
Answer: $92.66.
So a crude form of travel insurance for me is to wait until the day before and, if my health, vigour, weather etc. is good, buy late and pay an extra $11. That is significantly less than the $20 penalty I would pay for changing the ticket, and obviously less than the $81 I would lose if the weather forecast said "Sleet, Snow, Hail".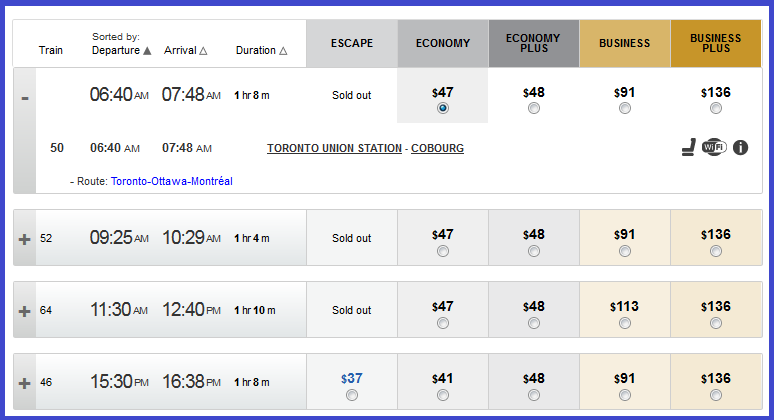 Here is the outward trip. The Escape seats are sold out until 15:30, but I'm not sure I'd lop three hours off my day-away (09:25 less 06:40) for the sake of saving ten dollars – the price of a breakfast in a diner.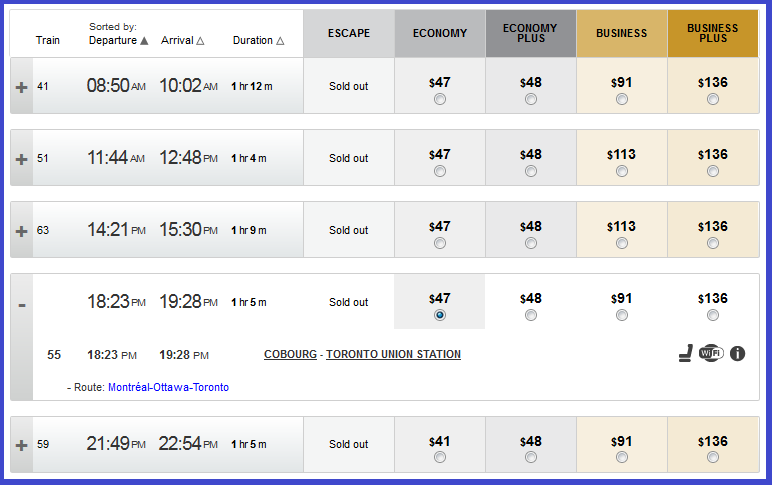 Here is the inward trip (home). Escape is sold out on all trains, even the last one.
I am paying $47 each way for the privilege of waiting until the last minute.
As well, I may not get a window seat facing forward on the north side.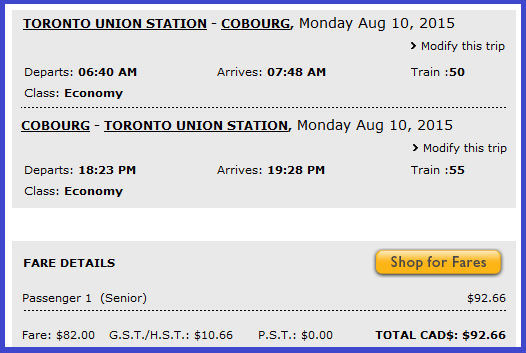 Here is the bill!
Wednesday, August 12, 2015
So what does the cost of a day-away trip to Belleville look like as the clock ticks down? Should I be stampeded into purchasing an advance ticket in the hopes that my day won't be rainy?
I will sample a standard fare Toronto-Belleville and return, leaving Toronto September 1st on the 6:40 and catching the 21:11 from Belleville. I have chosen the late departure to give me more time in the city, and I recognize that there may be less demand for seats at that hour.
| Date | Time | Cost |
| --- | --- | --- |
| 2015/8/12 | 17:45 | 97.18 |
| 2015/8/13 | 14:30 | 97.18 |
| 2015/8/13 | 12:00 | 97.18 |
| 2015/8/21 | 12:00 | 97.18 |
| 2015/8/21 | 14:10 | 97.18 |
| 2015/8/24 | 16:00 | 122.04 |
| 2015/8/25 | 13:30 | 108.48 |
| 2015/8/27 | 11:00 | 110.74 |
| 2015/8/28 | 11:30 | 128.82 |
| 2015/8/30 | 10:00 | 128.82 |
Note the increase until 2015/8/24 and the slight retreat on 2015/8/25. What happened? Did someone cancel their ticket and drop us below the threshold for a day?
I note that I chose September 1st which is the Tuesday before the Labor Day weekend; school goes back the next week. Is september 1st in the "peak travel week" for students heading off to University in Kingston, Ottawa, Montreal and Quebec?




Loading





416-993-4953 CPRGreaves@gmail.com
Toronto, Tuesday, September 08, 2015 3:27 PM
Copyright © 1996-2015 Chris Greaves. All Rights Reserved.