416-993-4953

32 Grenville Street M4Y 1A3
Gray Line
Tuesday, August 04, 2015
On my way out of Union Station I spot the lady in Gray Line with no customers, she sits on a stool looking bored.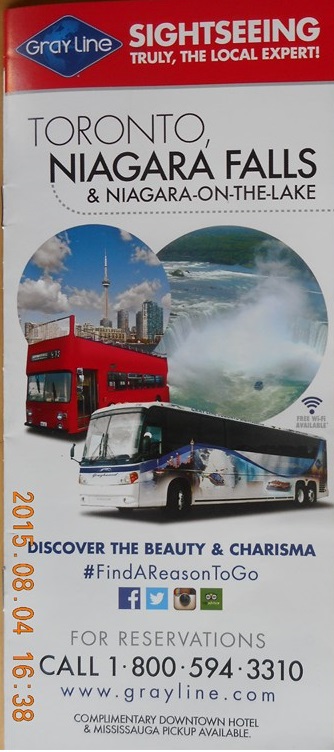 This is the snazzy-looking brochure that is fanned out on the counter by the tens, if not the dozens.
I explain to the nice lady that I am retired and traveling out of town every two weeks on day trips. (If our relationship deepens I'll get into overnight trips but for now ...)
Coburg.
Does Gray Line go to Coburg?
No, I should travel Greyhound, she says.
OK, I know about them, but where can Gray Line take me then?
To Niagara Falls, that's where.
Niagara falls Ontario is what they do, with boat tours, winery tours, lunches, dinners, casinos etc.
I don't do casinos or wineries or boat tours. If I like being drenched I can walk home up Bay Street in a late afternoon thunderstorm. Why PAY Gray to be soaked in spray? (Nice rhythm, Chris!)
I should travel Greyhound, she says.
I want to go to Niagara Falls by bus, amuse myself for the day by riding local buses and chatting with local people and institutions, then come home on the bus.
I should travel Greyhound, she says.
Oh! And she brightens up considerable. They do "Niagara A La Carte" but she doesn't know the times or rates, so while I wait she phones and tears a strip off someone at the other end "You never told me that!" and hangs up the phone. Turns out that "Niagara A La Carte" is French for "We don't do that trip anymore, sorry".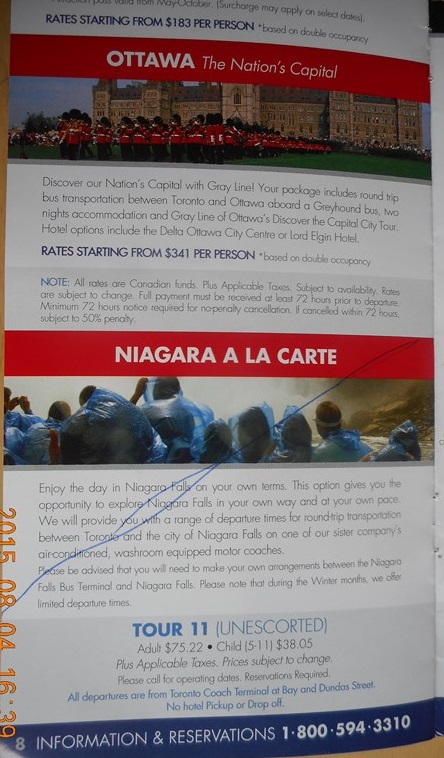 This is what "Niagara A La Carte" looks like when it has been crossed out with a clerical ball-point pen.
I should travel Greyhound, she says.
They do a sightseeing tour of downtown Toronto, but I already know that; these are the buses that try to run me over as I scramble for my paper each morning from Ryerson near Yonge & Gerrard.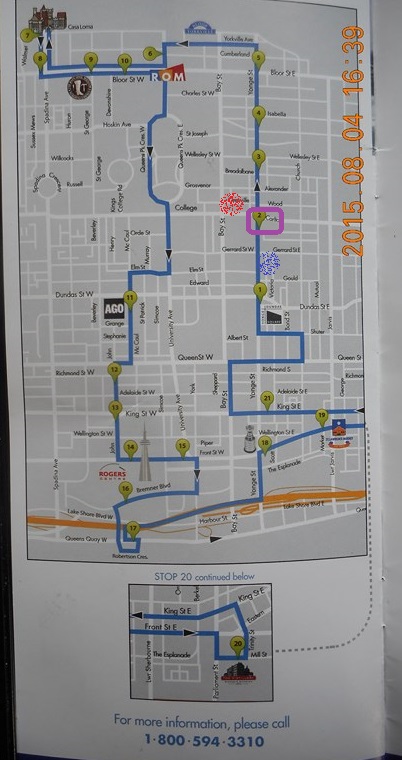 The Downtown Tour includes where I live (red splodge) where the newspapers can be found (blue splodge) and where our paths cross (purple outline).
The Gray Line downtown tours takes in about 10% of the area I walk on a regular basis.
I should travel Greyhound, she says.
But I decide to walk to the lunchtime concert at St James instead.




Loading





416-993-4953 CPRGreaves@gmail.com
Toronto, Wednesday, August 05, 2015 12:24 PM
Copyright © 1996-2015 Chris Greaves. All Rights Reserved.