416-993-4953

32 Grenville Street M4Y 1A3
Presto Card
Calls from within Canada/United States: 1-8-PRESTO-123 (1-877-378-6123)
Calls from outside Canada/United States: 905-397-2034 (long distance charges may apply)
The Presto Card is available and in use across practically all of the GTA (and Ottawa!) but the Toronto Transit Commission moves with glacial speed into anything resembling customer service and as far as I know has implemented Presto only at about half a dozen selected TTC subway stations, no buses or streetcars EXCEPT for the three new streetcars out of a batch of which the remaining 67 or so are delayed by virtue of their non-arrival from the manufacturer Bombardier. A Canadian Company.
Obtaining Presto Card is not difficult and I shall obtain one; it makes no sense for a resident of Toronto to get a Presto card unless one plans to travel outside Toronto on a regular basis.
Questions in my mind include:-
(1) Am I better off in Barrie buying a 10-ride card or using a Presto Card?
(2) Am I better off on York Regional Transit buying a 10-ride card or using a Presto Card?
(3) Am I better off on Durham Regional Transit buying a 10-ride card or using a Presto Card?
On a whim I decided to walk through my local subway station (College) this evening to ask the ticket-wicket guy where I could use to Presto card. While I was waiting I noticed a Presto swipe-station.
Clearly I can enter the system by a subway train at my local station.
The nearest two Presto-equipped stations to me are Bloor-Yonge (two stops to the north) and Dundas (one stop to the south.
So now I have another question:-
(4) Am I better off in Toronto using my Seniors Tickers or using a Presto Card?
And now I have another question:-
(5) How do these various systems get to know that I wan a senior's rate whenever I swipe the card?
(6) can one buy a Monthly Presto card? And if so is it valid for the entire system or only for a specified route of travel?
Transilean/Navigo vs. Metrolinx/Presto
This is not a fair comparison in part because in France I was on vacation for two weeks, with objectives of traveling to the end-of-the-loine each day, whereas in Toronti I live here and want to make occasional trips.
That said, I can still compare aspects of the systems as if I were a visitor to Toronto from Paris.
| Transilean/Navigo | Metrolinx/Presto |
| --- | --- |
| One-week 5-zone pass €35, roughly $50 | Weekly? Monthly? |
| Ticket is exhausted at the end of the week; load an extra week at any subway or train station | The balance sits on the card forever |
| During the week, have no worries about running out of trips" | The card can be bled dry, which may leave me stranded at, say, Peterborough South Carpool (Sir Sanford Fleming Drive and The Parkway) |
| Works across all zones (because I bought the 1-through-5 zone; could have bought, say, just zones 2 and 3. | The Transfer system, and hence the payment system, varies across each (supposedly) co-operating transit system; the Presto card will bleed at different rates in different cities in the region. |
| Trains run both direction 18 hours a day at most 60 minutes apart, on the RER every 15 minutes or less. | Basically, trains don't run at all if you live/hotel in Toronto. You can shuttle back and forth along the Lakeshore, but that's it. Trains run out of the city only during the evening peak-hour. |
| Good for vacationers (like me) or consultants (like I was 35 years ago) | Expensive by any comparison; although a vacationer buying a Presto pass can travel almost worry-free on the system (excepting the TTC) |
| I would NOT pay $50/week in Toronto for a year, because I don't plan to send 365 days each year raveling around Southern Ontario. | What travel could I get out of $2,500 per year? |
| | Some cities (Peterborough Transit System for example) have a day pass which, at $8, is cheaper than Presto Card. It makes no sense to use presto in such systems (although Peterborough Transit System does not use the Presto card). Likewise if I plan to day-trip to barrie but meet colleagues for coffee in Aurora and Bradford on the way up, lunch in Barrie Soth and supper in bradford on the way back, it might make more sense to buy an All-Day paper ticket than to run up individually-priced trips on the Presto card. |
| Covers and area roughly 100 Km E-W and 140 Km N-S | Covers and area roughly |
| Wednesday, December 16, 2015 | I note the recent fare change for Navigo; €20 per week and €70 per month. €70 is about $cdn100. remember then that with $100 you can travel within a semicircle London, Hunstrville, belleville, but for $140 you can only ride the Toronto Transit Commission as far as Steeles! |
Thursday, July 02, 2015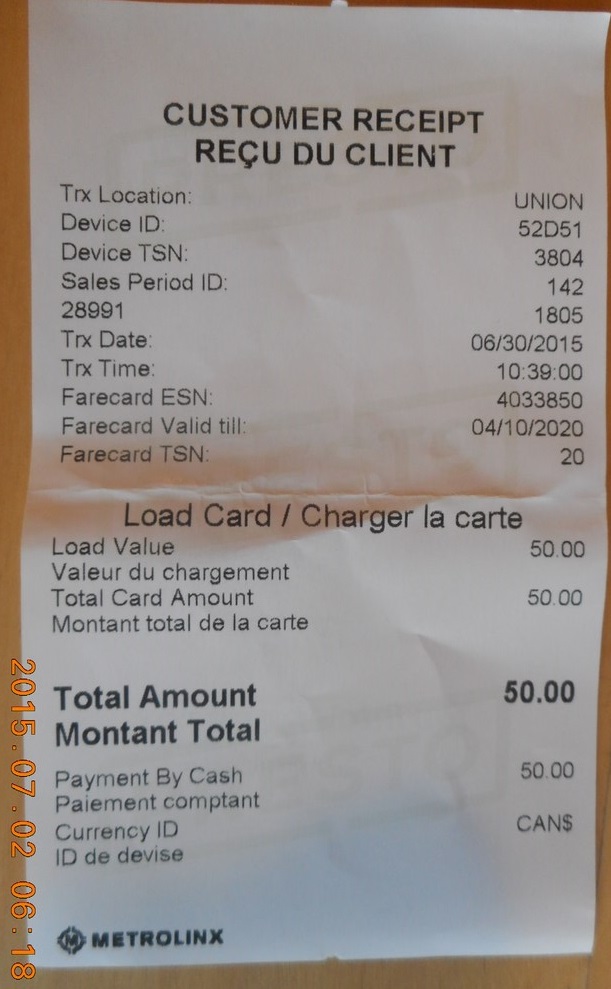 In anticipation of my trip around Hamilton I have added $50 to my Presto card.
Very Strange!
The receipt shows that $50 has been ADDED to my card, so the card has been loaded magnetically, but the receipt doesn't tell me the new balance as a courtesy.
I have not registered my card, so it is in effect a chunk of cash; lost if I lose it. This attitude is part of my pushback from all those bodies who would like to have my email address and other details so that they can "better serve me" with products.
First they should learn to print my balance on the receipt!
Sunday, August 30, 2015
I posed a hypothetical question to the ticket agent: Suppose I mistakenly swiped my card at a fare terminal when I'd meant to swipe it at a checking (yellow) station. How do I get off the hook for being charged the maximum fare (presumably in my case the GO Train Lakeshore corridor)?
"Press Cancel" said the clerk.
But what if, say, ten minutes have elapsed, or what if three other people have swiped transactions while I wondered what to do?
"Press Cancel" said the clerk.
But how will the system know that the transaction to be cancelled isn't the most recent transaction, I asked.
"Press Cancel," said the clerk, "THEN swipe your card. Do you want to give it a try?"
I thanked her, said "No", and retreated.
Monday, October 12, 2015
"Two matters" I said calmly to the nice man at the ticket wicket. "Please add twenty dollars to my Presto card and tell me the new balance", which he did, sliding my card and the receipt back across to me. "Your new balance is forty-three dollars and seventy-two cents".
I studied the receipt; "How do you know the balance? I don't see it printed anywhere".
"Oh, it's on the display; here let me write it down for you" (so he needs my presto card again).
(Innocently) "Gee, wouldn't you think they'd print the new balance on the slip, like the banks give you the new balance when you withdraw cash?".
Yes, he agreed. "A lot of people have made that suggestion".
So we know it won't happen soon.
How can you roll out a modern system like this and not think to tell people their new balance?
Wednesday, December 16, 2015
So I called 1-877-378-6123 to confirm my reasoning as to why it cost me less than $10 to travel from Long Branch to Hamilton and back last Friday.
(1) It took me several minutes to wander through their awful "press 1, press 2" menu system; pressing zero did NOT give me a shortcut to an operator, and I needed a dialogue with an operator, not a monologue statement from Presto
(2) I was on hold for five minutes and my aggravation level increased the more I had to listen to the loud heavy/metal/rock cacophony. (Why not soothe me while I drum my fingers impatiently?)
(3) Debbie (again!) was very helpful; she listens and responds appropriately.
(4) I had chosen to take part in the survey and had to "Press 1 to 5" as the sole means of response. This meant that I rated today's call as a ONE – distinctly awful while rating the response to my call as a FIVE – Wonderful Debbie. God alone knows what Presto will make out of that. Probably that I am an old codger who has forgotten the difference between 1 and 5.
(5) The survey provided no opportunity for me to explain WHY the call was bloody awful (see the first two items on my list!)




Loading





416-993-4953 CPRGreaves@gmail.com
Toronto, Tuesday, December 22, 2015 11:20 AM
Copyright © 1996-2015 Chris Greaves. All Rights Reserved.