416-993-4953

32 Grenville Street M4Y 1A3
Daisy-Chaining - Execution
My idea for a late-fall (cool, cold but dry) day trip is to attempt to travel from downtown Toronto to Hamilton by Local Public Transit.
I did not plan this trip as a fast trip. I thought to travel as much as possible along the shore line of Lake Ontario. Consequently I chose some routes that were distinctly lengthier in time AND space, just for the joy of seeing more of a city en route to Hamilton.
I found that using almost any trip-planning software on the word wide web resulted in the advice that |I should ravel by the GO System to get from Toronto to Hamilton. Trip-planning software cannot accommodate constraints such as "take me by public transit all the way and dis-allow regional transit".
I gave up on trying to co-ordinate the bus schedules of different cities, shrugged, and took plenty of snacks to humour my mood while I was waiting for the next bus!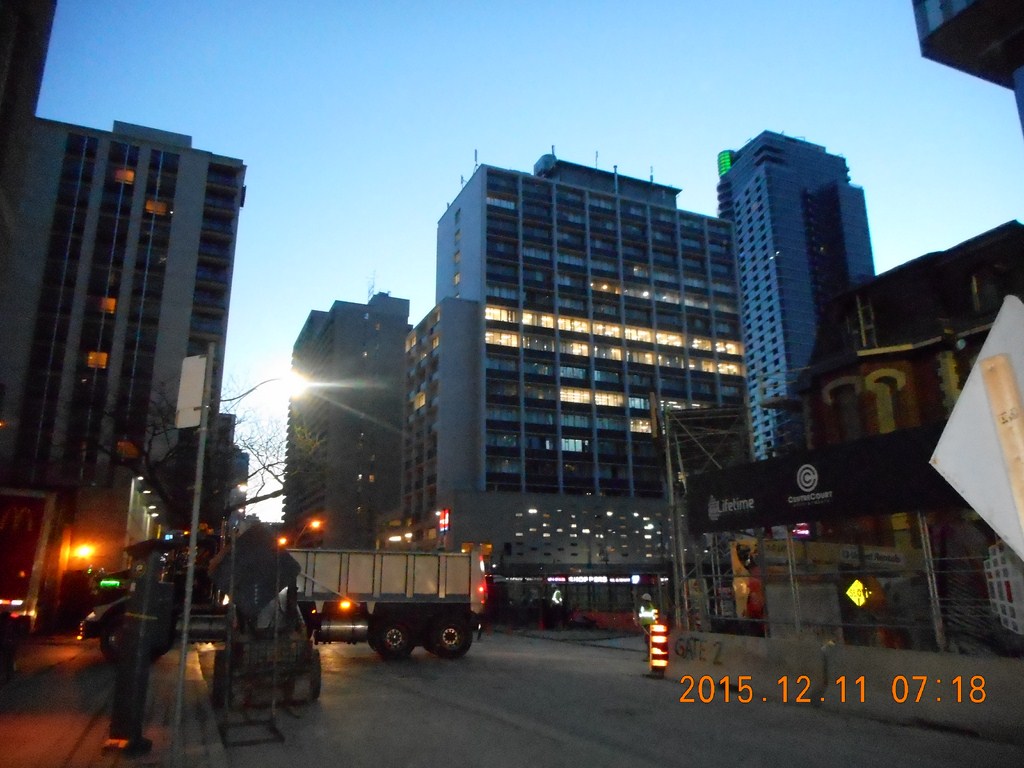 A late start by my standards; out of the door by 7:15, the sun risen, and this is not the first dump-truck reversing into the second of the new condominium sites on our little street, so this is not the first line-up of vehicles (see headlights underneath the truck body) which is backed-up into the southbound lanes of Yonge Street ...
Not to mention the wily beggars who thought they could take a short cut down St Luke's Lane. Hah hah!
I stroll through the mess breathing in a healthy dose of hydrocarbons ("It's what humans are made of!") and collect a free copy of The Toronto Star at Ryerson University.
So down Church and Yonge Streets; I switch to a traipse through Union on account of the two mugs of coffee I drank earlier, and meet up with a lovely young lady from Boston, who agrees to let me accompany her as far as the Union Pearson Express, thence to the GO Concourse to add $25 to my Presto Card (new balance $38.96).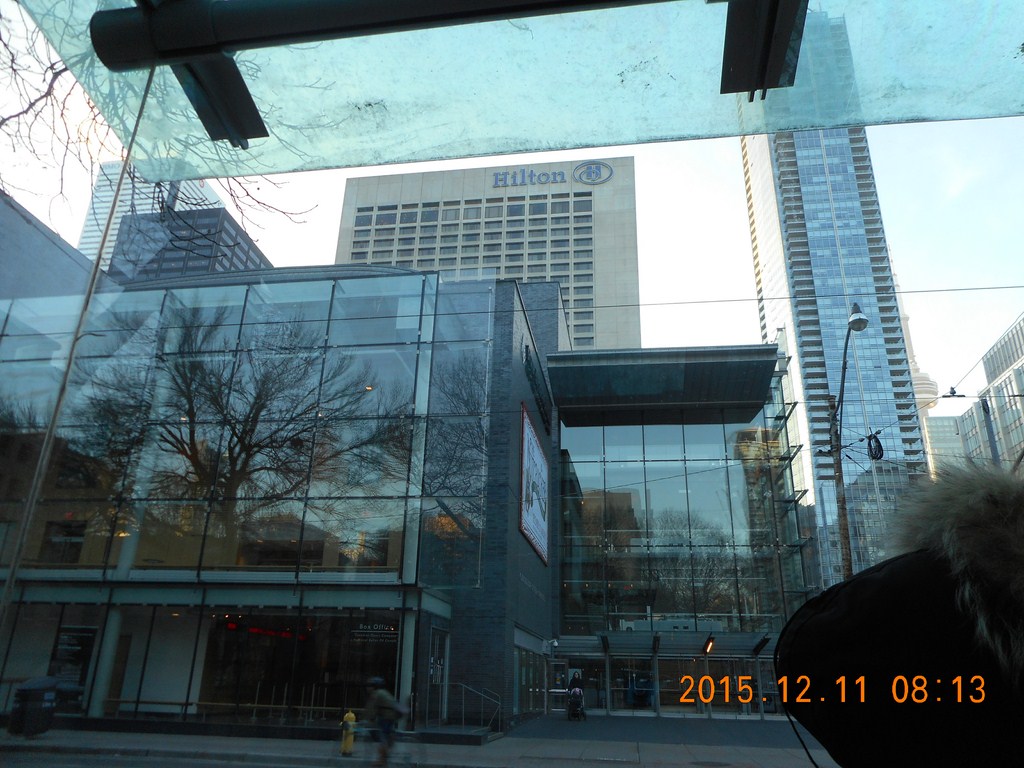 With this little diversion, an hour later I am heading north up York Street towards Queen Street to catch a Long Branch 501 streetcar.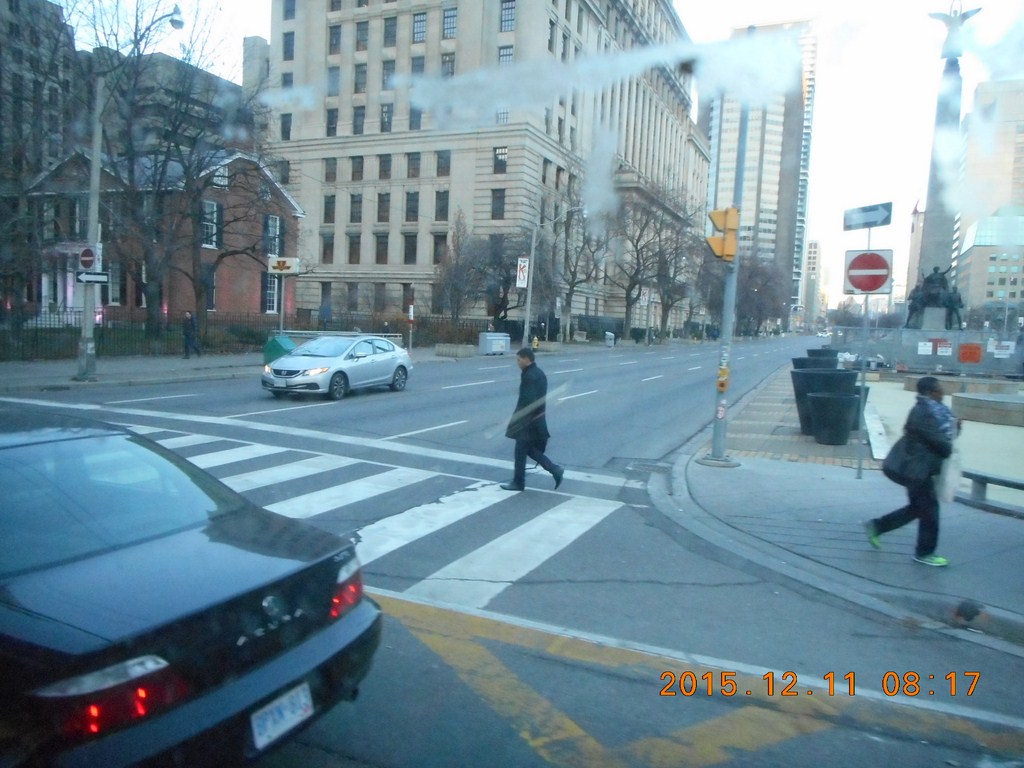 And here comes the streetcar! I reckon my starting time as 8:15 as we trundle lazily across University Avenue. The morning is chill, both pedestrians are scuttling in a biting wind, just as they appear to be.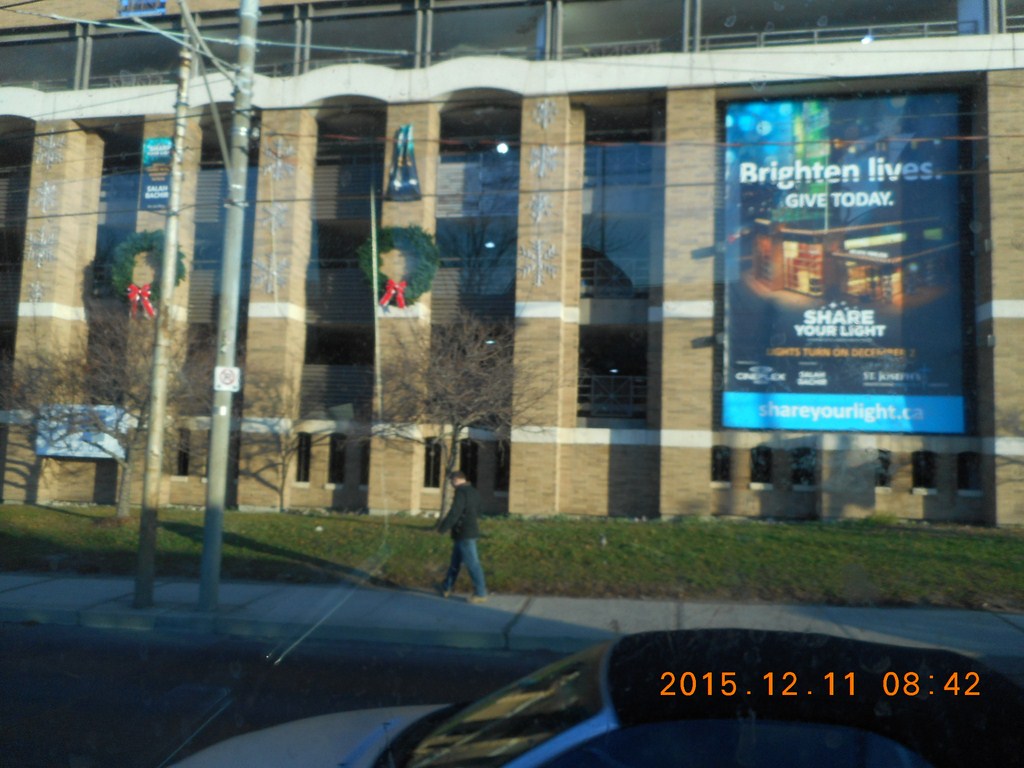 A quarter of an hour later we have negotiated the dingiest part of the trip and are squealing like a new-born babe past St Joseph's Hospital.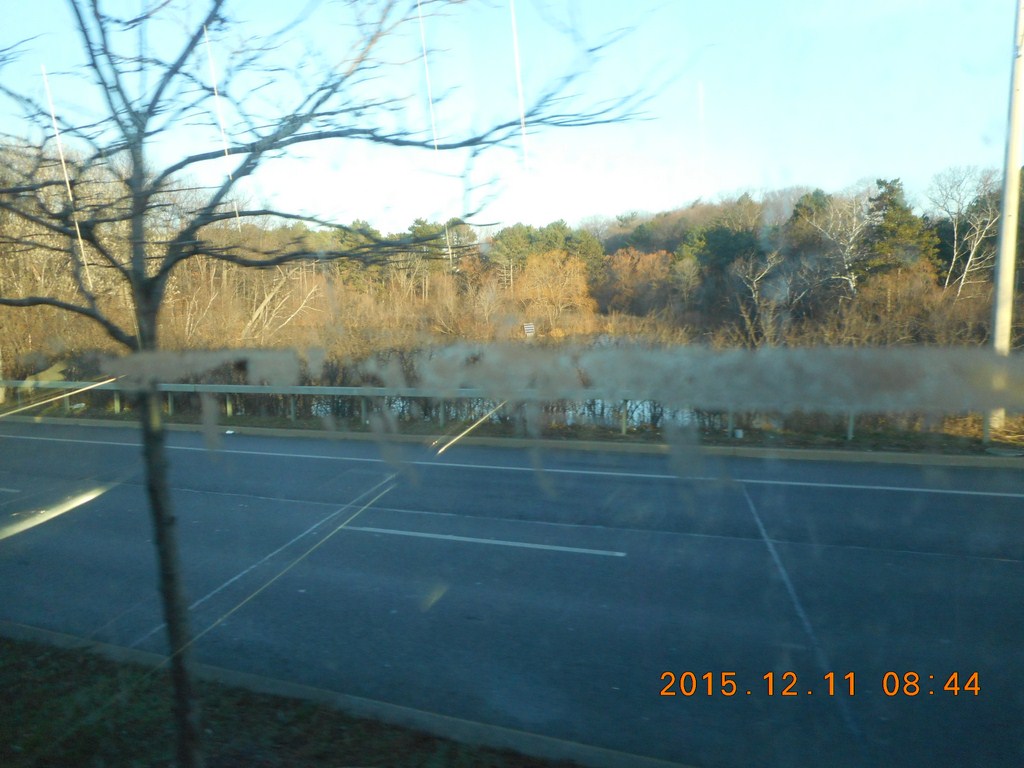 The scenery picks up; here we are near the bottom of High Park; this might be Grenadier Pond. Or it might be something else.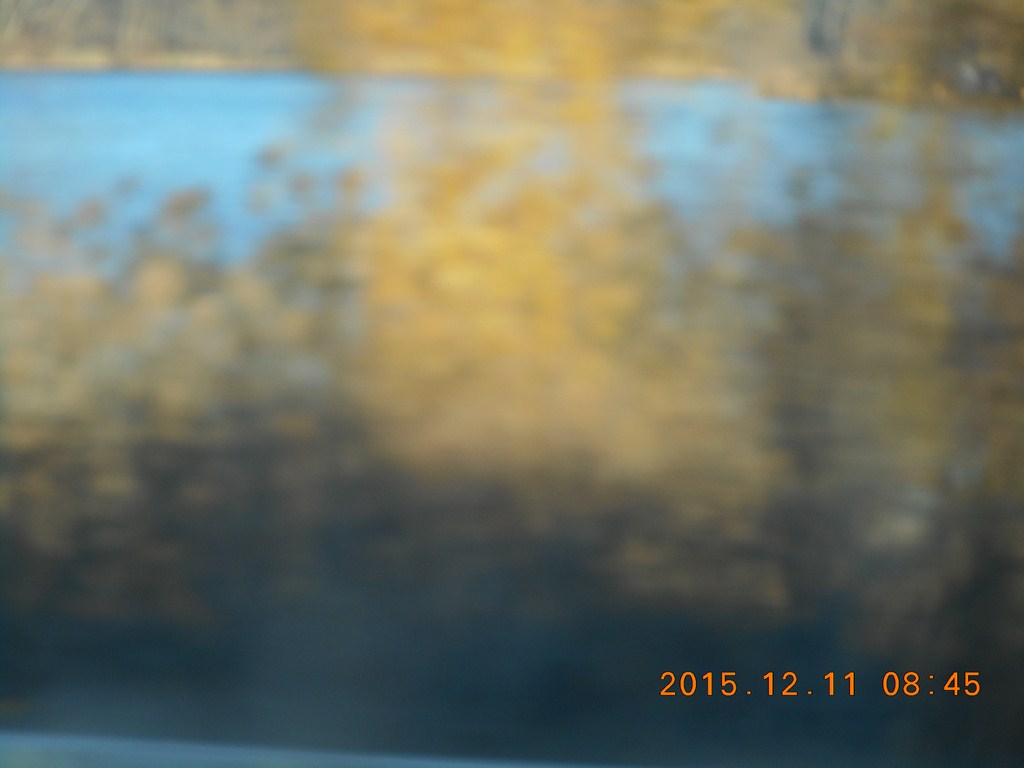 This looks better when it isn't blurry; trust me; it's a beautiful bit of Toronto.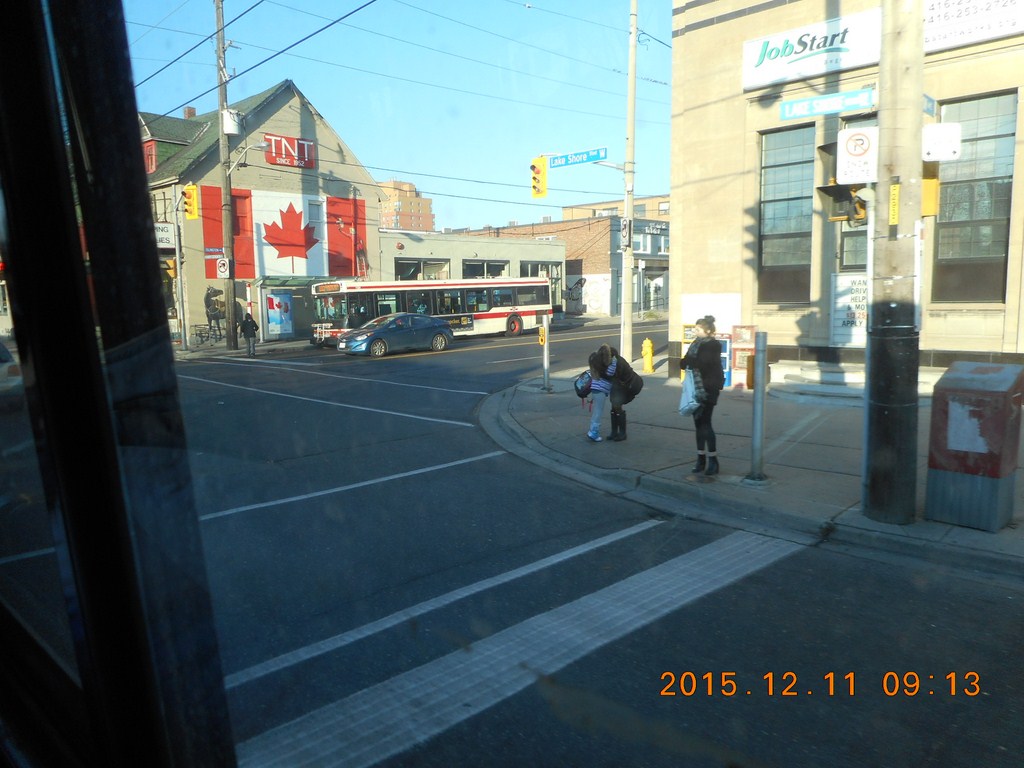 About an hour after my first leg of the trip started we are at Islington Avenue and so, near the end of the first leg. That's a southbound Islington bus from Islington subway station.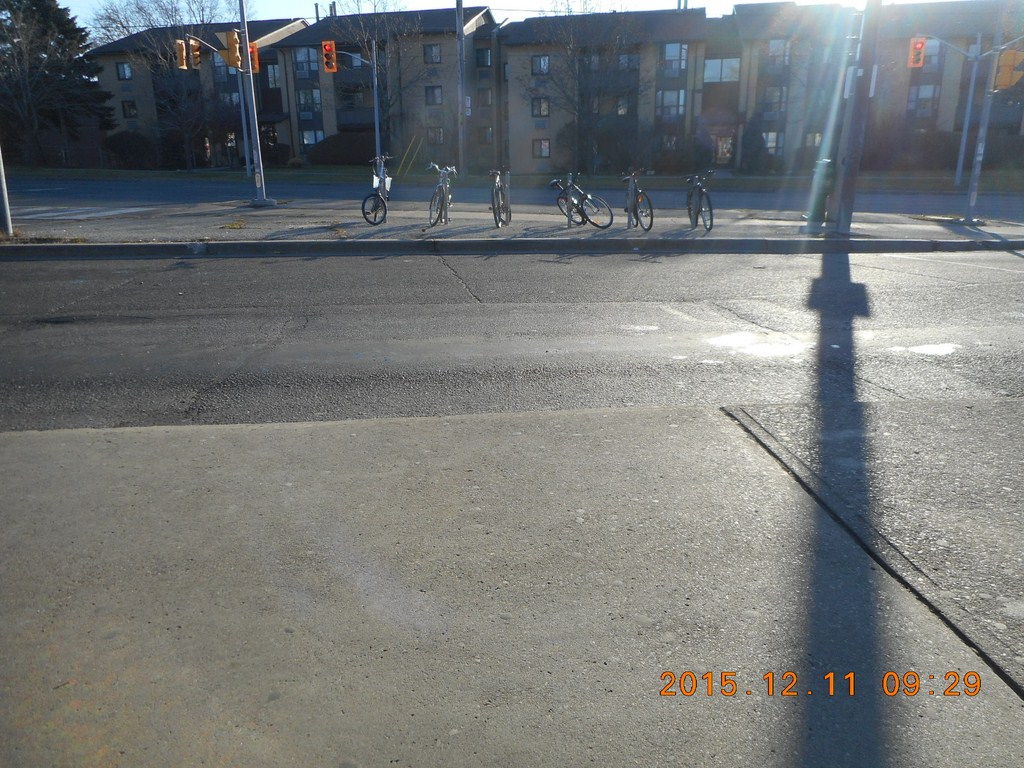 The 501 deposits us in the Long Branch Loop and we sit and wait for a #23 westbound.
The wind is, as we say, bitterly cold. More about that later ...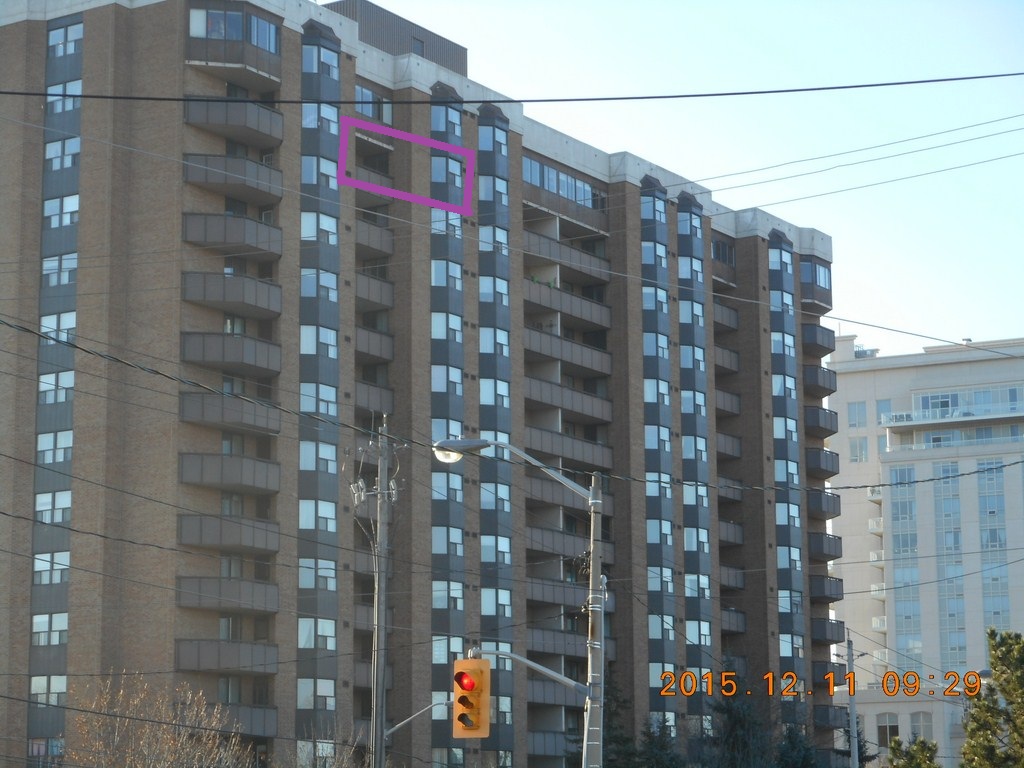 Across the street – where I used to live. Back then I had plans with about a hundred strings of Christmas-tree lights ($2/string) in green and white to make an outline of a GO coach, to see if I could make the real GO train tilt while in the station as everyone rushed to the Port side to see the lights ...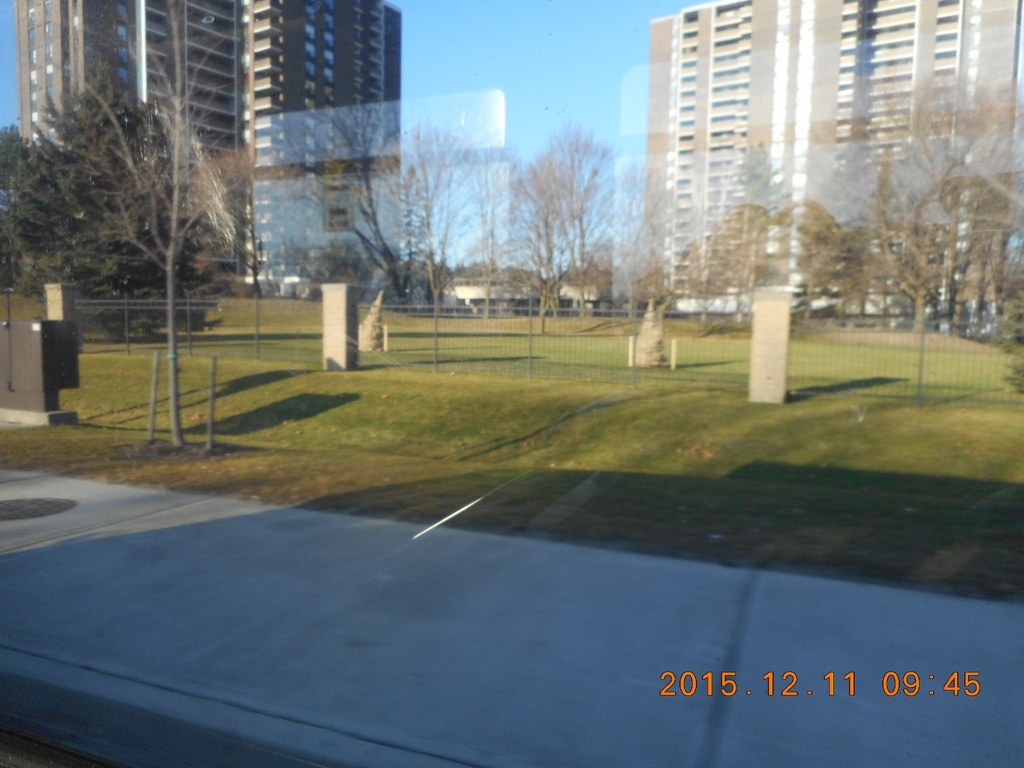 We leave the loop at 9:42 by my telephone, 9:45 by my camera, and who knows what time by MiWay (a.k.a. "Mississauga Transit"). Whatever. An hour and a half after starting I have begun the second city of my trip, a dash across the southern end of Mississauga to Clarkson Go station.
Examination of the maps will show that this daisy-chaining trip is essentially traveling from one GO station to the next by the slowest route possible, short of bicycling.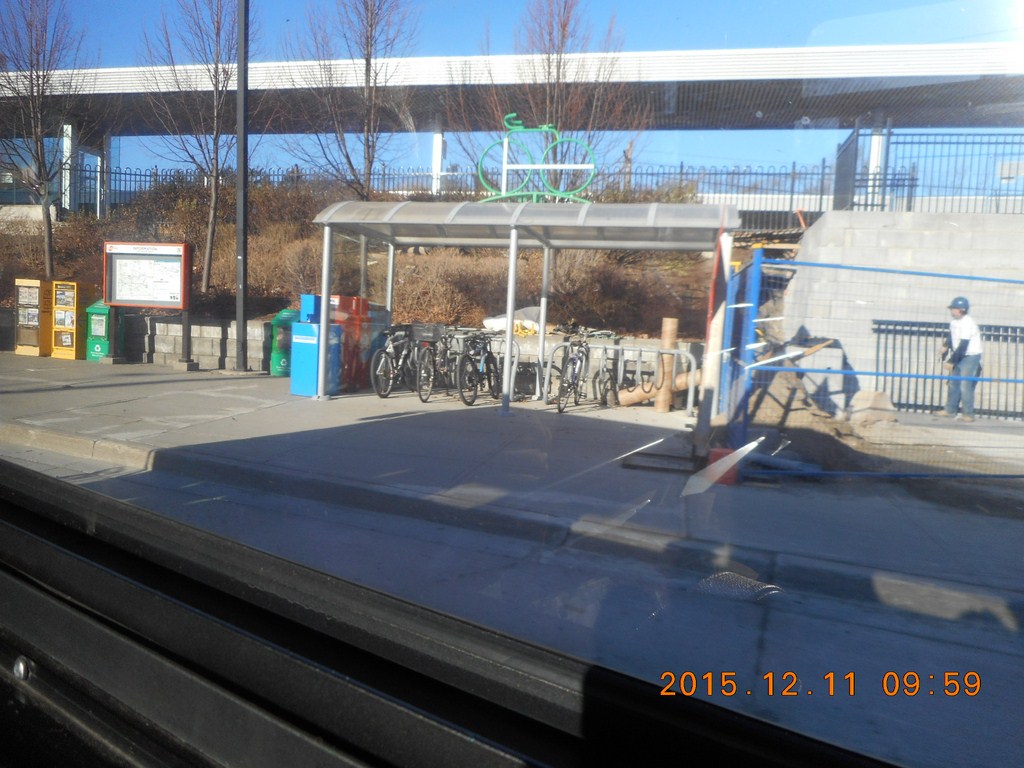 We rocket from Lakeshore Road East into Port Credit GO station and then racket out of there back onto Lakeshore Road West.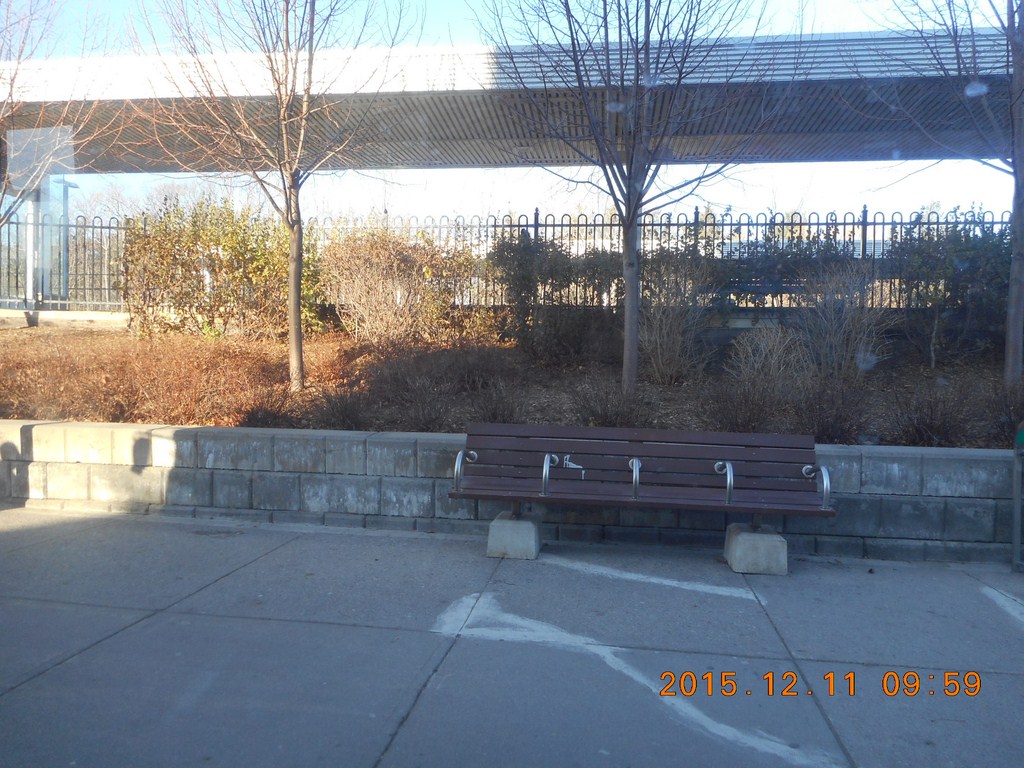 I am contemplating the thoughtfulness of providing a seat where passengers can sit, and the thoughtlessness of not providing an enclosure where one can sit and keep dry, or sheltered from the wind.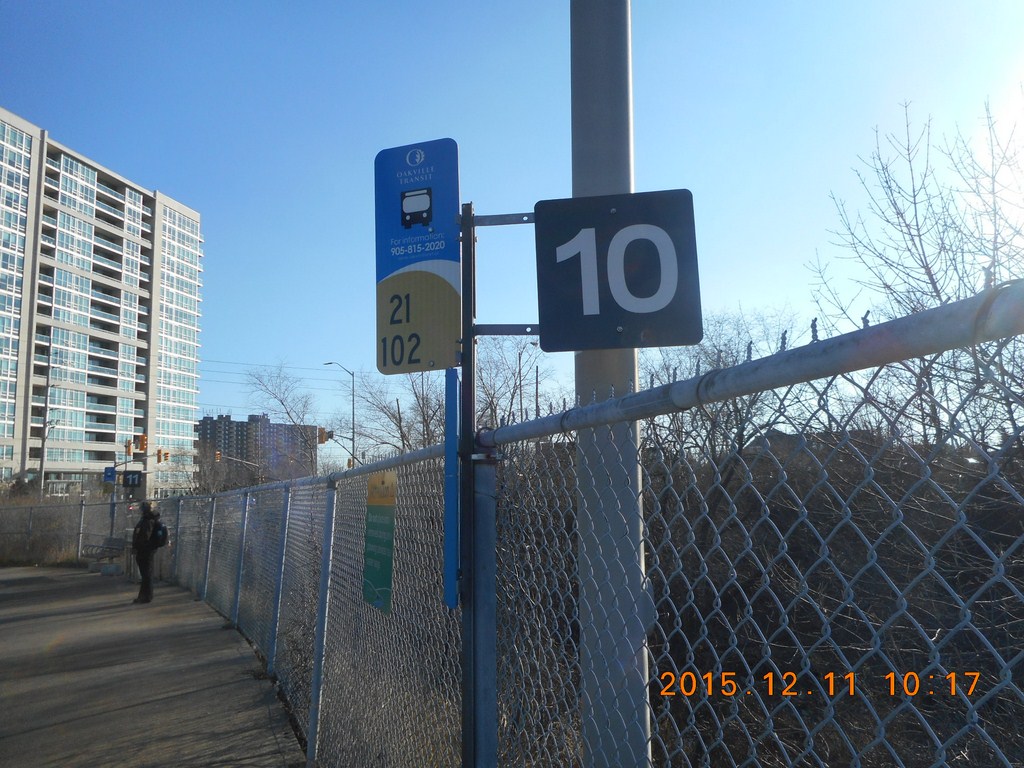 And so to Clarkson GO station where I hop off the Mississauga #23 and wonder why I am the only passenger waiting for the #21 which, the theory goes, would take me to where I want to be. Quiet contemplation suggests that Oakville Transit wouldn't have TWO routes traveling the same path. Later detailed inspection of my map shows that #21 appears to be a peak-hour only service, and does not go as far as does the #4.
Another shadow of my former selfie; I pass the time taking shots of Clarkson GO station, not the world's most appealing scene; nor Ontario's, either.
That's my #23 from Long Branch waiting to scurry back and yes, there is a GO train in the station, but not for long. With a long drawn-out growl it departs, its sound lasting for about a minute as it accelerates.
With sinking heart I realize that, unthinking, I swiped my card as I exited the Mississauga #23 bus.
Now I am really dopey. I seem always to forget to swipe my card when I head up to the GO Train platform, or forget to swipe it when I exit the platform, but I double-swipe it on the buses.
Oh well!
Later on I get a clearer idea. All local transit buses have a Presto reader at the front door; so board at the front and swipe your card. All local transit buses have a rear door with NO card reader, so exit by the rear door without swiping the card. All local transit buses have a fixed-fare per trip, unlike regional GO buses and trains.
However, within a city's system, transfers are available, so that switching from the Burlington #20 to the #10 does not incur an extra fare, even though I have swiped my card twice; the Presto system sees it merely as a transfer within the Burlington system. Likewise switching from the Oakville #4 to the #14 does not incur an extra fare.
On top of that, with the exception of the hide-bound Toronto Transit Commission, most adjacent cities co-operate (HSR is an exception, it doesn't even co-operate with its passengers!) and so transferring from a Mississauga #23 to an Oakville #4 probably does not incur an extra fare.
It might, therefore have been possible for me to travel from the Long Branch loop through Mississauga, Oakville, Burlington and Hamilton on at most two fares, if my timing was good.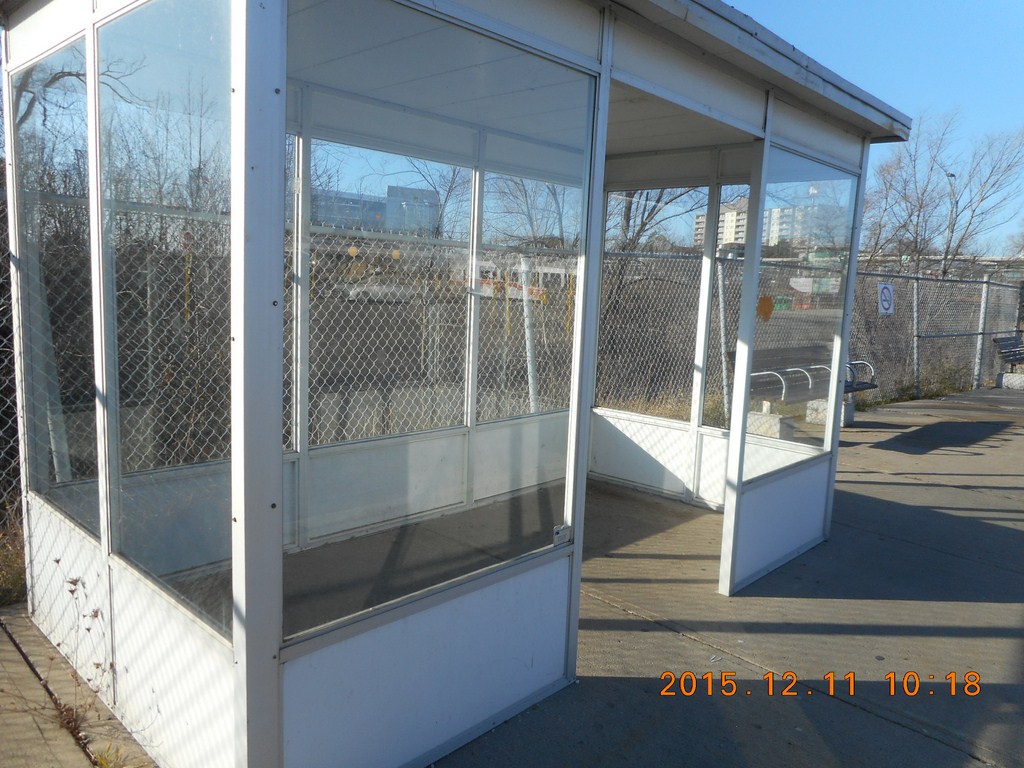 This could become a "bus shelter" trip.
There are benches.
There is a shelter.
But the benches are not in the shelter.
You can rest your feet and legs, or you can keep them dry.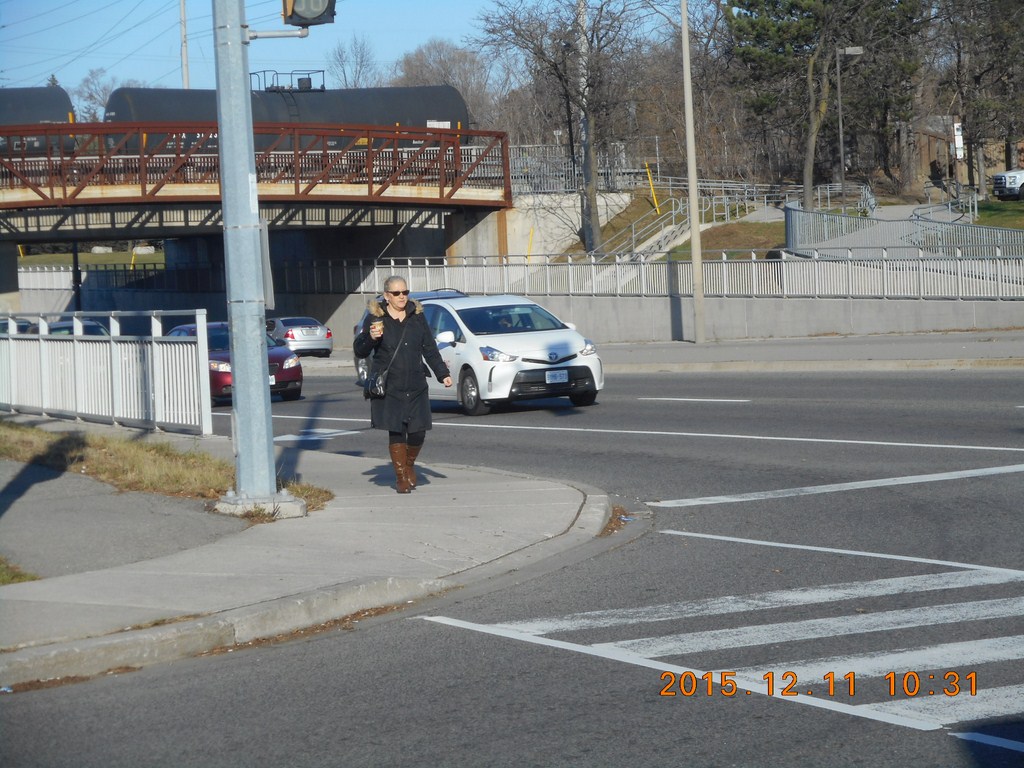 The #4 Oakville bus pulls in and I hop aboard. Two and a quarter hours into the trip and still in my second city.
The driver is like every other driver in public transit (excepting of course for the Hamilton Street railway – see later) and kindly and gently confirms my plans for swinging through Oakville to Burlington.
Like most drivers he suggests a better plan – one that is shorter, faster etc, but I point out that I am retired and on holiday and ...
Those fuel oil tankers were there when I visited a friend here three weeks ago, and they (the tankers) were there eight weeks ago.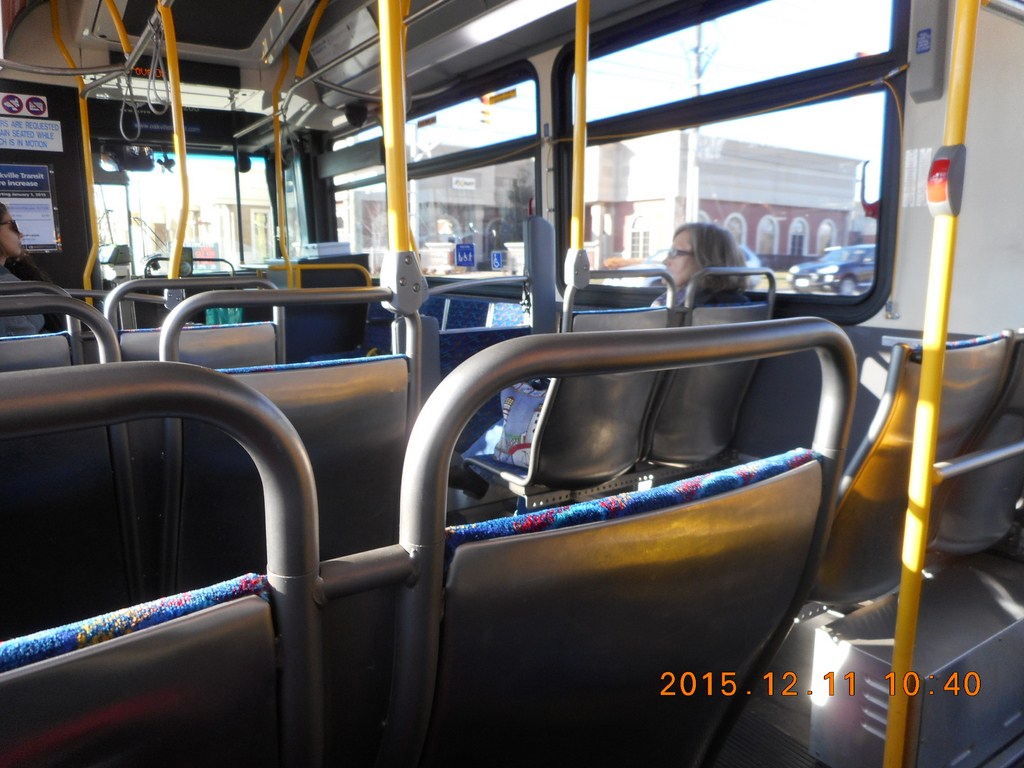 Sadly this lady has taken the only good seat in the bus. In the front half of the bus only one seat on each side affords a good view of upcoming scenery, giving me enough time to take a shot, and at this time of the year my side, the southern side, is staring almost directly into the mid-morning sun.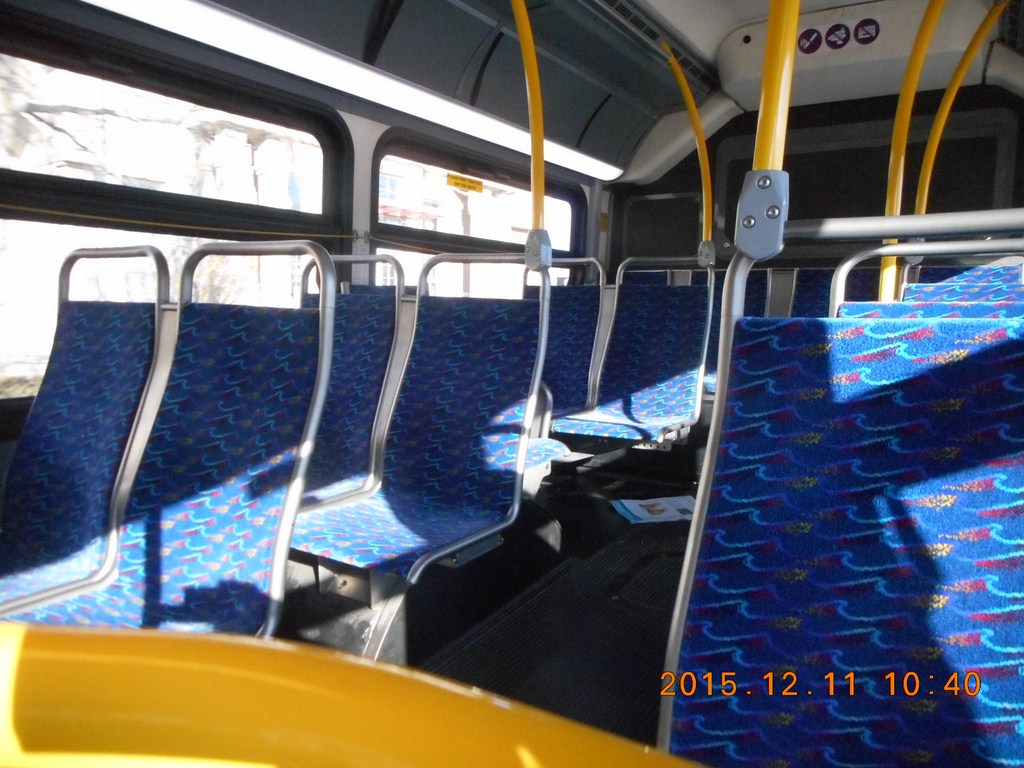 The seats in the rear half of the bus have a good view blocked by the window frame divider.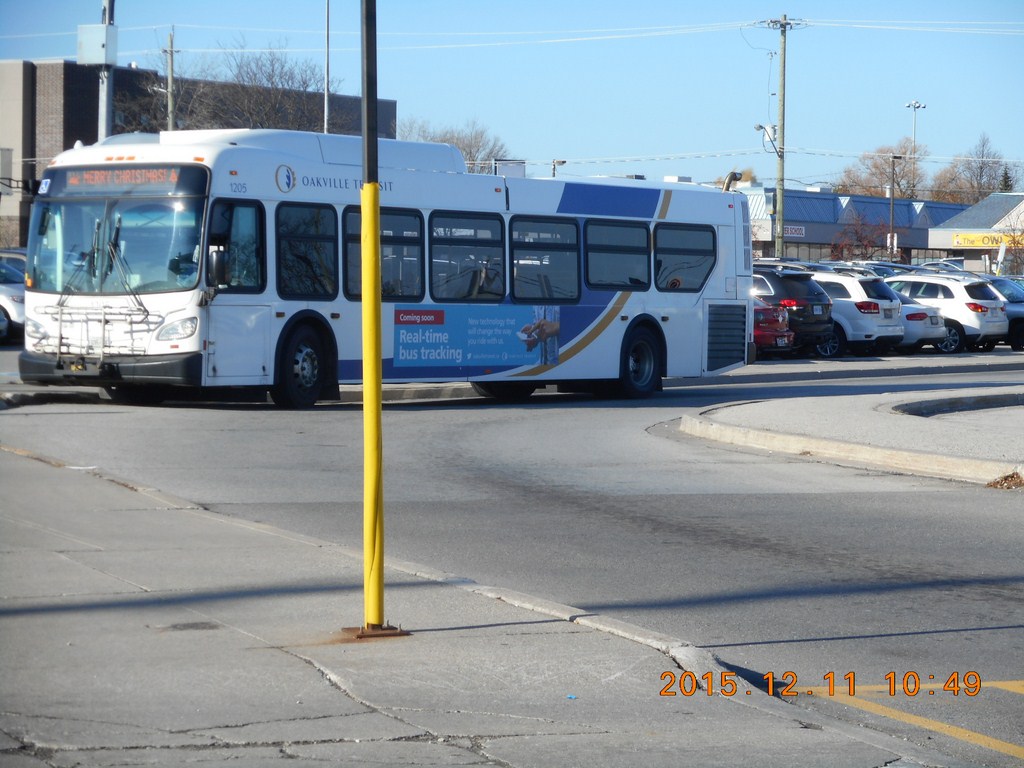 My #4 drops me off at Oakville Go station but not before my driver shows me where to catch the Oakville #14 westbound.
And, bless his cotton socks, gives me his copy of the paper map and schedule.
Hooray for Oakville Transit! It was an identical act by a Burlington Transit driver back on November 3rd – handing over his map – that gave me the idea for this trip.
I took a shot of my lovable #4 so that I could nostalge in my dotage.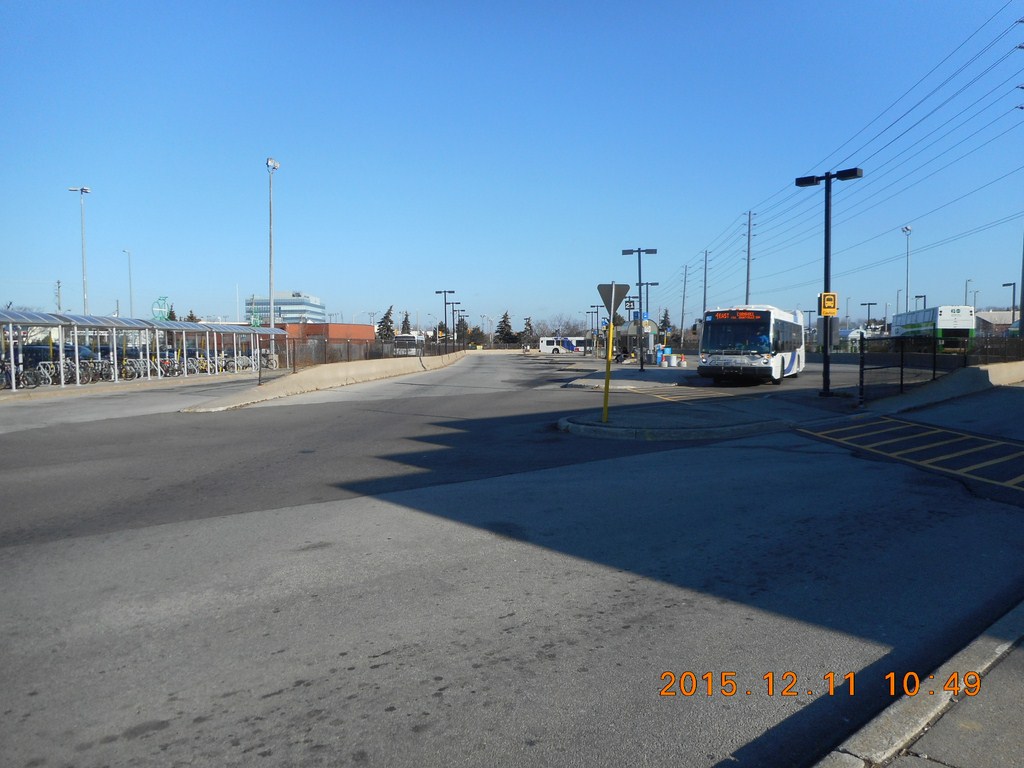 The Oakville Go Station is a massive hub compared to others.
GO buses rumble in and out (see extreme right-hand of photo), GO trains ding-ding and cling-clang and Vrooooooom in and out.
There are about 15 Oakville Transit bus bays ...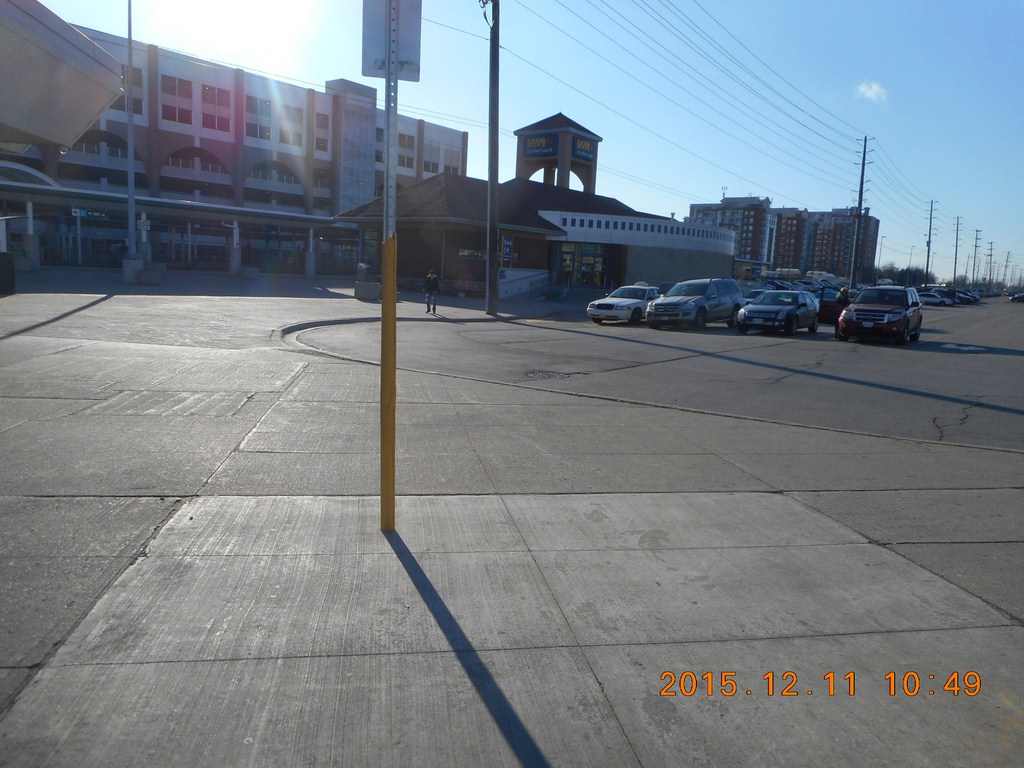 And then there is VIA rail as well. Who knew? Thinks: Must go back and check my VIA rail schedule; could be handy if I decide to do a mid-winter trip around, say, Oakville.
I park myself in a bus shelter with five other people. And here is an interesting exercise in Human Nature. Since I have still fifteen minutes until the #14 arrives I decide to start lunch – a small plastic tub with leftover boiled chicken and rice. Up to this time all five people were looking generally in my direction, the direction from which the #14 will sidle up to the bus bay.
But once I start shoveling goop with a plastic fork, all five turn and stare in the other direction.
For some reason we humans find watching other humans eat distasteful, especially if we have no food.
Is this a relic from cave-man days, when if you were hungry watching some lucky bastard gnawing on a grilled T-Bone steak just made you feel worse?
There's a PH.D. thesis in here somewhere.
And while I am on the topic, I find it distasteful to sit in a bus which reeks of hamburger or french-fries, so I have adopted a policy on not eating on public transit. I keep my popcorn snacks, ginger-snap cookies and cold grilled-cheese sandwiches for times when I am not sitting in a carriage or coach or bus.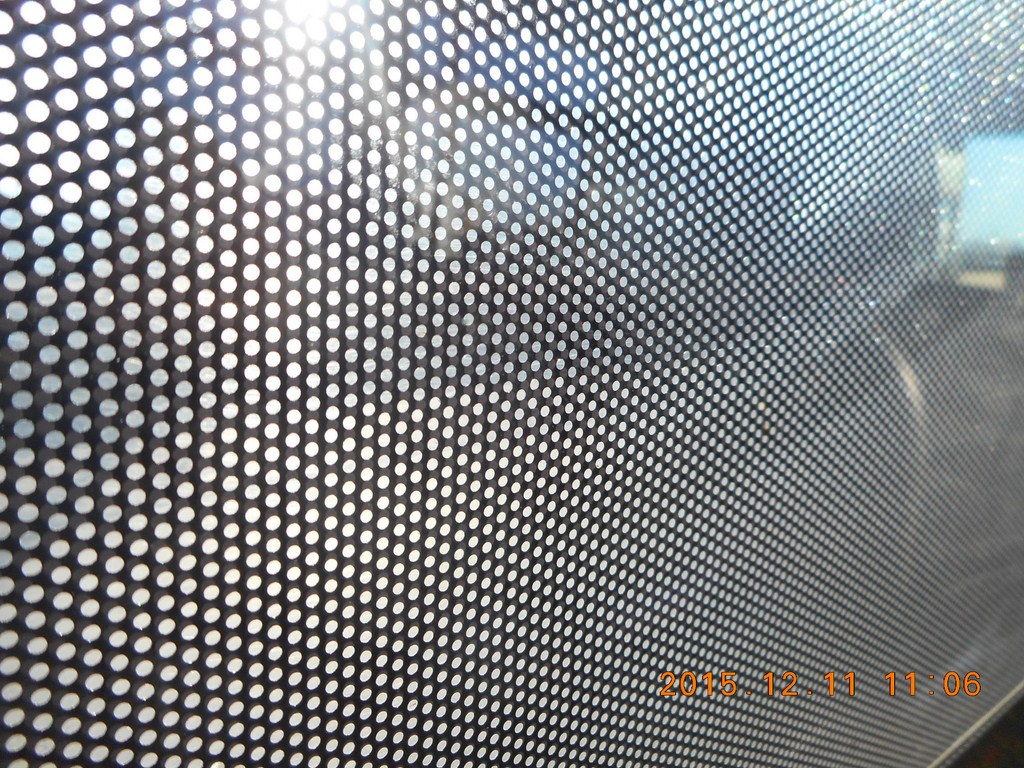 I hop aboard the Oakville #14 and am dismayed to find that the only window seats left are on the port side, and those windows are covered with the cruddy dot-image crap.
Just so's you don't think I'm complaining, here's what a photo looks like when taken through these windows.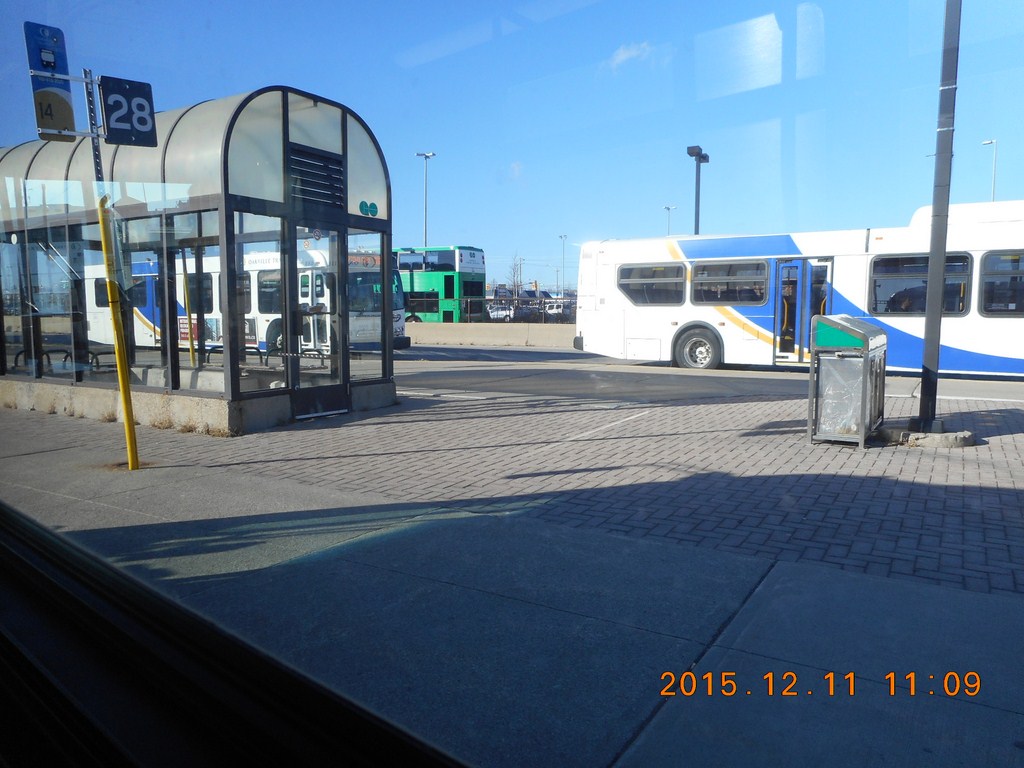 I am nothing if not tenacious, and after the disaster on the VIA train to Cobourg explain to a Sweet Young Thing that I am retired and on holiday and would she mind switching seats.
Bless her and her video-loaded smart phone, she doesn't really mind where she sits so we swap seats.
Of course, now I have to take a stupid photo of the stupid bus terminal to make it look as if I really am a stupidly keen photographer.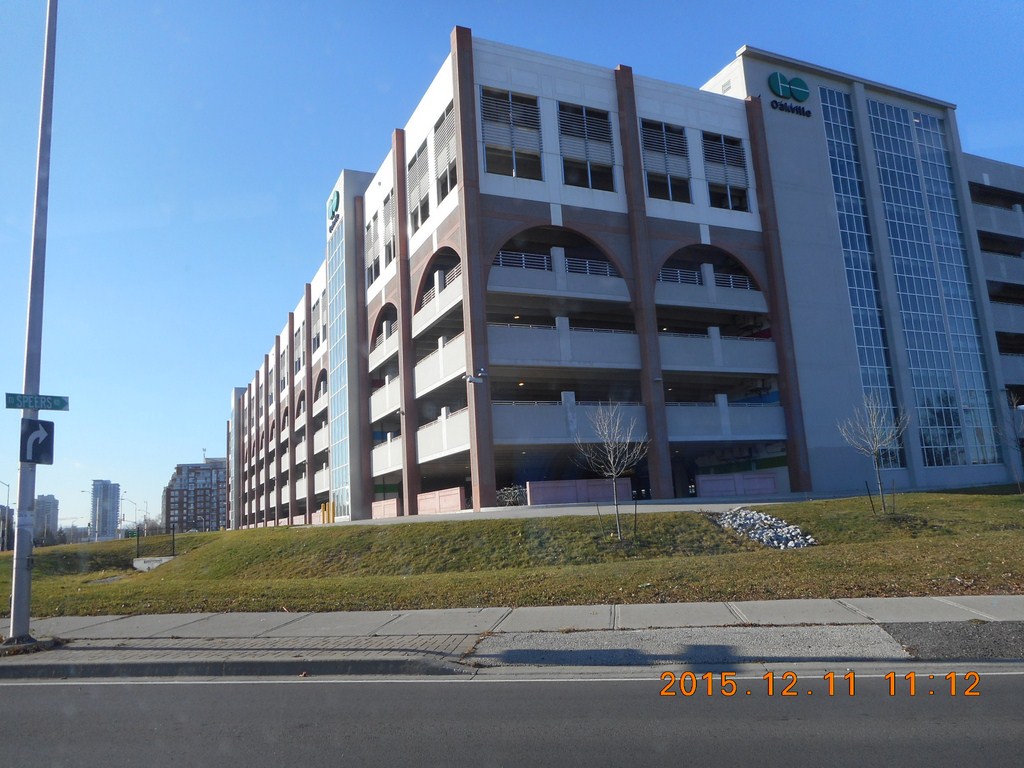 We pull out of Oakville three hours after I leaped aboard a streetcar in Toronto. Three hours into my trip and I am in my third city.
Oakville, like many GO train stations along the Lakeshore line, boasts a multi-storey car park. These buildings serve as landmarks and navigation points for people like me. I often spot the car park before I spot the little green "GO Parking" signs at the sides of the roads.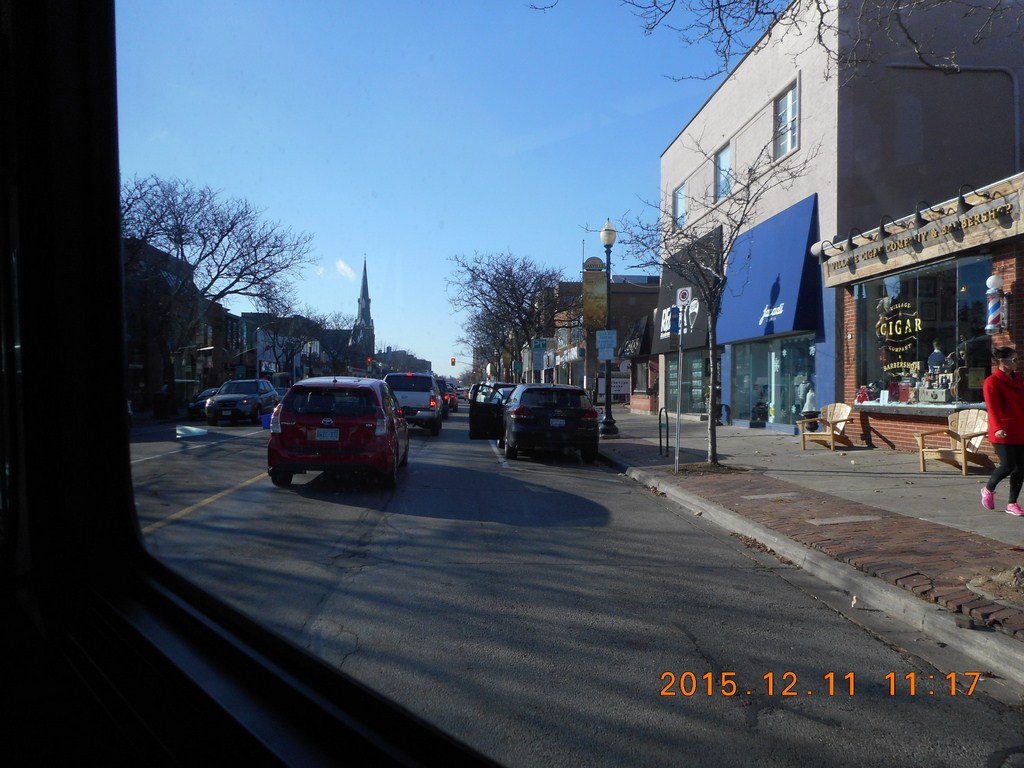 We are quickly bogged down in traffic jams brought about by people who don't know how to parallel park, and are incapable of walking from a parking lot a hundred yards away (Bitch; Moan; Whine; Complain; ...)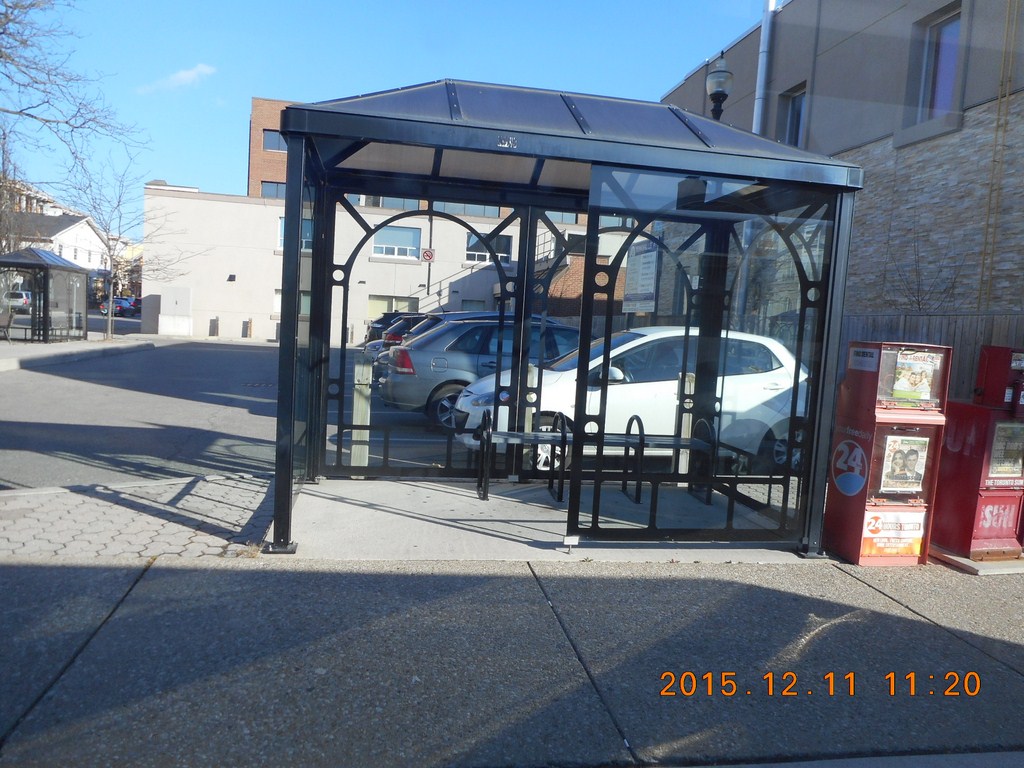 Oakville will NOT be outdone by Mississauga!
Here we have a bus shelter WITH A BENCH!
I always said that people Out West were smarter than the Wise Men From The East.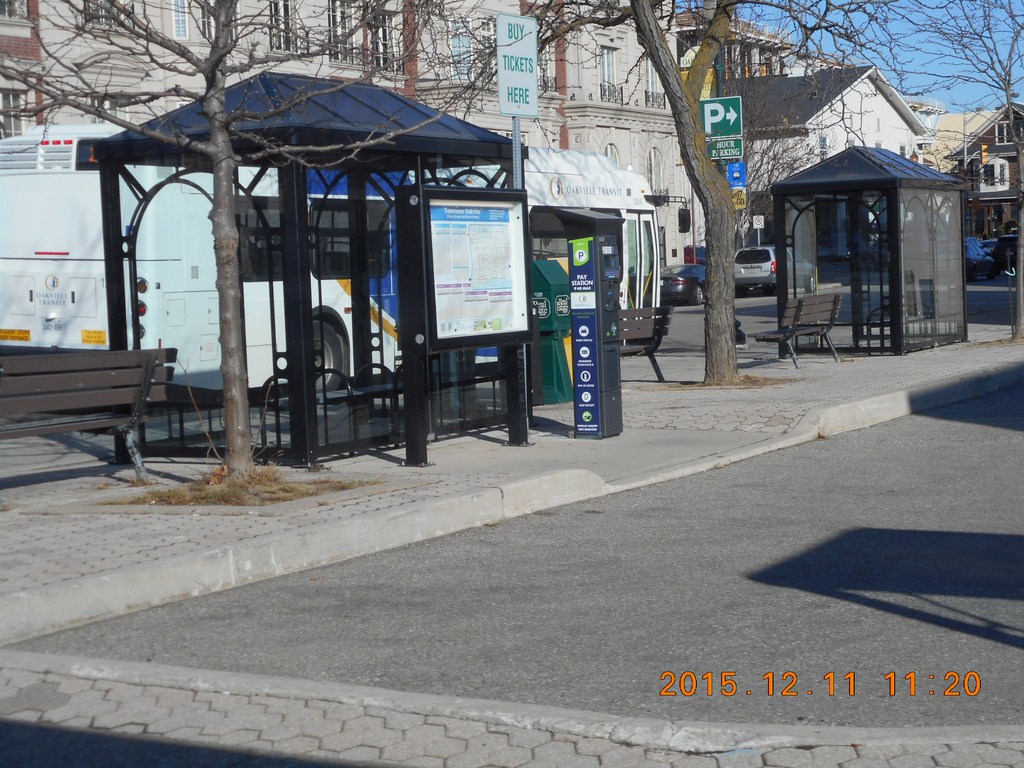 They even do them in pairs.
Showoffs!
We trundle over another creek. Creeks by the dozen, starting with the Humber River ("High Park" essentially, then Mimico Creek (Islington) and Etobicoke Creek (Long Branch), the Credit River (Port Credit) and so to what I think is Sixteen Mile Creek.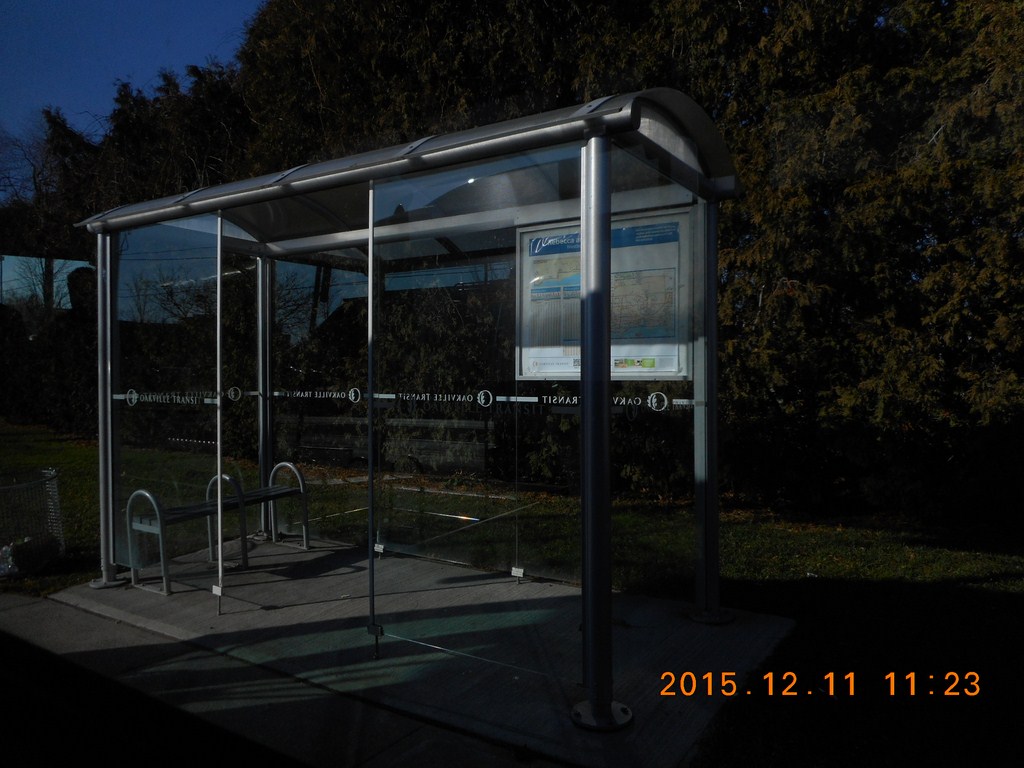 Another Oakville Transit shelter, but I'm not sure whether we are on Rebecca Street or Lakeshore Road West.
A WORD OF CAUTION: The Toronto region toggles names like crazy.
Dundas Street East begins in Toronto east of Yonge Street then becomes Dundas Street West once it crosses Yonge Street then becomes Dundas Street East again as it crosses into Mississauga – east of Highway #10, see? – then becomes Dundas Street West once it crosses Highway #10 in Mississauga (DO pay attention) before changing back to Dundas Street East in Oakville, then Dundas Street West in Oakville, and so on through Burlington and on and on until it reaches (gasp!) Dundas, a tiny hamlet at the pointy-end of Lake Ontario.
Likewise Lakeshore Road see-saws between East and West as it makes its way, for all I know, from Kingston.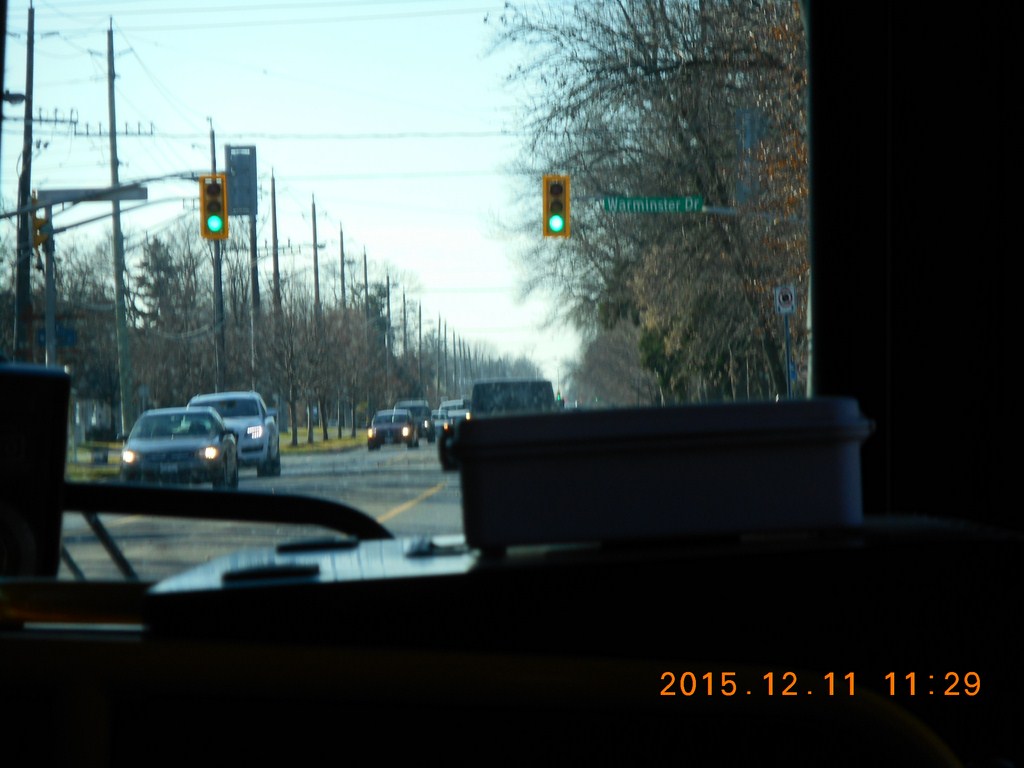 A grainy shot; we are clearly not in mid-summer, but this stretch of road is lined with trees and green grass, still, awaiting the first snowfall.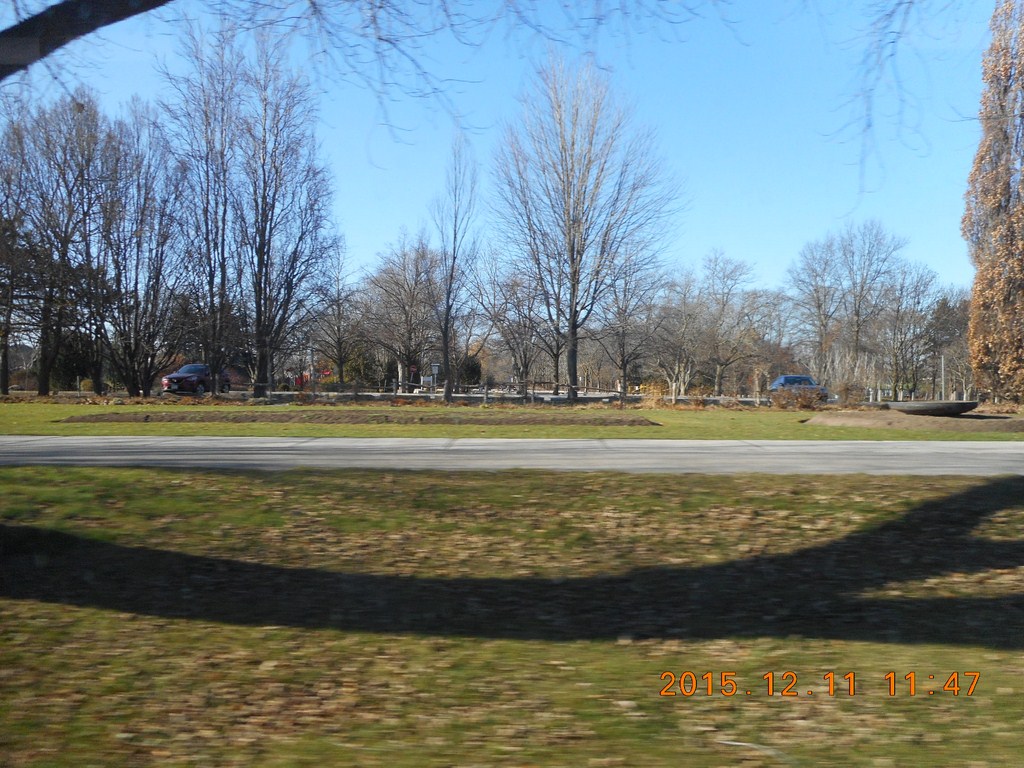 As we approach Burloak Drive I take a swipe-shot as we pass one of the many green parks that line this road.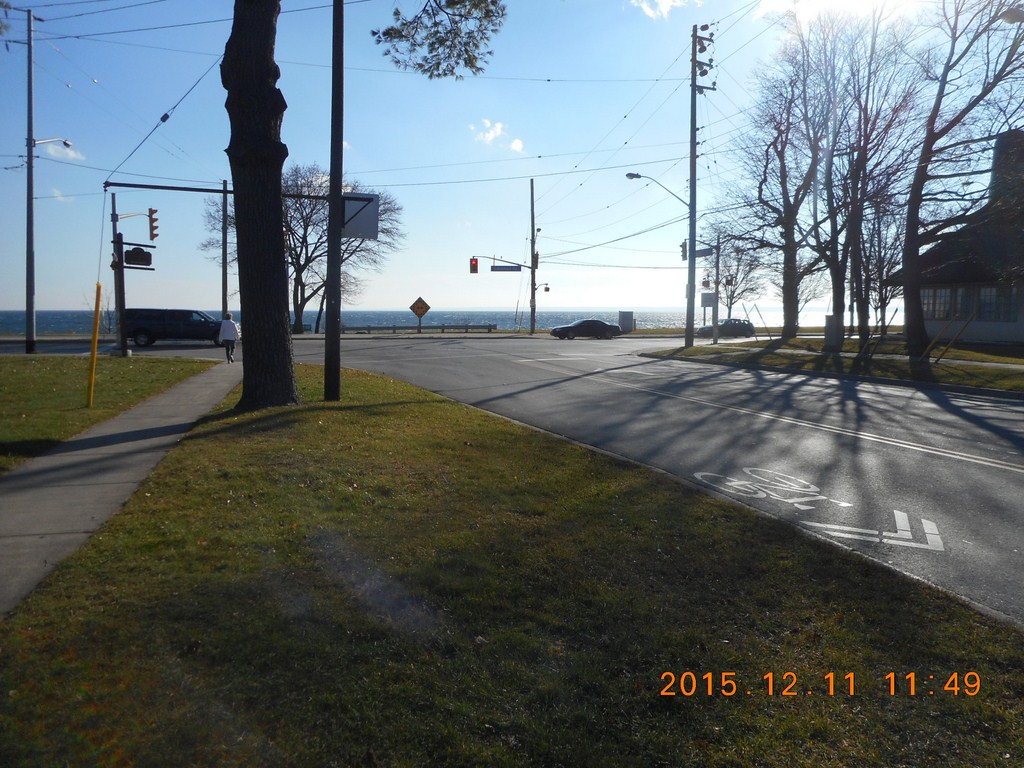 And here I am on Burloak Drive (BURLington and OAKville city boundaries, get it?) staring at the wind-swept waves on Lake Ontario.
At this point I can catch either the 20A or the 20B to get to Appleby Go Station. I will walk to the corner, and if no bus is yet in sight, I will take a few shots.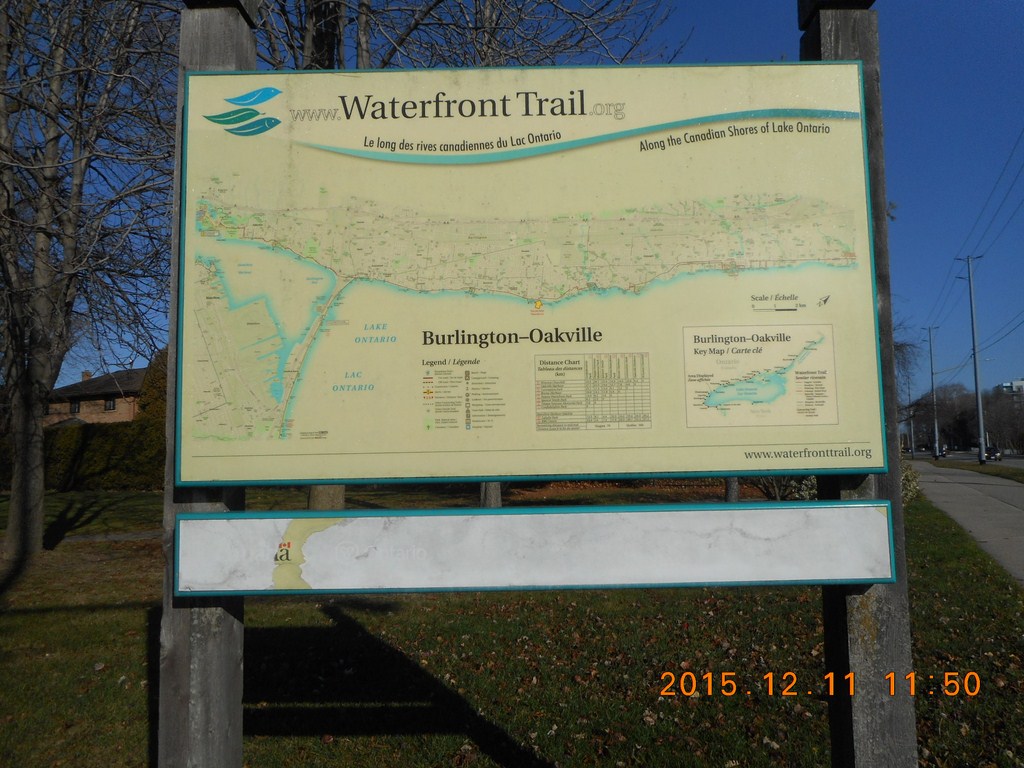 This is a part of The Waterfront Trail which makes its way along the shore of Lake Ontario. In Toronto, of course, it becomes the Martin Goodwin (Goodward?) trail and is a hazard to pedestrians who refuse to threaten to clothesline cyclist and roller-bladers.

THEN!
I remember my lesson from Milton and case the street in the other direction. Yep! The 20A runs on one side of the street (and there is nary a 20A in sight) but the 20B runs on the other side of the street - and here it comes on my right!
I scamper across giving thanks for the fellow busy clipping his bike to the bike rack and scramble aboard.
Yes, this is the 20B and yes, confirms the nice driver, he transforms into a #10 once we arrive at Appleby GO Station.
Like all drivers (excepting of course the bastards in Hamilton) he asks where I am headed so I say "Stoney Creek via Hamilton Street Railway" and he suggests I switch in Appleby to a #21, it will be much faster for me, but I point out, yet again, that I am retired and on holiday and appreciate the opportunity to cover more territory (see #1X below!) so we set off and make our way to Appleby GO Station.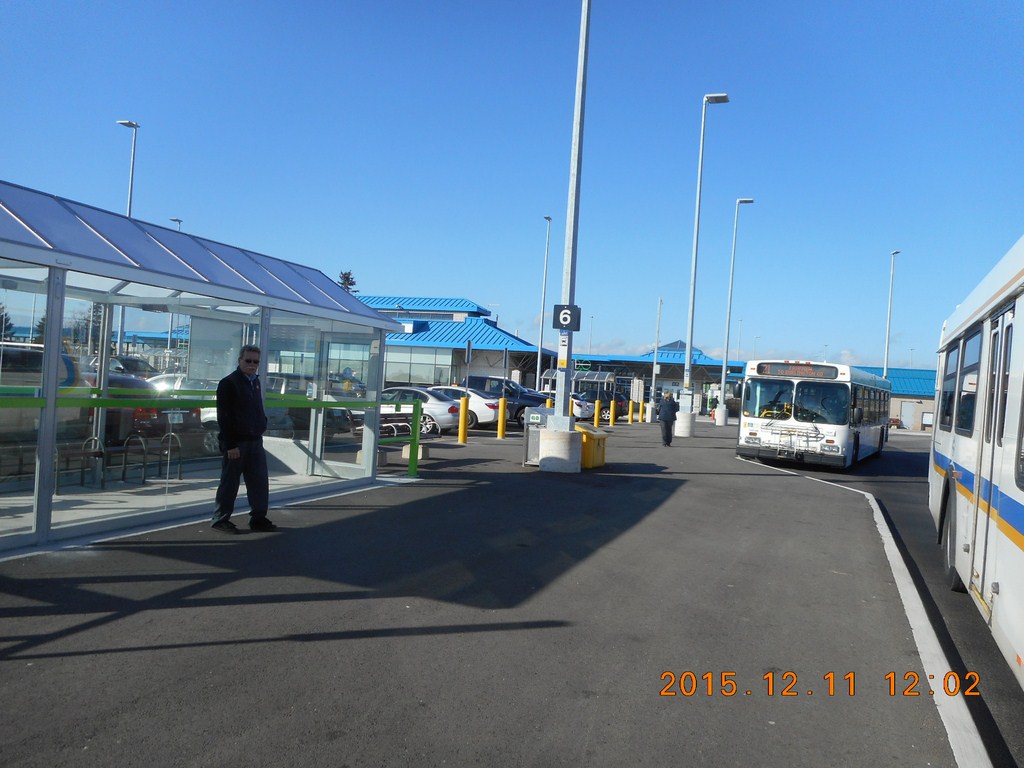 And here we are in Appleby GO station. MY fourth city in four hours.
I hop off to take a quick timing shot, much to the puzzlement of the waiting traveler, then hop right back on, but to a better seat.
Seven minutes later we are on our way as the Burlington #10.
Although I think I double-charged myself on Mississauga Transit, I think this freebie makes up for it. Sort of.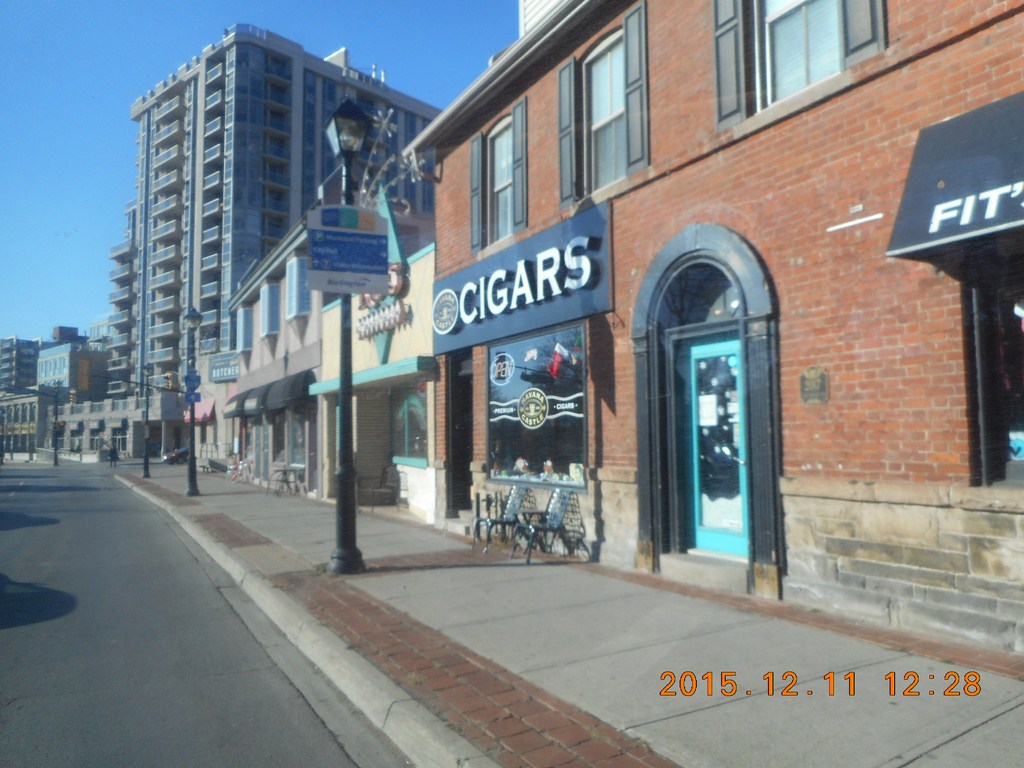 We make a pleasant trip back down Appleby Line then turn right, west, onto New Street and make a bee-line for Burlington.
We come to a traffic island and my memories from 25 years ago surge up. Back then I did some programming work for Laidlaw Waste Systems and once or twice a week I'd come to this nook for a burger-and-fries and then watch the fellows building the boat launching ramp.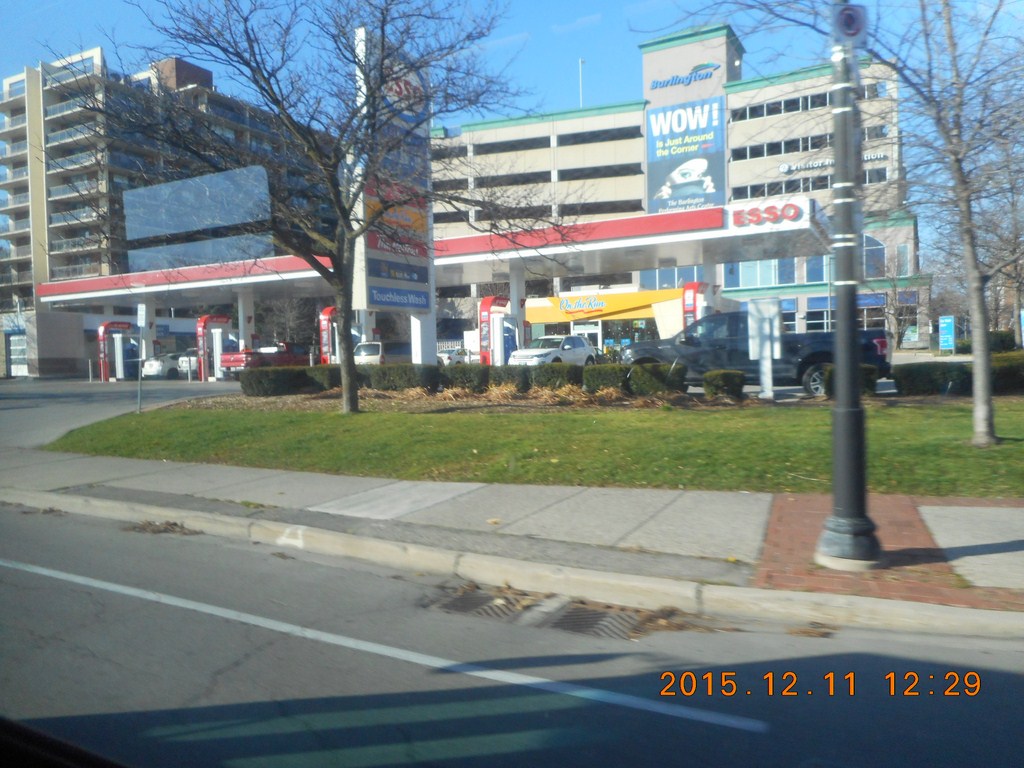 I would fill up with gas at this Esso before heading back to work. In those days I was filling the gas tank every two days, juggling four clients each day.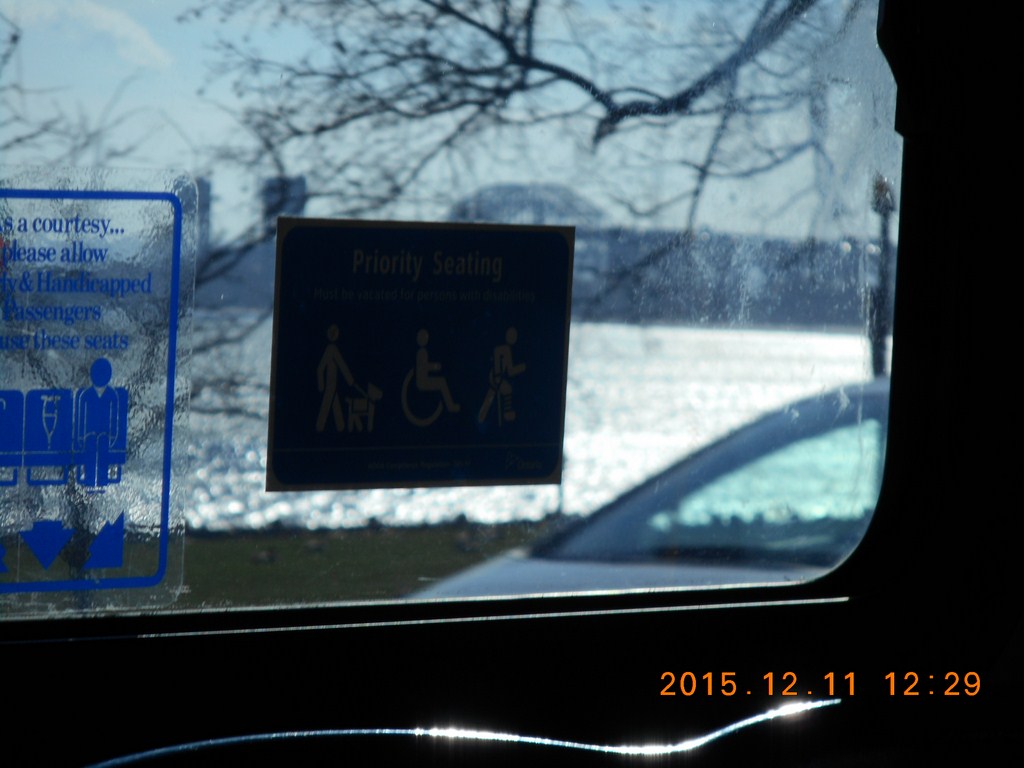 Another reason that I don't like notices on Windows. That's the beautiful Burlington Skyway in the distance.
My cheap little camera focuses on the notices rather than the engineering production.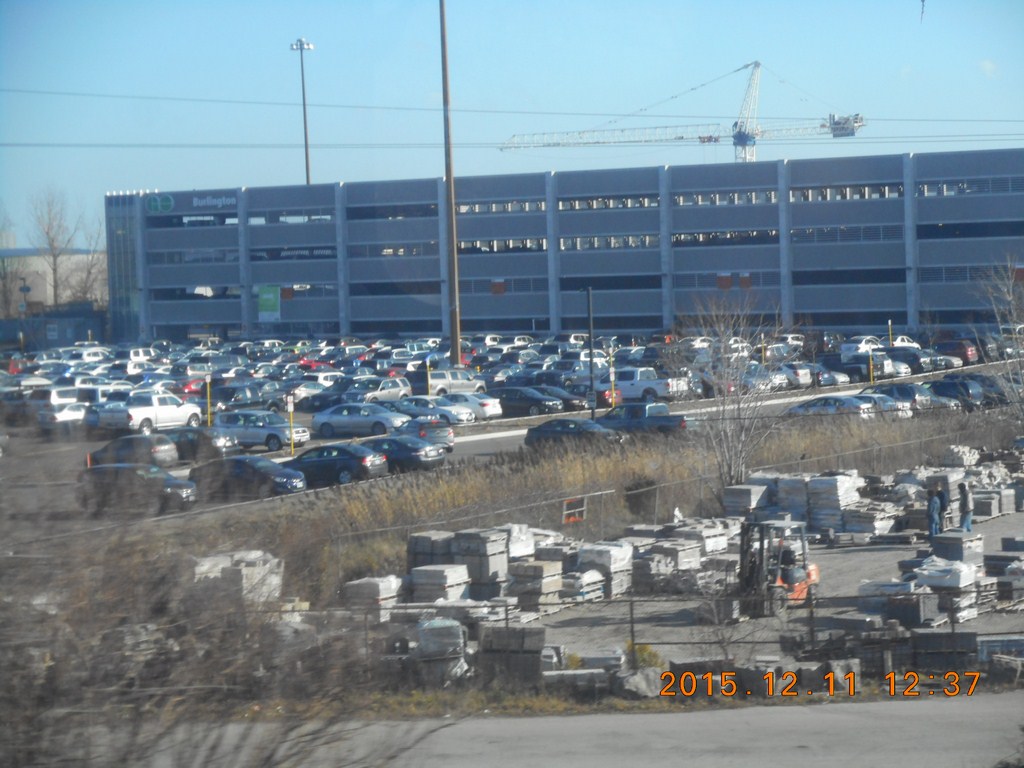 Over four hours after I hopped on that #501 streetcar we are about to drop into Burlington GO Station. It was here on November 3rd that I conceived the idea of daisy-chaining my way from Toronto to Stoney creek, so this is a happy return for me.
As we pull in my driver, bless him, points out the #1X bus, and I hop off the #10 and hop on the #1X.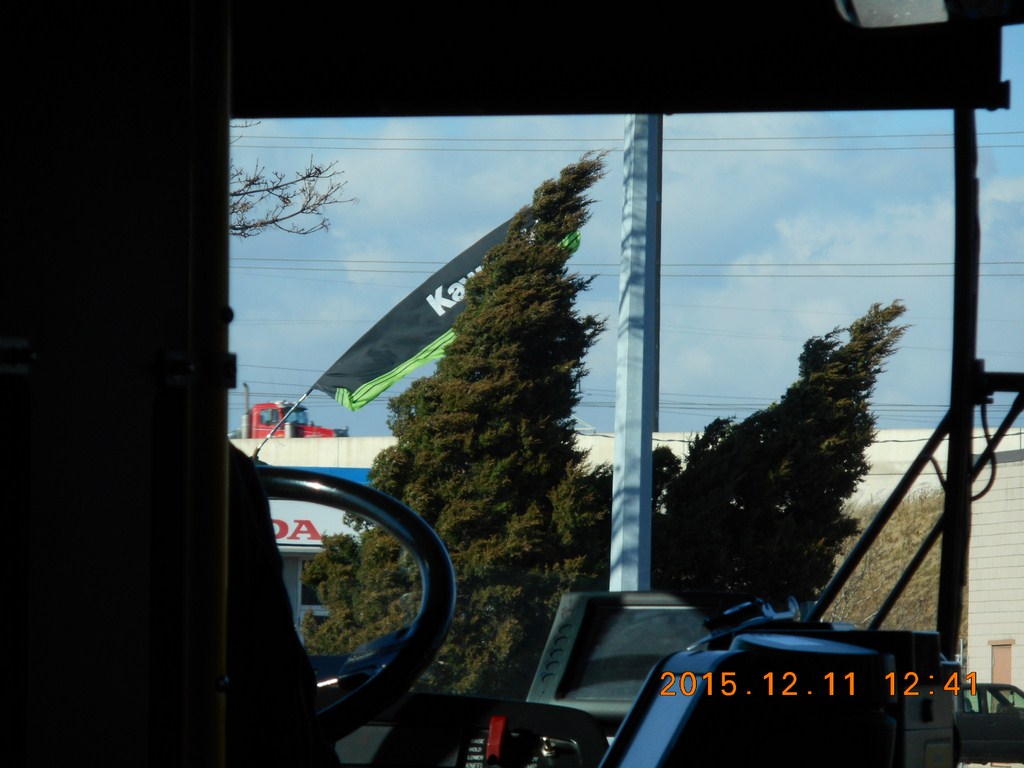 I promised to tell you about the wind. Check out the fir trees!
While I was sitting in this bus waiting for it to set off, the bus was rocking in the wind. Weird.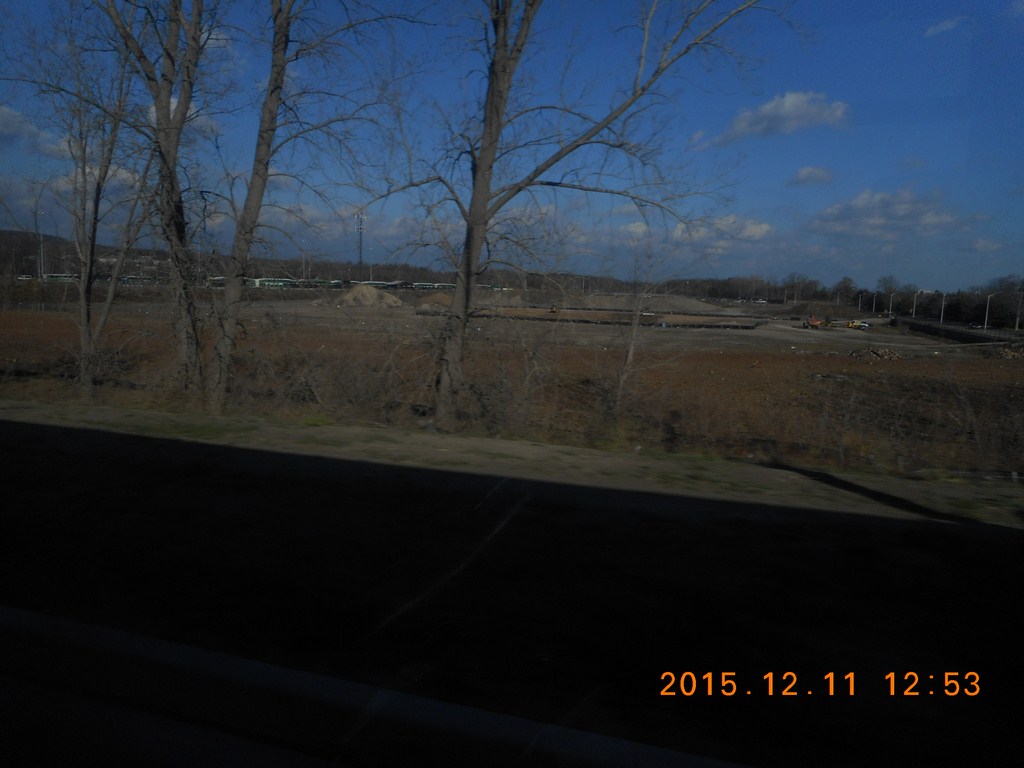 We make our way along Plains Road East and turn up Waterdown Road heading towards the Aldershot GO Station.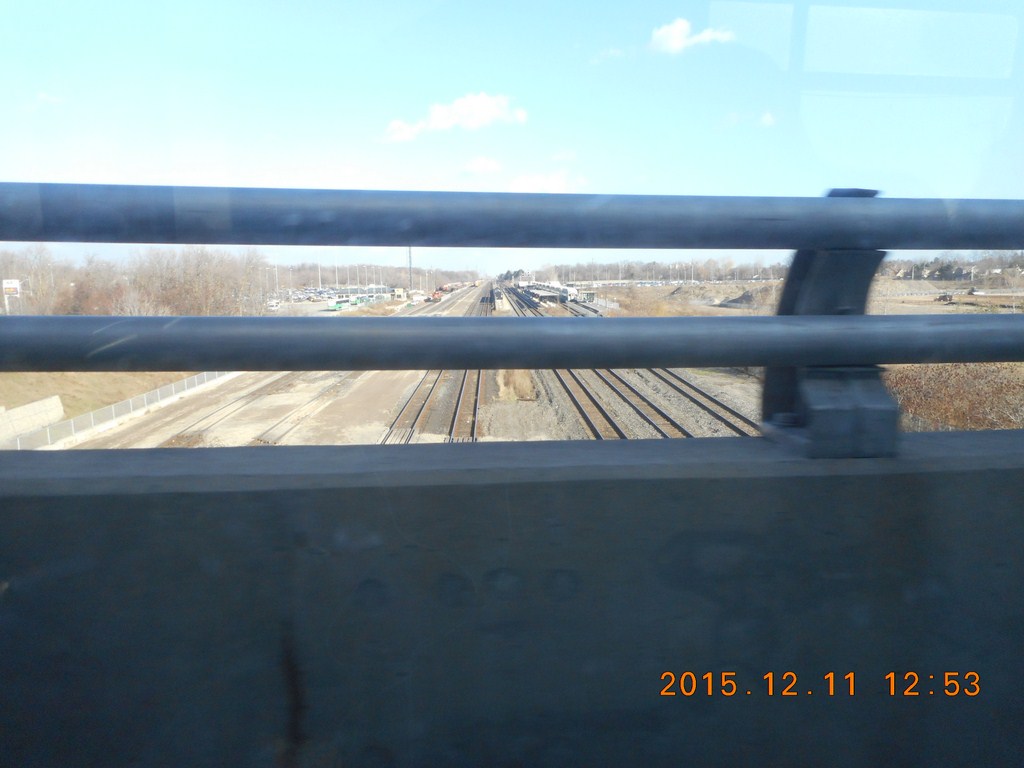 Aldershot GO Station is the end-of-the-line for GO Trains on the Lakeshore West route; God forbid the trains should run all the way to Hamilton, right?
The train on the rightmost track, partly hidden by the station canopies, is waiting to head back towards Toronto and Oshawa.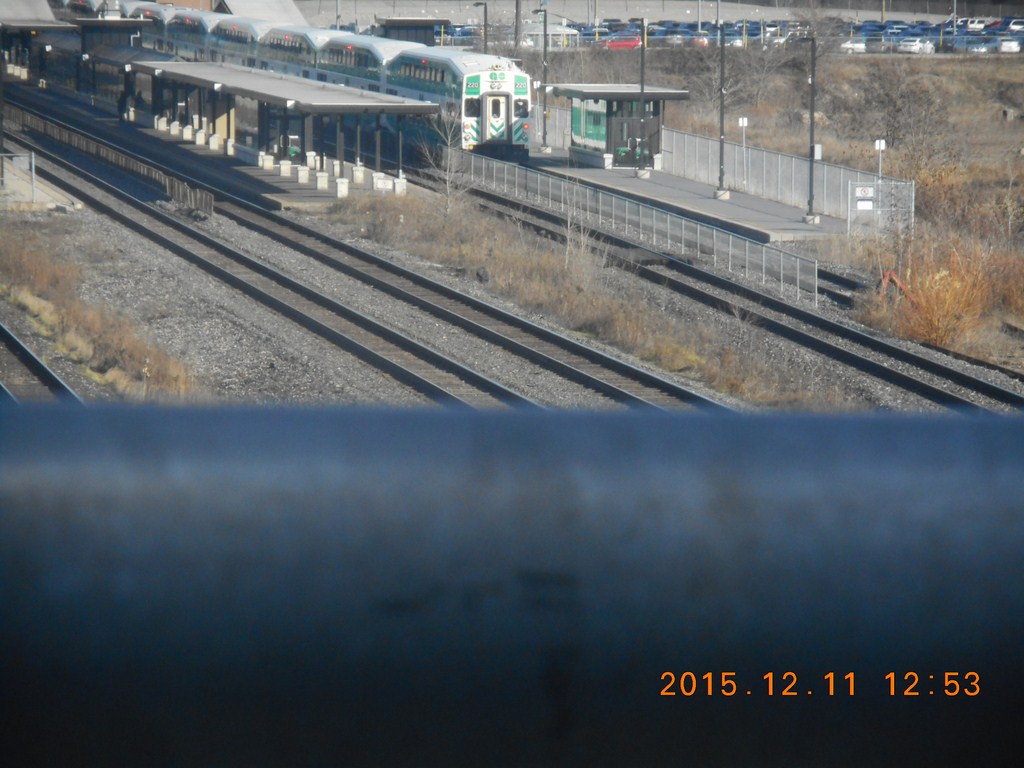 There it is. And you can see that that one rail of the track is missing just behind the bush on the right-hand edge of the photograph.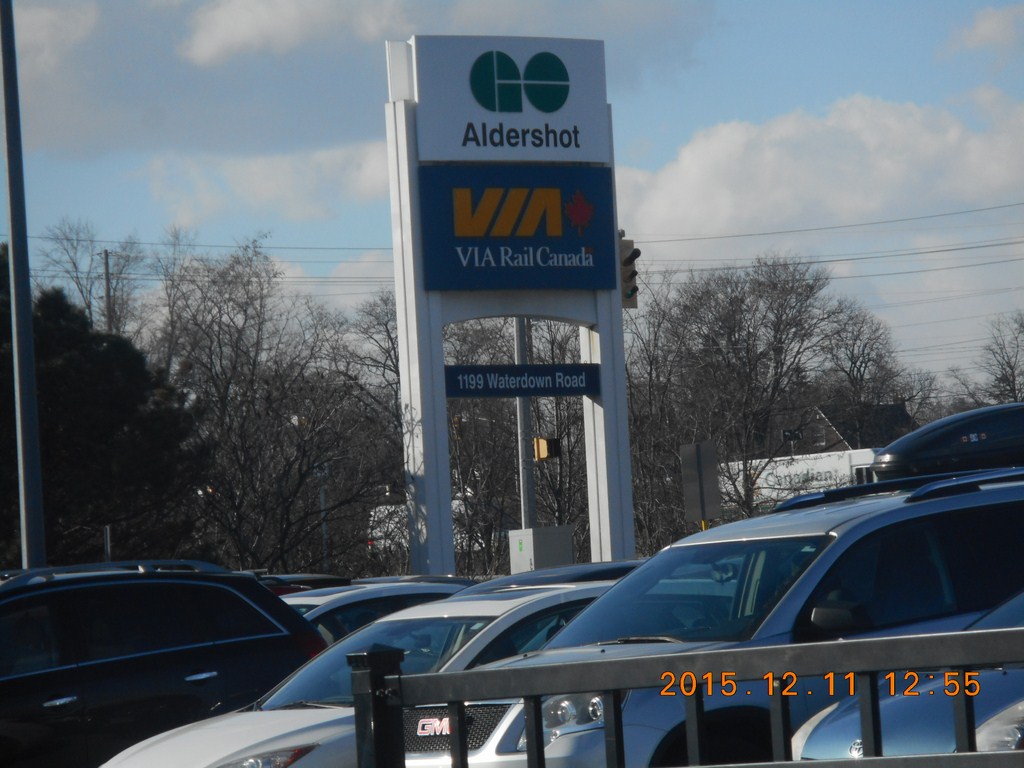 We sit in Aldershot for about three minutes, then set off to Hamilton.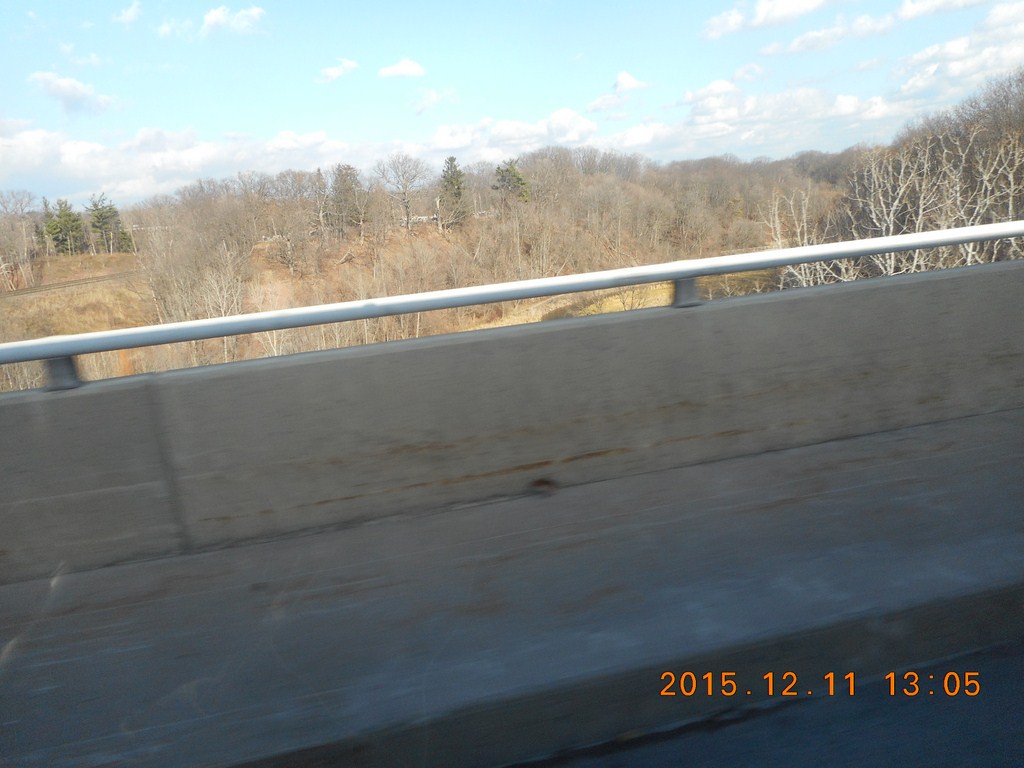 We swing by the Botanical Gardens. I suppose a day-in-the-park in summertime could be a GO train to Aldershot then the Burlington #1 to the Botanical Gardens.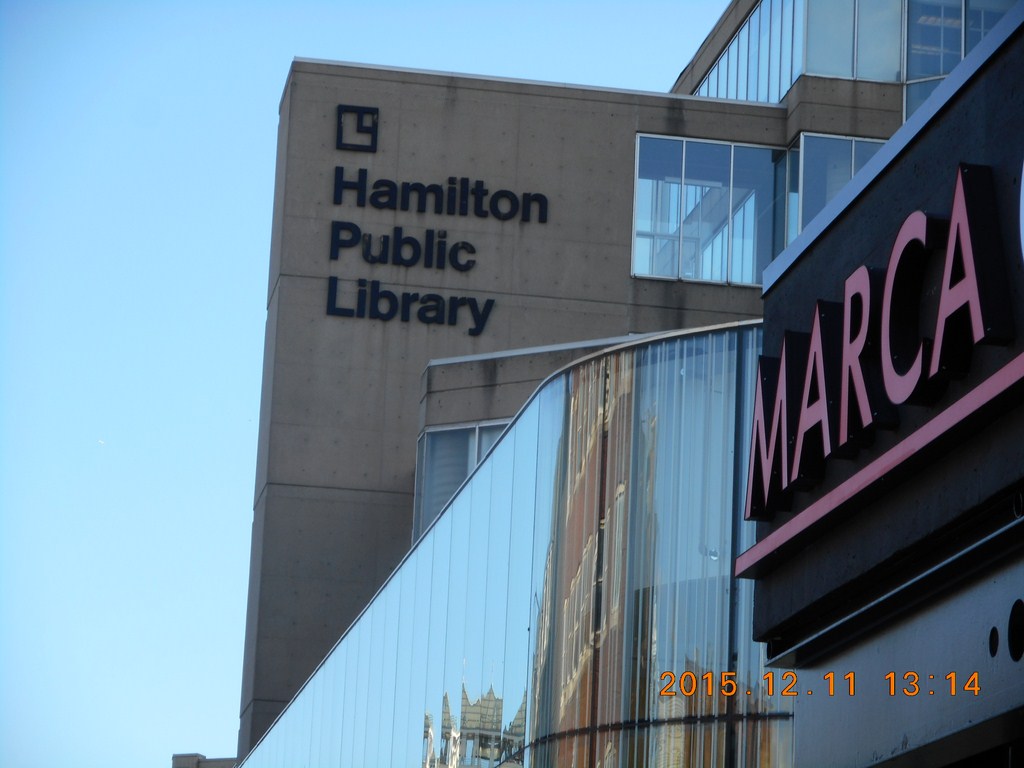 And look! Exactly five hours after starting off here I am in Hamilton.
My fifth city in just five hours.
With sinking heart I realize that I have left my HSR map at home, but I remember that the Hamilton Public Library has copies, so I ask the driver if she stops at the library. Yes, she says, I can let you off at the next stop.
By way of conversation I remark that "The Hamilton Public Library is the only place you can get a bus map of the HSR", and she replies quietly "I've heard that!".
So there you go. Even the Burlington Bus drivers are aware of the paucity of HSR maps in Hamilton.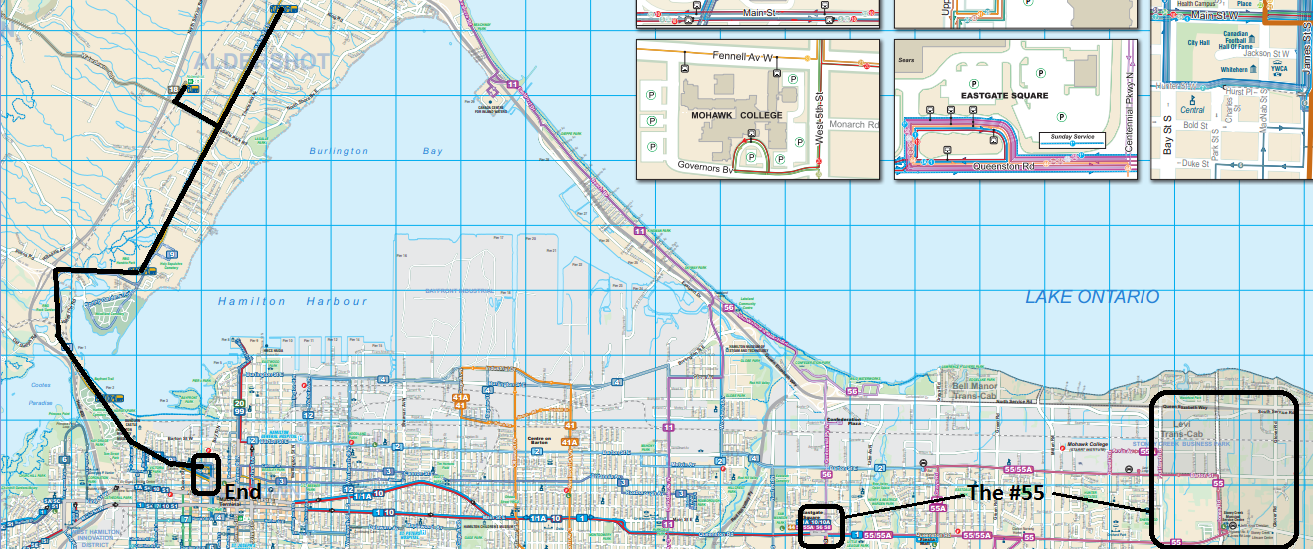 I grab my map and make a study; I can't see that the HSR #55 actually goes as far as the GO stop at Casablanca, so I figure either it does or it doesn't. If it doesn't I might spend an hour or two wandering Downtown Hamilton. But first I should make my way to an Information booth, like the one shown above in the MacNabb Terminal Complex.
I set off and think to check with a bus driver that I am walking in the right direction. Here's a bus, marked "Not In Service", but with two HSR staff chatting inside the door. I wait outside until one spots me; the nearer one turns and snaps in a loud an belligerent voice "NOT IN SERVICE".
I am stunned.
Perhaps I don't speak or read English and do not understand the sign.
Perhaps this is my first, ever attempt to make use of Public Transit.
It isn't; I've been babbling English for over 65 years and I made myself familiar with public transit in (counts on fingers) at least six countries, and "did" HSR less than two months ago.
I am stunned because this is how HSR greets passengers; by yelling at them as if they (the passengers) are stupid; by not starting off with a greeting ("Hi, how're ya doin'?") and by not waiting for the potential passenger to ask a question.
I sigh and make my way along the street and finally spy the MacNabb Terminal.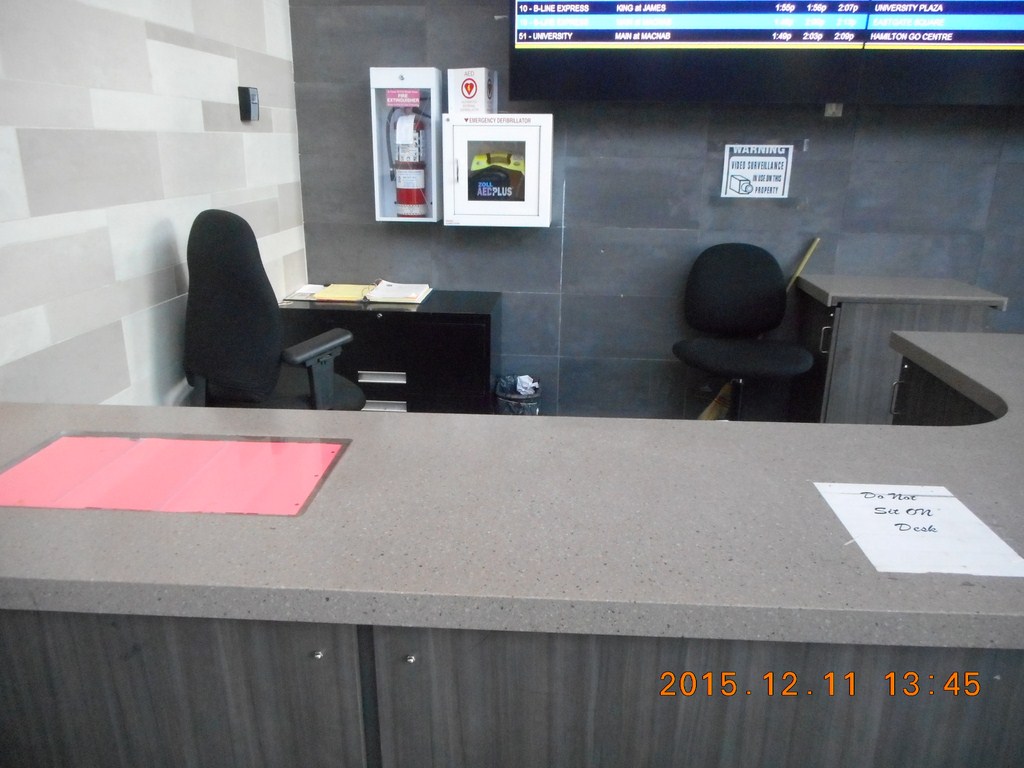 Into the Information booth and as you can see, after nearly two months there STILL is no-one sitting at the table.
I scan the timetable racks and waddyaknow! There are schedules for every service except the #55!
What's a guy to do? Wander outside and make for the nearest bus; the driver is chatting with another driver standing outside the driver's-side window, so I board the bus and ask my question: "Please can you tell me where I can catch the #55 for Stoney Creek?"
Both drivers respond in loud voices, each trying to out-shout the other.
If I thought I was stunned before I'm doubly-stunned by this pair of hoodlums.
At last the seated driver wins. The #55 doesn't start or stop from this terminal; I should walk to Main Street, turn right, etc etc. It's a Good Thing that I speak and read English.
"Will there be someone there who can tell me if it connects with the GO bus?".
More double-babble crescendo and I gather that no, the #55 doesn't make it to Casablanca, but when I board the #55 I can ask the driver for a Transcab transfer and he will call a cab to pick me up
I don't want a Transcab; I want Public Transit. So my plan to reach Stoney Creek falls through, but I did get as far as Hamilton and could have gotten to, say, Jones Road.
But the HSR employees have convinced me to get-out-of-Dodge.
I am not welcome here.
(Later: Somewhat calmed down I see that the #55 starts at Eastgate terminal not in downtown Hamilton. OK. So I can't catch the #55 from downtown Hamilton; I get that. But I am still miffed that the HSR employees are so belligerent and offensive, and I can see very good reason why there should be a copy of the #55 schedule in the booth, so I can plan my trip with the #10, or whatever it takes ....)
(Later Still) Rats! I could have gotten by Burlington Transit #2 or #4 to the intersection of Nash Road and Barton Street East (see below). This is what comes of poor planning and research (hangs head in shame)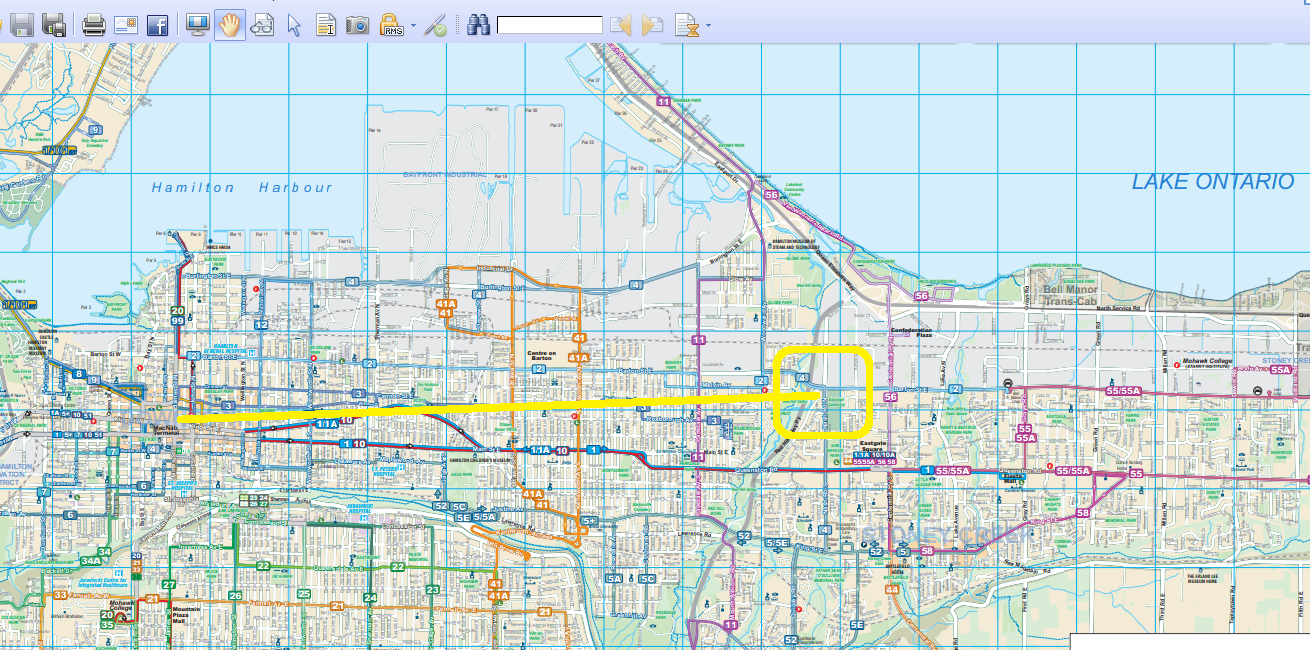 The yellow line shows an approximate direction from the downtown terminal to the (yellow square) intersection of Nash and Barton, where stops the GO bus between Niagara and Burlington. Note how close that is to Eastgate Square (lower right-hand corner of my yellow square) and hence the %55 heading east. If HSR was a little more pleasant I might have ended up doing this, and experimented with Transcab, which runs in so many provincial towns and cities.
I wander off to the GO Train station (which has no trains but has GO buses) and hop aboard the GO #16 direct to Union Station in Toronto, apart from a half-dozen stops in downtown Hamilton, and whoop-de-do by three o'clock I am back in Toronto at Bay and Front and by 3:45 I am home, showered, and enjoying a nice cuppa..
My Presto Card has a balance of $29.03, so my day's escapade has set me back a little under ten dollars.
Not bad for eight hours of travel, eh?
| 8:15 | 9:25 | 1:10 | ex Queen street 501 |
| --- | --- | --- | --- |
| 9:42 | 10:12 | 0:30 | ex Long Branch #23 |
| 10:28 | 10:50 | 0:22 | ex Clarkson #4 |
| 11:10 | 11:45 | 0:35 | ex Oakville #14 |
| 11:50 | 12:00 | 0:10 | ex Burloak #20B |
| 12:07 | 12:37 | 0:30 | ex Appleby #10 |
| 12:38 | 13:14 | 0:36 | ex Burlington 1X |
| 13:58 | 15:03 | 1:05 | ex Hamilton #16 |
| | | | |
| | | 4:58 | Travel time |
| | | 6:48 | Total Time |
| | | 1:50 | Wait Time |
| | | | |
The Trip
Start near the centre of the Toronto Transit Commission map below and continue moving from right to left as you pass to each map.
The maps are not to the same scale.

The Toronto Transit Commission 501 streetcar from York and Queen to the Long Branch Loop.

The Mississauga Transit 23 from the Long Branch Loop (Long Branch GO station) to Clarkson GO Station.

The Oakville Transit 4 from Clarkson GO Station to Oakville GO Station, then the Oakville 14 to Burloak Drive.

The Burlington Transit 20 to Appleby GO station, morphing into the 10 to Burlington GO Station.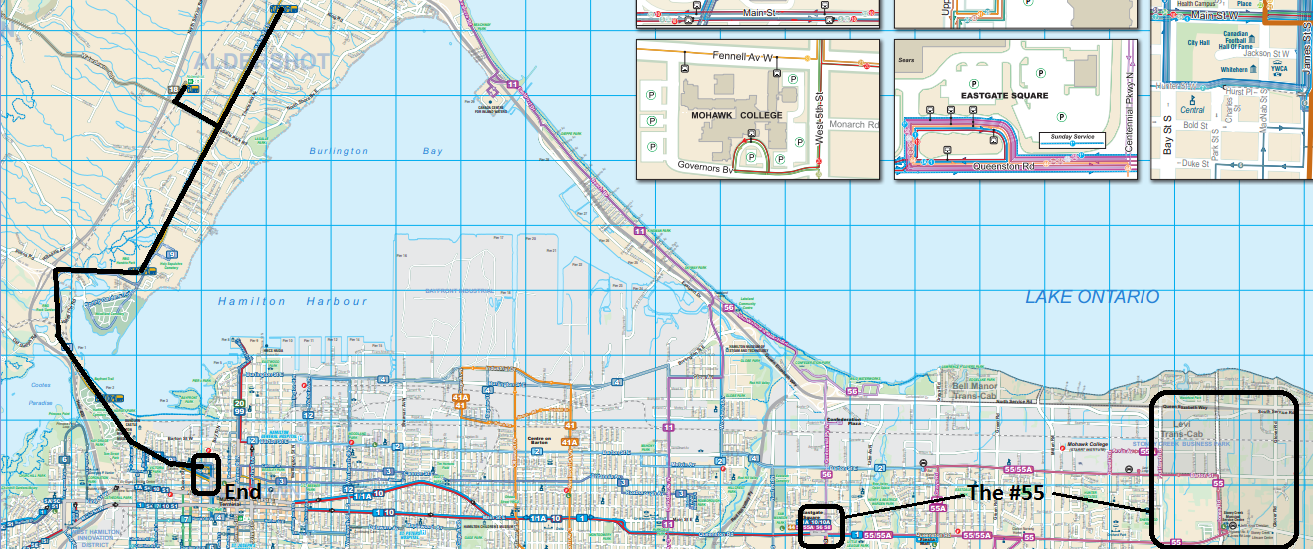 The Burlington Transit 1X which traveled via Aldershot GO Station to downtown Hamilton, from which I escaped by GO Bus.




Loading





416-993-4953 CPRGreaves@gmail.com
Toronto, Wednesday, January 06, 2016 1:14 PM
Copyright © 1996-2016 Chris Greaves. All Rights Reserved.