416-993-4953

32 Grenville Street M4Y 1A3
Portable Pizza-Electric effete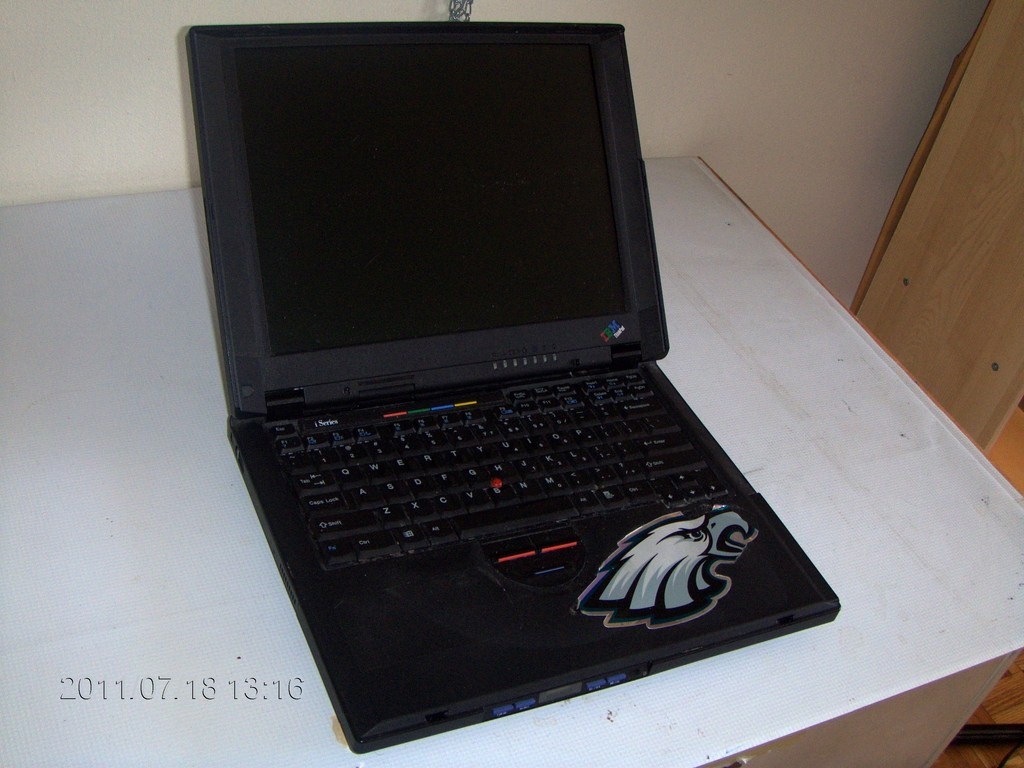 Start with any laptop at all.
This is an IBM ThinkPad circa 1998 which I found in a recycling bin up the street.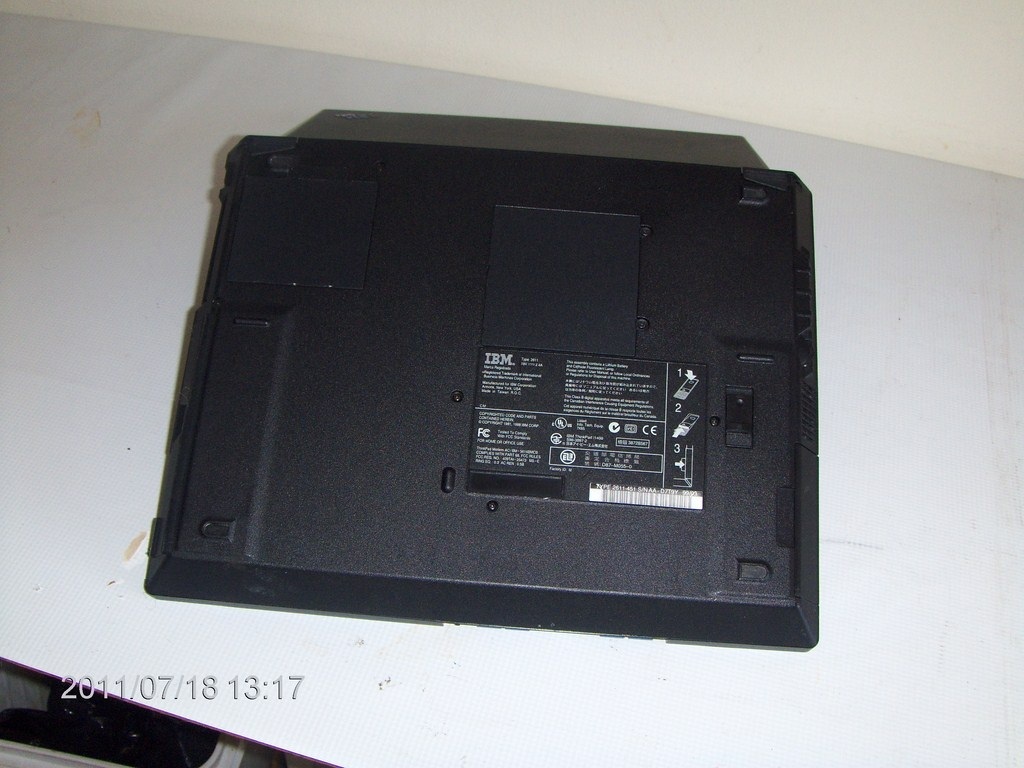 Here is the backside.
Now I think about it, not any old laptop. An IBM ThinkPad will have a certain air of "je ne sais quoi" when I stroll into The Montreal Deli tomorrow night.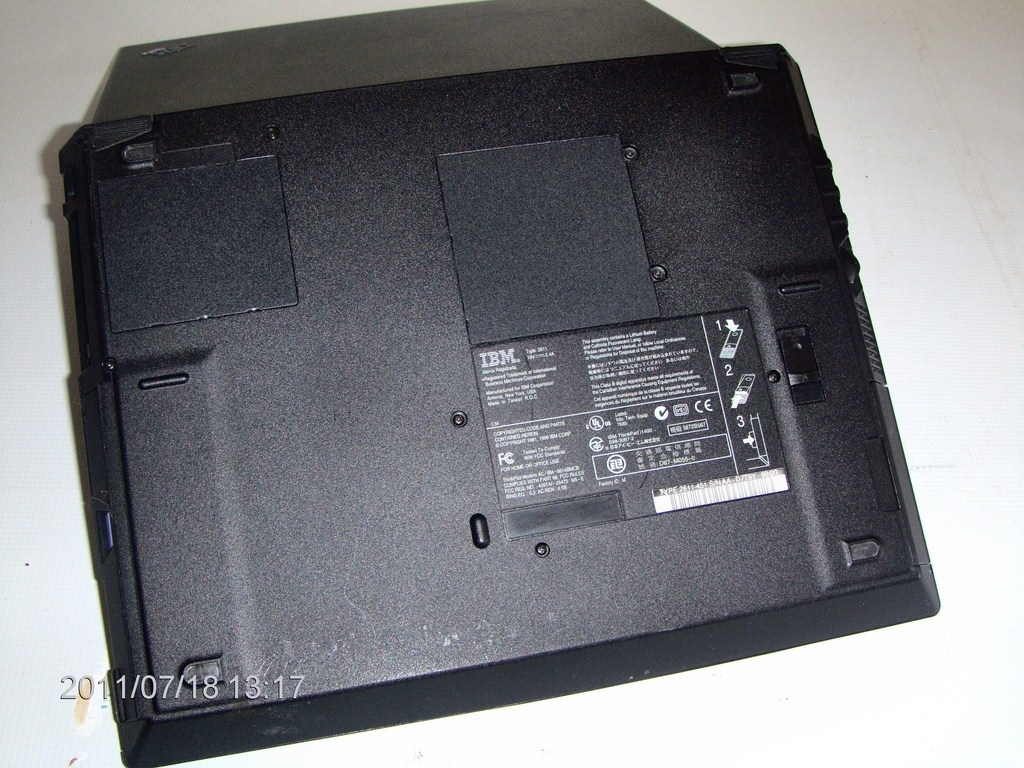 Here is the back in more detail. Retain the stickers and labels; they will add an air of authenticity to the affair.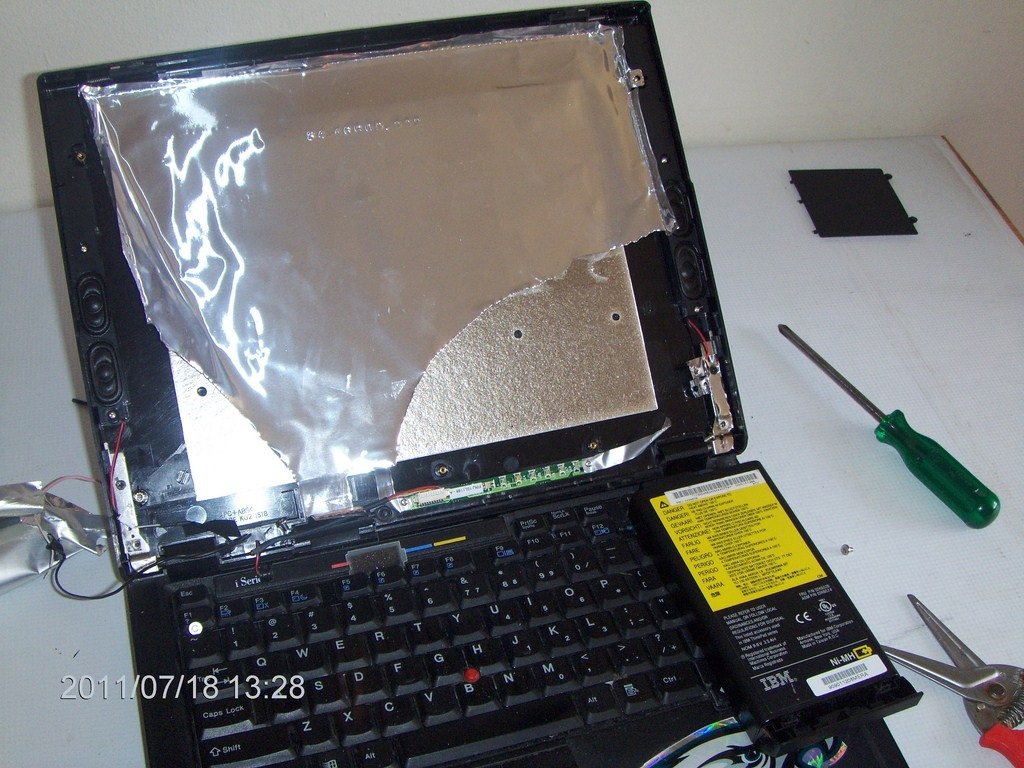 Begin as follows:
Rule 1: If it is screwed, unscrew it with a screwdriver.
Rule 2: If it is clipped, un-spring it with a screwdriver.
Rule 3: If it has a cable, cut the cord.
Check out the reflective foil backing from the LCD. Keep that; it will serve us well as a reflective insulator.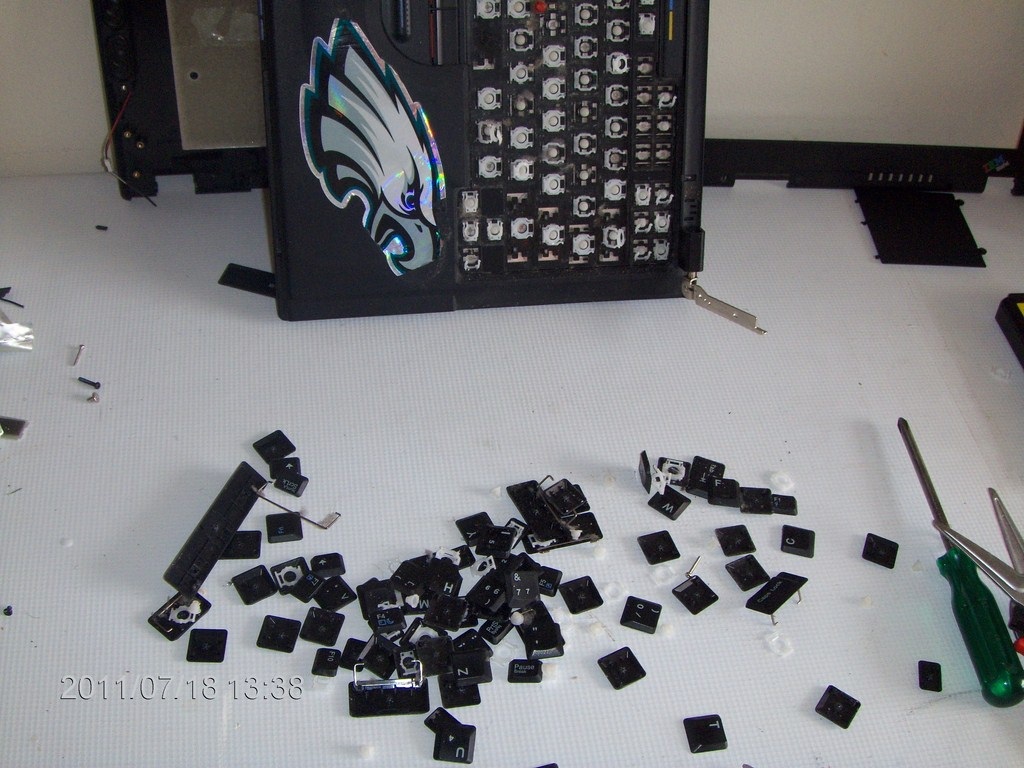 This is the most dangerous step: peeling off the keyboard keys to see if there are any screws underneath.
There aren't; but the little white rubber things jump all over the place like arctic hares at the equinox.
Or Scottish Country Dancers on (Robert) Burns Night .
A Second Use For Everything, right? Keep the keys for a micro-game of Quiddler .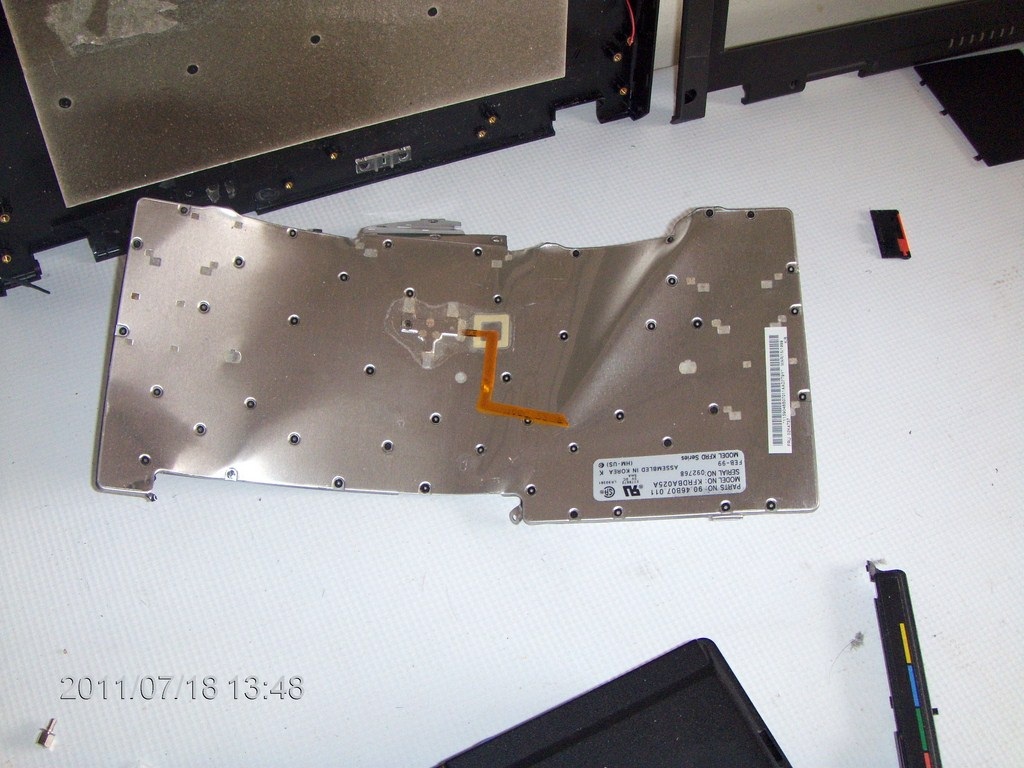 Since we're going to be carrying pizza, we'll keep the perforated aluminium sheet to use as a drip-tray.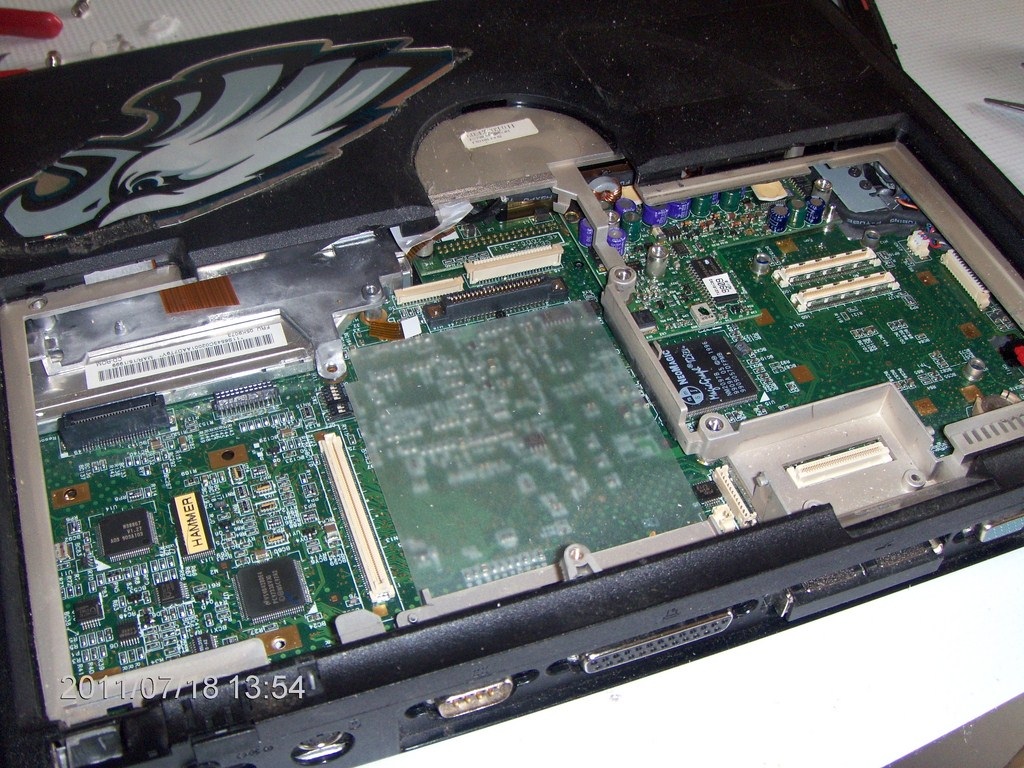 Getting into the guts of it. Our goal is to make the laptop as empty as my stomach feels right now, thinking of a pizza from The Montreal Deli .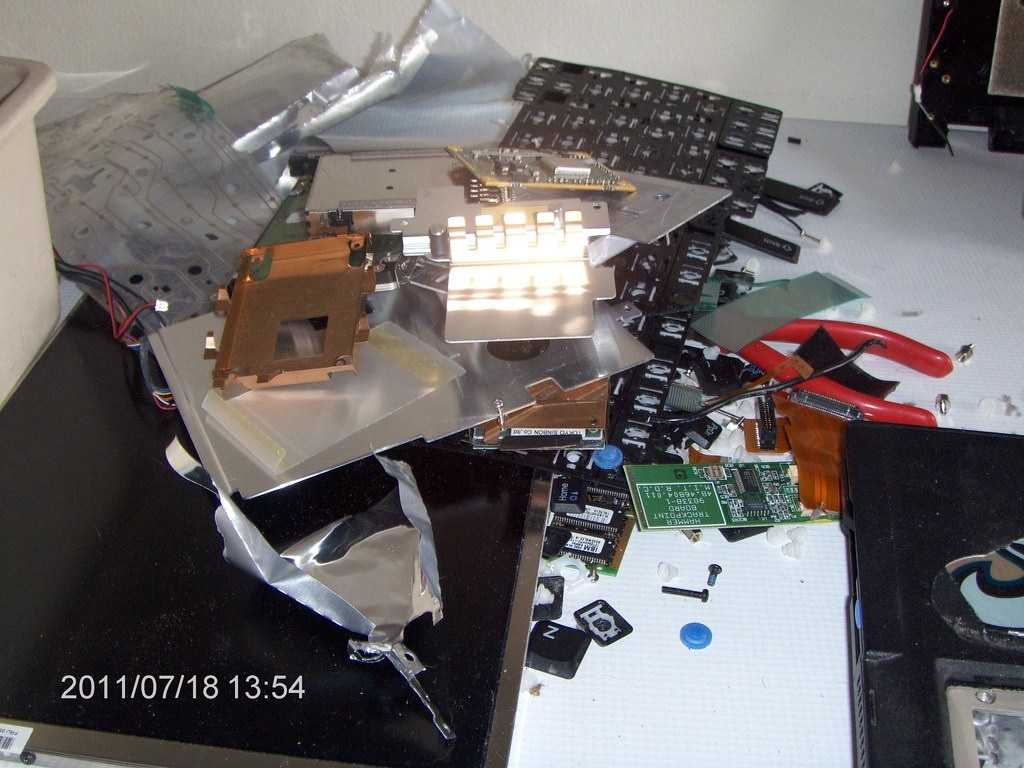 Don't worry; we'll find a use for this stuff. At the very least it will fill a hole in the ground somewhere ...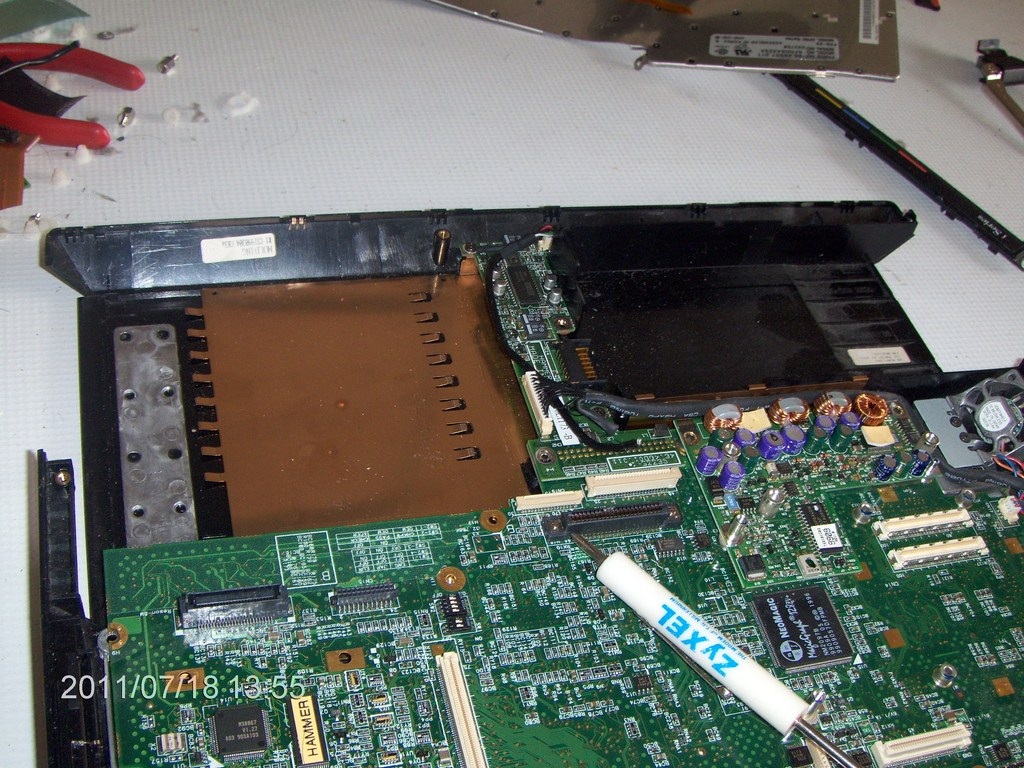 Breakthrough!
The floppy and CD drive slots will come in very handy.
We can stuff a week's supply of napkins into the floppy drive slot, and some half-decent stainless steel cutlery into the CD drive slot.
This just gets better and better!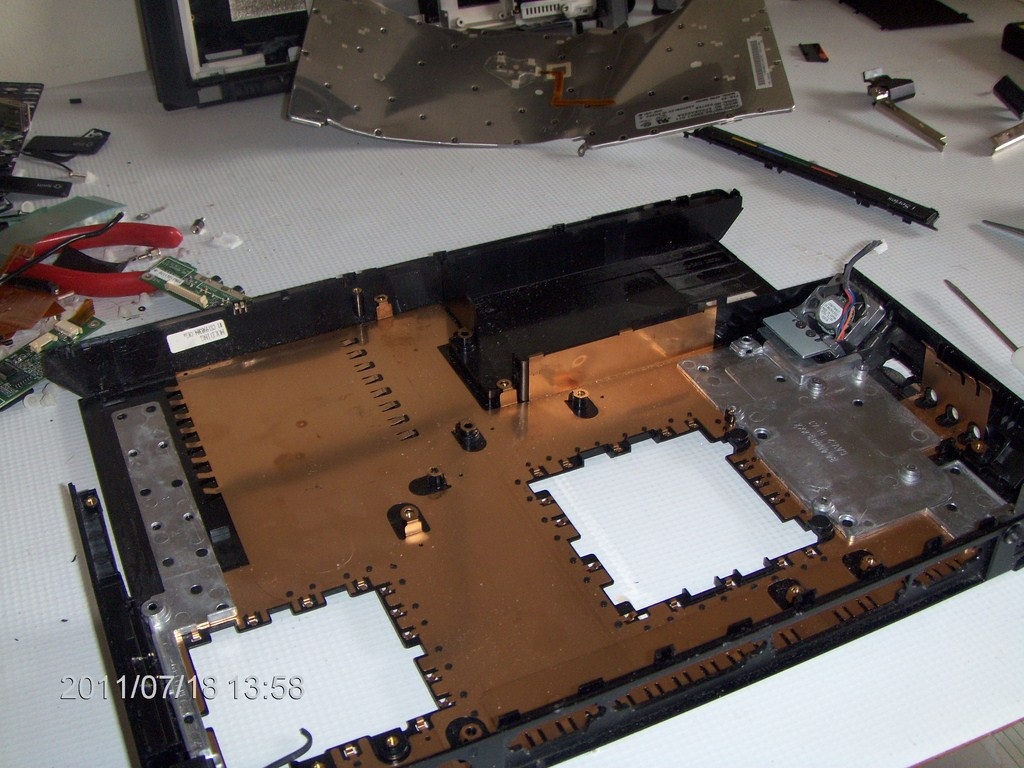 Two things stand out here, related, as it turns out.
(1) A copper sheet makes a good conductor of heat; that should help keep the pizza evenly warm on the way home.
(2) Once the power unit is re-hooked, we'll rotate the cooling fan 180 degrees and have us a mini-convection oven.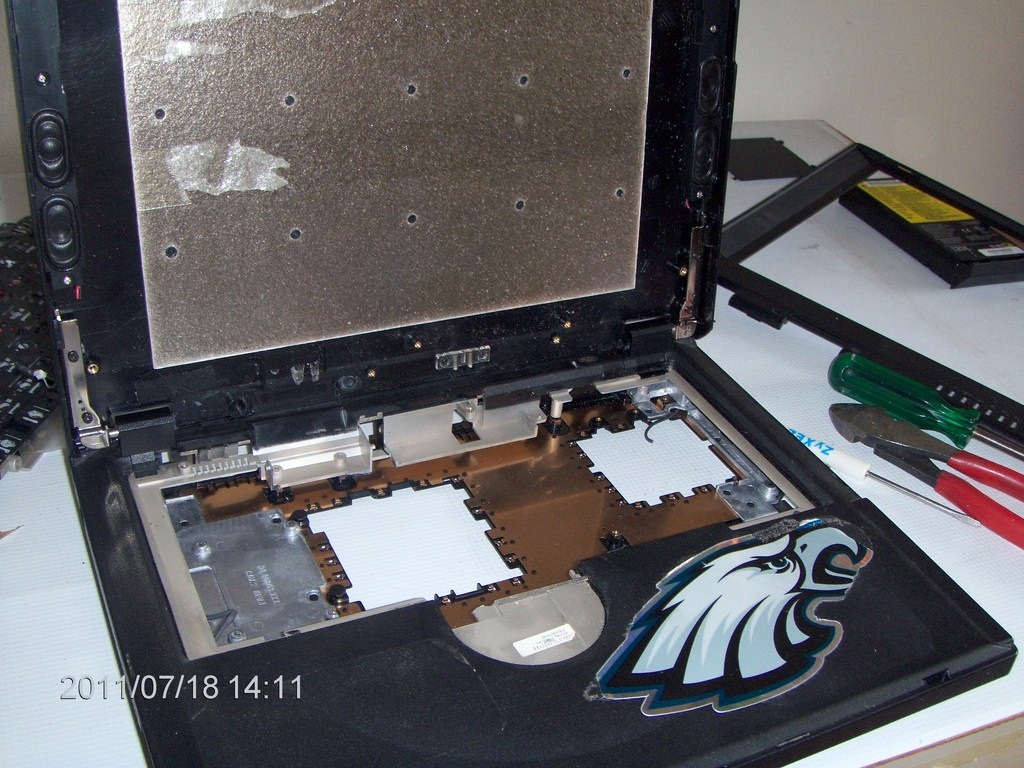 Here we are with the lid, bezel and hinges all back in place. (I wouldn't want to wander in to The Montreal Deli unhinged!)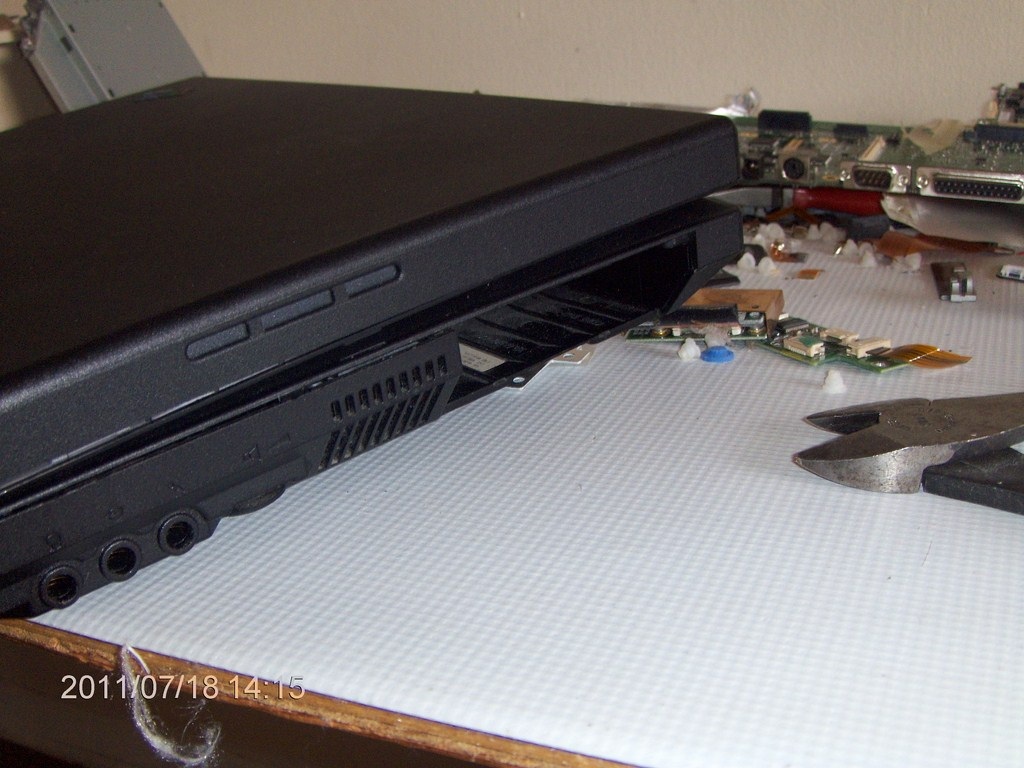 Hard to see here, but this is the napkins slot.
Or it might be the cutlery slot.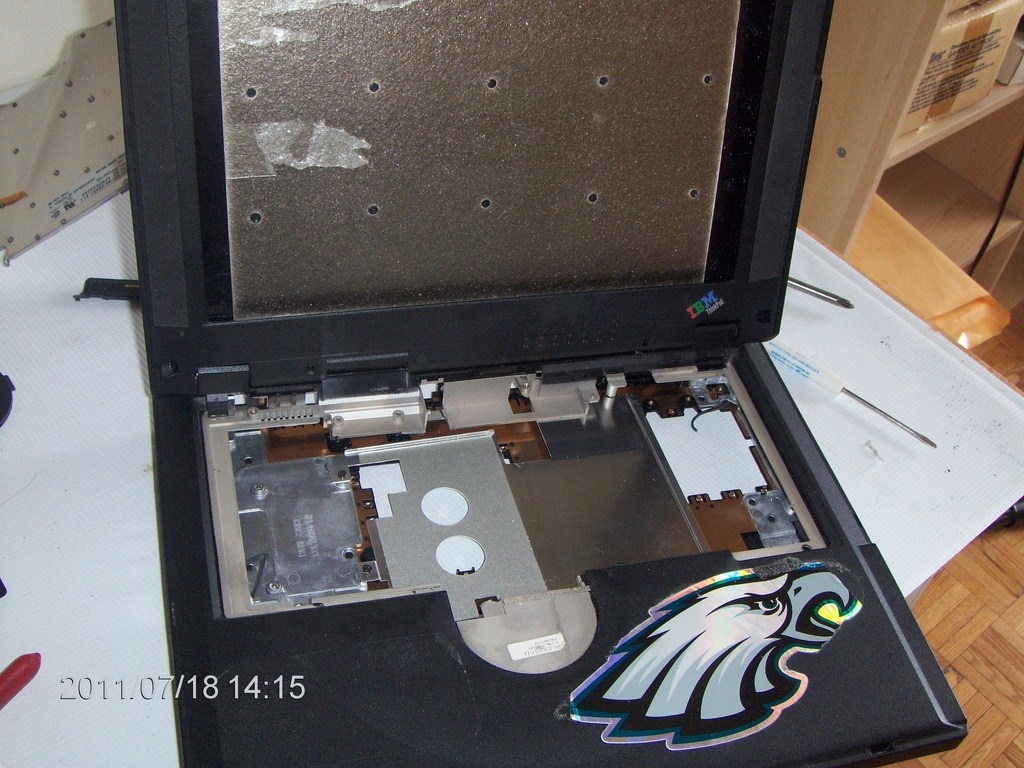 I retained one aluminium plate to cover a rather large hole in the base. I'd look really stupid if the pizza fell onto my lap.
Yes, I see the semi-circular recess, used to hold the mouse. I'm thinking "pop-can holder", no?
Now we are all set to go.
Tomorrow night Joan will sidle up to the table and ask if I "want a box for that?", pointing at the pizza.
As I quickly pop it into my laptop, I'll just say absent-mindedly "No, it's OK. I'll just pop it into my laptop", and she'll scream.
Again.
(Later)
I'll take the tiles with me, just in case Joan refuses to serve us and Ludmilla, Emma and Eileen take a long time drawing straws.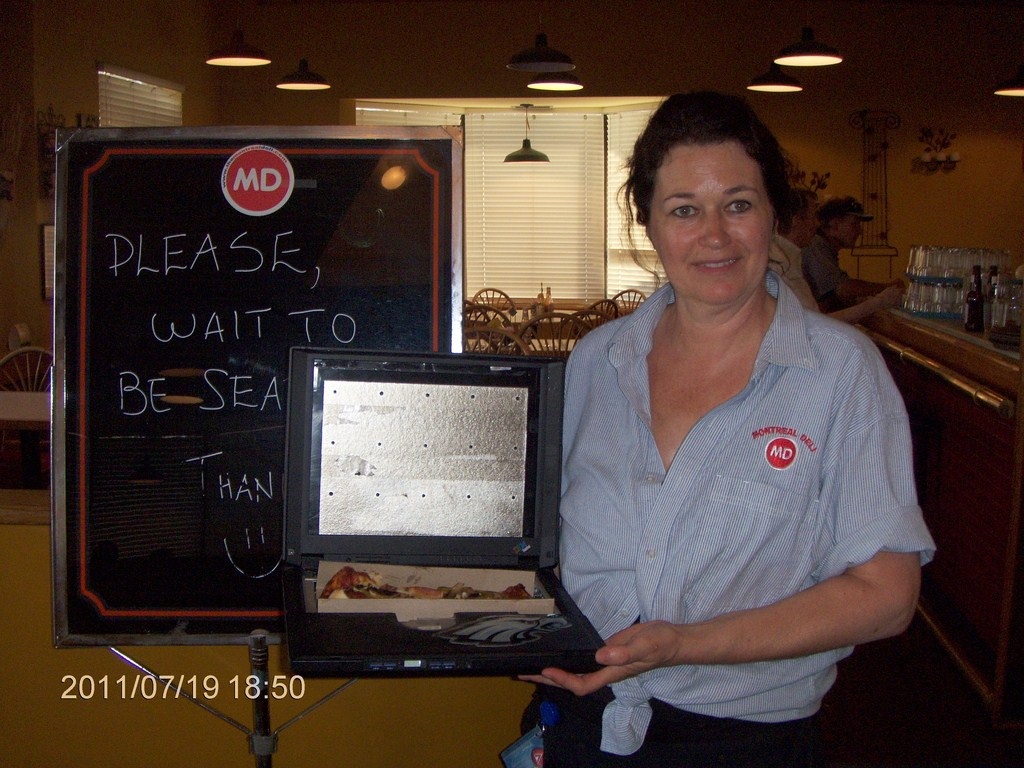 Joan drew the short straw.
In fact, she had her back turned to us when we walked in, and every other waitress skedaddled, so Joan was the only one drawing straws.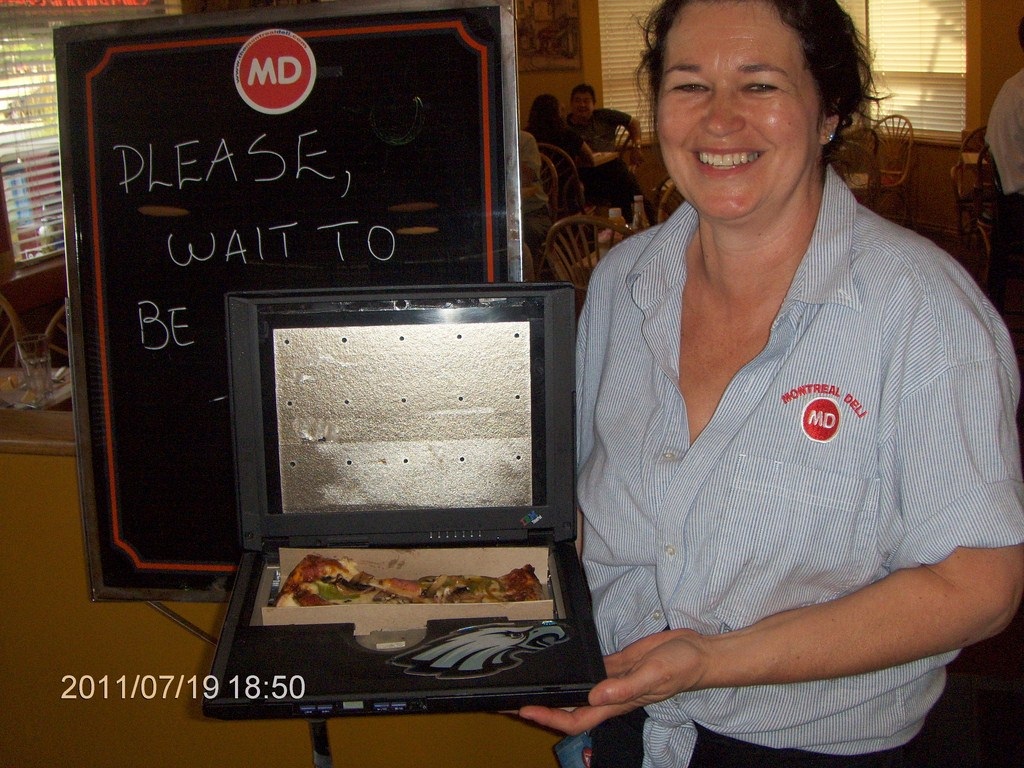 I told her I was going home to post this on the web, and as soon as I mentioned "going home", she brightened up considerably.
Next: OEM Add-ons




Loading





416-993-4953 CPRGreaves@gmail.com
Toronto, Monday, February 06, 2017 7:26 PM
Copyright © 1996-2017 Chris Greaves. All Rights Reserved.