416-993-4953

32 Grenville Street M4Y 1A3
Wednesday, June 28, 2006
I decided to walk to the Cloverdale Mall this lunchtime.
I included this essay in "Tripping" because Cloverdale Mall had so many possibilities of tripping ….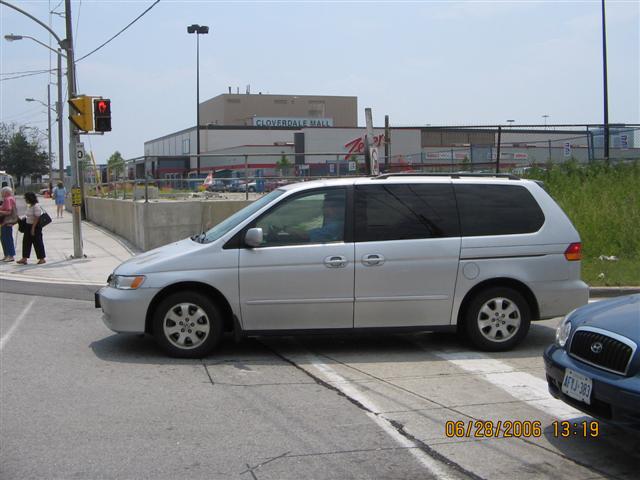 The approach from Bloor Street is appalling. In this photo a van is obstructing the pile of muck and clay left over from last year's project. The Cloverdale Mall sign seems to be lurking behind the Zellers roofline.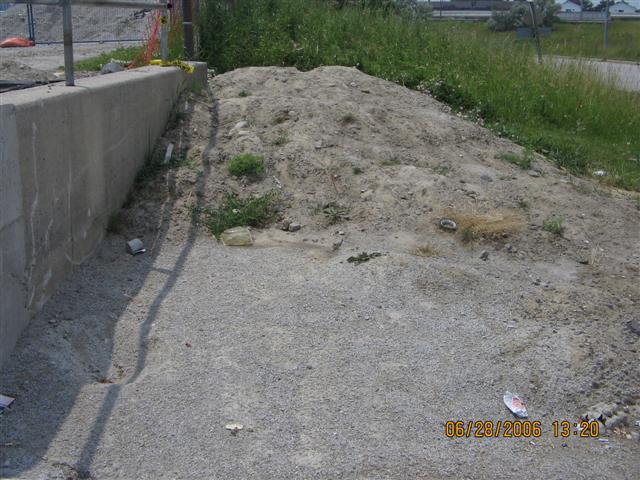 This is what we see on the north-western boundary of the site. A pile of clay.
When the summer thunderstorms come, as they did mid-afternoon, the clay runs down across the sidewalk.
By the year 2035 it will all be gone.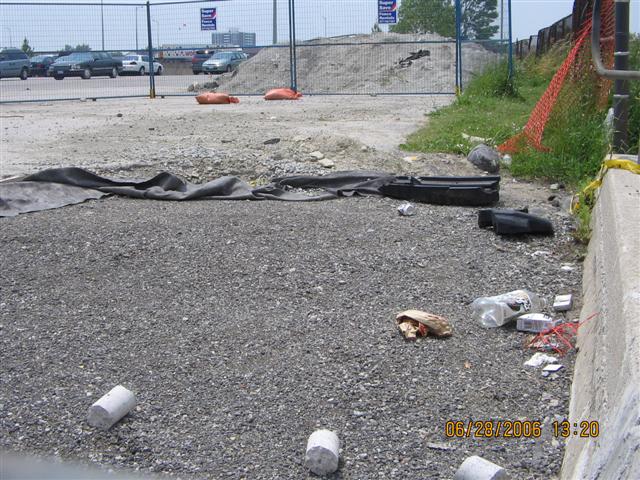 This is the within the north-west corner of the site.
The garbage seems to change weekly, perhaps as the winds blow it about, but the bomb-site appearance has been with us since last summer. It will be with us all this summer too.
Welcome to Cloverdale Mall!
The bomb-site appearance stretches all the way to the entrance. A sturdy metal fence conveys the message "We don't want you in here". Some large concrete fabrications suggest that work was not completed.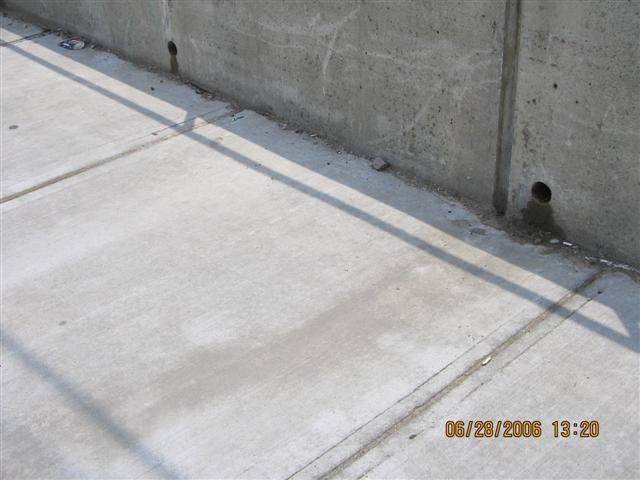 After the concrete walls had been placed, a one-man crew arrived shortly before Christmas to drill drainage holes through the wall. Moisture seeps out.
In winter time the water freezes right across the concrete sidewalk making for a treacherous pathway for elderly people.
But at least the bomb-site will be dry!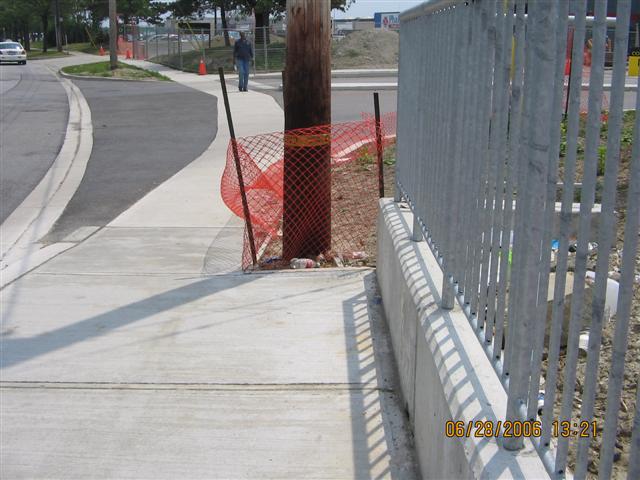 As we approach the entrance we see that the broad sidewalk narrows to make way for automobile traffic.
The power line pole is immovable, but just to make sure that pedestrians don't hurt themselves by walking into the pole, a metal post is placed at an angle jutting into our path, and more day-glow orange netting helps to steer us away from the danger of the static pole and closer to the path of automobiles.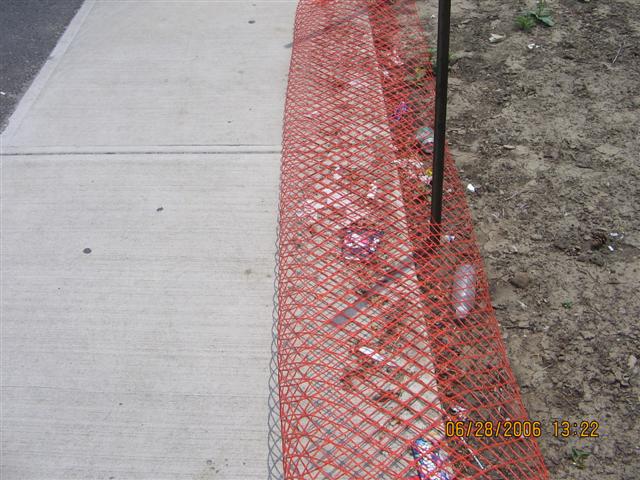 The day-glow netting isn't actually a fence. It collapsed a long time ago.
Now it is one more item on our obstacle course.
The sidewalk being narrowed, it is made narrower by neglect.
I wonder if they sell twist-ties inside the mall.
Obviously not.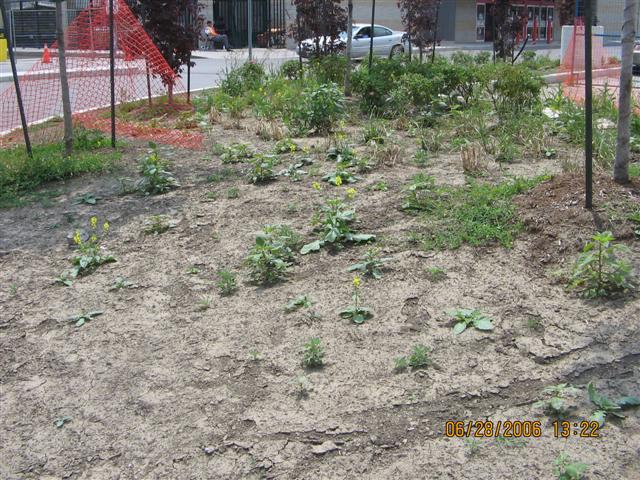 Right through last fall, the winter, spring and now summer, we walk past yet another mound of clay.
Everyone else lays rolls of lawn sod to tidy up the verge.
Presumably Cloverdale mall's relationship with Zeller's Garden center – visible in the background, does not extend to ramming a few off-peak plants in the ground to see if they will take hold.
That's a maintenance worker. I'm not sure of his job, although his position is self-evident – he is sitting on a chair!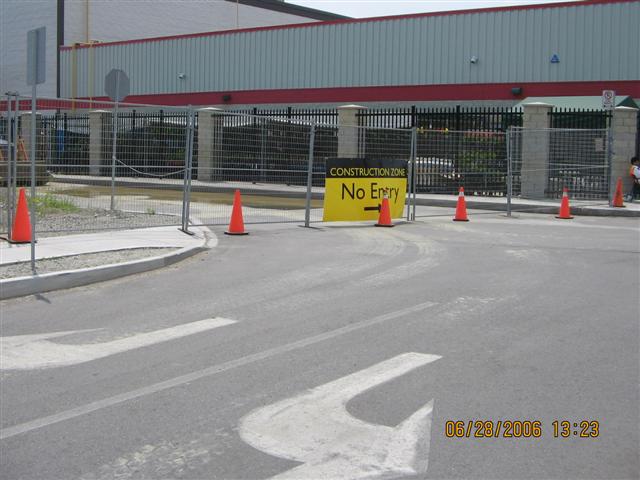 Until a week or so ago it was possible to complain about the lack of sidewalks along the east side of Zellers.
Well, at least we pedestrians can't complain about that any more!
Oh well, let's continue walking south to the next entrance. We can always double-back to Zellers once we are inside the mall.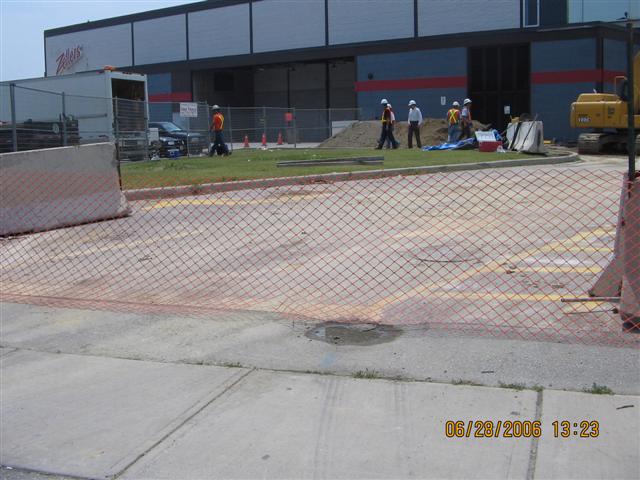 Ooops! Now the next entrance is closed while construction is in progress.
What's a poor pedestrian to do.
Keep on walking; keep moving, …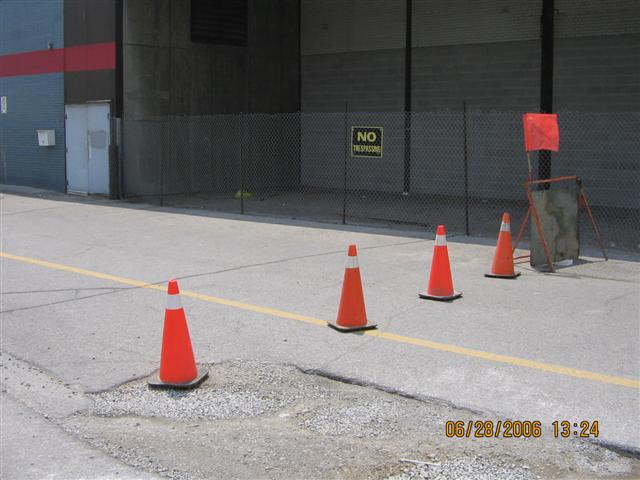 At last we are in the precincts. Here's another welcoming sign, warning us not to enter a concrete alcove about ten feet deep.
As if!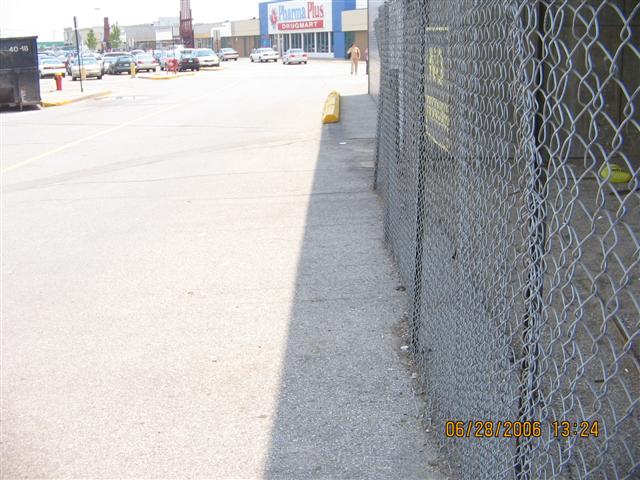 So we will continue our valiant effort to enter the mall and purchase some supplies.
We will walk along a narrow strip with no sidewalk, not even a cheap strip of yellow paint to suggest to drivers of automobiles that they leave us alone.
More prison-like fencing conveys its heart-warming message to us.
Up ahead we see another stumbling-block.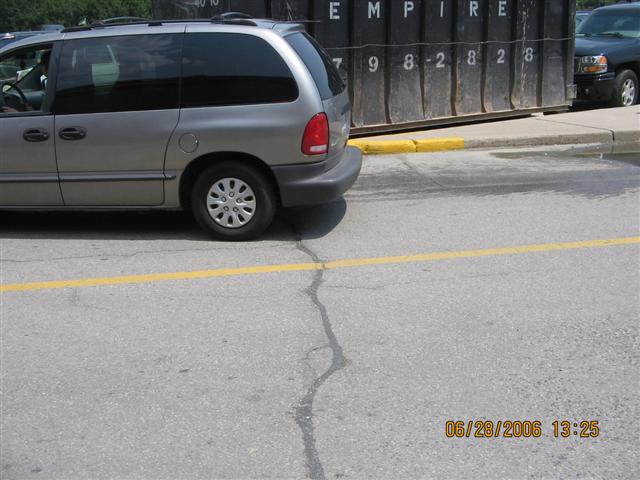 I swing to look across this driveway. There is a dumpster (Nice!) and an automobile, but no pedestrian encouragement there either.
I know what you're thinking – why didn't I drive my car there, then I'd not be so worried about my pedestrian woes.
If I'm going to get in the car I may as well go to Sherway Gardens and its big-box stores – more variety, lower prices.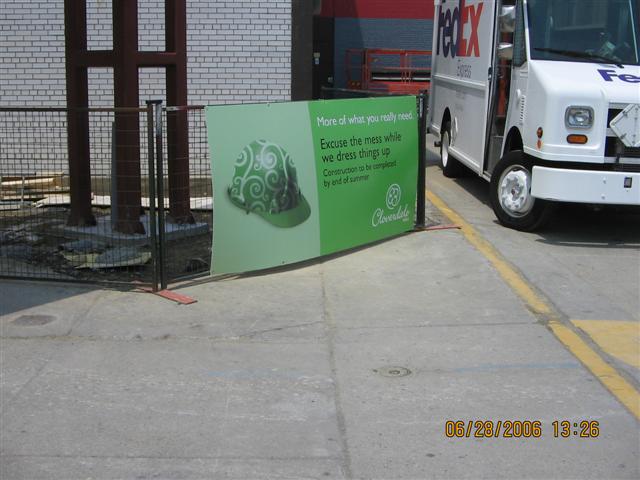 We have navigated the narrow gap between delivery trucks and the wall and turn back to admire our courage and tenacity.
Part of the problem is a promotional sign that says everything will be cleaned up by the end of this summer.
Why am I so skeptical of promises made by the management staff of Cloverdale Mall?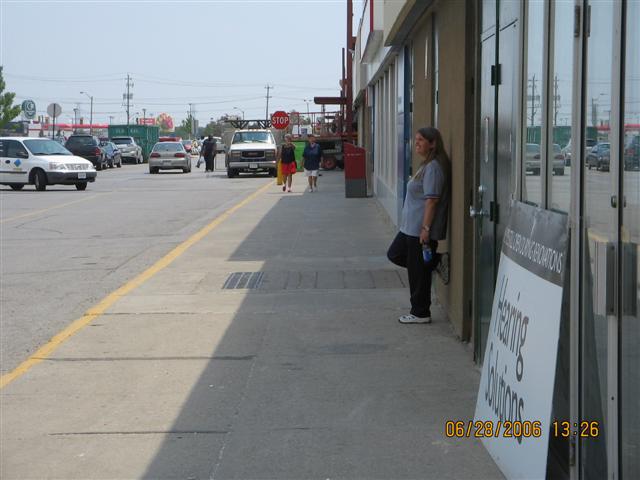 Still, I shouldn't complain. Pedestrians coming from the southern end have to do battle with automobiles too!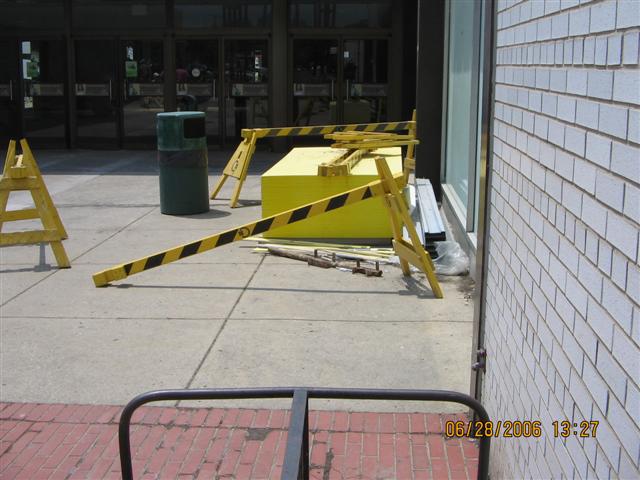 Here is a pile of building materials, not a construction hole.
Whose idea was it to take up so much space at the entrance to the mall?
This entrance is used by both pedestrians and automobile drivers.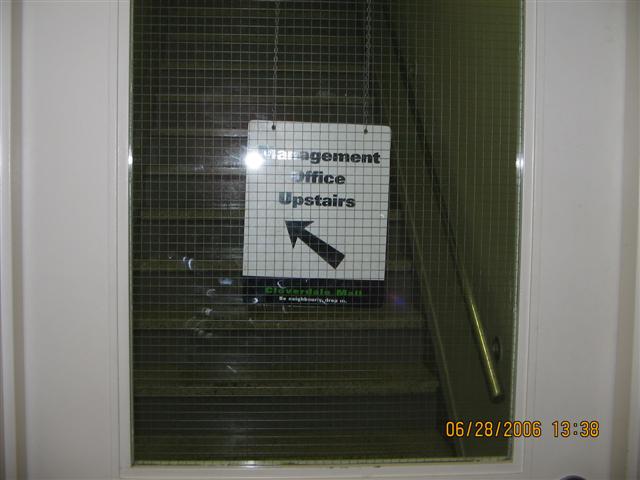 Here is the management office.
If you want to complain about problems of mobility, be warned – you still have two flights of stairs to negotiate!
The fine print at the bottom of the sign says "Be neighborly, Drop In".
Stumble over, more like it!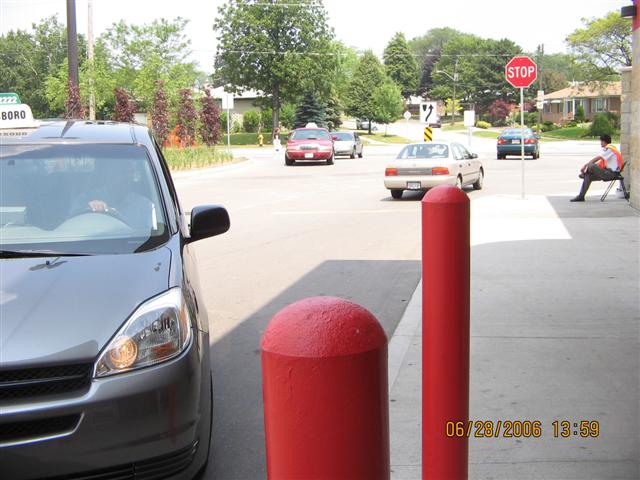 I've had enough for today. I make my purchase at Zellers and exit by the northern doors.
Yes, the maintenance worker is still on the job!
Once I have negotiated the sturdy red poles, and the idiot driver of this van, I must make a decision: To carry on off the end of this sidewalk into an area of automobile madness, or cross to the northern edge of the driveway and trust to luck.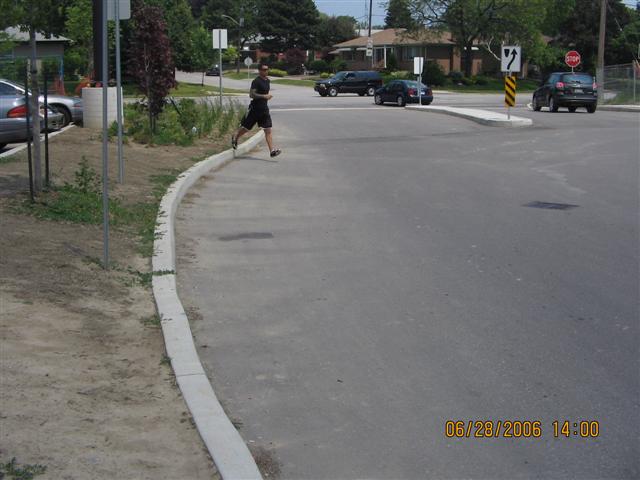 I elect to cross to the northern edge of the driveway.
There's no sidewalk here either.
No, I don't know the guy in sunglasses, but I'll bet a plate of fries that he is a local, and has learned to run across the gaps in traffic.
He won't be able to do that forty years from now!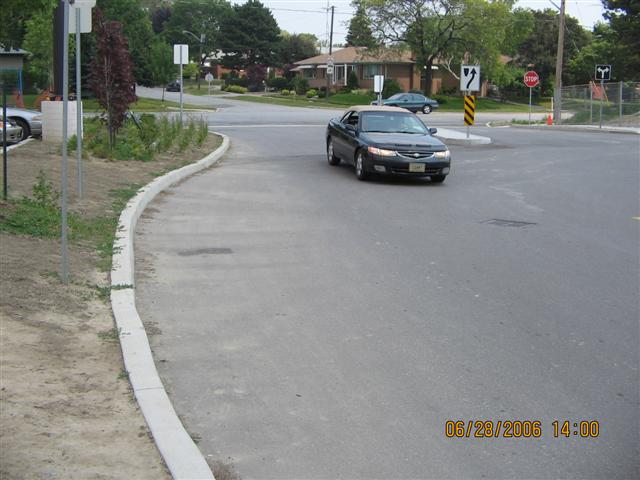 See? Nothing to walk on. Cars angling in at speed from the East Mall, as if they were still on Highway 427 northbound.
An hour after this photo was taken we had a major rainstorm. You just know that the clay would be impassable for the rest of the day.
There's no option but to walk into the path of traffic at Cloverdale Mall.
Thursday, June 29, 2006
Mr. Chris Greaves,
Thank you for taking the time to forward your concerns regarding our construction redevelopment project.  It would be our pleasure to discuss this further with you in person.  Your e-mail has been forwarded to our Regional Manager, Dave Clark to review.  Dave is overseeing the logistics of the project.  Would it be possible to set-up a meeting early next week?   Kindly provide me with your contact telephone number or if you prefer feel free to contact Dave Clark directly at 416.813.3647.
We look forward to meeting with you shortly.
Regards,
Domenic Imbesi
Thursday, June 29, 2006
Dominic, thank you for your response.
My telephone number is available at the foot of every email message I send.
Please have Dave suggest a time and place of meeting next week.
Tuesday, July 04, 2006
Dominic (416-236-1669 x230) leaves a message; can I meet with him and the regional manager 1:30 p.m. or 2:00 p.m. tomorrow? I can't, because I have the Data meeting downtown, then lunch with Dan Giles. How about 3:00 p.m.? OK. I am to 'phone him from Kipling subway station.
Wednesday, July 05, 2006
I met with Domenic and Dave Clark (Regional Manager Technical Services of Bentall ) from 3:00 p.m. to 3:35 p.m. The senior VP attended this morning's fortnightly meeting. I gather from the description of the meeting that the printout of my web site was the focus of the meeting. Dave told me that within 15 minutes of receipt of the email of June 28th the wires were buzzing.
I noticed on Friday that the Fence post ("a metal post is placed at an angle jutting into our path") was straightened and the day-glow fence ("It collapsed a long time ago") was tied up; the sign ("Part of the problem is a promotional sign ") no longer forced pedestrians into the roadway and the pile of material ("a pile of building materials") was corralled into the minimum space possible. Friday I knew that my web page had had an effect.
Today Dave told me he had been assigned to this project seven weeks ago, and he knew work needed to be done. Apparently their scheduled date for completion is August 15th. I told him I wouldn't hold him to that.
I was not asked to remove the web page, so I am at liberty to do so without coercion.




Loading





416-993-4953 CPRGreaves@gmail.com
Toronto, Wednesday, June 24, 2015 4:44 PM
Copyright © 1996-2015 Chris Greaves. All Rights Reserved.