416-993-4953

32 Grenville Street M4Y 1A3
Sleigh Bells
So how does Santa Claus get around to deliver presents to all the good little girls and boys nowadays?
By Public Transit, thatís how!
A year or so of wandering the routes, learning to trust the schedules, and phoning the toll-free numbers helps Santa face the Christmas Season with Fortitude yet without a Ford.
Whatís more, it is afFordable!
Hereís how it works:-
Suppose Santa needs to deliver presents and cards in Bradford and Thornhill.
Bradford is served by GO Transit, and that means either a GO Train to Bradford in the evening or a Go Bus to Bradford at any other time. Locally Bradford is served by Bradford-West Gwillimbury (BWG) Transit, whose last bus run is around 4:27†p.m.
Thornhill is served by York Region Transit (YRT) out of various subway stops of which the Toronto Transit Commission terminus at Finch is due north of where Santa lives.
At first glance Santa thinks heíll haul stuff to Bradford on Monday and to Thornhill on Tuesday. Santa thinks ďGO Train to Bradford, GO bus backĒ but the earliest GO Train northbound leaves Union Station at 15:40 and arrives in Bradford over an hour later (!!) at 15:51, which is cutting things too fine for the 15:52 BWG#1 bus. Santa thinks that watching the BWG pull out and then hanging around Bradford GO station until 16:27 is no fun, especially when that #1 returns Santa to the GO Station at 17:02, which would mean a 36-minute wait for the 17:38 to Newmarket and back at Union Station at 19:20.
And thatís just for Bradford!
It gets dark at 5pm nowadays.
So Santa thinks to catch the Go BUS to Bradford in the morning, say the 10:10 from Union Station, but then Santa realizes that the Bradford GO run involves a 10-minute layover in the Newmarket Terminal where the YRT buses ply their trade. And thatís when, looking at the trip home, Santa thinks ďNewmarket, YRT, Ynot?Ē
There is a YRT-VIVA bus runs Newmarket to Finch subway every 15 minutes, and from Finch a YRT#5 takes Santa where he needs to go in Thornhill and brings him back to Finch, then itís a Toronto Transit Commission ride home; no need to go all the way back to Union and then slog up the hill to a nice warm cuppa.
| ex Union | 10:10 | 10:40 | 11:10 | 11:40 | 12:10 | 12:40 | 13:10 |
| --- | --- | --- | --- | --- | --- | --- | --- |
| arr Bradford | 11:40 | 12:40 | 12:40 | 13:40 | 13:40 | 14:45 | 14:45 |
| BWG #1 | 11:47 | 12:22 | 12:57 | 14:07 | 14:07 | 15:17 | 15:17 |
| | 12:22 | 12:57 | 13:32 | 14:42 | 14:42 | 15:52 | 15:52 |
| ex Bradford | 12:38 | 13:38 | 13:38 | 15:35 | 15:35 | 16:35 | 16:35 |
| arr Newmarket | 13:05 | 14:05 | 14:05 | 16:05 | 16:05 | 17:05 | 17:05 |
| YRT VIVA | | | | | | | |
| arr Finch | | | | | | | |
| | | | | | | | |
| Duration | 2:55 | 3:25 | 2:55 | 4:25 | 3:55 | 4:25 | 3:55 |
| Deviation | 0:00 | 0:30 | 0:00 | 1:30 | 1:00 | 1:30 | 1:00 |
Santa whips up a little spreadsheet. The times that GO Buses leave Union station are shown in the top row.
The connecting BWG#1 buses are shown in the 3rd row.
The GO bus back to Newmarket is shown in the 5th row, and since YRT VIVA buses are at :00, :15, :30 and :45 past the hour, it makes no difference to the rest of the trip.
Likewise the YRT#5 from Finch is every 15 minutes, so that makes no difference to the schedules.
Toronto Transit Commission subway trains at peak hour are every 2 minutes.
Santa concludes that the departure time from Union impacts the trip only as far as Newmarket on the way back from Bradford and to Thornhill.
The trip duration from Union back to Newmarket is shown in the penultimate row, and the deviation from the minimum duration is shown in the ultimate row.
Santa says ďItís either the 10:10 or the 11:10 GO bus from Union Station works for me!Ē.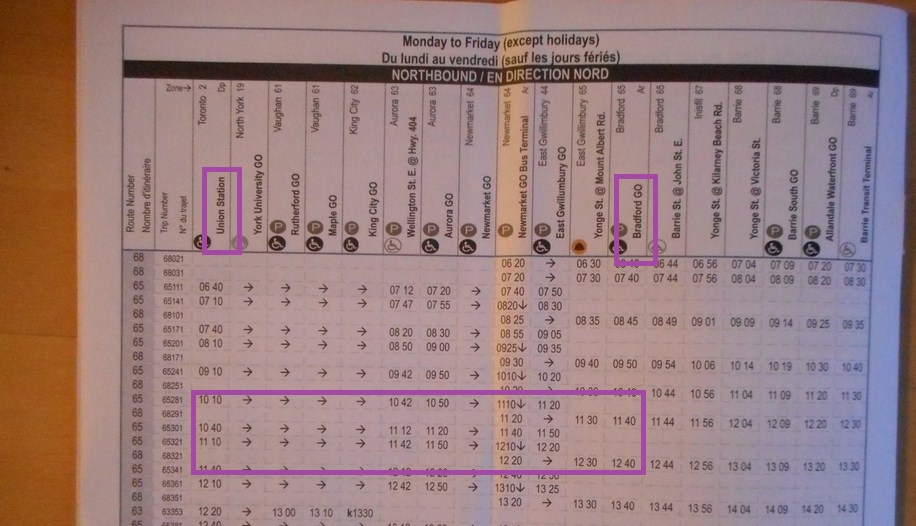 Here Santa checks the northbound GO Bus times and locates the 10:10 and the 11:10, amongst many others; these two departures offer the shortest duration round trips.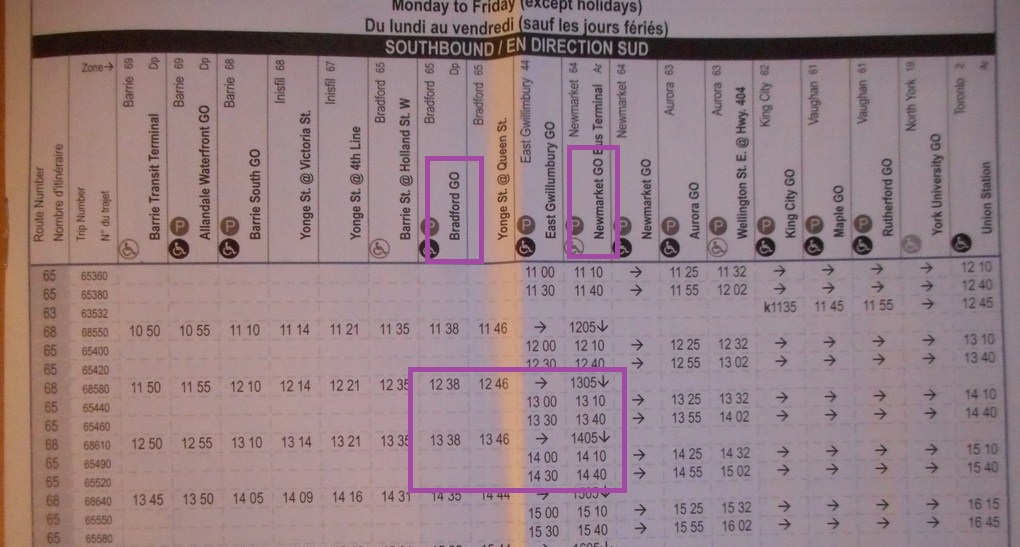 And here is Santa choosing GO buses from Bradford on an abbreviated run; not back to Union but only as far as Newmarket, where Santa will transfer to a YRT express bus.
Here is the BWG situation. The bottom circled BWG buses indicate the touch-and-go situation as far as transferring from a GO train to a BWG bus go. That late at night Santa does not want to be caught having to walk across Bradford because the bus service has ceased. The middle circle shows Santaís probable connections if he takes the 10:10 or 11;10 GO bus from Union.
Why doesnít Santa travel north up the Toronto Transit Commission to Finch then VIVA to Newmarket and GO to Bradford? Because Santa doesnít need to pass through Finch Subway Station for Thornhill TWICE, only once.
Santa will pack his Spanish lessons on his podcast player and take a packed lunch.
Or Two.
My starting balance on my Presto Card is $49.63.
So. How did Santa fare?
Not very well in many ways; Santa made many mistakes. But there again, Santa learned a lot.
Santa set off from home and walked through Ryerson University (no Toronto Star today!) and through Dundas Square where on a whim Santa decided to ask at the INFORMATION booth if they had a PATH map. They did not; but they had a Toronto map which sported a PATH map. See PATH Toronto for details.
Santa landed at Union GO Bus station well before time; so Santa decided to go visit one of his elves who makes people feel good about Go Transit. (Thatís why Santa likes visiting this elf!).
Santaís Elf had a different Toronto map which sported a PATH map. See PATH Toronto for details.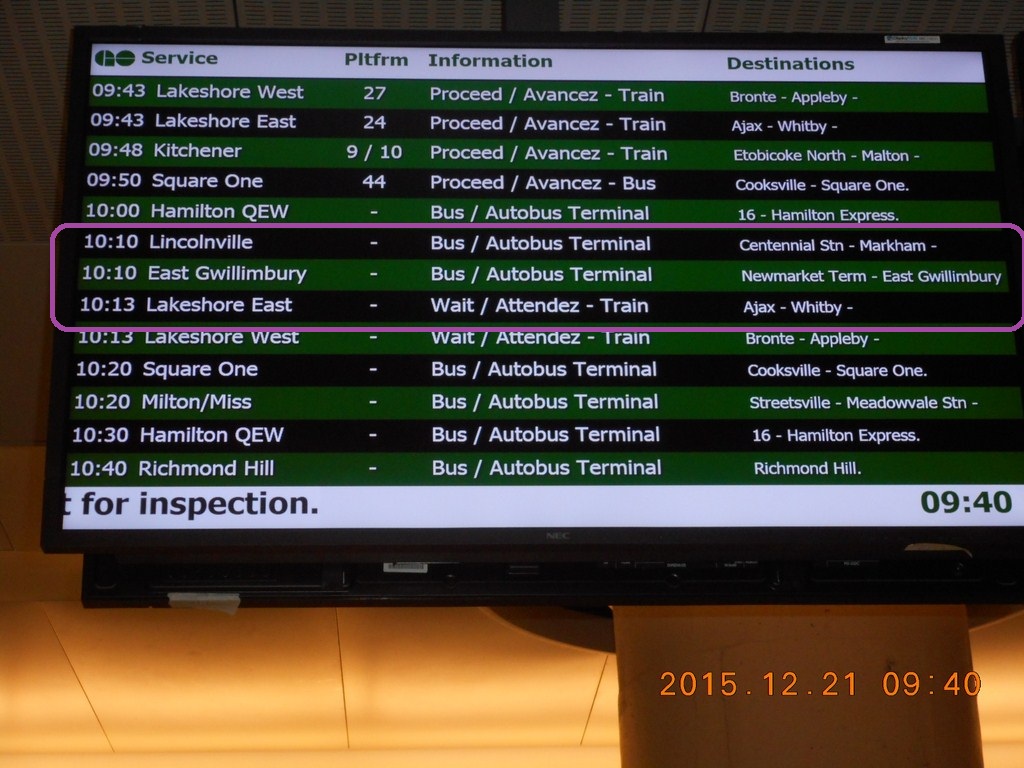 Here we are, thirty minutes ahead of time, but the GO bus for the first leg of the journey is on time, they say.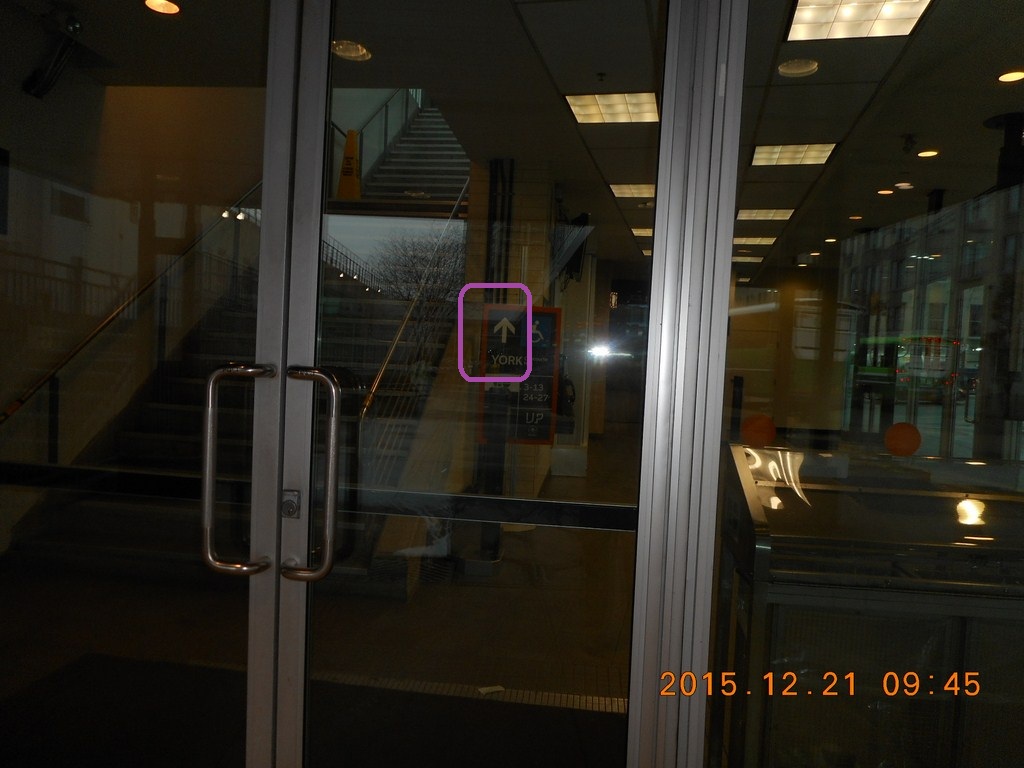 I had made my way, purposely from the Bus station up along platform 3 to document this most quiet and easy crossing of bay Street to the York Concourse.
Here is a photo of the entrance to platform 3 from the GO Bus station. It shows quite clearly (in real life) that this way lies the York Concourse, todayís hub of Go traininess. The sign is portable, so thereís no excuse for (a) not improving it or (b) positioning multiples along the way.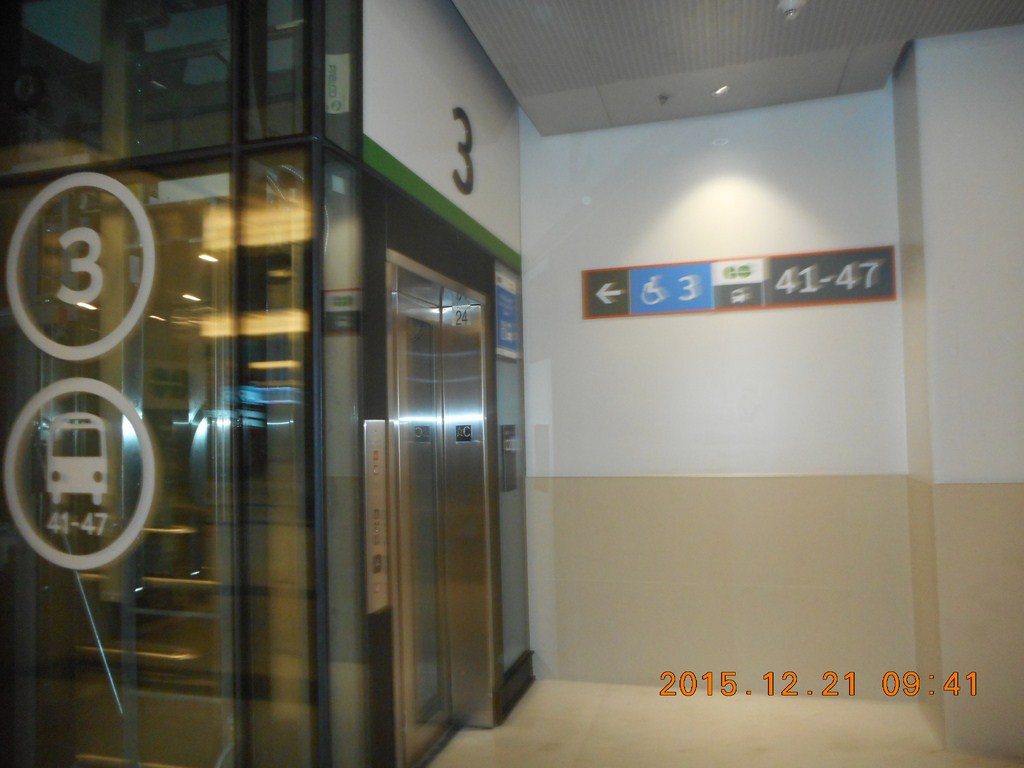 Here I am leaving the York Concourse (from the other end of my quiet walk) to take the elevator to platform 3 and hence the GO Bus station. I fell in with a lady who seemed quite flustered by directions from York concourse along ground level; it is quite a maze, but remained flustered despite my assurance that I regularly took this quieter way.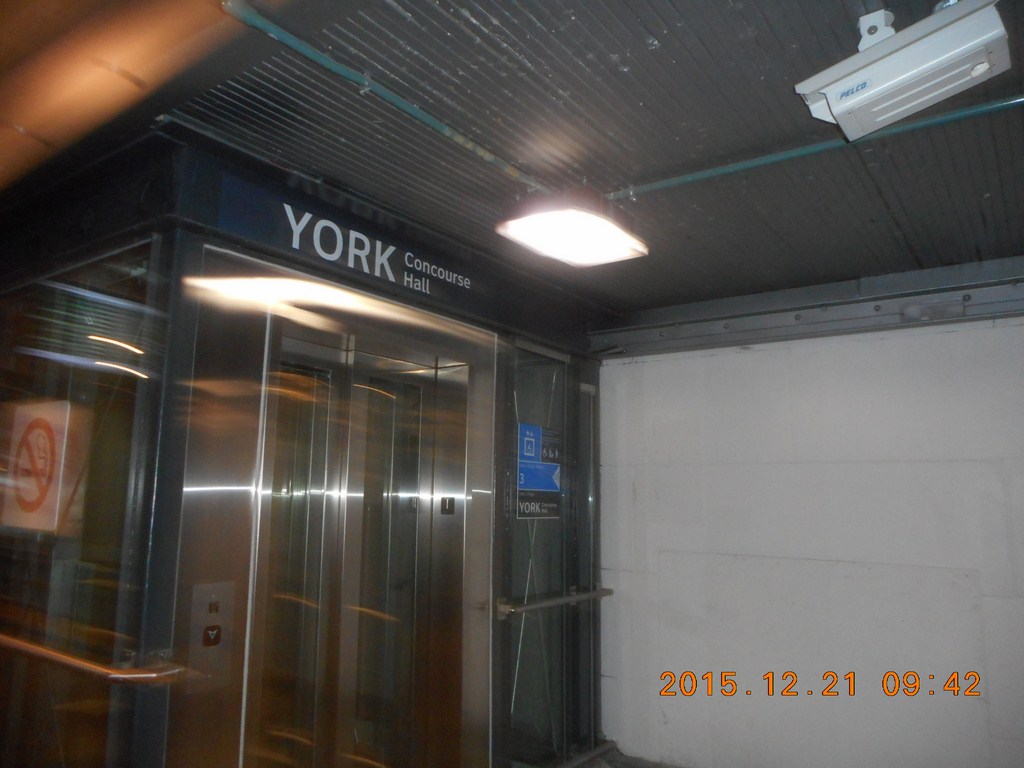 Here is the elevator; it serves only two levels, so recalling it takes no time at all. Very convenient.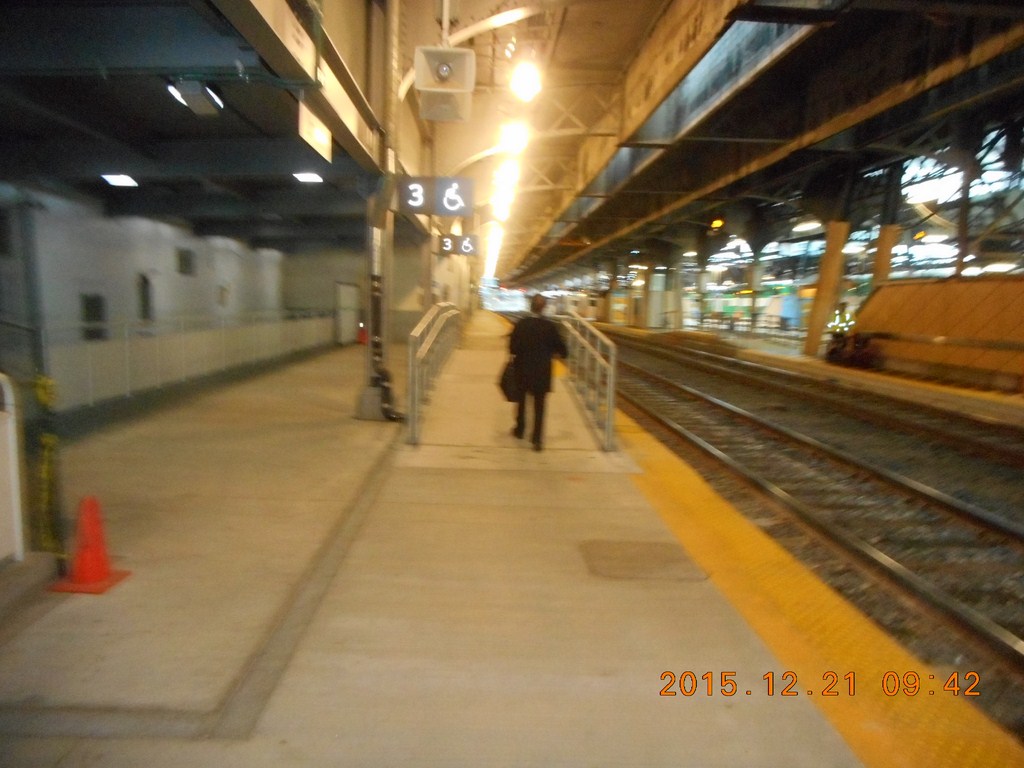 The lady and I rise to platform 3, and she is still quite disturbed; she sets off at a trot despite my suggesting she wait five seconds while I take a photo of our elevator. Thatís her, shooting off to the light at the end of the tunnel; she doesnít know where sheís going, but sheís going to get there fast!
See how quiet this platform is compared to the bustle of commuter traffic downstairs?
We set off and descend the stairs (she spurns the elevator this time, anxious, I think, to see her sonís car. I gather that the son has been waiting for her.
Hereís the rub: Excepting for that portable sign at the eastern entrance, there is nothing along platform 3 to assure the traveler that ďthis way lies York ConcourseĒ.
Given that York is now the only access to GO Trains Services, Iíd have thought that the signs would be continued along platform 3. There are signs for VIA Rail, UP Express all the way along, but York? Nary a one.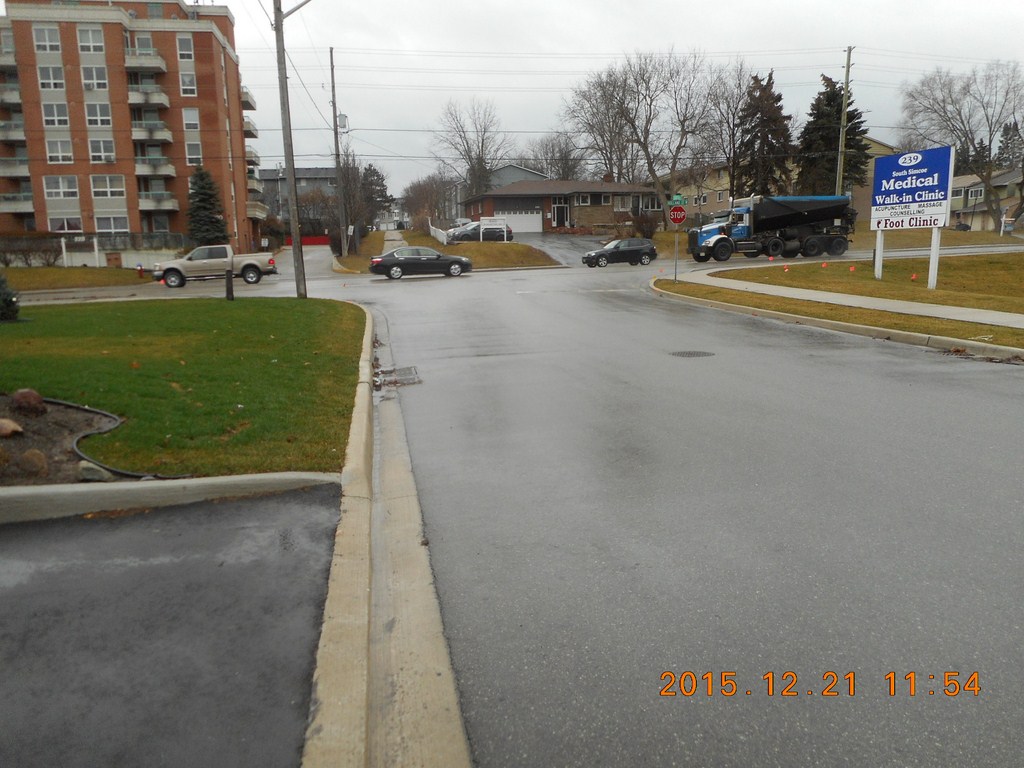 Well not much to report; the GO bus pulled out on time at 10:10 and we all leapt off at Newmarket. I remarked to the driver that the lady sitting opposite me had left behind an earring.
Mistake #1:†Seconds after my bus pulled away I realized that I had left my umbrella on the bus. Sigh. Now to phone Lost property at 416.869.3600 ext. 7273.
The bus for my second leg to Bradford pulls out on time and we arrive in Bradford on time.
Mistake #2:†I am so excited that I forget to tap OFF the GO Bus, so I will be charged for the trip to Barrie. Sigh.
The BWG bus pulls in and I forget that the schedules were changing when I last visited Bradford and so I ask innocently if this is the #1. yes it is.
Mistake #3:†I had forgotten that Bradford is the only village Iíve met in the GTHA that does NOT use the Presto card, so I am forced into a cash fare. I have only toonies, so I drop $4 in the box for a $3 fare.
A fellow-passenger knows my destination and convinces the driver to drop me off at the end of the street instead of the regular bus stop. You gotta love small towns!
I make my flying-visit and at 11:54 prepare to return to the Bradford GO Station.
You will note that is taken me (11:54-10:10) almost two hours to fulfill the first part of my trip.
I decide NOT to wait for the BWG#1 as it makes its steady way to the end of its loop and comes back to pick me up.
I decide to walk back to the Bradford GO station.

Mistake #4:†I could have walked both ways and saved myself $4, or at least $3, and gotten in some much-needed exercise. Google maps says it is a 13-minute walk. Google gets confused about the location of the Bradford GO station; still and all itís not much more than 15, and less than 20 minutes; an easy walk up and back in well under an hour.
Note too that the returning GO Bus will parallel my walk east to the GO Station; if I were running short of time I could wait by the side of the road at a GO Bus stop anywhere on or east of Barrie Street.
While I wait for my GO bus back to Newmarket I watch a little road/rail device trundle along looking as if it is cleaning up the track bed and has discovered that a piece of railway line has fallen off from somewhere.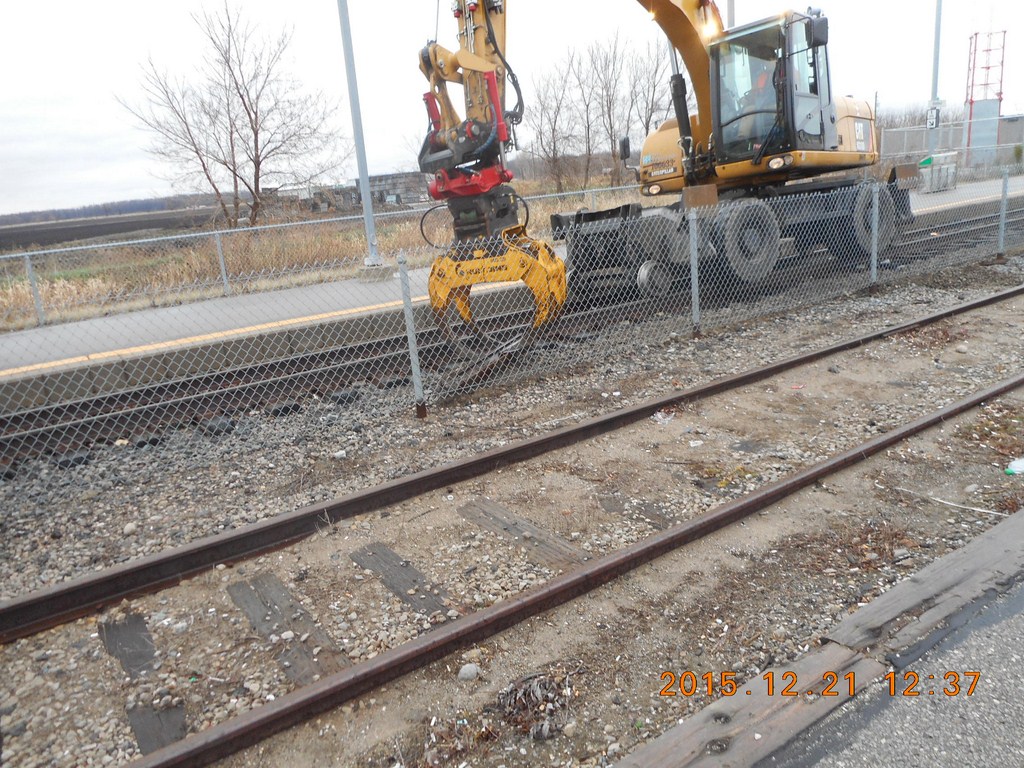 It turns and fusses around at the level-crossing, then makes its way back very slowly; the piece of railway line is being used as a miniature plough to tidy up the area at the foot of the fencing.
I hope that they put the rail back before tonightís commuter trains arrive.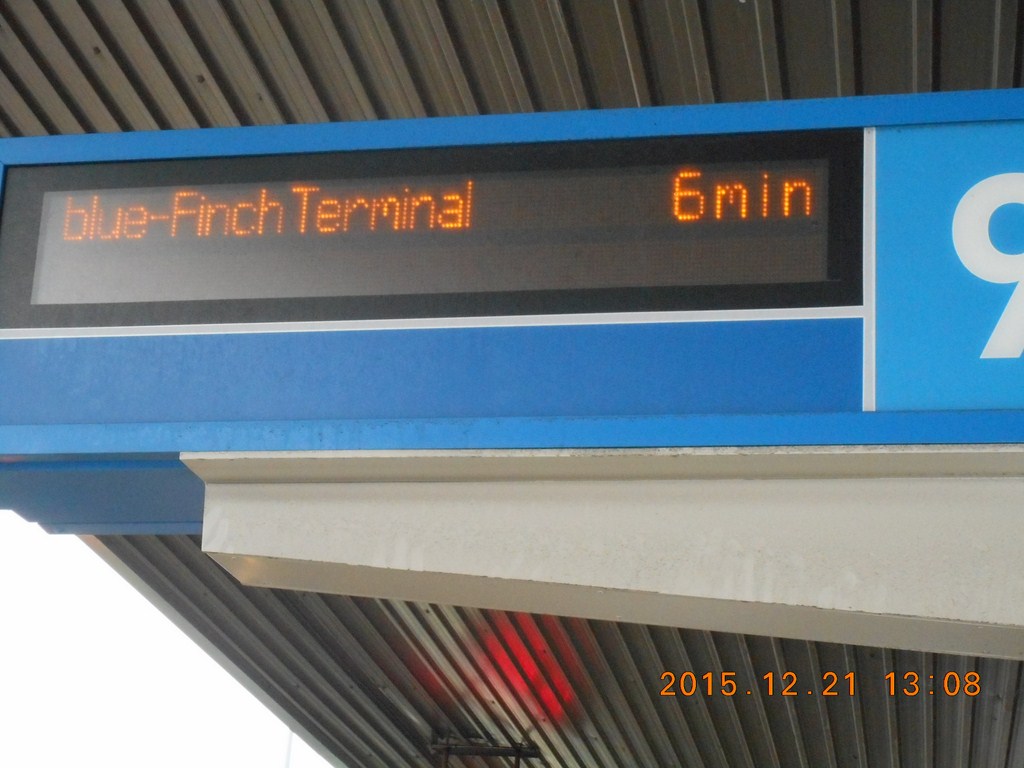 And here we are back in the Newmarket terminal. A BLUE VIVA pulled out as we pulled in, so I have the maximum wait of 15 minutes (between BLUE VIVA buses). Nine minutes have already passed.
It is now three hours since I boarded the GO bus at Union Station.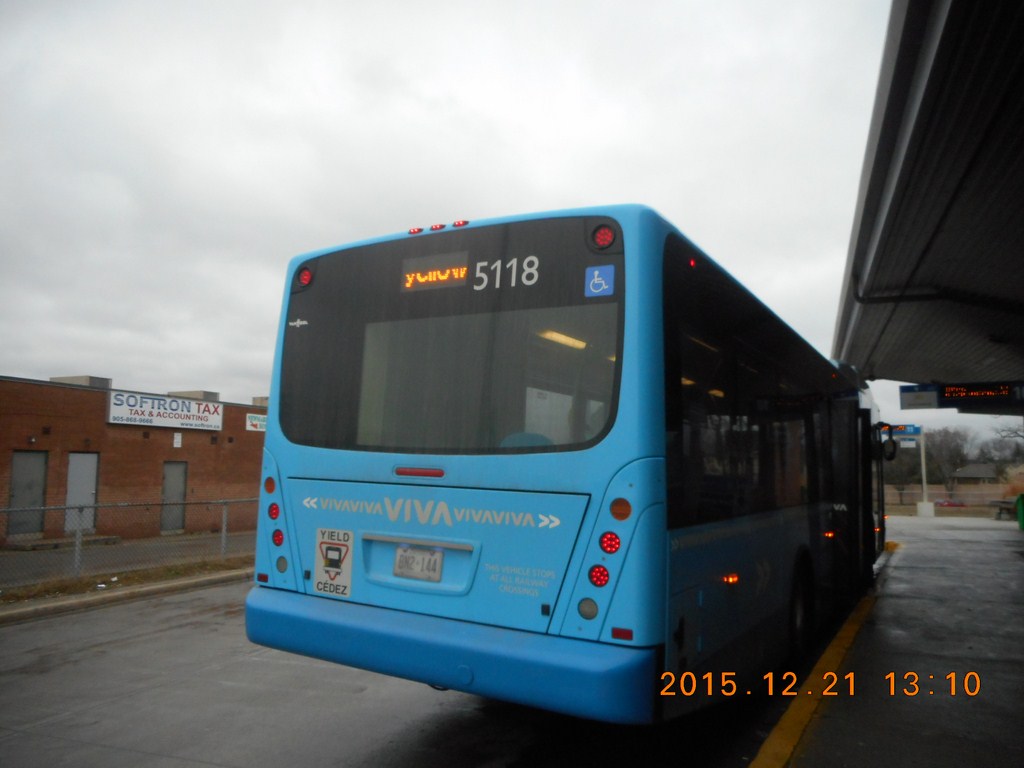 The display was scrolling so youíll just have to take my word for it Ė this is a YELLOW VIVA bus, despite the fact that it is painted blue. I get so frustrated by Transit systems (TTC, Mississauga Transit etc.) that over-paint their fleet with commercial advertising; I much wish that the TTC would stick with its red-and-white scheme, and that Mississauga would stick with Orange etc..
Now I rather wish YRT did the opposite and painted its VIVA buses in the route colour. Although I conceded that this would isolate specific-coloured buses to specific routes. Sigh.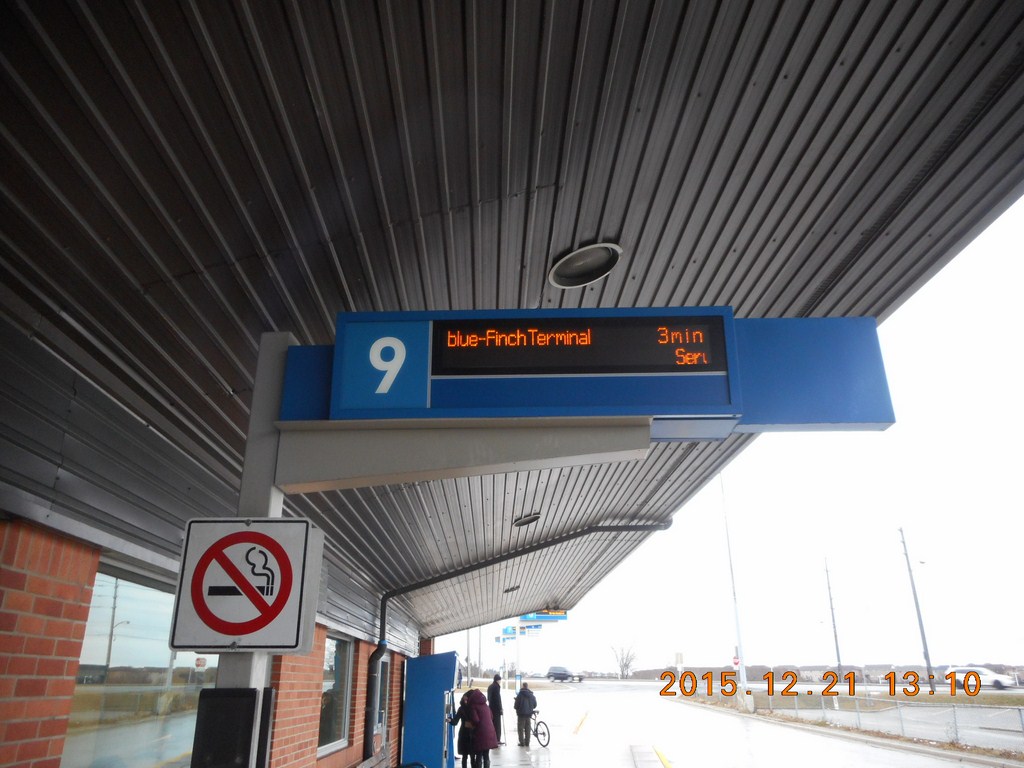 Only three minutes to go, right? Where is our bus?
Our bus is, was delayed. We pull out of Newmarket five minutes late.
The trip is scheduled to take an hour. Sixty-minutes from Newmarket to Finch, and this is an express bus! I can drive from Long Branch to Barrie in an hour. How can it take 60 minutes to go a short leg?
Answer: Although the bus stops at only 24 major intersections, it has interesting quirks.
For example: What transit system in its right mind schedules an express service to make a left-hand turn across opposing traffic at a set of lights that allows three vehicles at a time to drive into a shopping centre (Richmond Hill) and therefore causes the express service to spend more time waiting to squeeze OUT of the same place a few minutes later. I feel we spent 10 minutes here, although it always seems longer ...
The VIVA BLUE was bitterly cold; no heating in this YRT bus.
I hopped off the BLUE VIVA at Clark Avenue West, two stops shy of Finch, figuring to catch a YRT#5 westbound on-the-fly and save myself 15 minutes.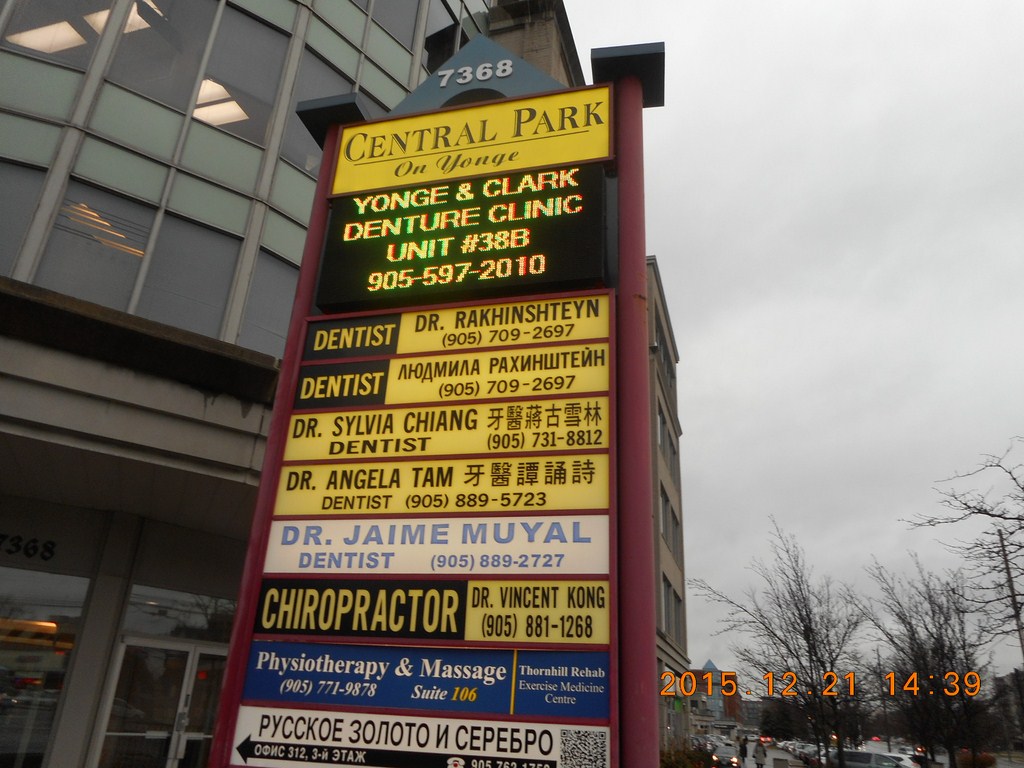 Here I am at the corner of Yonge and Clark, settling in to the YRT#5 bus stop.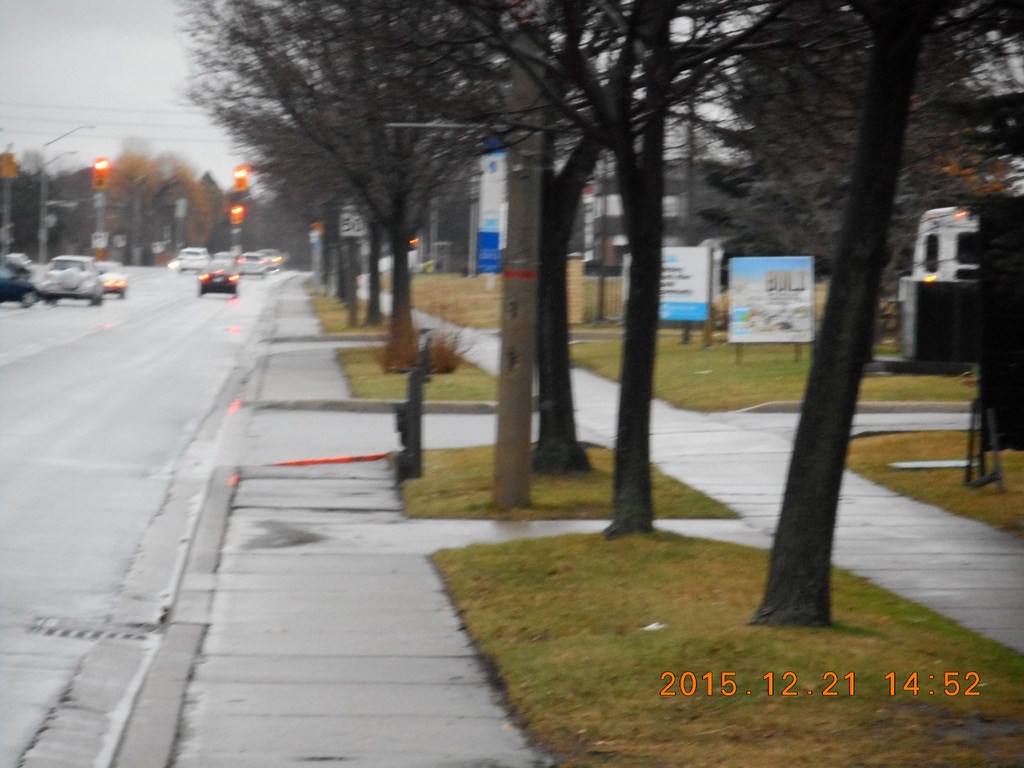 And here I am thirteen minutes later about to toddle down a walkway and complete the second leg of my trip, in a quiet residential street in Thornhill.
The YRT#5 was bitterly cold; no heating in this YRT bus.
By 15:14 I am back aboard the YRT#5 eastbound heading towards Finch terminal and the TTC subway home.
This YRT#5 was bitterly cold; no heating in this YRT bus.
I sat in three YRT buses, and not one of them was heated. By the time I reached Finch subway station I was prepared to by two hot Jamaican patties and put them in my shoes as foot-warmers.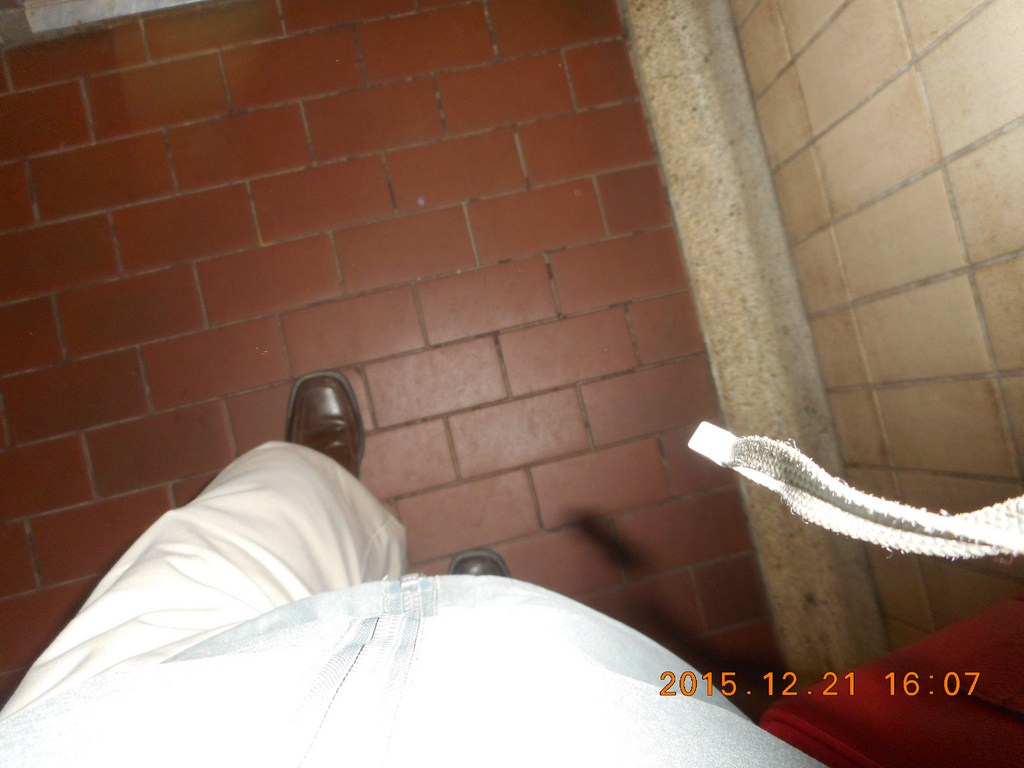 A timing shot. I have exited the TTC train at College Subway Station and am walking home.
Six hours have elapsed from the time I boarded a GO Bus for my first leg to the time I descend from the vehicle that completes my third leg.
My starting balance on my Presto Card is $49.63.
My ending balance on my Presto Card is $31.67.
The cost for the trip was $17.96, but this is somewhat elevated as I have been charged the cost of a trip to Barrie on my second leg.
Still and all, if you have the time to spare, it is way cheaper than renting a car for the day (would have cost me about $90) or for that matter owning a car that you get to use only once a month or so.




Loading





416-993-4953 CPRGreaves@gmail.com
Toronto, Thursday, December 31, 2015 11:03 AM
Copyright © 1996-2015 Chris Greaves. All Rights Reserved.