416-993-4953

32 Grenville Street M4Y 1A3
Greyhound Coach
While I was in Barrie I noticed that Greyhound pulled into the terminal. Investigation of the website shows that trips to and from Barrie can be as short as 90 minutes – a saving of an hour each way.
But at what price?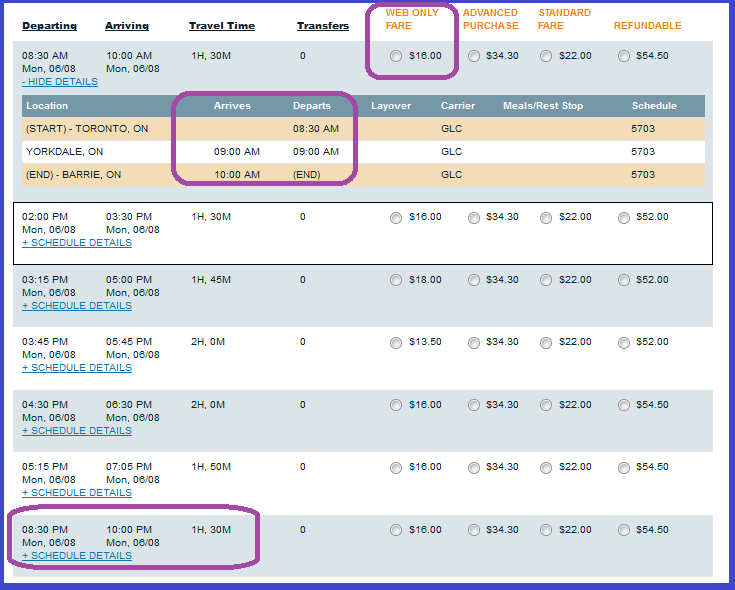 A quick tour of the web site suggested a return ticket for $16, only $3 more than a senior's ticket on the GO bus, but a saving of two hours.
It's not really true that I have a saving of two hours; I have a saving of two hours (travel time) IF I leave Toronto at 8:30am and leave Barrie at 8:30pm.
If I leave and return at other times I could spend two hours on the trip.
I telephoned the help number 1-877-463-6446 and had sufficient skills to escape the voice-simulated assistant and got through to a human who told me that there was a (garbled) fee of $3 per leg, so the all-up trip comes to $22. Plus, no doubt, some taxes (I forgot to ask).
The senior's rate, she told me after some clickety-click at her end, is $12.80; add in the $6 and taxes and I appear to be well over the $13 demanded by Go Transit.
We'll see.
I have a local advantage in that the Greyhound bus leaves from Bay and Dundas, just a ten-minute walk from my door.
Tuesday, August 04, 2015
After my late morning session with VIA rail I find a WiFi spot and settle down to interrogate Greyhound about Coburg.
I find www.Greyhound.ca and try to act like a potential customer booking a trip to Coburg. The web site confuses me because there are two Toronto departure points, neither of which seems related to the Coach terminal at Bay and Dundas Streets in downtown Toronto.
Nor does it recognize "Coburg" or "Coburg, ON" when I type that in as my destination.
After ten minutes I look for the contact number 1-800-661-TRIP (8747) and fire up Ye Olde Trusty Cell-Phone. An automated voice system called Gracie (or it could be "Gray, see?" leads me though a menu system that has nothing at all to do with customer enquiries about struggling to get a grip on the system, but I club her to death with repeated blows of the zero and hash keys on my cell phone and reach a calm-speaking guy at the other end who can't help me to navigate the web site. He says I should contact the local office directly and gives me the number 416-594-1010, which I dial.
416-594-1010 is, of course, a recording which tells me to look for whatever I want on the web site www.Greyhound.ca or dial 1-800-661-TRIP (8747) id I want to speak to an operator.
At this point I send them an email and am now waiting for an automated response telling me that my email is very important to them and that they will reply before Sol explodes into Red Dwarf stage.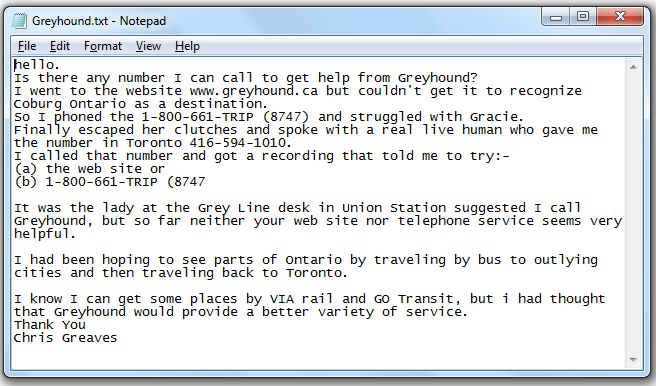 Enterprise rent-a-car is beginning to look very attractive, but that defeats the purpose of these exercises which is to explore Toronto's Surroundings by Public Transit.
Thursday, August 06, 2015
Since I walk past the Coach terminal two or three times a week I thought it wise to drop in on my way to Via Rail this morning; maybe Greyhound could lure me to a cheaper trip to Coburg, trumping VIA rail.
No.
Greyhound doesn't service Coburg.
They do Belleville, a bit further out, but on Tuesdays, not Mondays, and leaving here at 315 p.m.
So that's why the web site choked when I typed in "Coburg" – but didn't tell me why; no "Sorry we don't do Coburg" or even "We do Belleville which is sort-of-close ...".
I asked for a printed booklet of schedules, but greyhound don't do those. Only folks clever enough to navigate the internet and the web (which by my admission of Tuesday, August 04, 2015 is not me) can see where Greyhound goes.
I imagine that the bulk of Greyhound passengers live out in the sticks, and hence they know that greyhound comes and goes from, say, Peterborough, so that is how they know; and they come to Toronto and know that they can get home.
No one in their right mind sits at home thumbing through a brochure dreaming of a trip, by Greyhound, to somewhere on the vast North American tourist space.
Friday, August 07, 2015
And so today I looked for the cost of a trip to Belleville by greyhound, since I'm going via VIA rail to Coburg, but perhaps by Greyhound to Belleville two weeks later ...?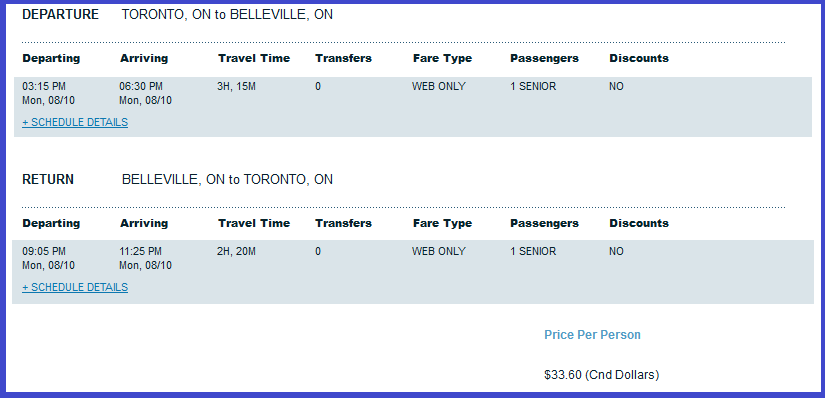 This doesn't look appealing. The price is right - $34 return – but leaving Toronto at 3:15pm means a stay in a motel if I want a day to explore Belleveille (Kingston, Brockville ...)




Loading





416-993-4953 CPRGreaves@gmail.com
Toronto, Wednesday, August 12, 2015 5:43 PM
Copyright © 1996-2015 Chris Greaves. All Rights Reserved.