Paris Diary
(For my original tentative schedule please scroll down to ďMy Tentative ScheduleĒ)
Below is a map that shows places that I visited.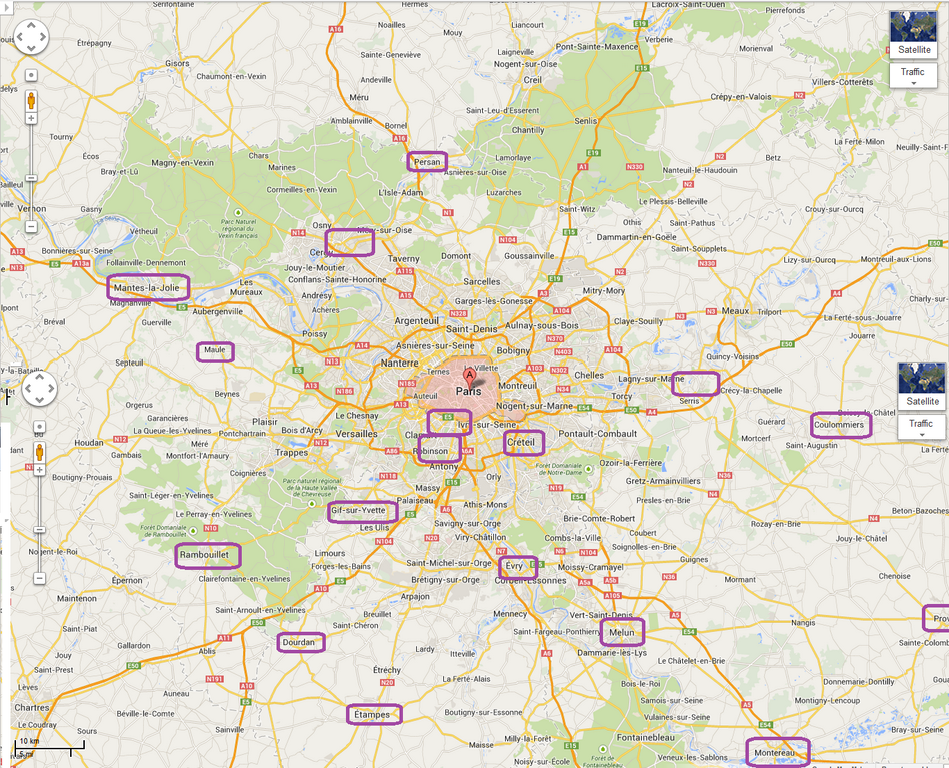 In most case ďVisitedĒ means that I hopped off the train, and spent two or more hours walking around, making purchases, asking directions and so on.
While waiting for a change of trains, in one case I had time enough to buy a coffee across the street and chat with the waiter, and then chat with the lady in the station wicket; in another case I spent twenty minutes in conversation on the platform with a SNCF team leader.
| Date | Visited |
| --- | --- |
| | (pack and travel) |
| | Montrouge |
| | Montrouge, Place des Fetes |
| | Fontenay Aux Roses, Le Bras de Fer |
| | Rambouillet |
| | Persan, Beaumont |
| | Maule, Mantes La Jolie |
| | Maisons Laffitte, Marne La Valee |
| | Etampes, Bretigny, Dourdan |
| | Meulun, Montereau |
| | Saint-Remy-les-Chevreuse, Bures sur Yvette, Orsay-Ville |
| | Provins, Fontenay aux Roses |
| | Coulommieres, Chessy |
| | (Paris city) |
| | Maisons Alfort, Pontoise |
| | (pack and travel) |
| | (reflection) |
There you go; twenty-five towns in twelve days. About twelve hundred images; many good memories tucked away in my head!
My Tentative Schedule
It is not as hectic as it seems. On days when I am hogging the Transilien network, Iíll be working my way through places I knew. For example, I might travel to Fontenay Aux Rose on foot from Montrouge and return by train, or I might travel to Robinson and Fontenay by train then walk back to tour Montrouge on foot.
I suspect too that most days Iíll return to Paris mid-afternoon, leaving me time to explore various sectors of the city which I once wandered.
| | |
| --- | --- |
| SUN 14-Sep | Depart Toronto. |
| MON 15-Sep | Arrive 3pm, purchase Navigo, travel to hotel. Eat |
| TUE 16-Sep | 1 RER B2 (Chatelet Les Halles) Robinson & Fontenay Aux Roses |
| WED 17-Sep | Hotel Regina; Montrouge,Porte díOrelans |
| THU 18-Sep | 2 RER D4 (Gare de Lyon) Le Bras de Fer, Boutigny, La Ferte Alais |
| FRI 19-Sep | 3 SNCF (Montparnasse) Rambouillet, Le Perray, Les Essarts. |
| SAT 20-Sep | 4 SNCF (Montparnasse) Maule, Mareil, Baynes |
| SUN 21-Sep | Rue St Denis/St Georges Church; Boulevarde Montparnasse |
| MON 22-Sep | 5 SNCF (Austerlitz) Etampes, Etrechy |
| TUE 23-Sep | Buttes Chaumont, Pre St Gervais, Place des Fetes |
| WED 24-Sep | 6 SNCF (Gare du Nord) Bruyeres, Persan |
| THU 25-Sep | Courcelles, Port de Clichy, Place de Clichy, Porte de Clignacourt |
| FRI 26-Sep | 7 SNCF (Gare de Lyon) Montereau, Champagne |
| SAT 27-Sep | Place Clichy, Courcelles, St Germain des Pres |
| SUN 28-Sep | 8 SNCF (Gare de Lyon) Souppes, Nemours |
| MON 29-Sep | Pack, Eat; travel to CDG; meet Ian Pearson? fly out ... |