416-993-4953

32 Grenville Street M4Y 1A3
Nottawasaga River – Jacks Lake to Edenvale
Saturday, October 16, 2010
Driving directions: Jane and Steeles to Wasaga Sports Park .
"Experience the sensation of paddling through a silver maple swamp in April and May, surrounded by the soft "quacks" of wood frogs or a cacophony of "snoring" leopard frogs.  Course through lily pad beds on a shallow lake fringed with wild rice and buttonbush in the summer months while common nighthawks cavort overhead, filtering insects out of the evening sky.  Thrill to the strike of a northern pike in a landscape framed by the gold and russet hues of autumn.  Jack's Lake is an easily accessible natural treasure and is a prime spring, summer and fall destination!"
"The canoe launch area, with free parking, at Klondike Sports Park is an ideal departure/return point for a trip to Jack's Lake.  Simply paddle (insert distance) upstream past the Klondike Park Road bridge and Jacques' Landing Trailer Park to the lake.  There are no rapids through this stretch and the placid flows are ideal for novice paddlers, although they can be stronger during the high water periods of spring..  A return trip can easily be accomplished within two hours."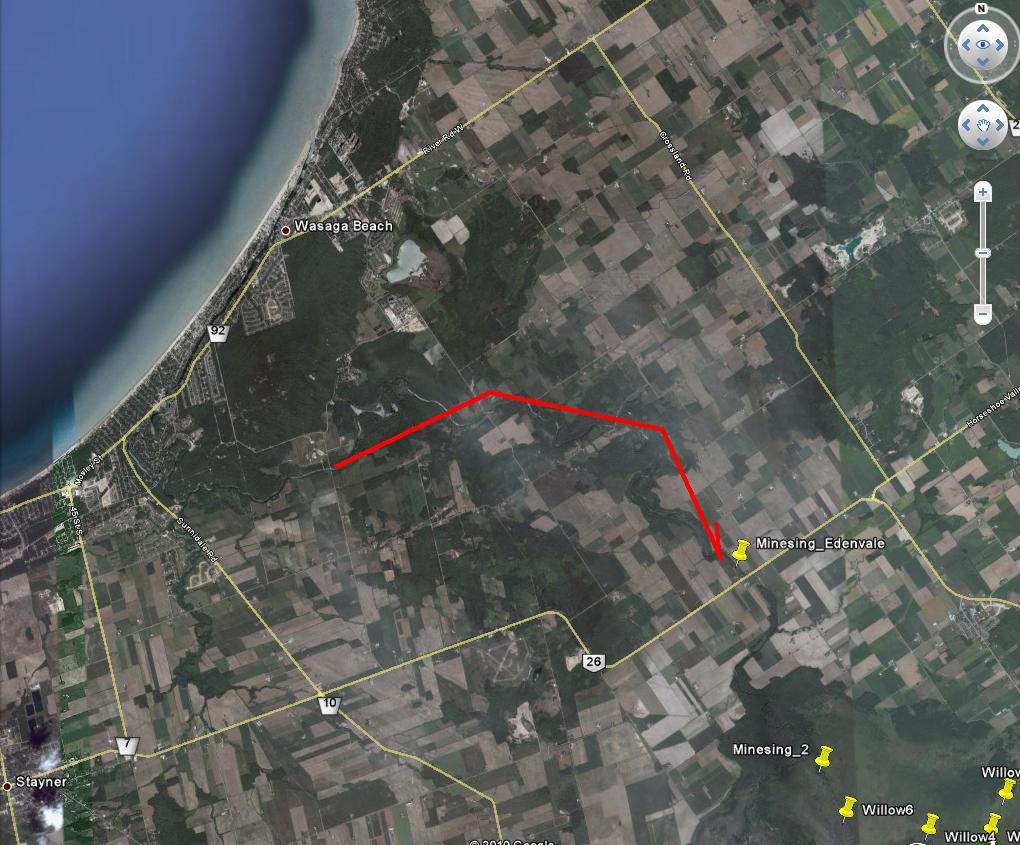 This is a trip upstream (where we can do the hard work) with a lazy trip back downstream.
It is possible to paddle to the Edenvale conservation area (please see " Minesing Swamp - Edenvale ").
By road the distance is 14 kilometers. It will be a bit more than that by canoe.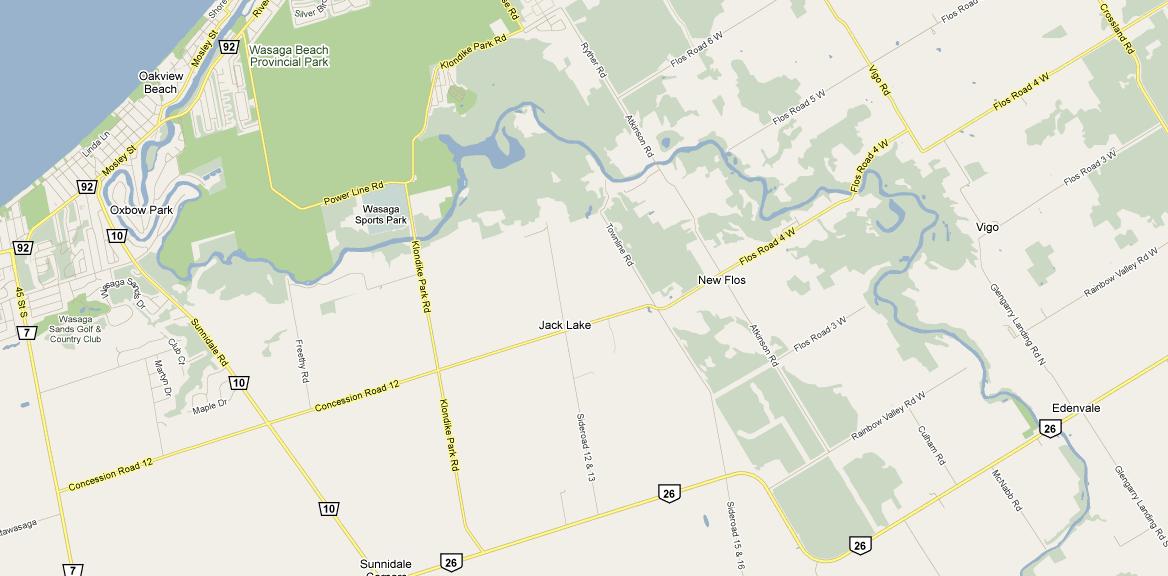 The trip runs from near the intersection of Klondike Park Road and Power Line Road, the Atkinson Road bridge, the Flos Road 4 West bridge, to the Highway 26 bridge (Edenvale).
Fred and I have paddled some of this stretch before ( FlosRoad 4 and FlosRoad 5 )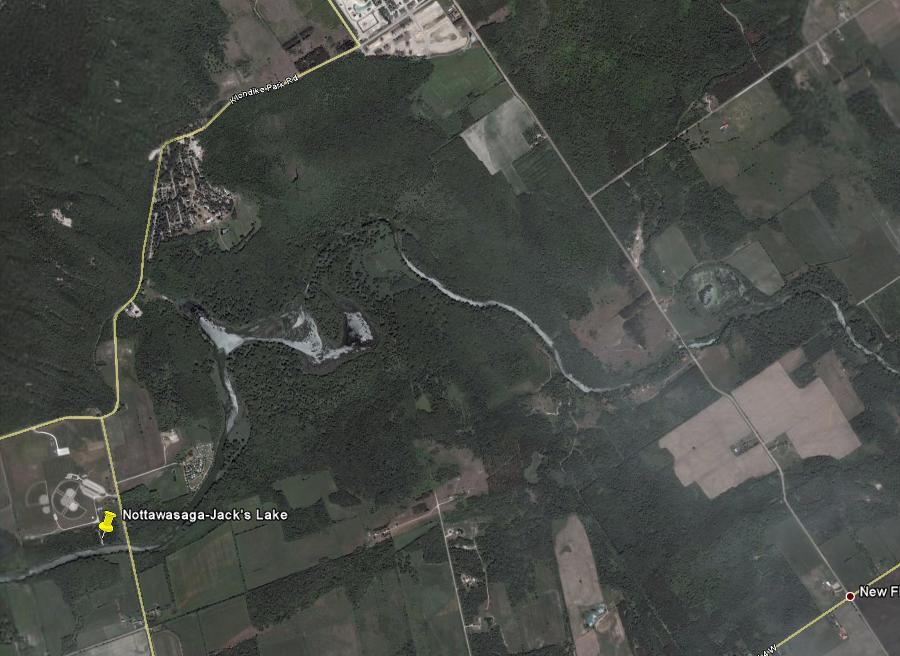 Stretch 1:
The launch point is at the Wasaga Sports Park and the paddle is upstream to the Atkinson Road bridge, a distance of about 2½ miles.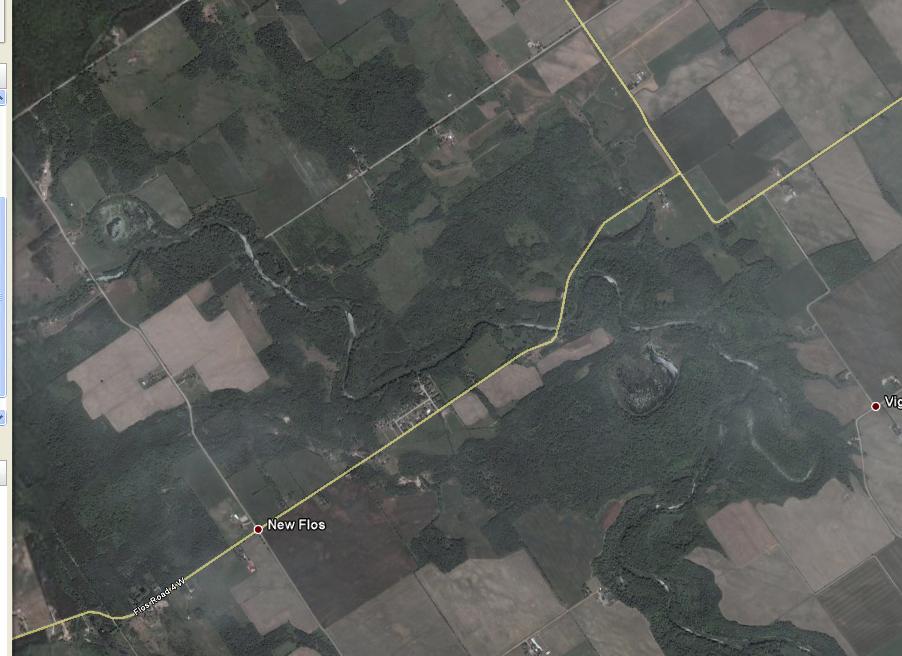 Stretch 2:
This stretch is about 2 miles only.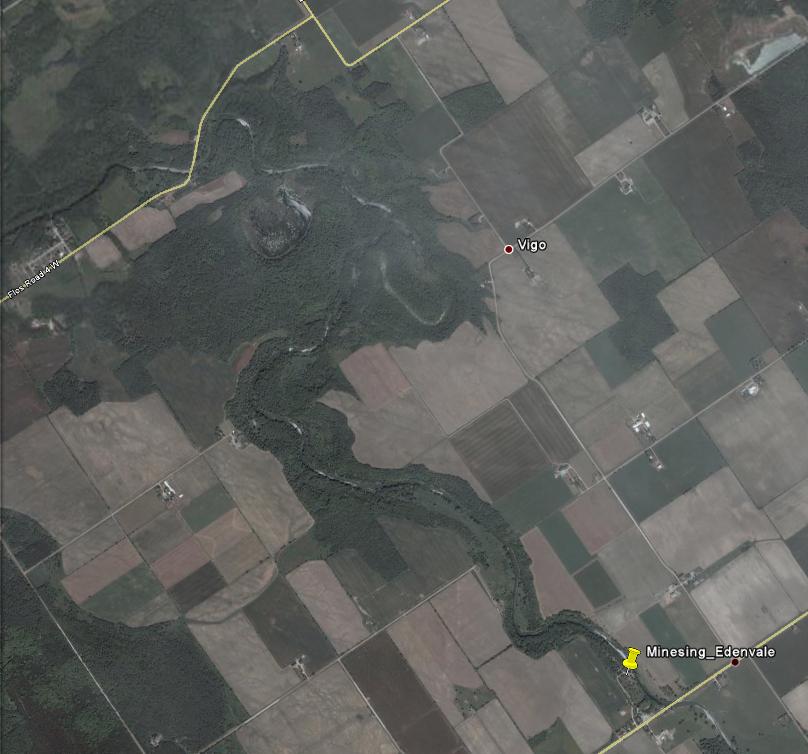 Stretch 3:
This stretch is about 3 miles.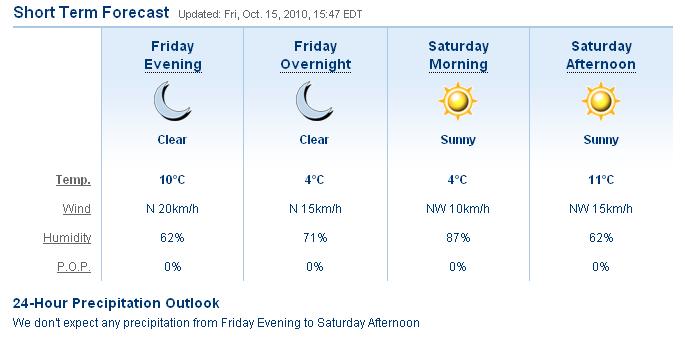 We are promised perfect weather: A light breeze from the North-West means that we will be assisted in the paddle upstream.
No precipitation, sunshine and clear skies.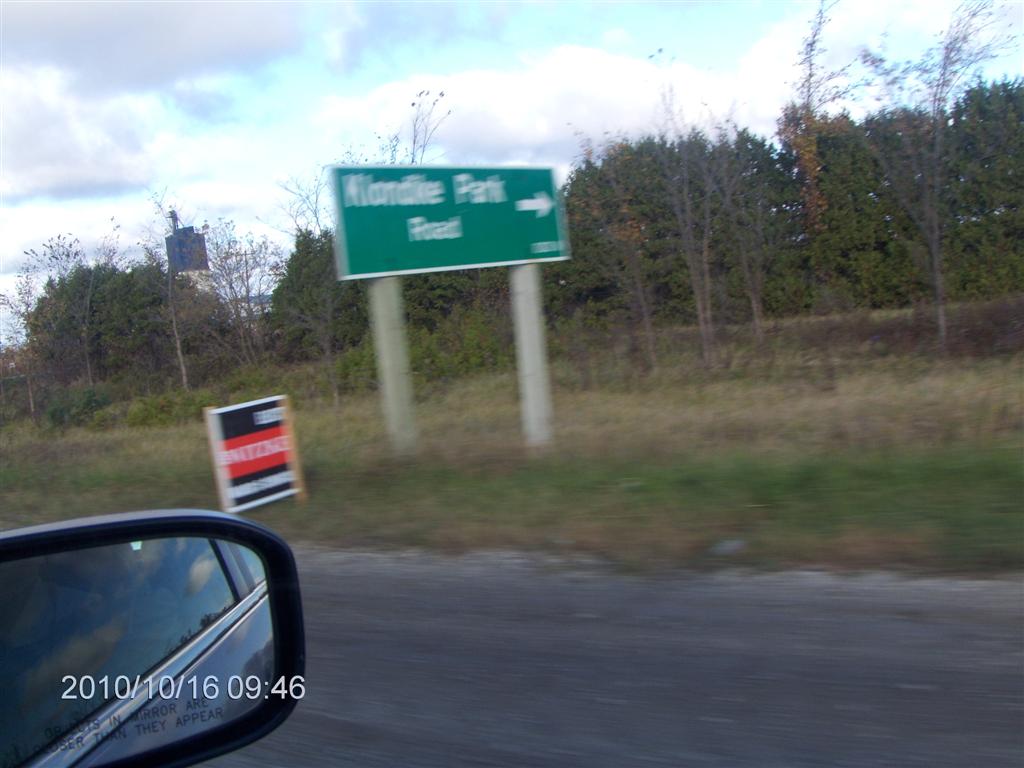 So, this is what the sign for Klondike Park Road looks like from Highway 26 Westbound as you pass the turn-off at high speed.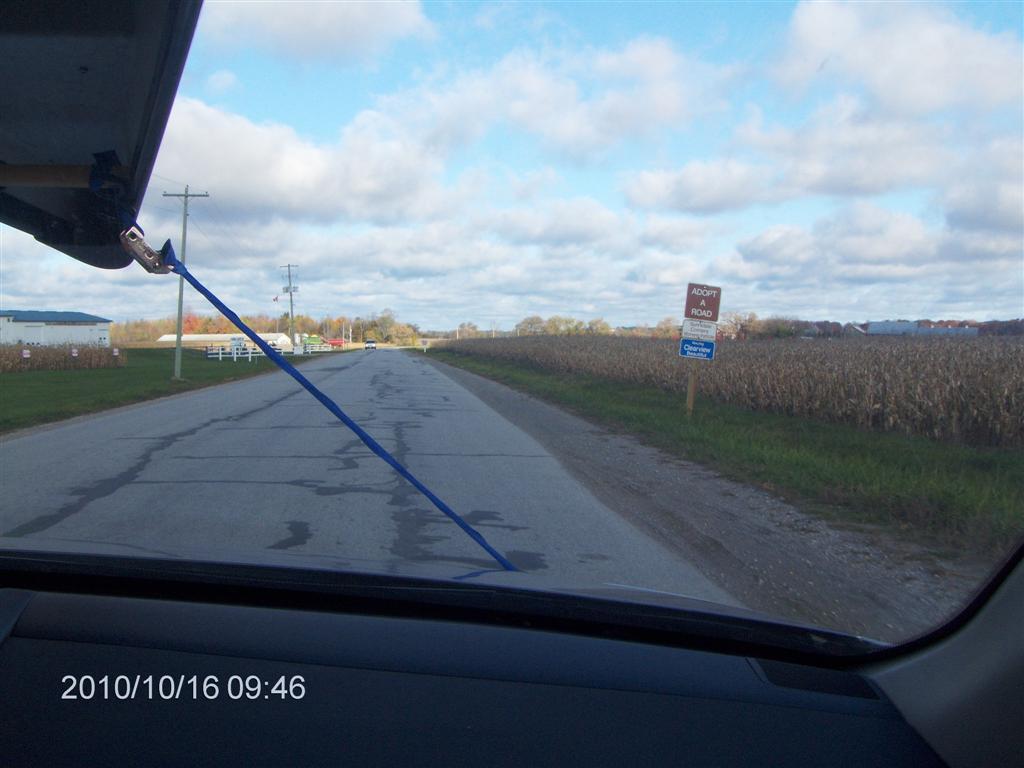 And this is the view after you turn North up Klondike Park Road. The park and launch is to the left, once you enter the park.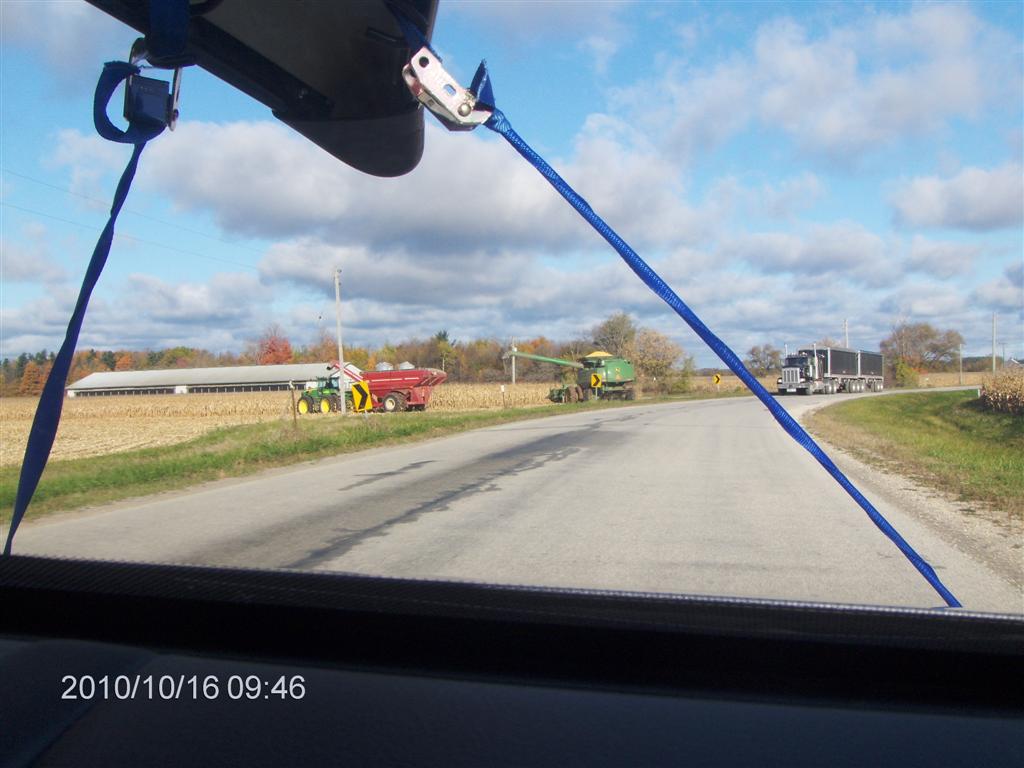 This is a large agricultural machine harvesting corn; guaranteed to catch your eye and draw your attention away from the road. That is a big transport truck approaching.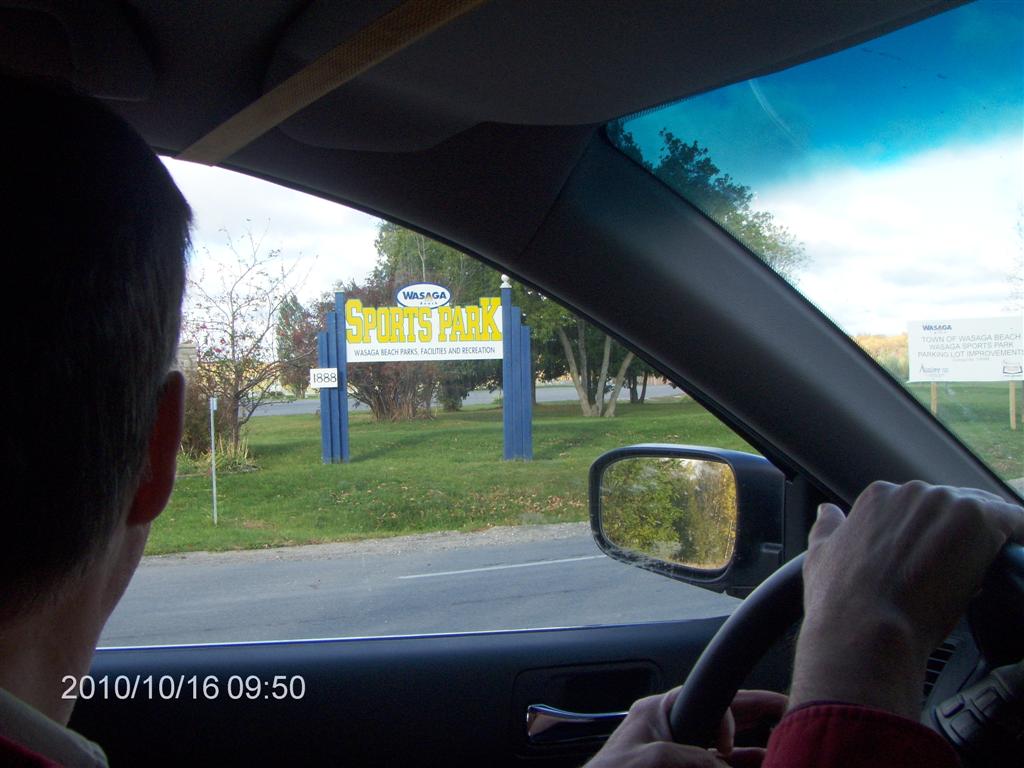 And this is what the entrance to the Sports Arena looks like as you drive by.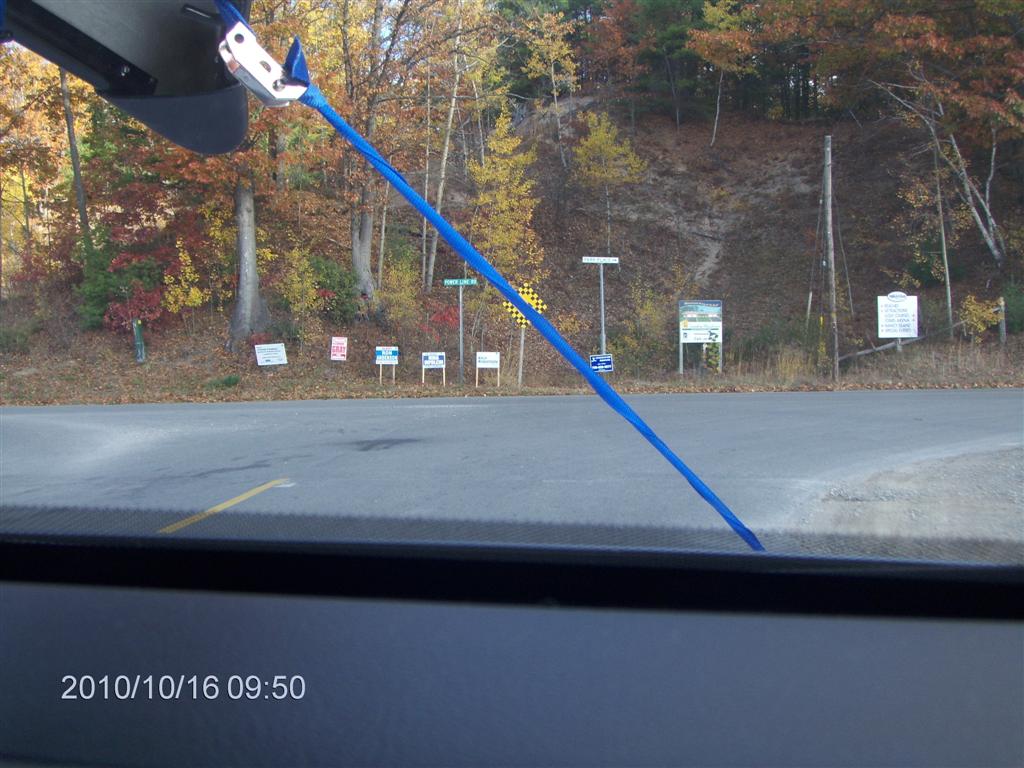 If you get this far you have reached Power Line Road, way too far North. Turn around (again) and go back the way you came.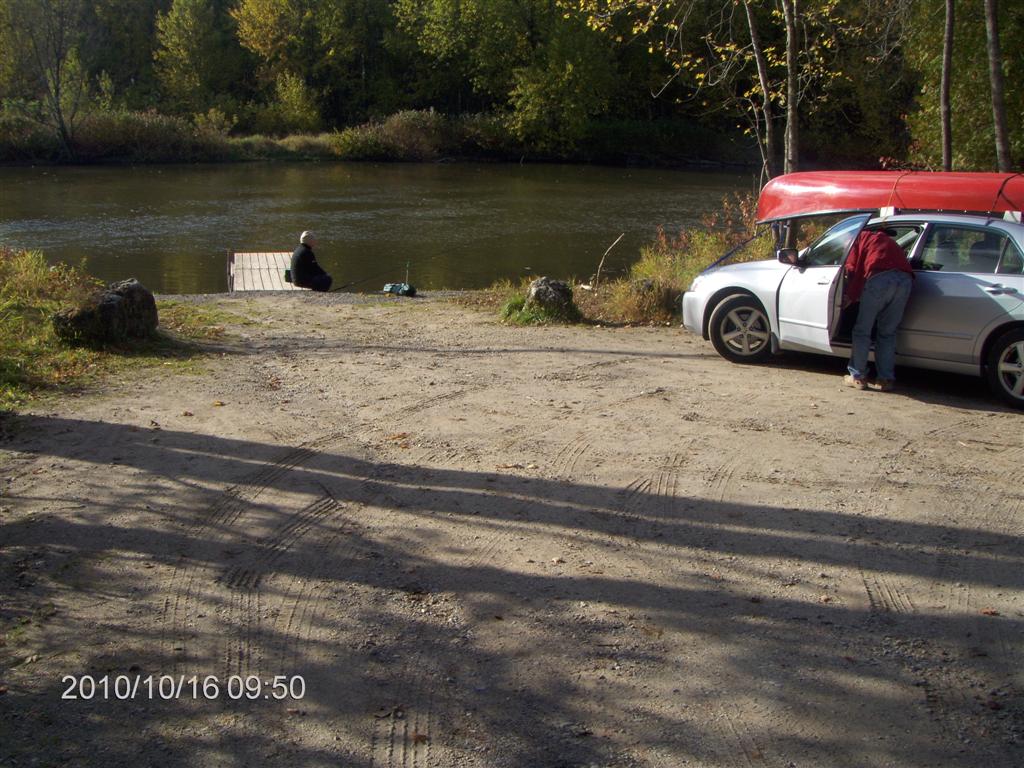 Here is the launch spot; parking is a hundred yards back, but there is space here to unload and turn the car around.
A fisherman sits on the dock in the early morning sun.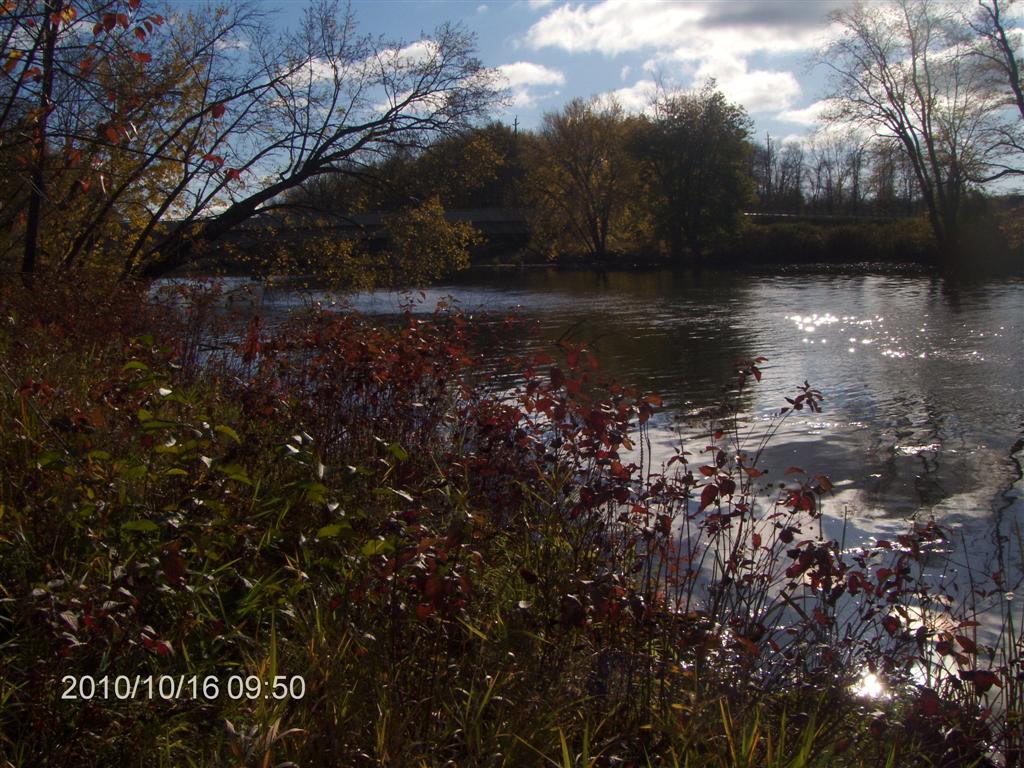 Here is the view up-river from the dock. That is the Klondike Park Road bridge crossing the Nottawasaga River.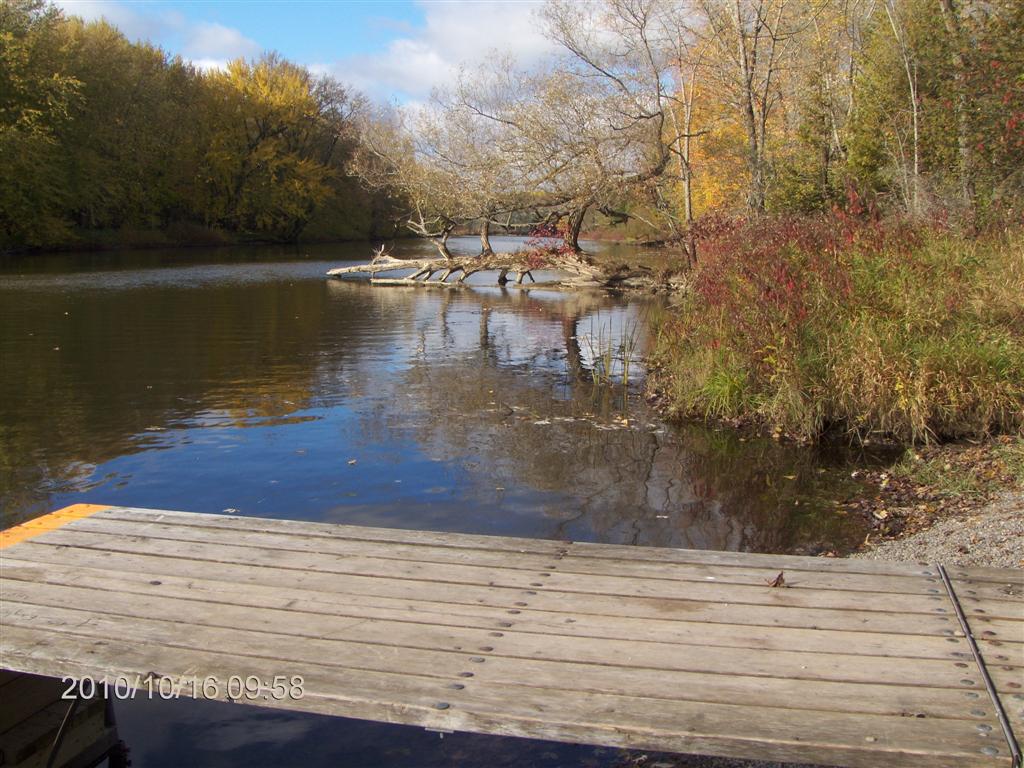 And here is the view downstream, towards Wasaga Beach.
We are paddling in the river just 90 minutes after leaving Jane & Steeles.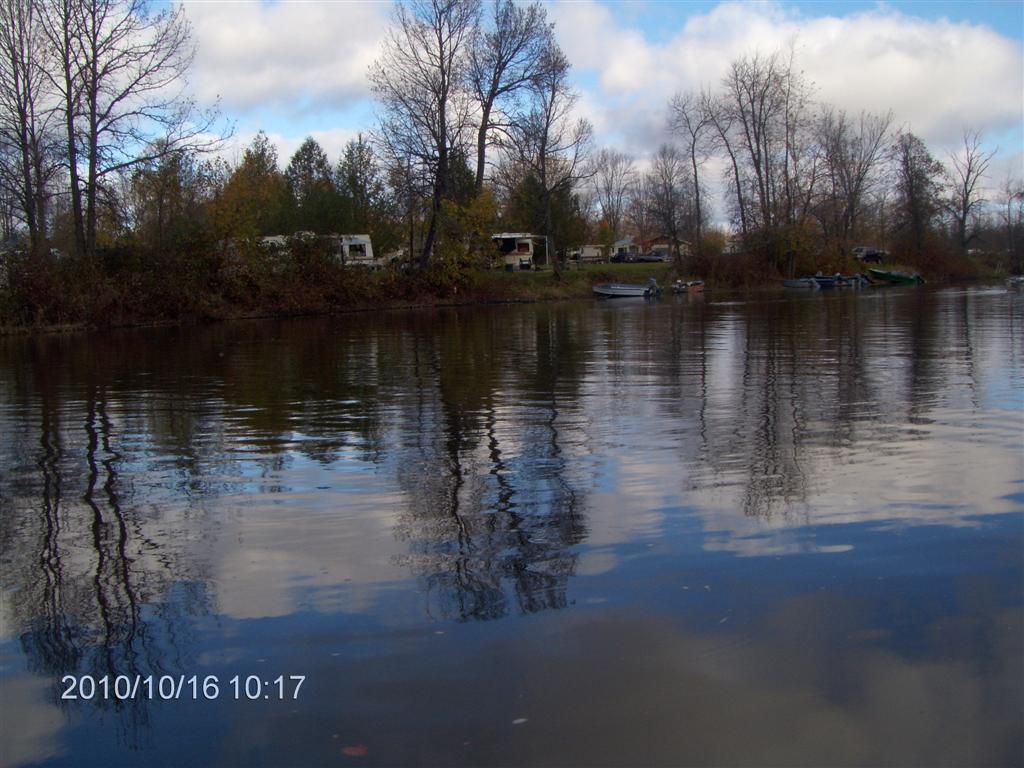 The trailer park is a permanent fixture. We counted about a dozen small boats, each with one or two occupants, out fishing.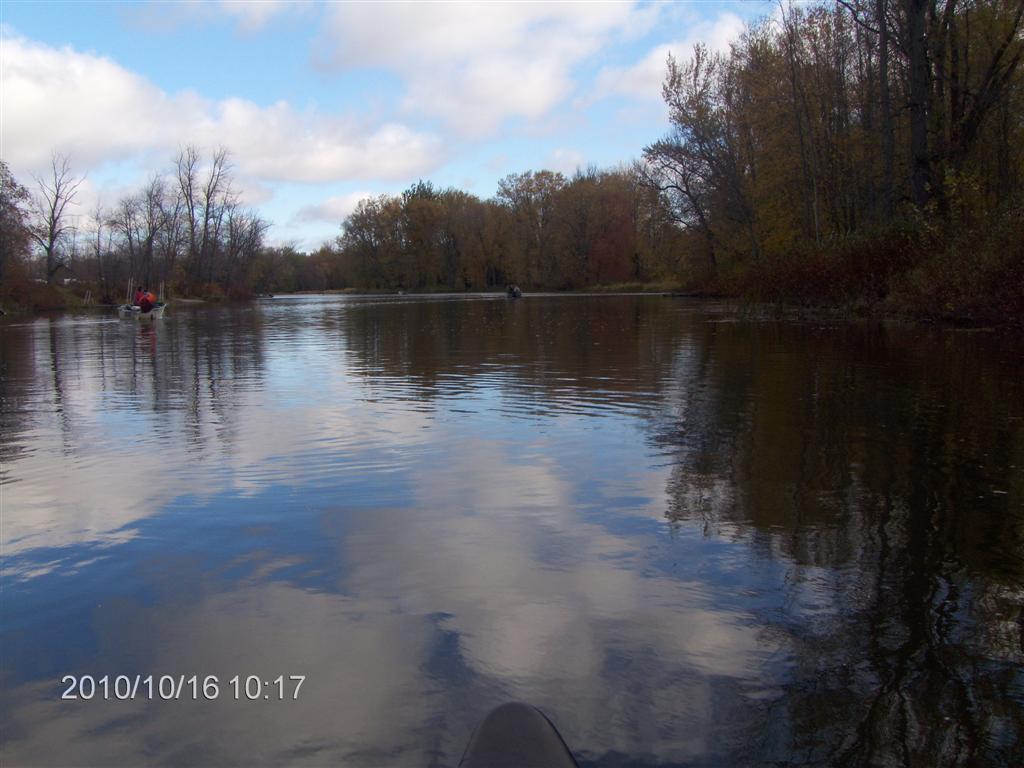 Here we are paddling upstream behind a smelly petrol-engined boat. Pooh! We are purists.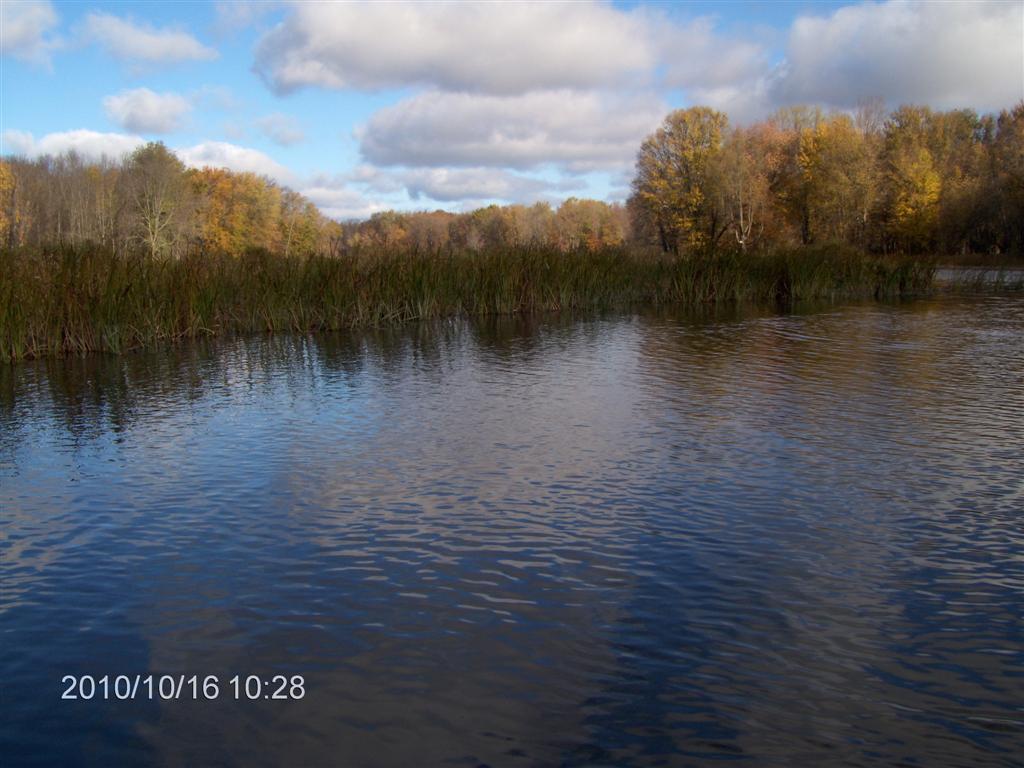 Once past the trailer park we see no-one. We are alone on a peaceful stretch of water.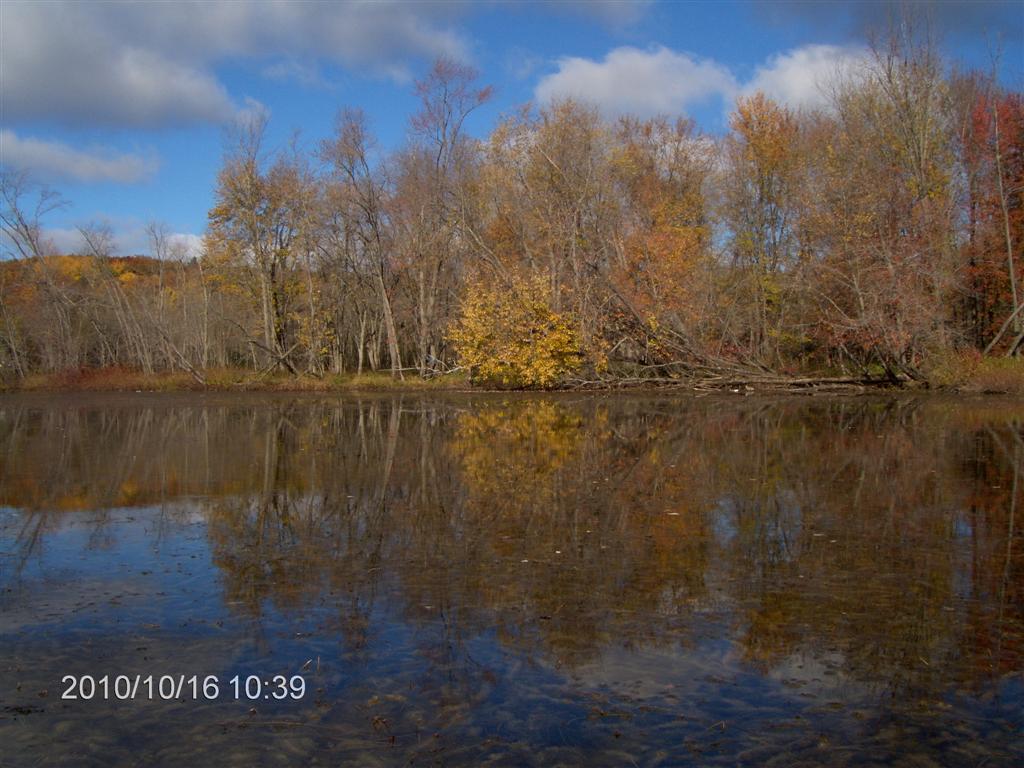 We are two or three weeks late for the full glory of the fall colors; still and all the leaves that remain are pretty.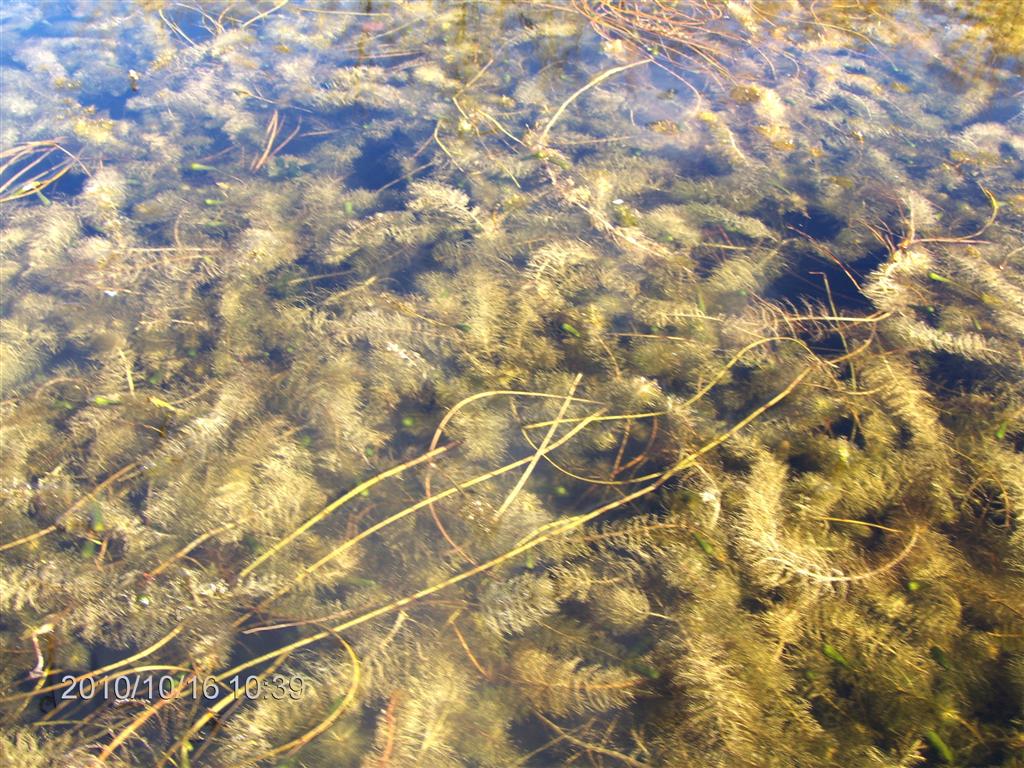 We paddle into the first (Western) lobe of Jacks Lake. Weeds abound and we can feel the drag on the canoe.
We are blessed with coveys (?) of ducks in the water.
We paddle about in the lobe for about twenty minutes, enjoying the warm sunshine.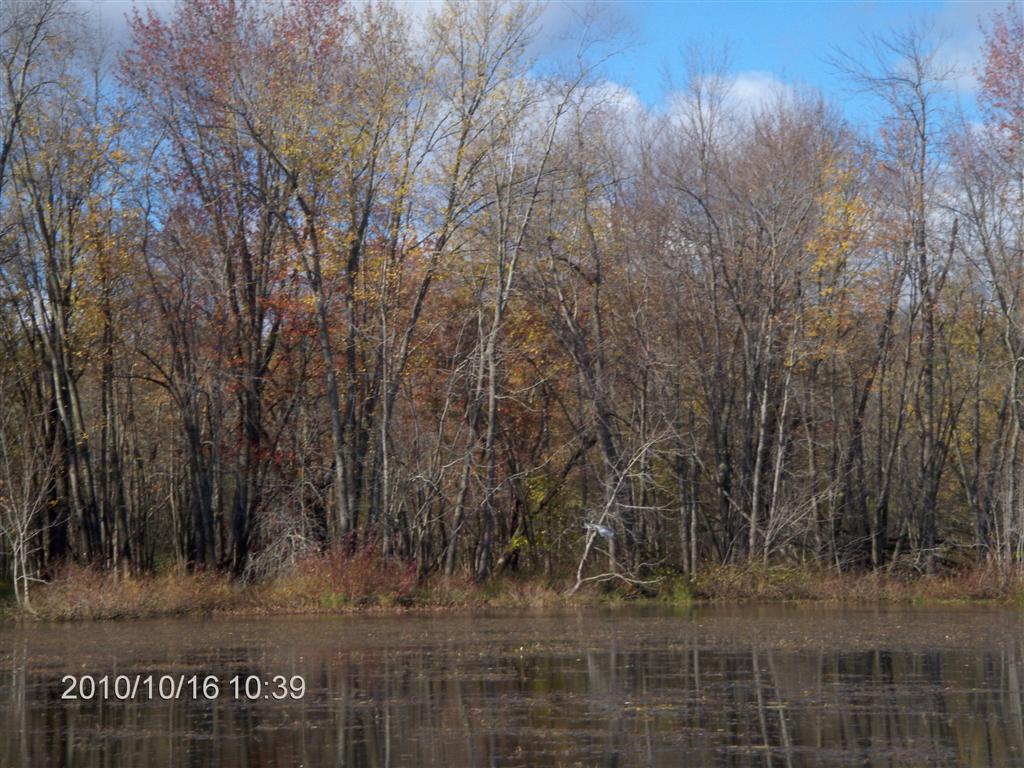 I'm not sure, but I think I was trying to photograph a blue heron who accompanied us for about thirty minutes up stream.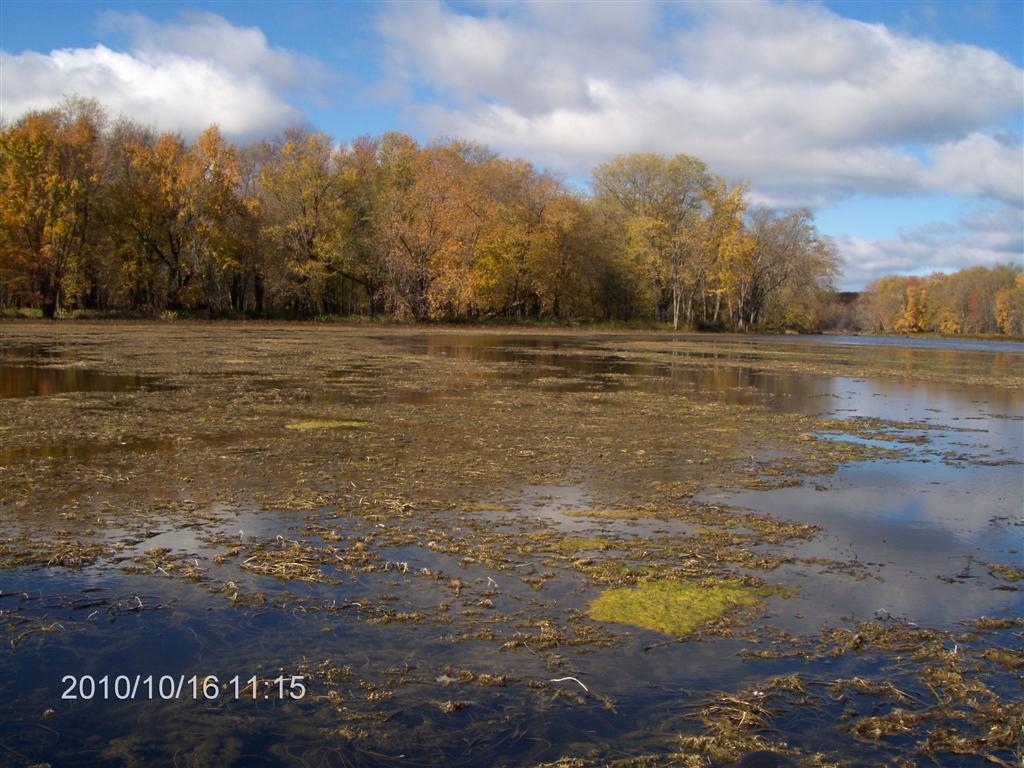 The water is placid; the breeze has died away.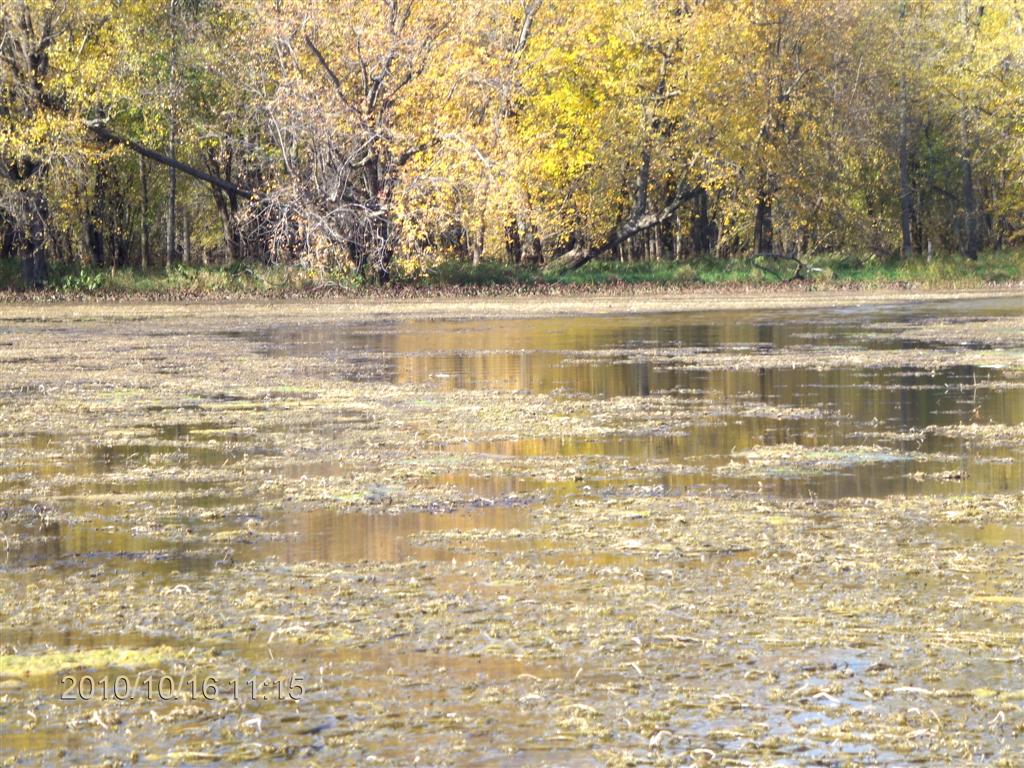 We have now moved into the third lobe, at the eastern end. Fred has spotted what looks like a grassy dell, suitable for lunch.
But it turns out to be a swampy mess, so we exit the second (central) lobe and head upstream.
As we exit, we recognize our luncheon spot from the first set of photos in our FlosRoad 5 trip.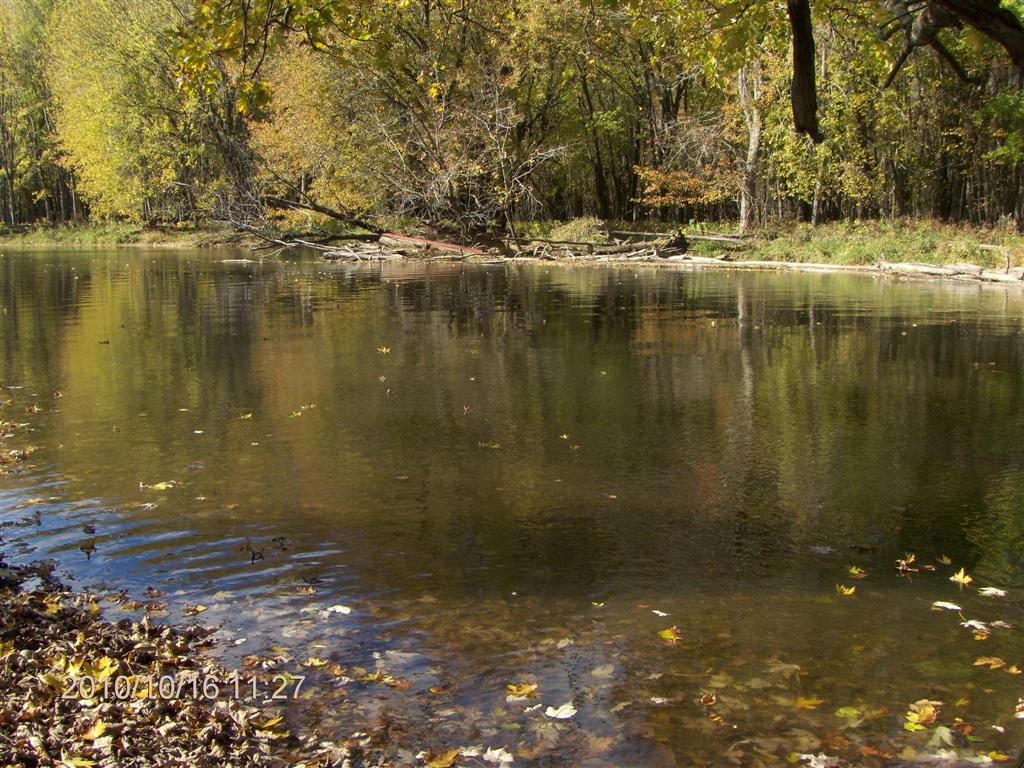 Within a quarter of an hour we are pulled up on a smooth bank and begin the central task of the day. Lunch!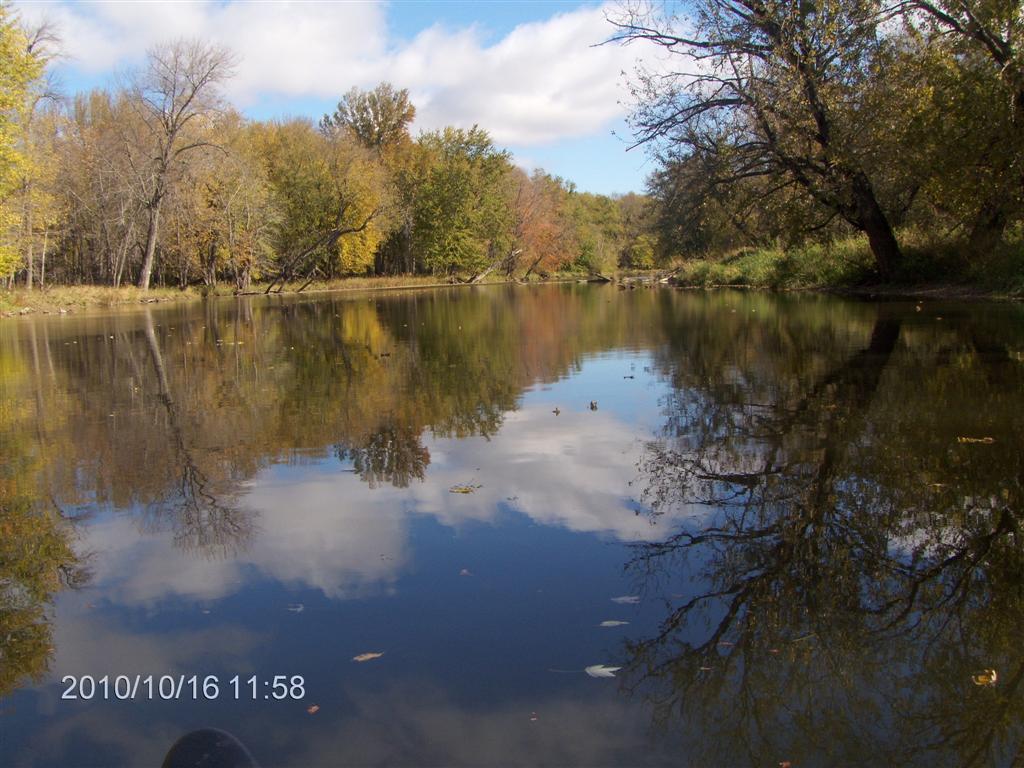 And after a half-hour of munchies we set off again upstream.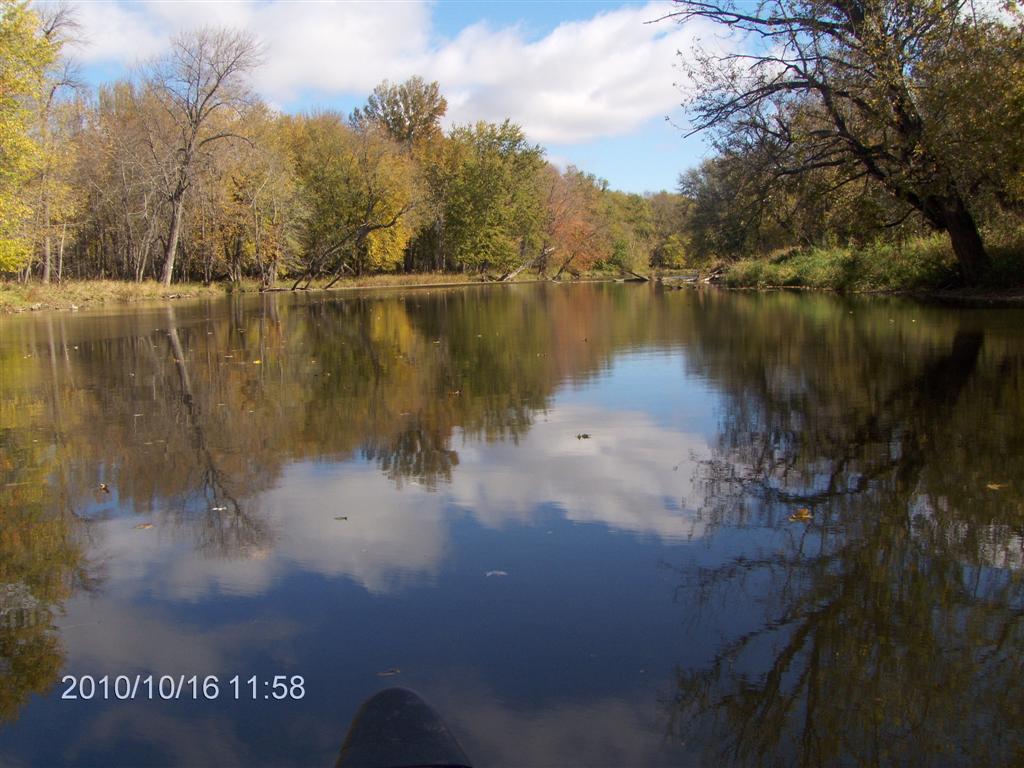 The wind plays tricks. Right now, not a breath of air.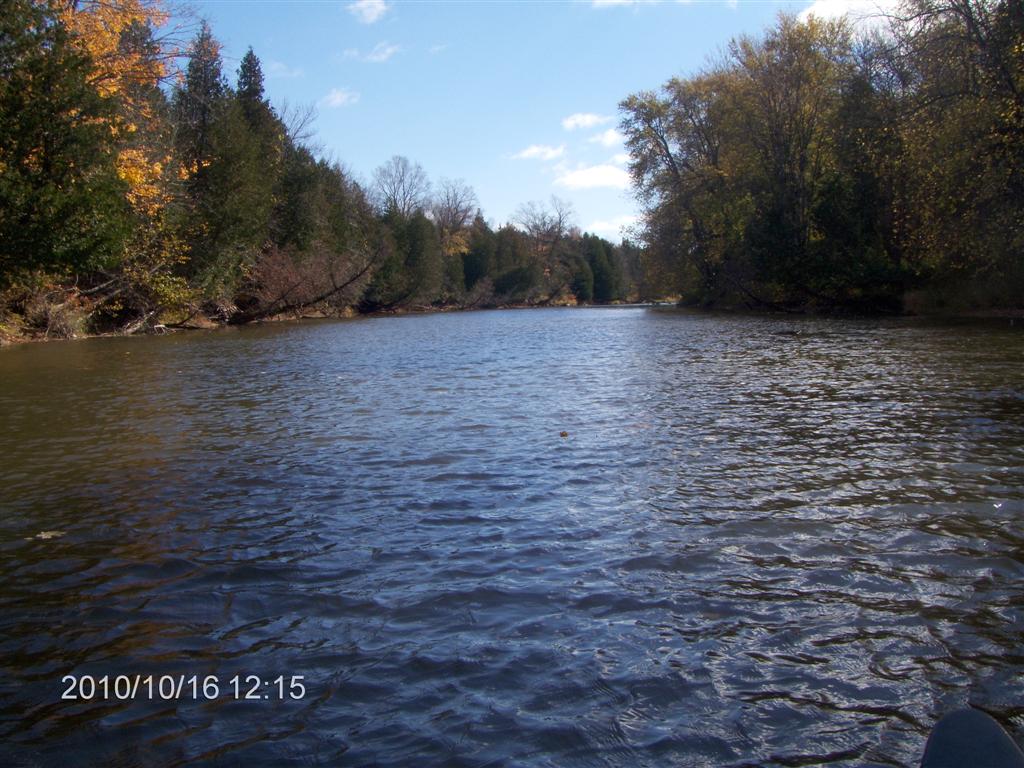 A quarter of an hour later we are being pushed upstream against a strong current, by the wind at our backs.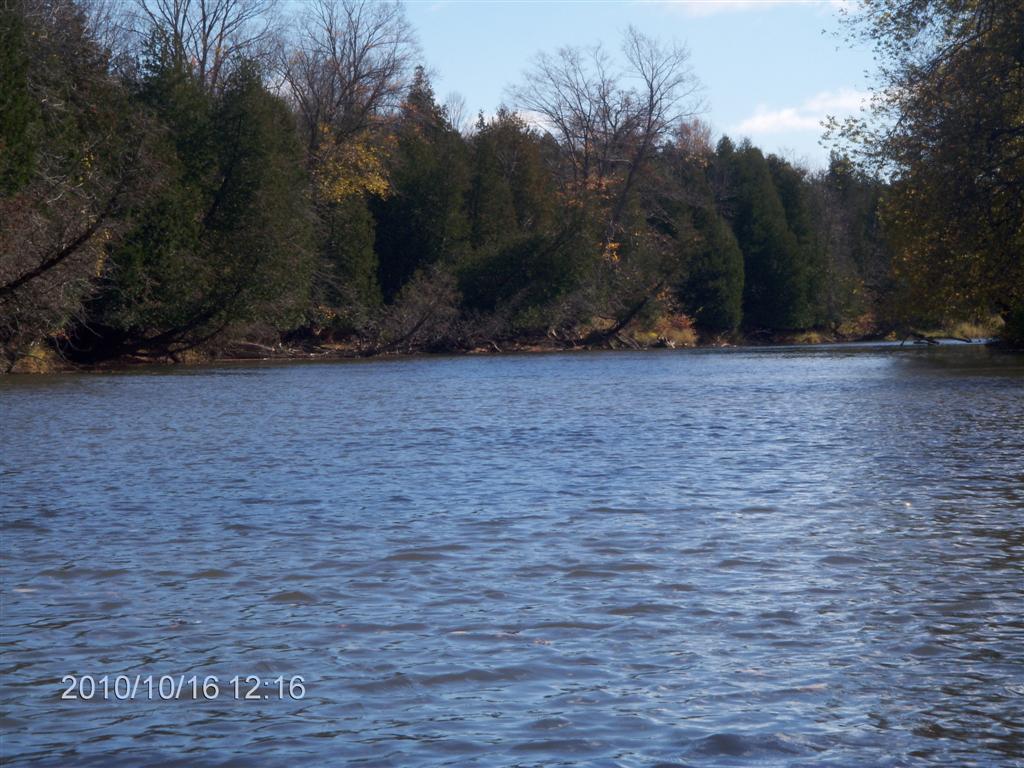 The view upstream is beautiful.
Remember we did this trip two and a half years ago in early summer. It looks and feels different now.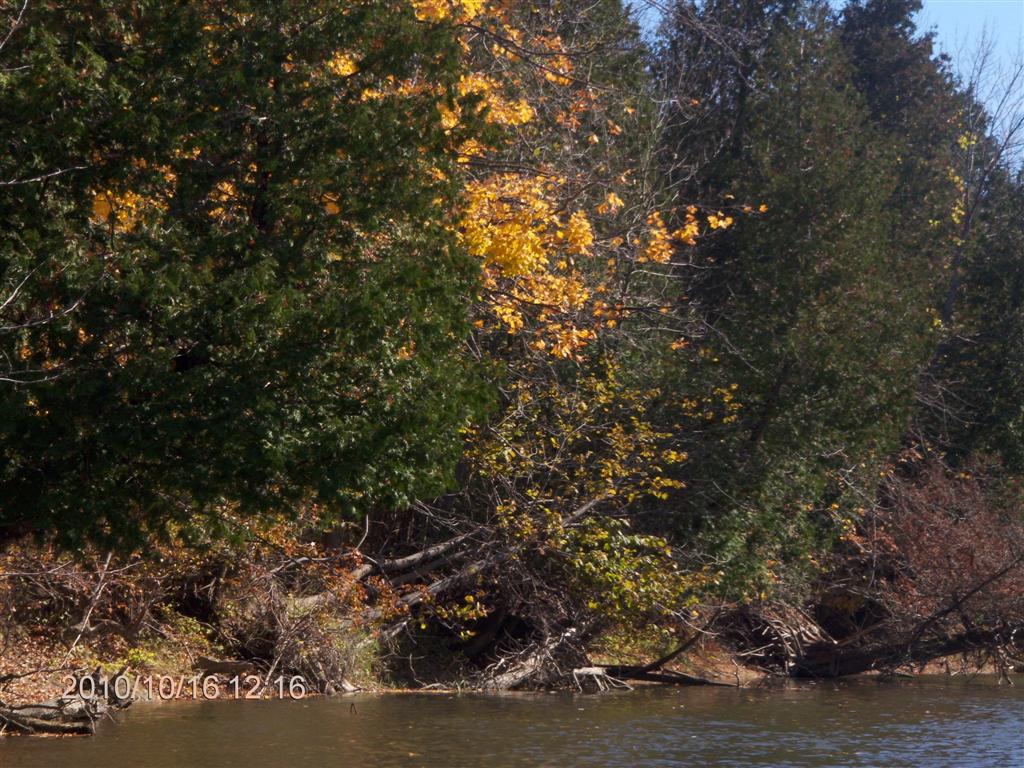 Splashes of yellow peep out at us.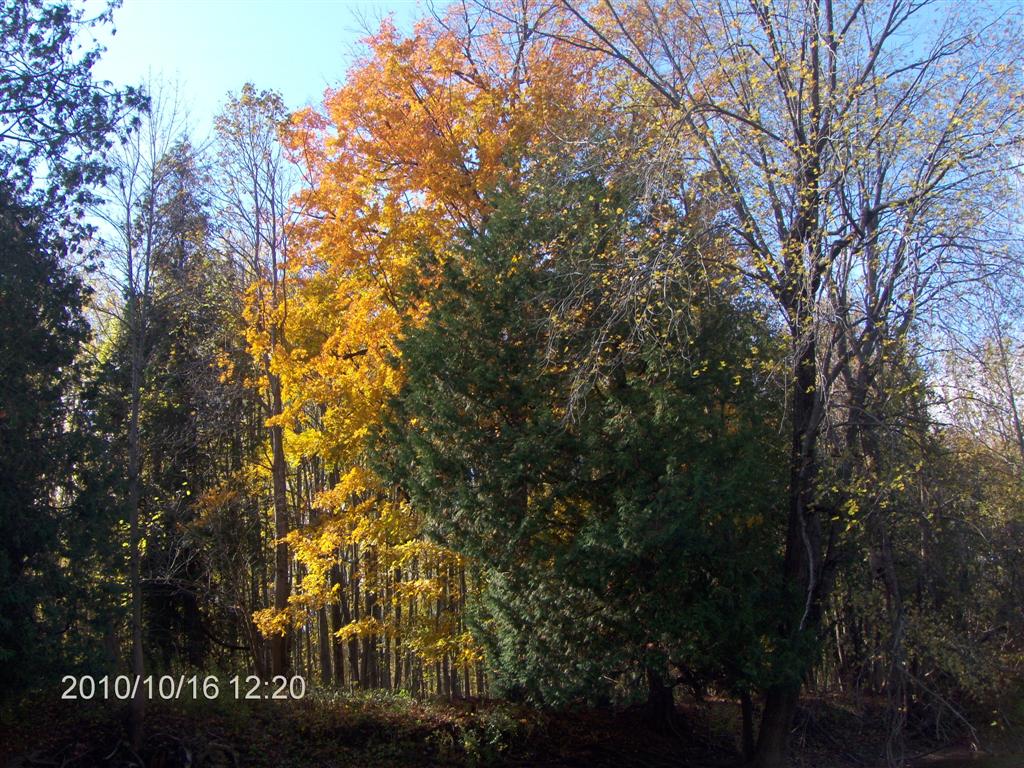 Or, perhaps, blazes of yellow blaze out at us.
Fred spotted some weird tree trunks, sculpted and smoothed by the water.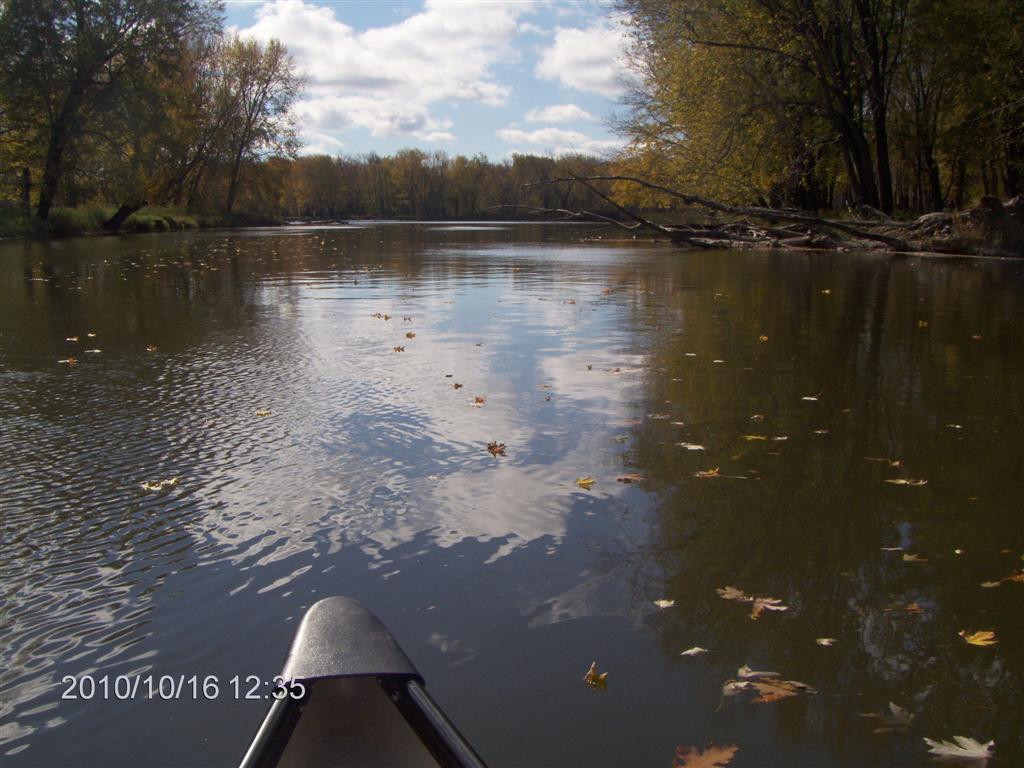 We head back downstream towards Jack's Lake.
Leaves, like pixie boats, drift with us in the current.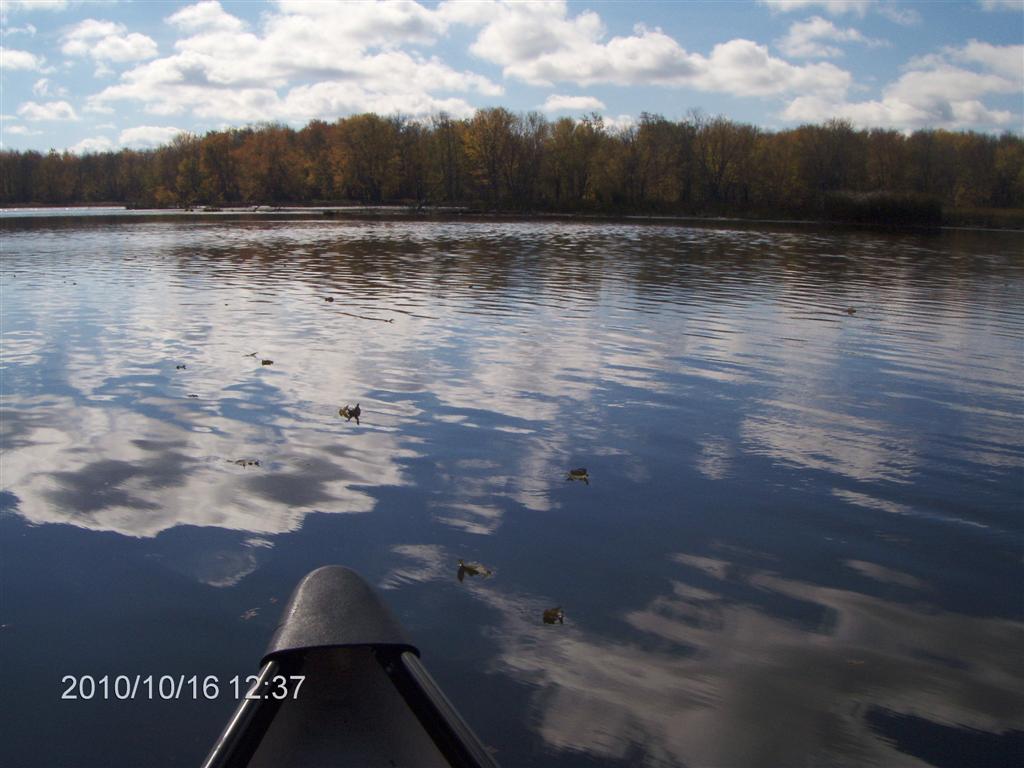 Hard to see in this shot, but ahead is what's left of the log-jam bank from two years ago.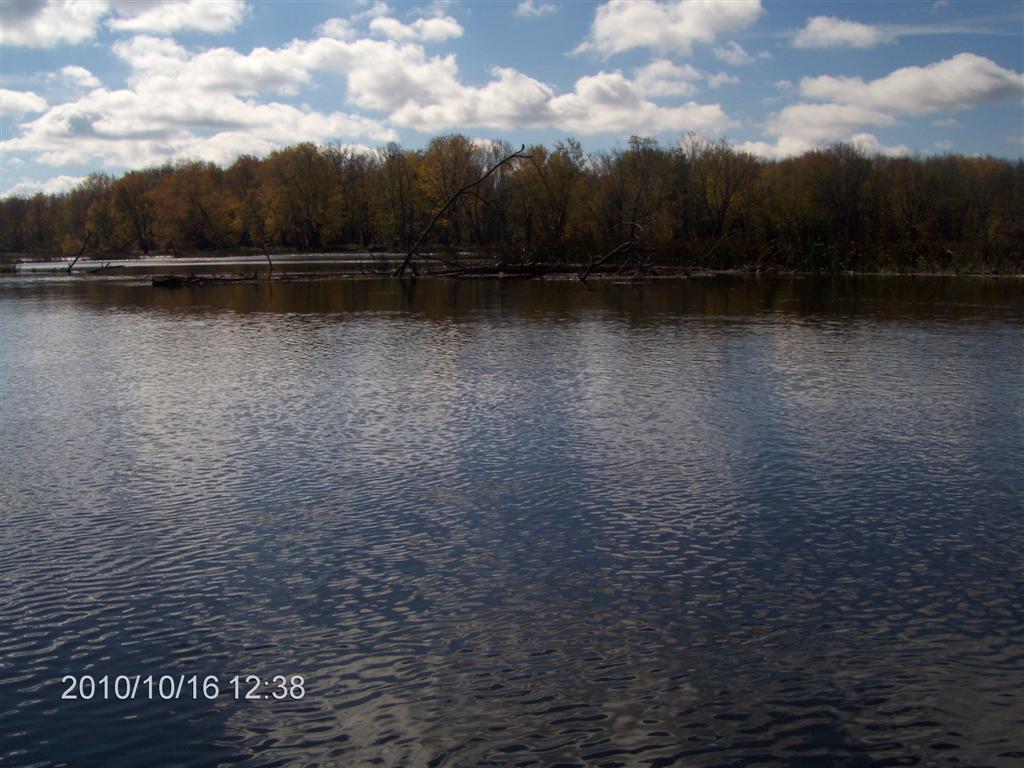 Here is a slightly better view. We had rested up against this to eat our lunch.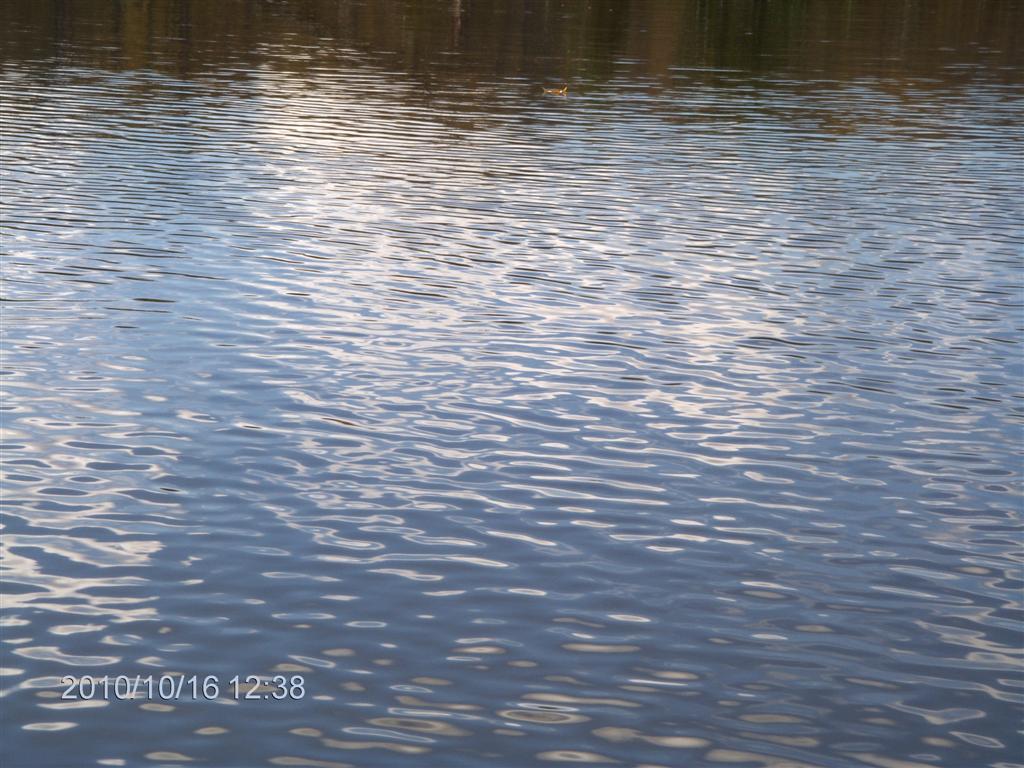 ??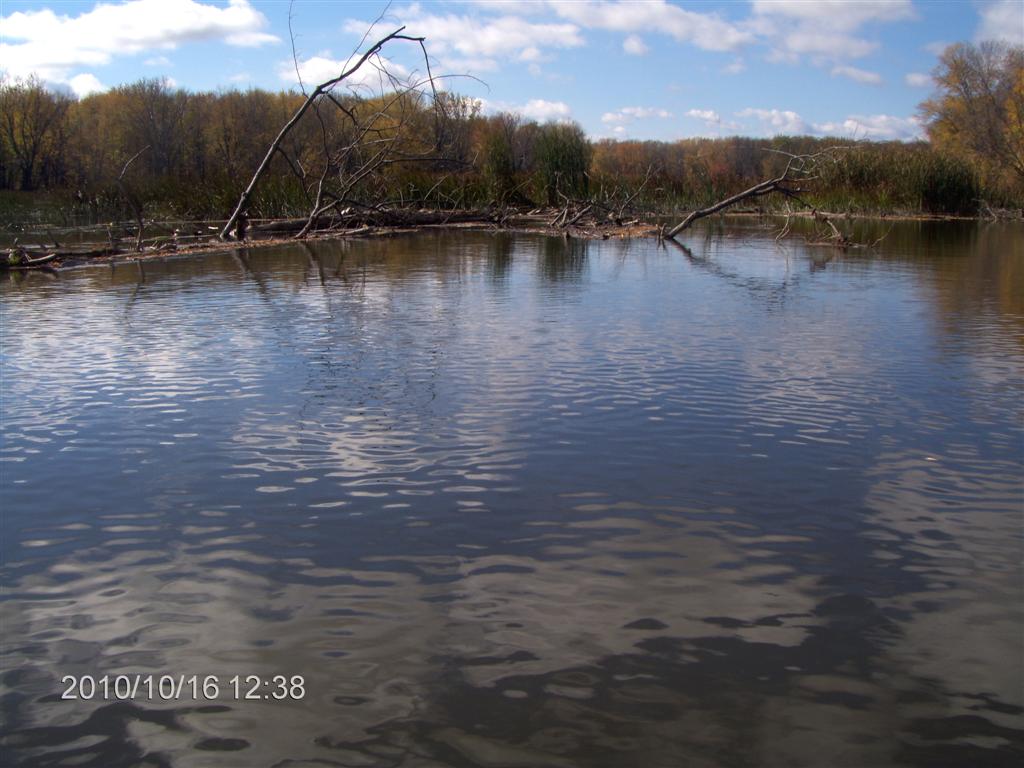 A view from the eastern end of the bank.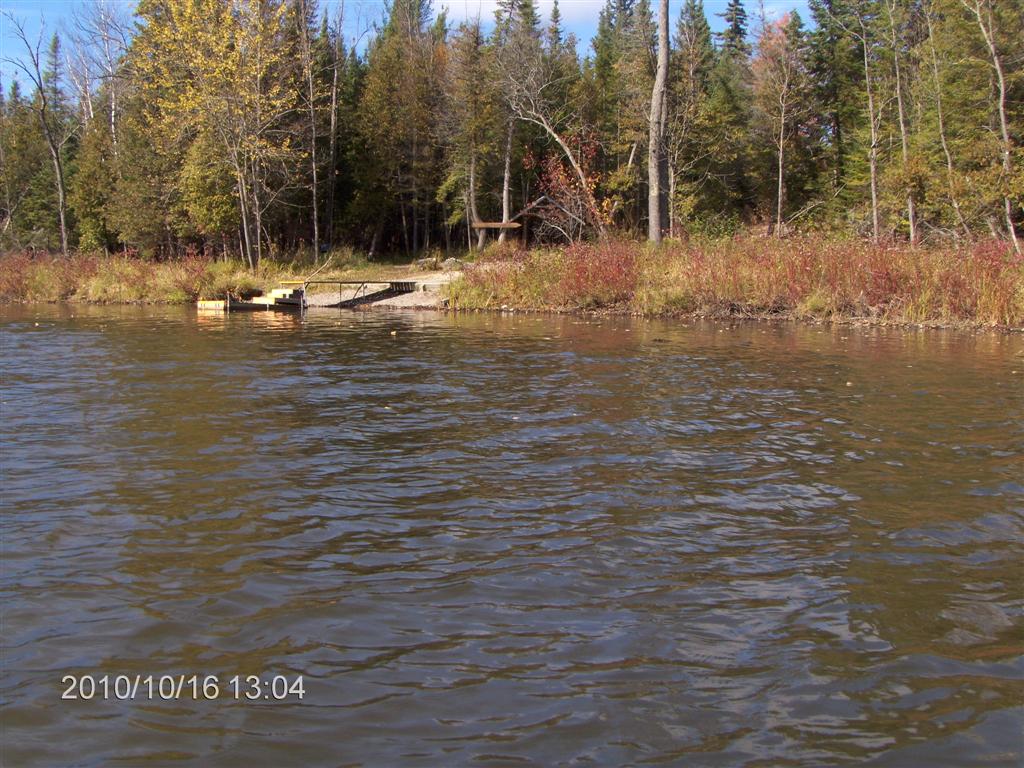 And here we are preparing to dock and pull out.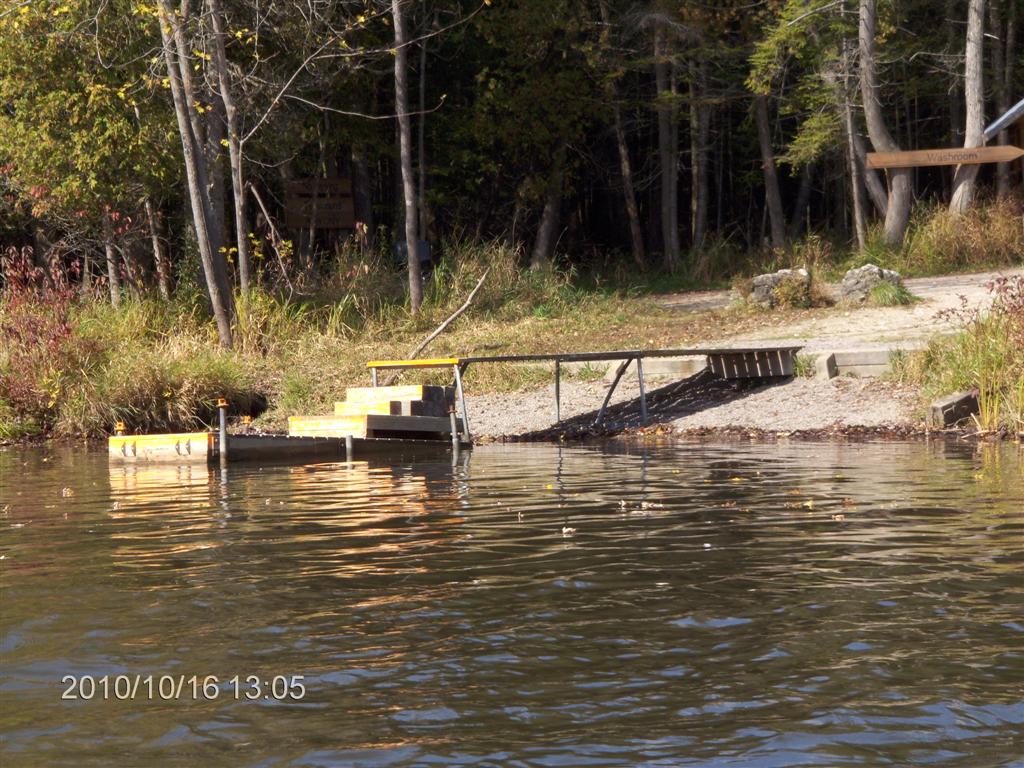 For all the slopes, it is a well-constructed dock and one of the best launch spots we have found.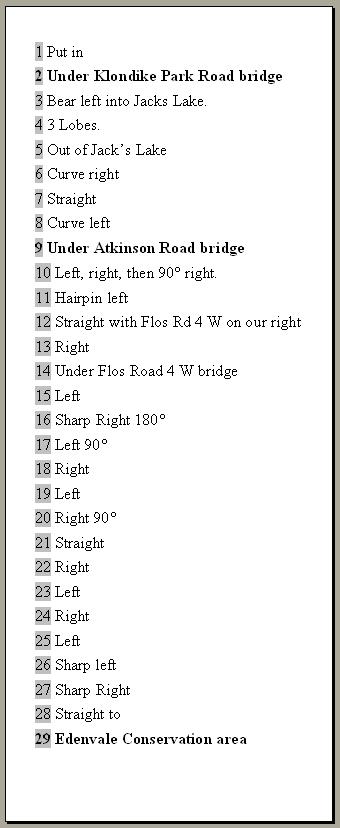 I experimented on this trip with a curve-by-curve description of what we might see. I fashioned an elastic tie out of rubber bands and strapped the 11 cm by 28 cm light card to my left thigh.
I found I could easily read off the list and identify where we were up to.




Loading





416-993-4953 CPRGreaves@gmail.com
Toronto, Friday, September 08, 2017 10:10 AM
Copyright © 1996-2017 Chris Greaves. All Rights Reserved.