416-993-4953

32 Grenville Street M4Y 1A3
Lake Scugog
Lake Scugog is a man-made lake in Scugog Township, says this Wikepedia entry.
Port Perry is about 45 minutes drive from the 404/401 intersection.
Directions from 401/404 intersection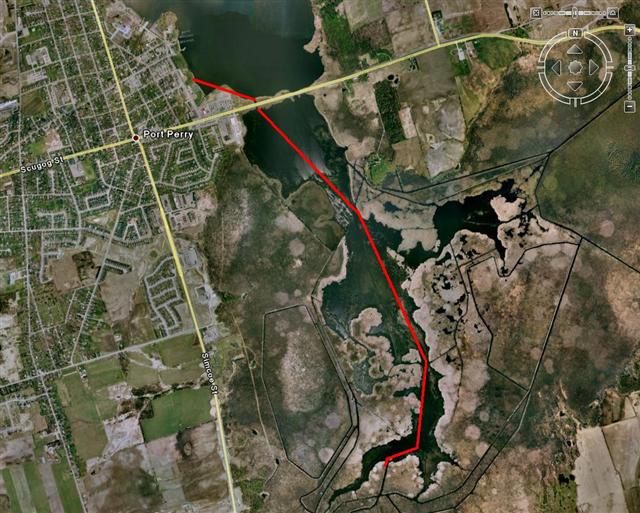 Lake Scugog appears to offer interesting marsh/swamp land south of the highway 7A bridge, although the bridge is very heavily traveled with folks heading off to the nearby casino, poor, and returning rich. Or the other way around.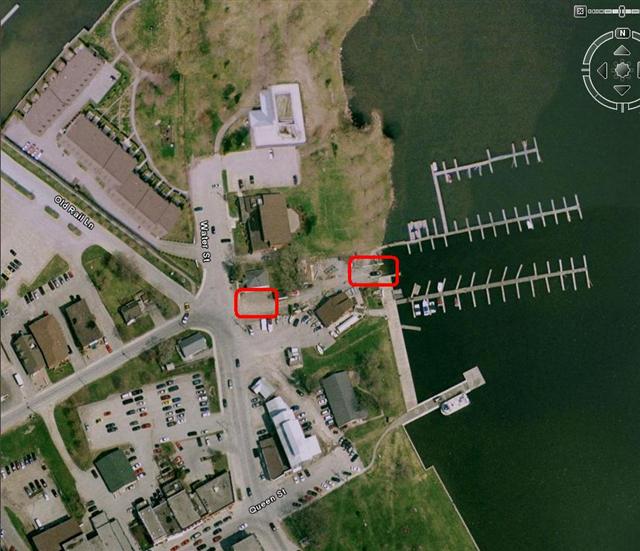 I had previously rented a canoe for a short (25 minutes?) trip ( Port Perry ), and the spot suggests a suitable launch spot from the same boat ramp. I am not sure of parking there. In the past we have forked out $7 for the privilege of parking a car in an out-of-the-way spot.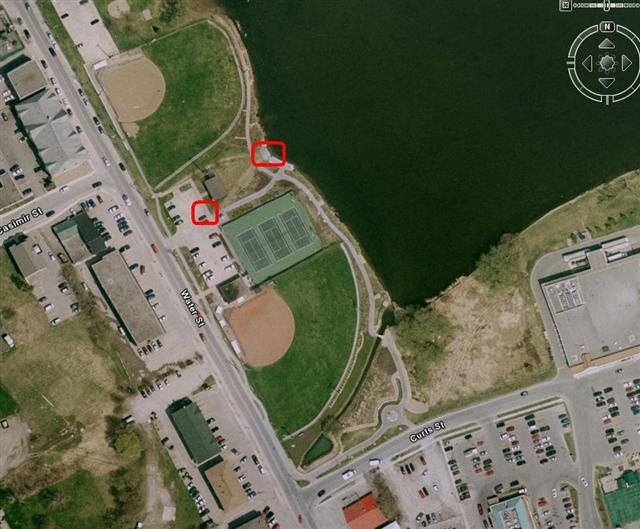 An alternative launch might be from along the north side of the tennis courts.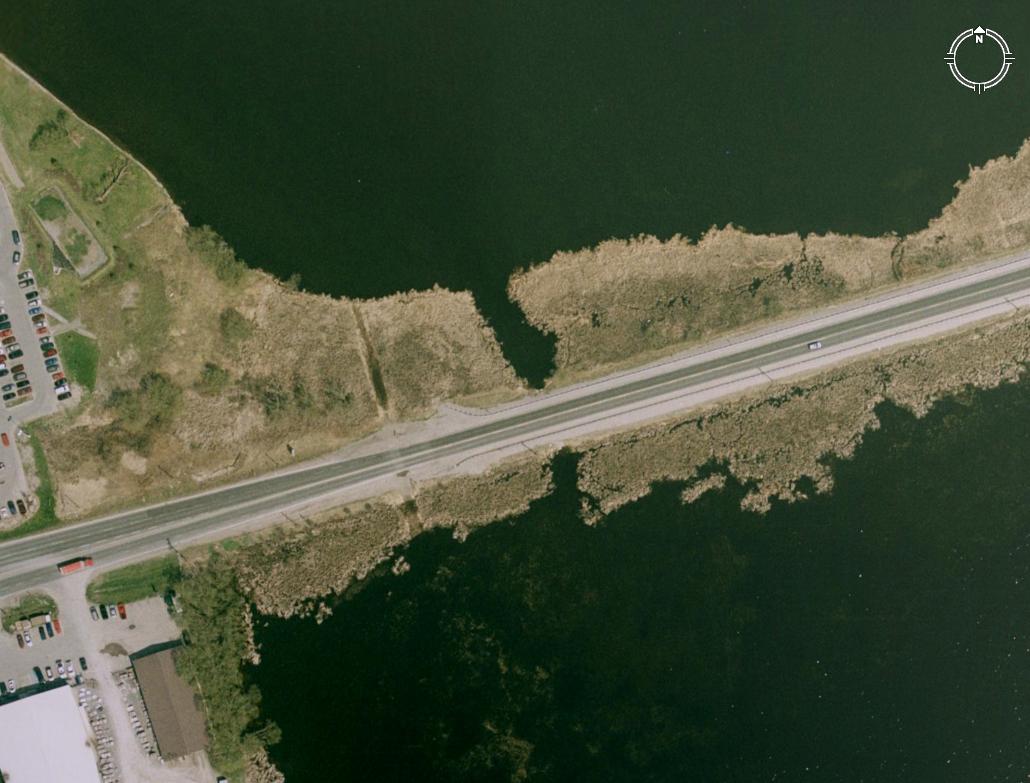 I am not at all certain that access to the marsh can be gained under the highway 7A bridge. From Google Earth the opening seems narrow. We know we can navigate a twelve-foot culvert , but just how wide is this one? Or worse, is it several smaller culverts?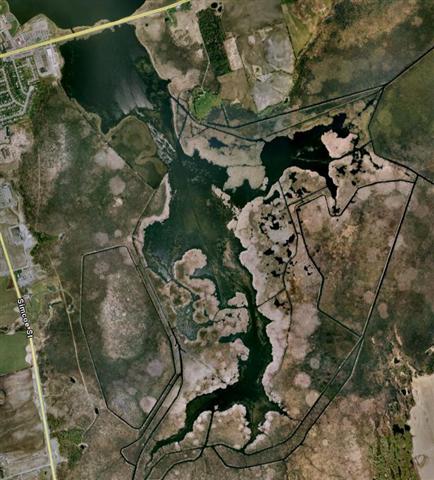 Once into the marsh area there are numerous bays and, presumably, some wild life.
Second thought: What if this is a protected/prohibited area?
Short Term Forecast Updated: Saturday, April 25, 2009, 5:00 EDT
 

Saturday

Morning

Saturday

Afternoon

Saturday

Evening

Saturday

Overnight

 

 

Cloudy periods

Chance of thunder- showers

Chance of thunder- showers

Light rain

Temp.

16°C

24°C

17°C

14°C

Wind

SW 20 km/h

SW 30 km/h

SW 20 km/h

N 15 km/h

Humidity

70%

57%

83%

94%

P.O.P.

20%

40%

70%

80%

Rain

-

less than 1mm

1-3mm

2-4mm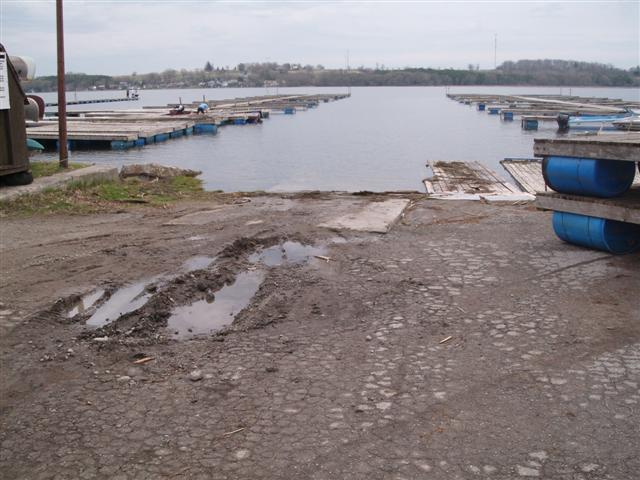 On arrival we checked out the drop-in near the marina. It is better than it looks, although parking is limited, and could be a problem in mid-summer.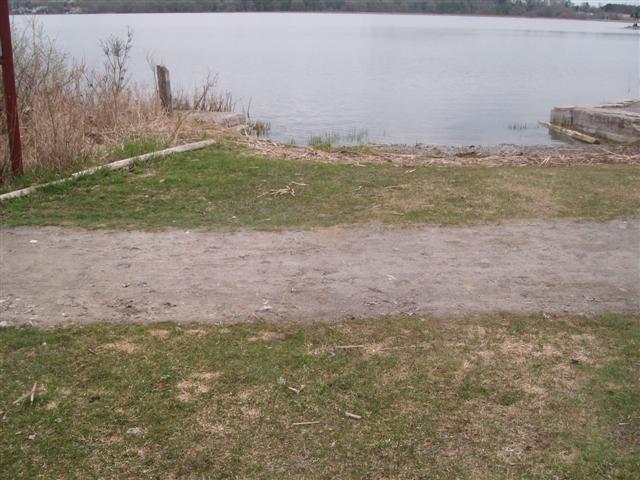 Here is a drop-in near the tennis-courts, and we used this. Parking is better. The drop-in is a natural spot, augmented with straw the day we arrived. We figured that launching from here reduced some of the cross-lake travel to reach the bridge.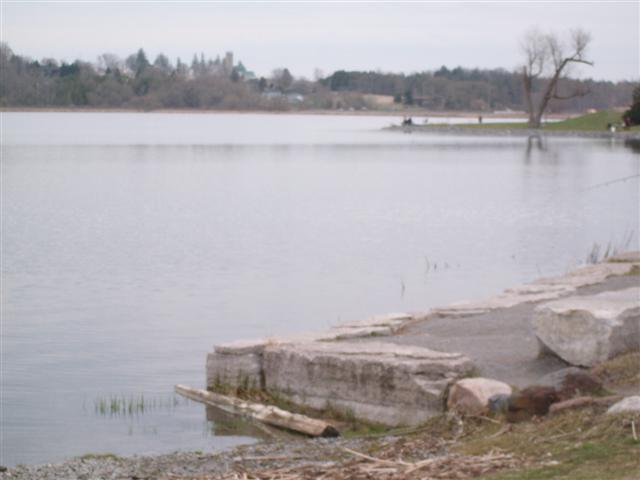 Here is a view from the drop-in, past the supermarket point, towards highway 7A streaming east, across the lake and up the hill.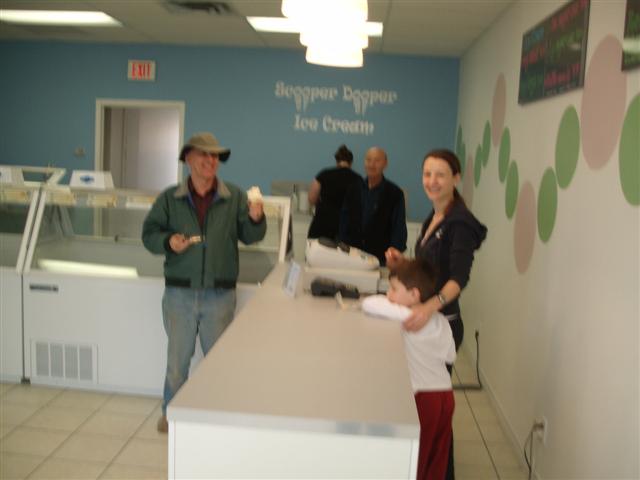 See how shaky you get when you haven't had an ice-cream? Me, I'm smart; I walked right in and asked "Are you open?" at 10:00 a.m. The nice lady assured me that they were open and that I was their first customer. She meant it, too. The had opened this new business just minutes ago, and I was their very first customer. Ever! I watched as cardboard lids were peeled off about two dozen 11-litre tubs of ice-cream, but Fred rolled up and killed that idea. They made me throw a coin on the floor, so I tossed a toonie behind the pop machine. Later in the day I retrieved the toonie and bought a round of ice-cream.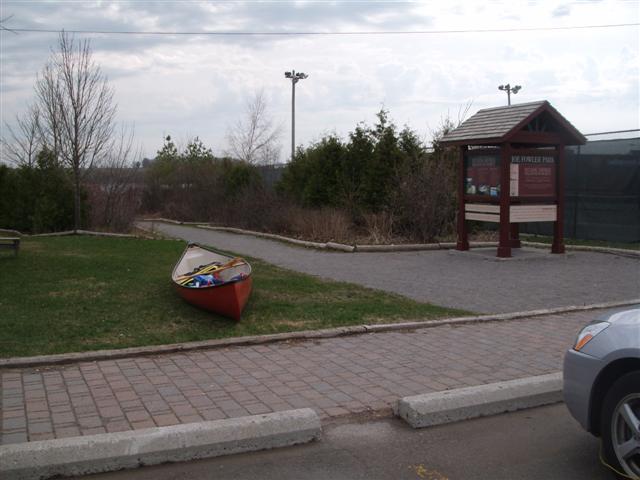 Here's the canoe, ready to be ported twenty yards down the little path to the drop-in.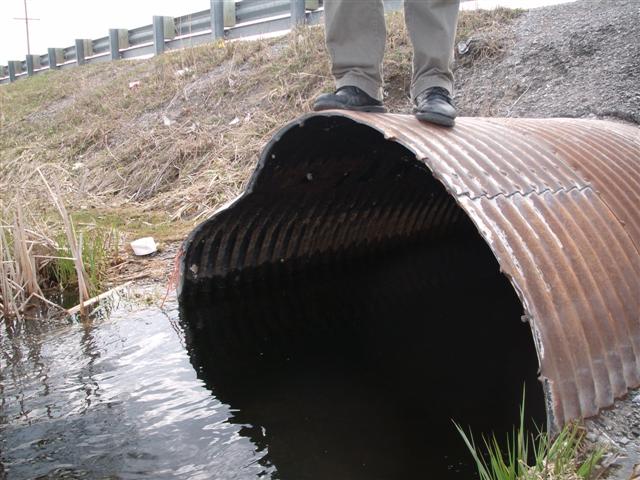 We paddled across the foot of the lake, and were dismayed to find that here the northern (or "big-lake") end of the outlet is a six-foot culvert. We discussed the possibility of "handing" our way through, but a quick inspection revealed a murderous dip in the ceiling, so we resigned to portaging the canoe and its contents across busy highway 7A. Basically we re-enacted the scene from the Frogger-episode in Seinfeld .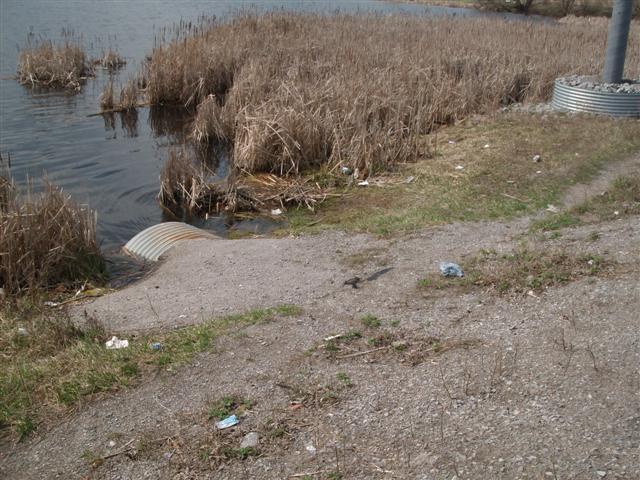 The southern (or "marsh") end of the culvert is worse. A strong current is making a whirlpool at the right-hand side. Very limited parking is available on the shoulder of highway 7A, but I'd not risk getting towed.
There are two miniscule "No Trespassing" signs, but unless they have an official by-law number on them, we figure that they are posted by sourpusses. A genuinely protected nature reserve has a large and detailed sign describing the area and advising of restrictions in a formal manner.
The rafts of plastic water bottles are more likely to cause harm than two guys in a canoe.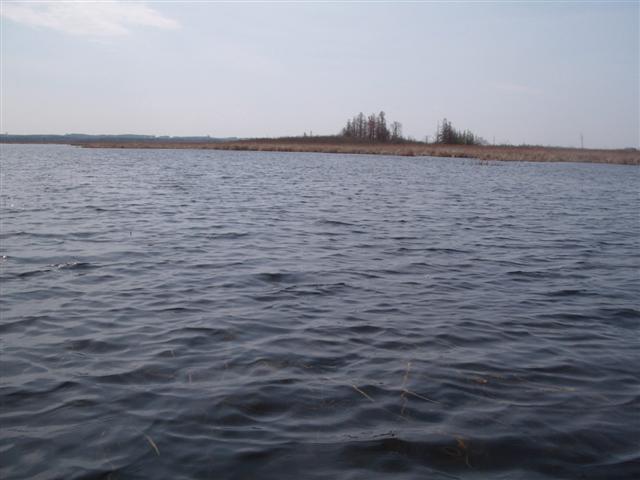 We set off southwards to explore the reed beds.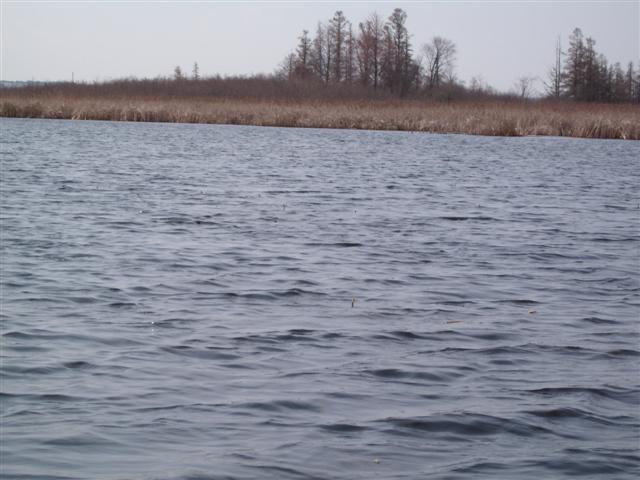 This is not a scenic trip; it is more of a been-there-done-that close to Toronto. The zoom image shows the dried-reeds that line the shores. Forget about getting out onto a bit of land to stretch; there is no dry-shore, as far as we could see.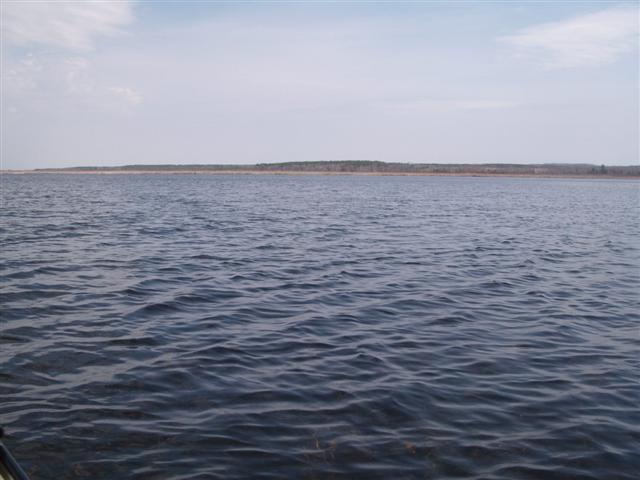 Veering towards our left, eastwards, we aimed for the longer southern leg of the lake.
We ran down to the southern end and found a half-dozen broken-down trees which offered us a brief excursion from the canoe, but nowhere big enough or level enough to lie down.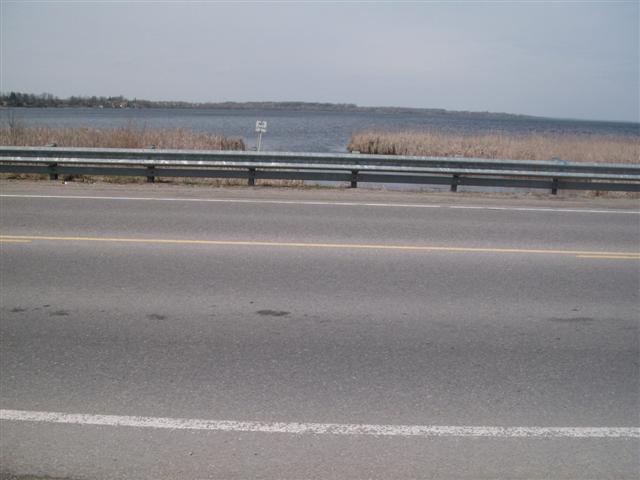 The southerly breeze kicked up to a wind on the way back. We were glad to have it at our backs.
Here is a view of our first portage, looking across highway 7A to the north.
The sign says "No Littering", but is so small that people traveling at 80 Km/hr can't read it, hence, I suppose, the matted beds of plastic water bottles.




Loading





416-993-4953 CPRGreaves@gmail.com
Toronto, Wednesday, October 14, 2015 3:57 PM
Copyright © 1996-2015 Chris Greaves. All Rights Reserved.