416-993-4953

32 Grenville Street M4Y 1A3
Black River - Saturday, April 24, 2010
Black River empties into Lake Simcoe near the town of West Sutton. We drove up Highway 48 out of Markham, through West Sutton and doubled back half-a-mile to Dalton Road.
There is a south-bound dead-end, with parking, and a short drop down to the river.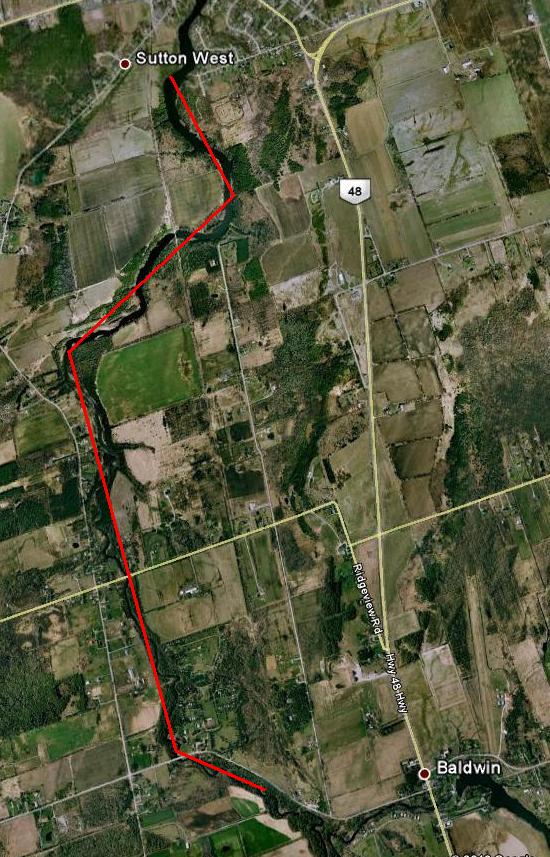 "Best" is qualitative, a combination of short drive, scenery, weather and so on, but Fred and I agree that this is one of our better trips.
We have made this trip before , and chose it for our first-trip-of-the-season because it is a guaranteed Good Trip and I had an appointment back in town at 4:00 p.m.
From the Finch subway station to the launch spot is a tad under 60 minutes; not bad when you consider the beauty and peace of the place.
Below is the view as we set off upstream. Cleared land is to our right, but to the left is the promise of tree-lined banks.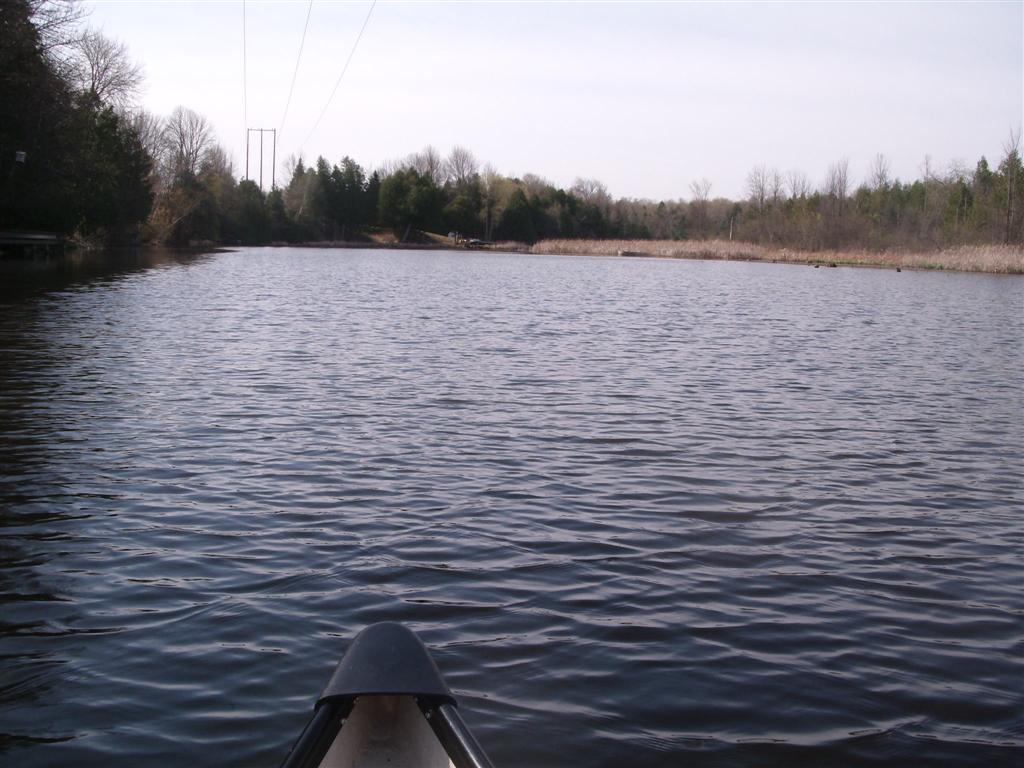 We had a warm breeze up from the south as we started off Ė ideal conditions in that we are paddling upstream into the wind, so we can go as far as we want and return with the current and a tail-wind.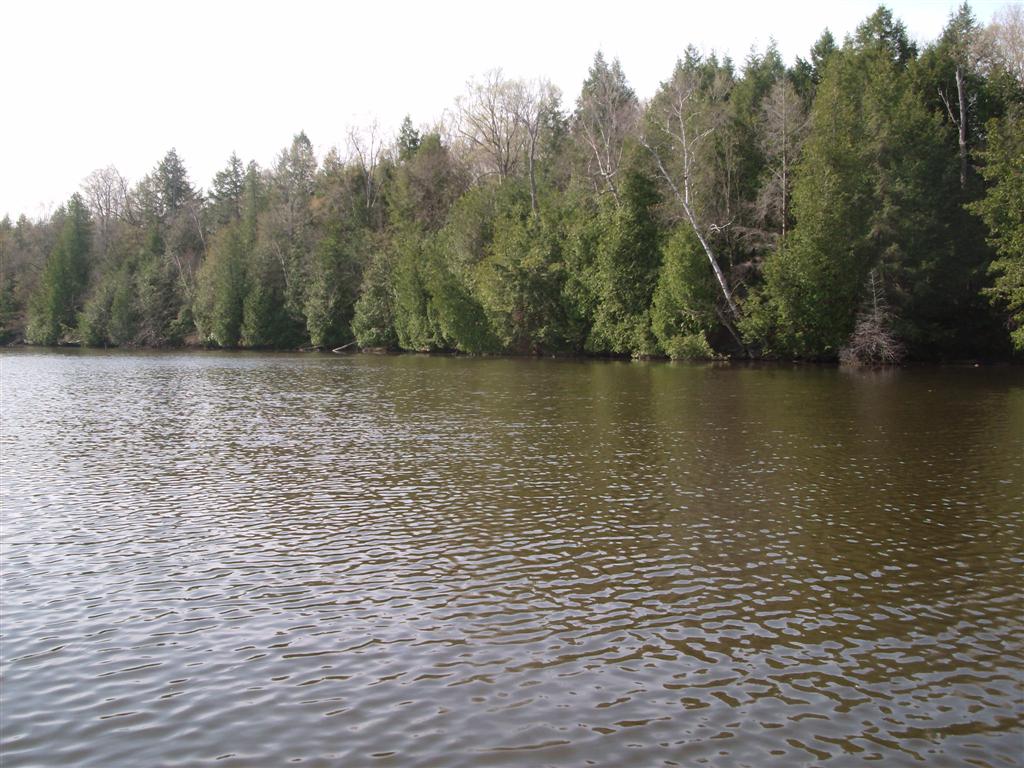 Algonquin park it is not, but the tree-lined banks are restful to the eyes and the land supports a satisfying variety of wildlife, especially birds and turtles.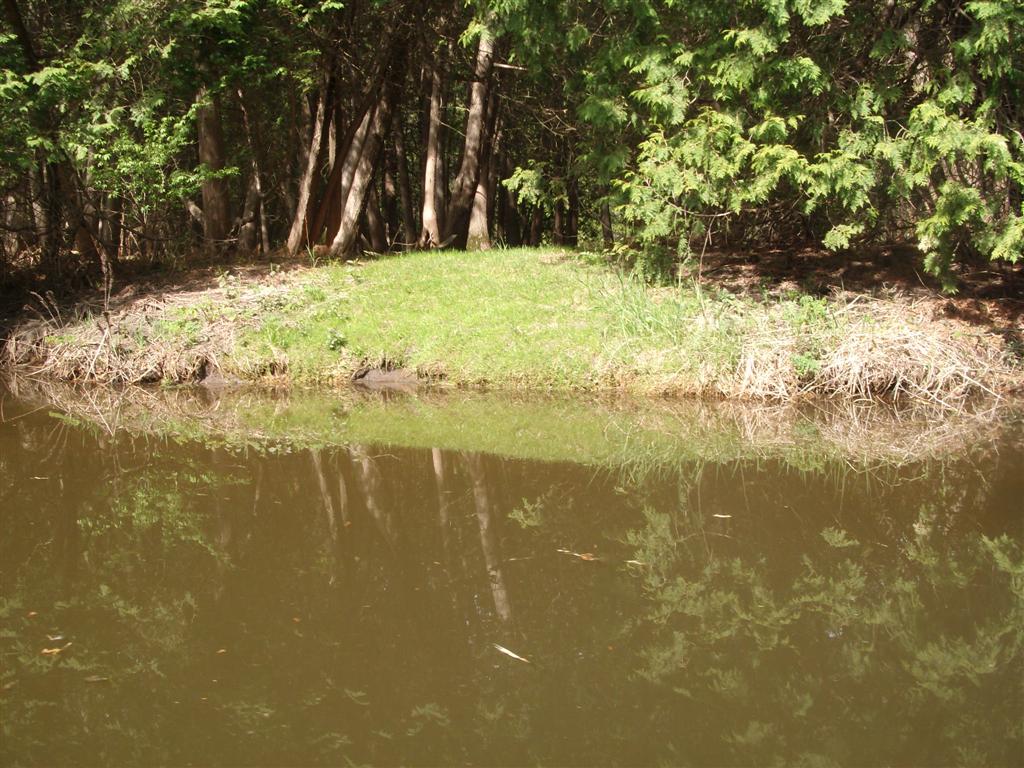 Every few hundred yards we spot a grassy bank, ideal for lunch, so every hundred yards or so another argument breaks out as to whether we should stop for lunch, hunt for a better spot, or wait and pick up that really good spot on the way back.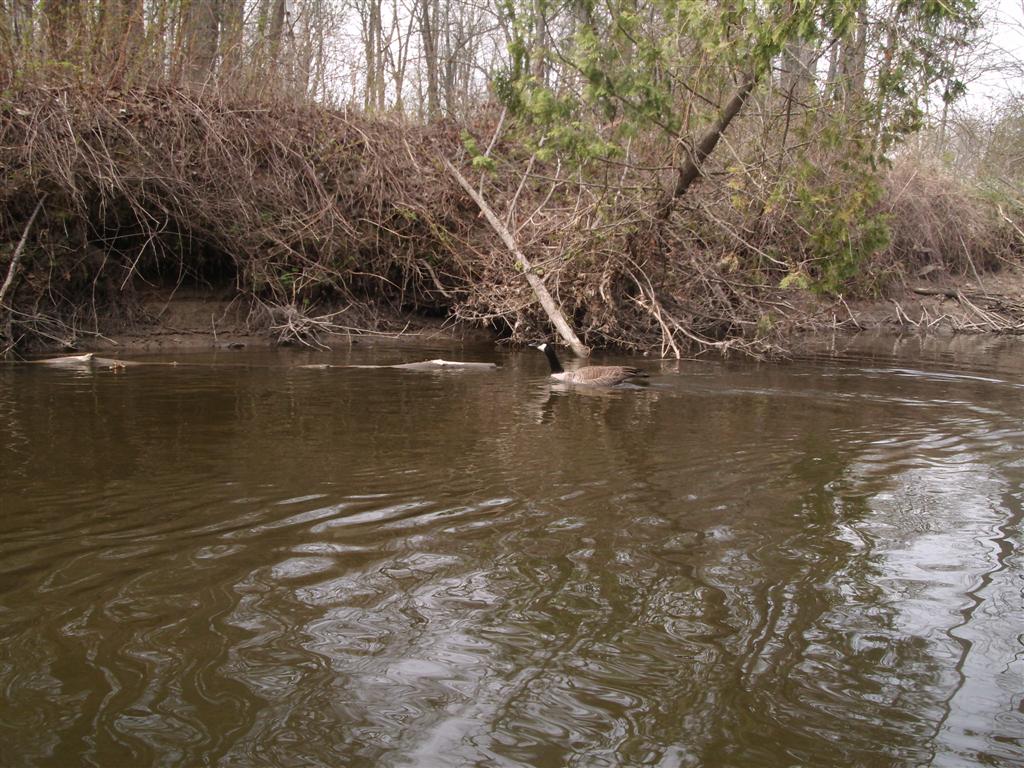 Plenty of Canada Geese. Nesting season is upon us, and they upon their nests. We were warned off several spots with raucous honking.
This silly goose made wide circles, paddling at a feverish rate.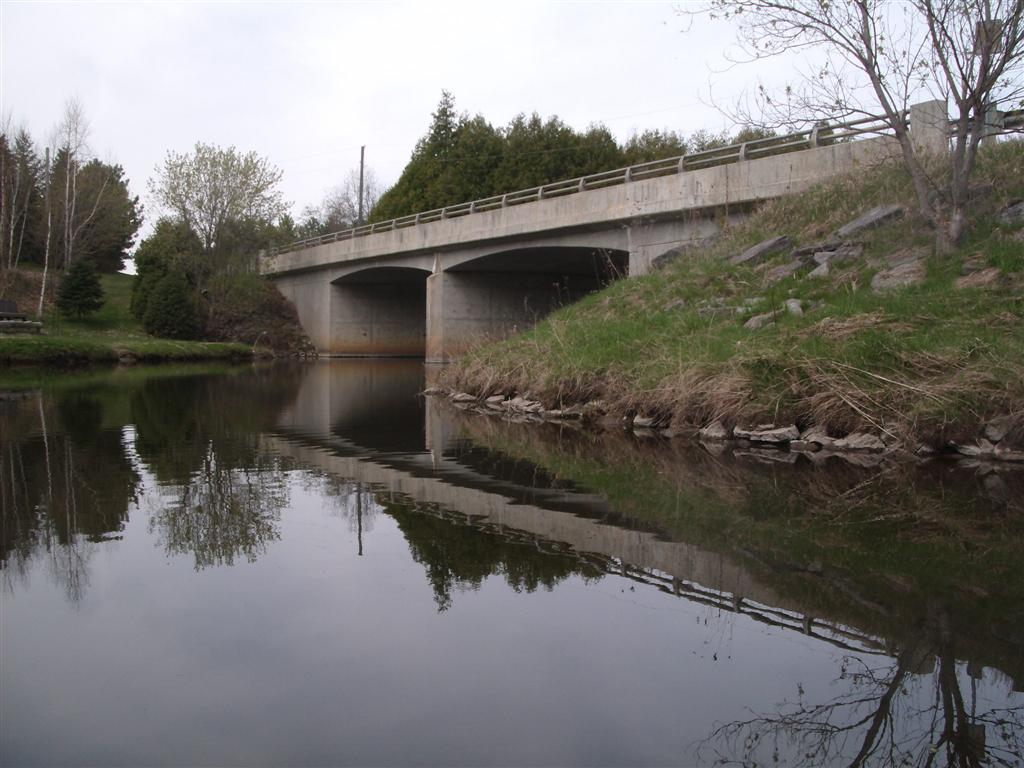 We collected four bridges on this trip, and the first three are documented here .
Above is a photograph of the Baldwin Road bridge, taken from upstream on our return trip.
We had negotiated several wads of fallen timber and brush but were stopped by an impenetrable mess (and a colossal failure of nerve on our parts) just shy of the railway bridge that runs across Baldwin Road a couple of hundred yards west of 8th Concession Road.
Were it not for that we might have reached the foot of the weir in Baldwin , which would allow us to boast that we had accumulated the entire Black River.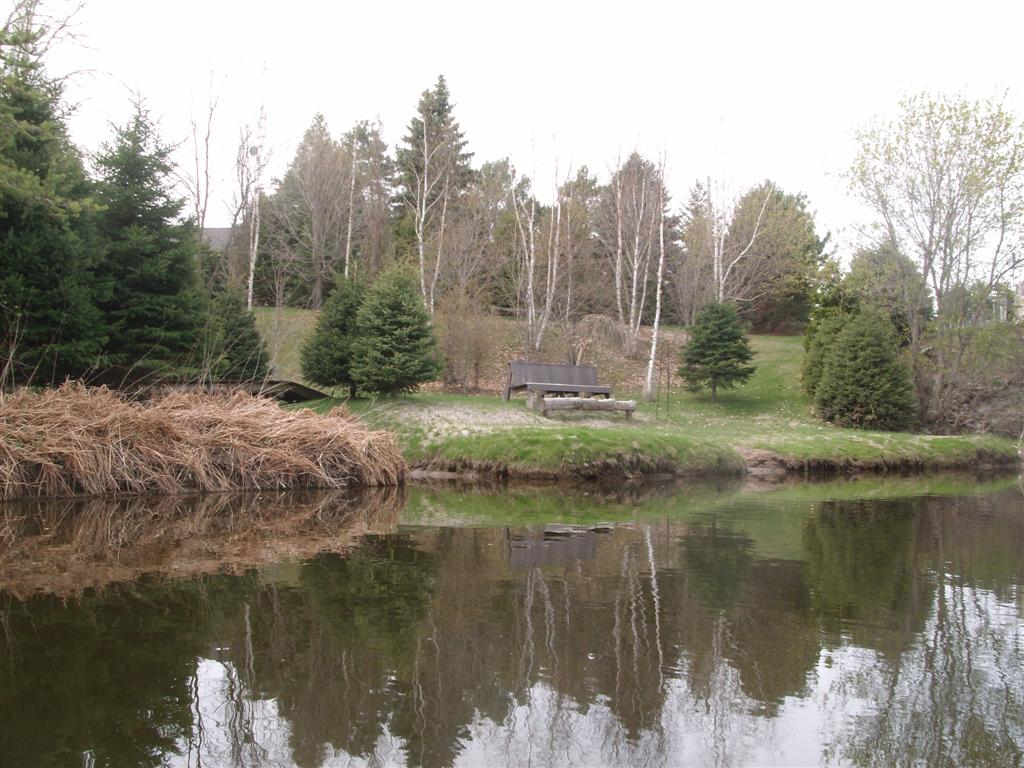 Peeping in at the left of the previous photo is a bench; here it is in full glory.
It is built to what appears to be double-scale Ė fit for a giant.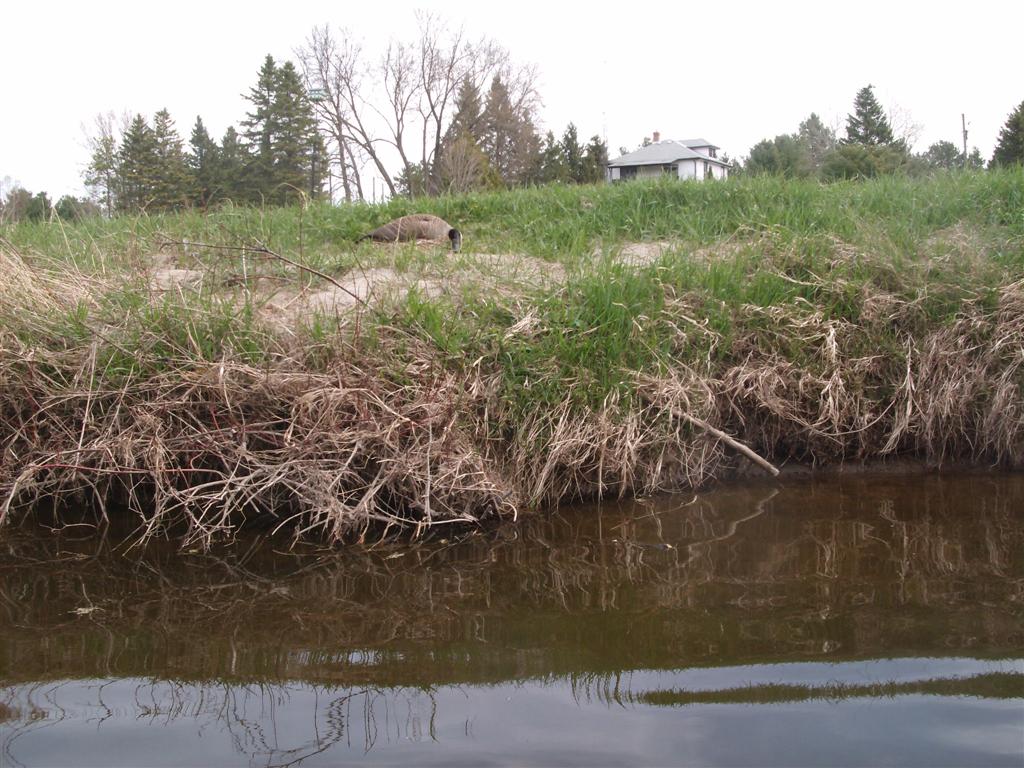 We came upon a nesting goose, and Fred paddled quietly closer while I took shots.
Sadly my zoom-rocker switch fell off my camera while we were on River Lane , so I couldnít zoom in for a close up of the neck-down angry glare.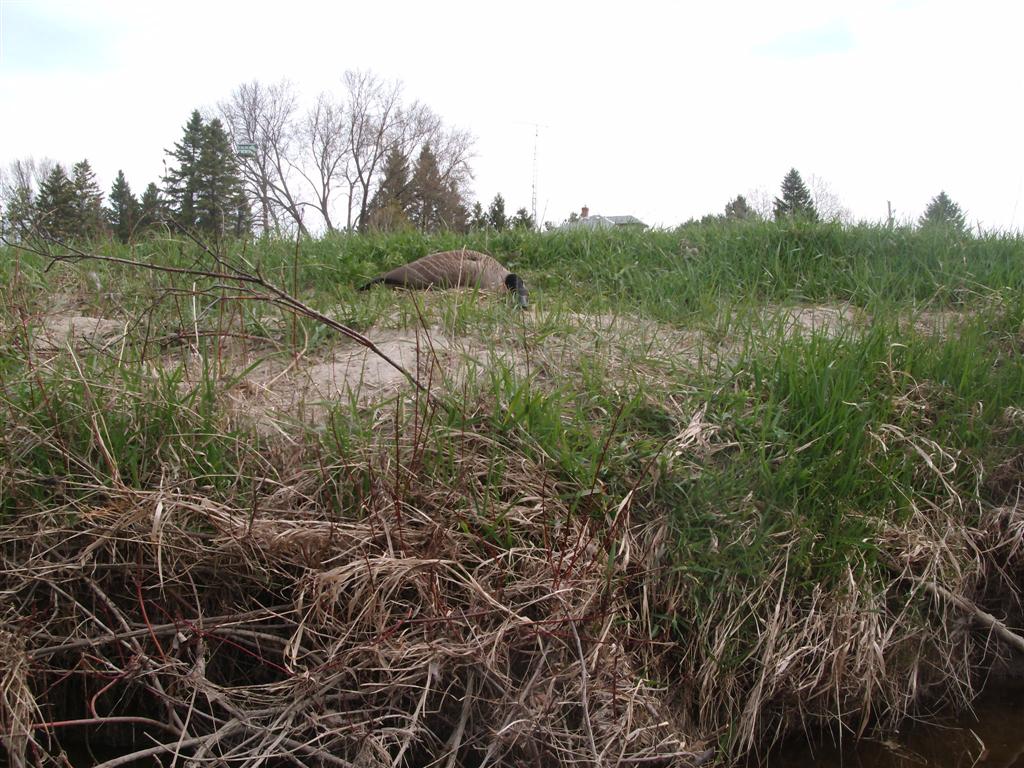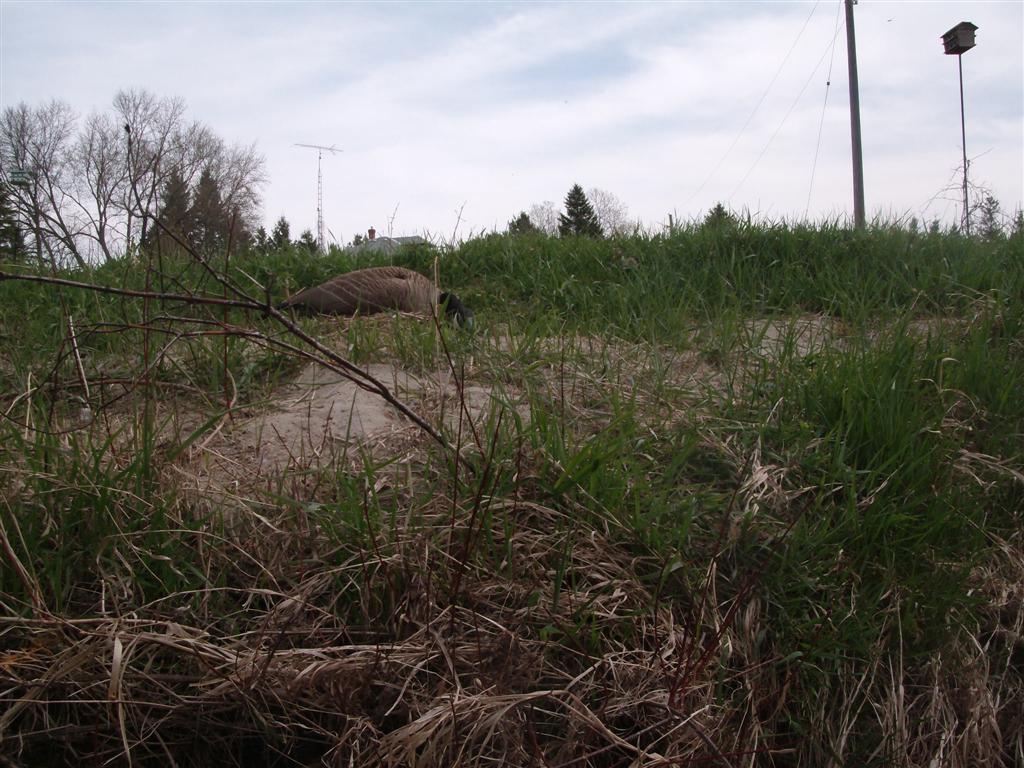 Who sits on the nest? According to this site the female sits while the male stands guard.
There was no sign of the male as we approached; what a piker!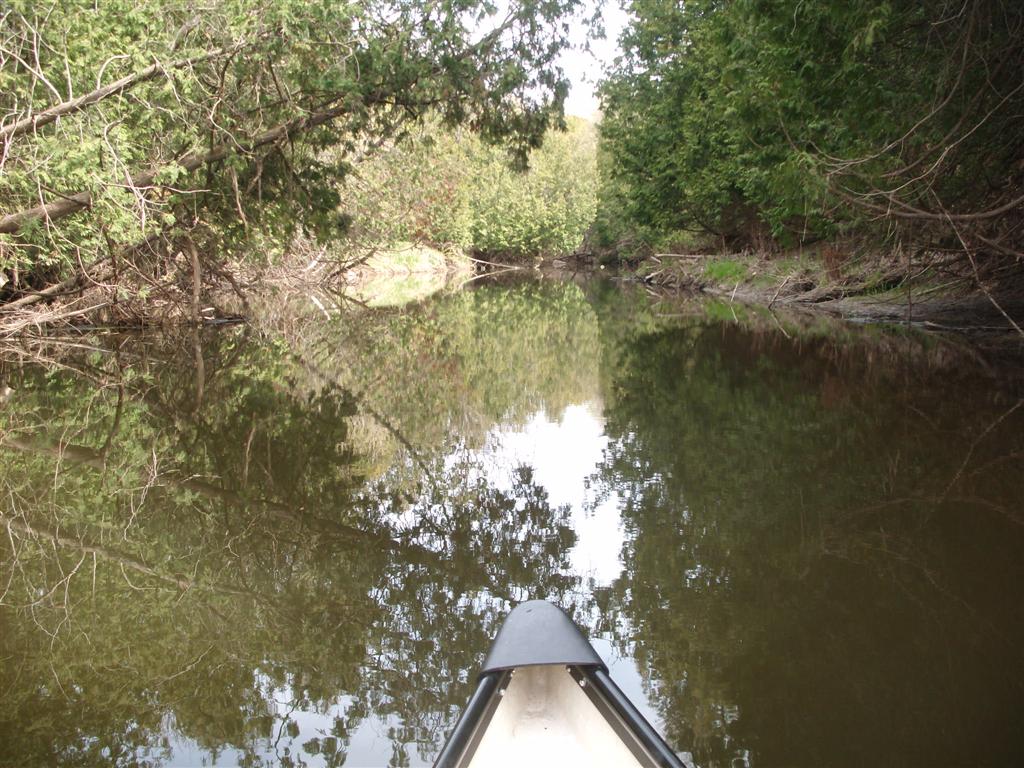 Our trip back started off in the narrow sheltered upper reaches of this stretch of the stream. Glassy water; the trees sheltered us from most of the noise of human habitation.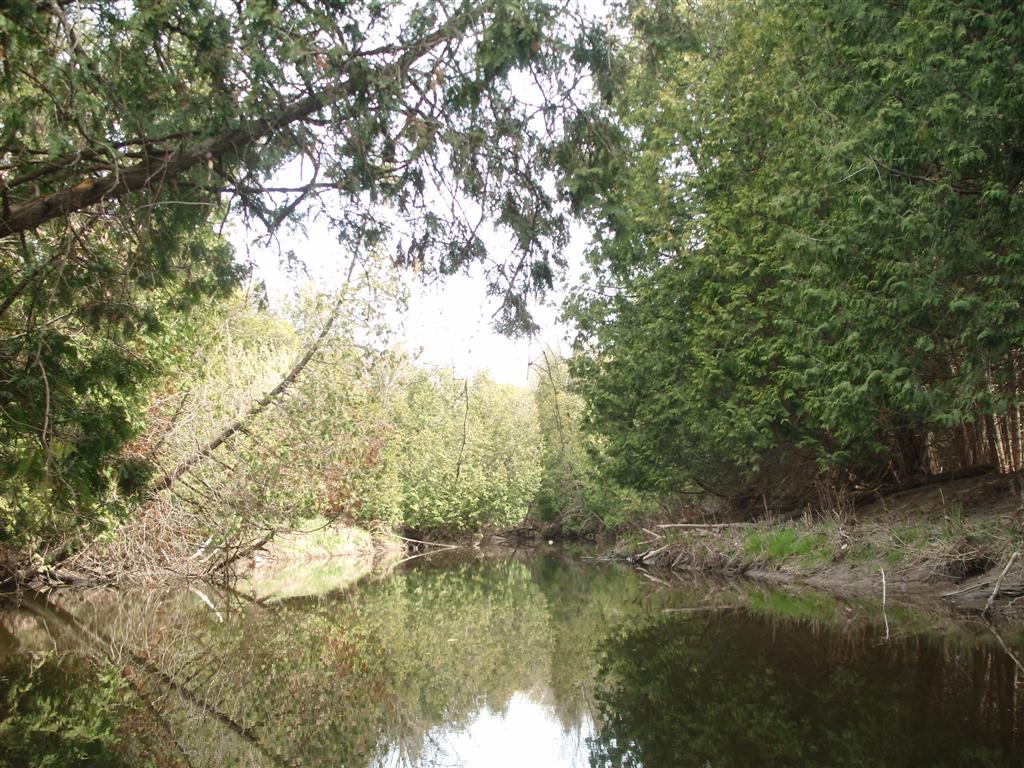 The river runs through farm country, cleared and working land, but for the most part the trees have been left to form a wall each side of the river.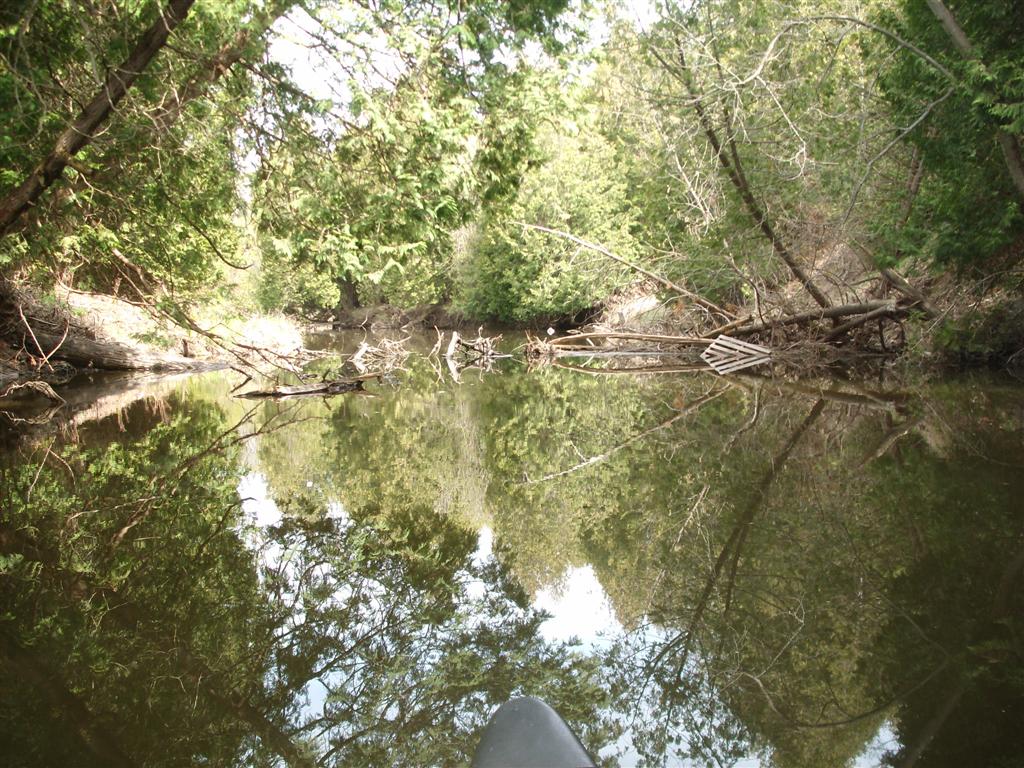 Here is a typical fall of wood that Fred navigated.
I get to sit and watch.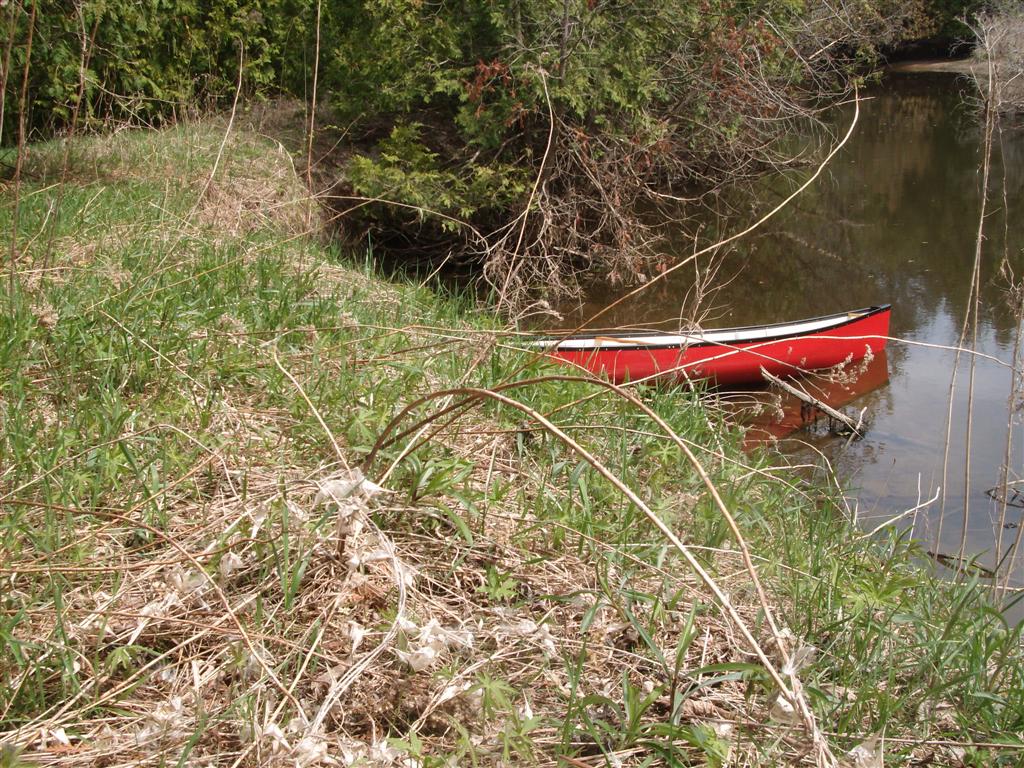 Here we are pulled up on the bank for lunch. ďBig RedĒ has been wedged into a patch of mud, for the current at this point has picked up before dying altogether as it hits the lake above the West Sutton weir.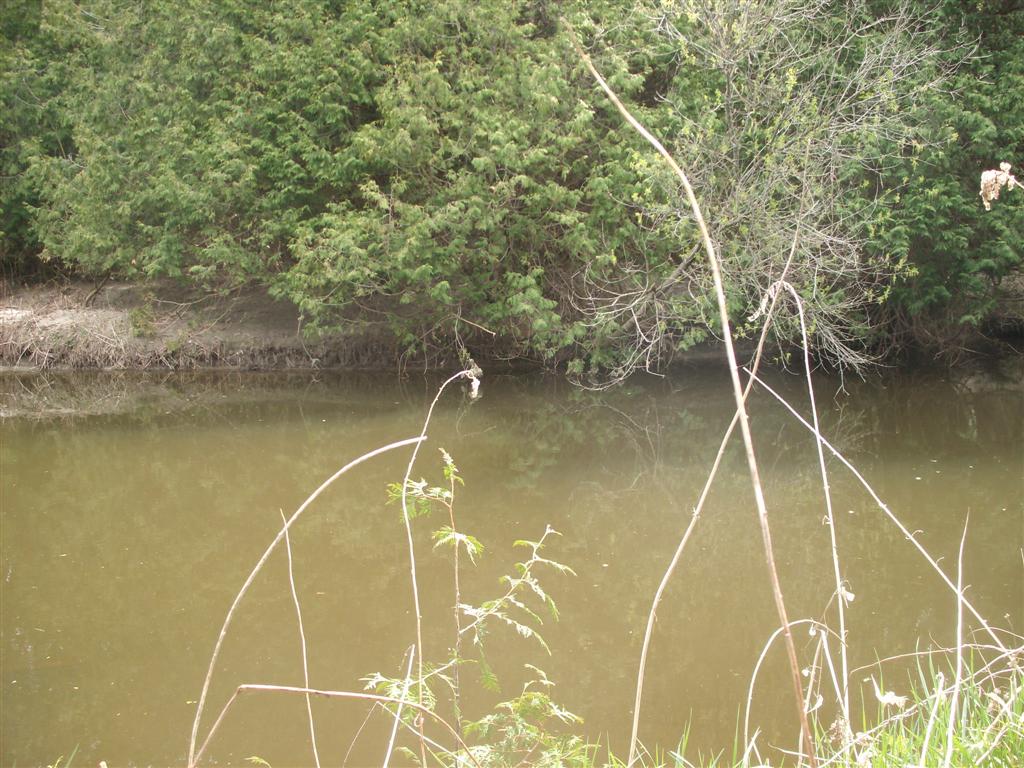 This view is taken from our lunch spot looking across the river. The water is filthy-brown muddy when viewed from this angle, but once in the water we could see detail, as the next image shows.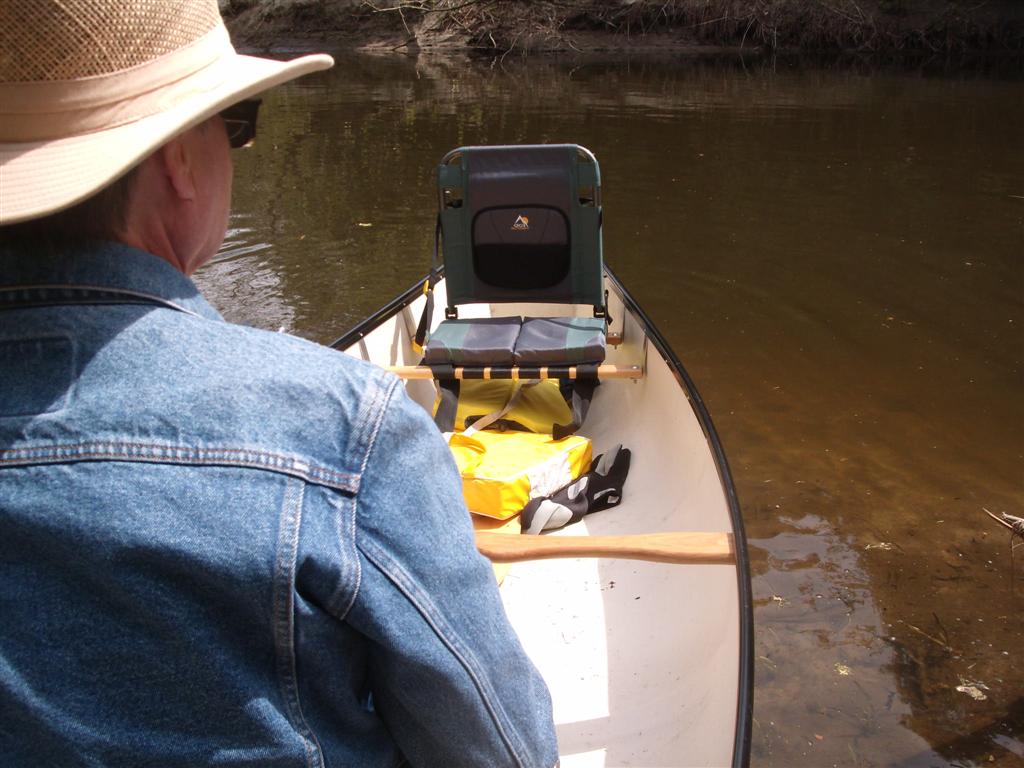 Fred installed one of his Christmas Presents, so I made him vacate it while I took a photo.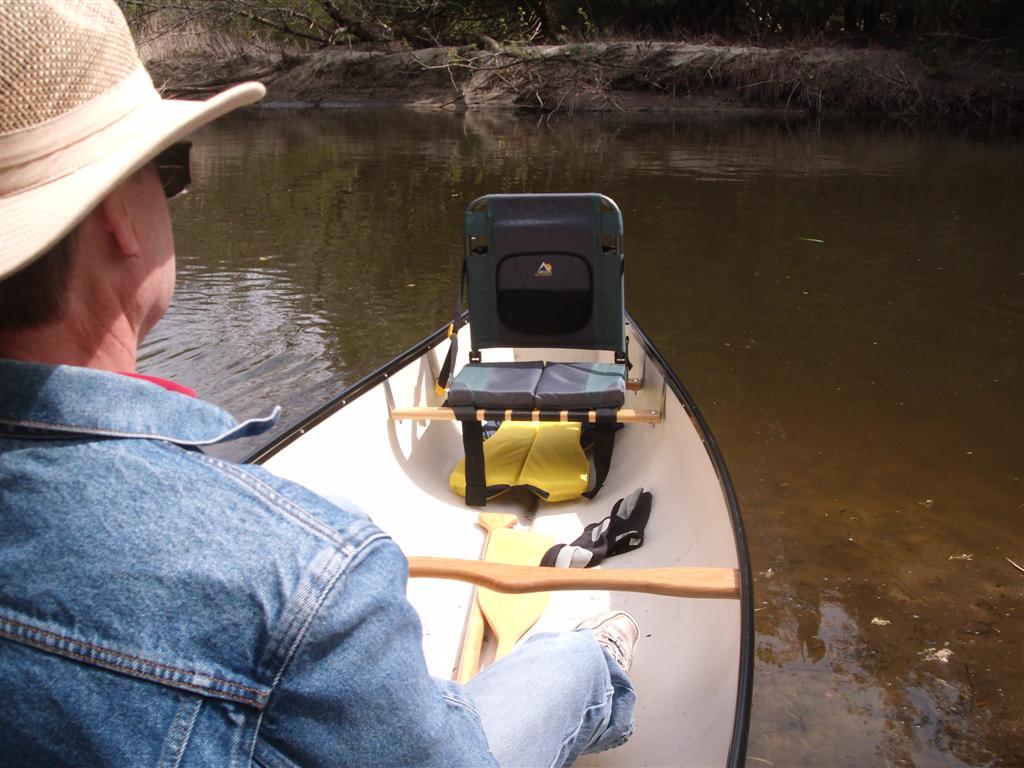 Here is a better view of the seat, but I failed to get in all of fredís cowboy hat.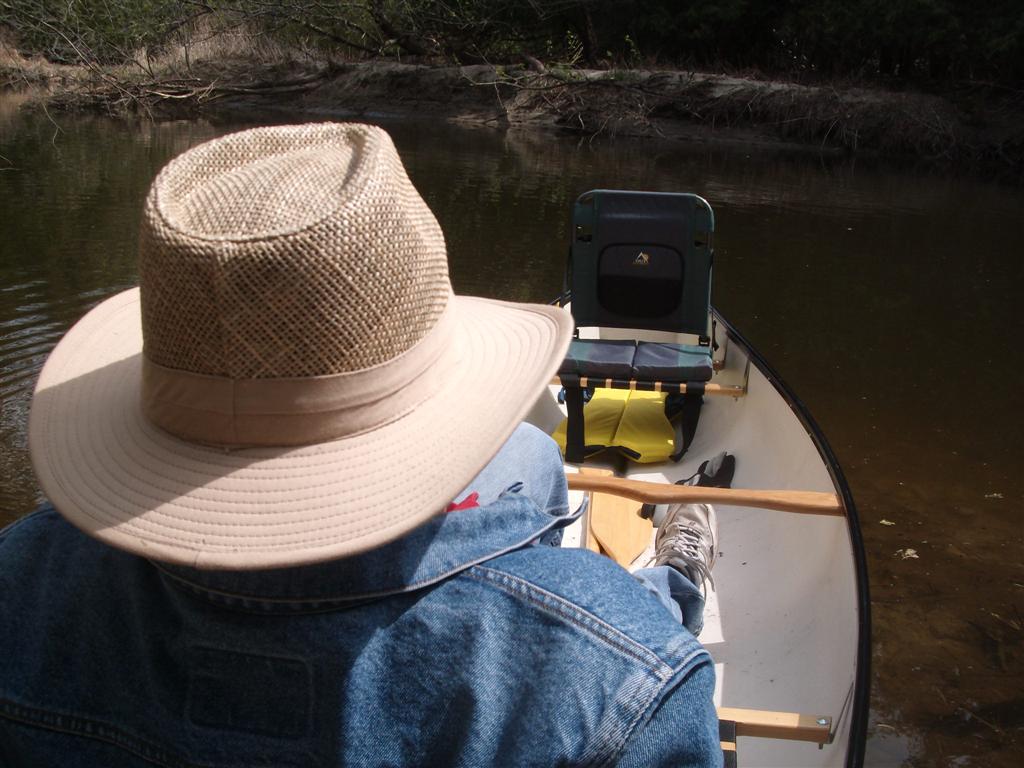 Here we go. Fredís hat!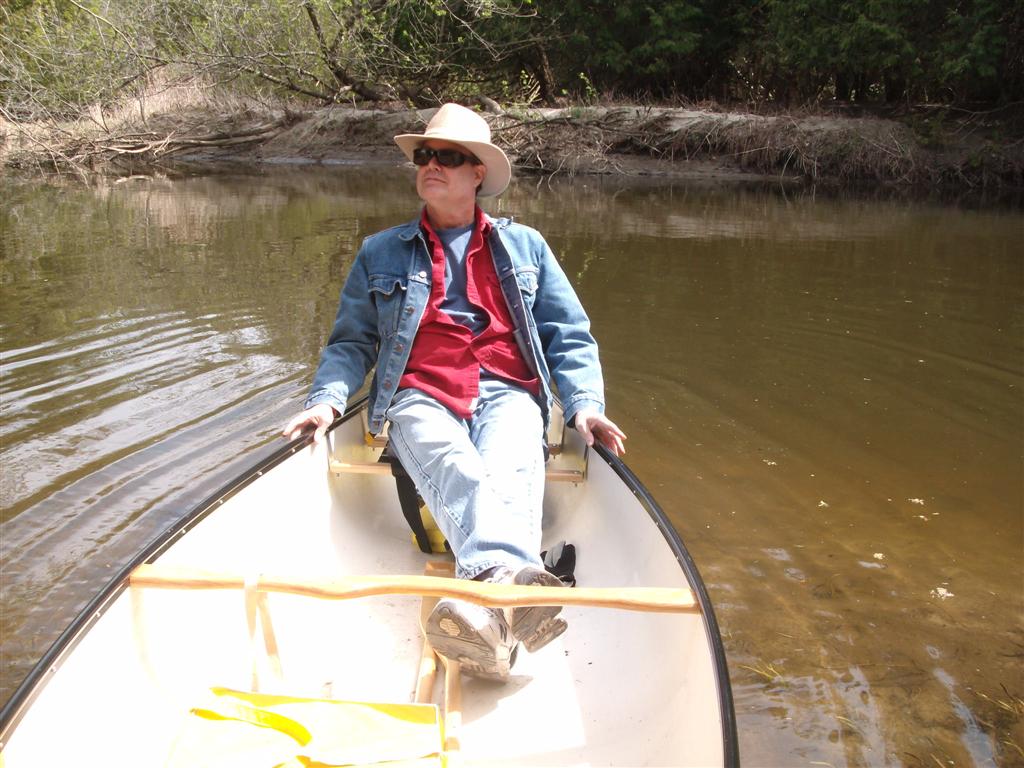 And here is another shot of Fredís hat, with Fred underneath it, leaning back in his back-rest canoe seat.
He didnít invite me to try it out, though. (sniff!)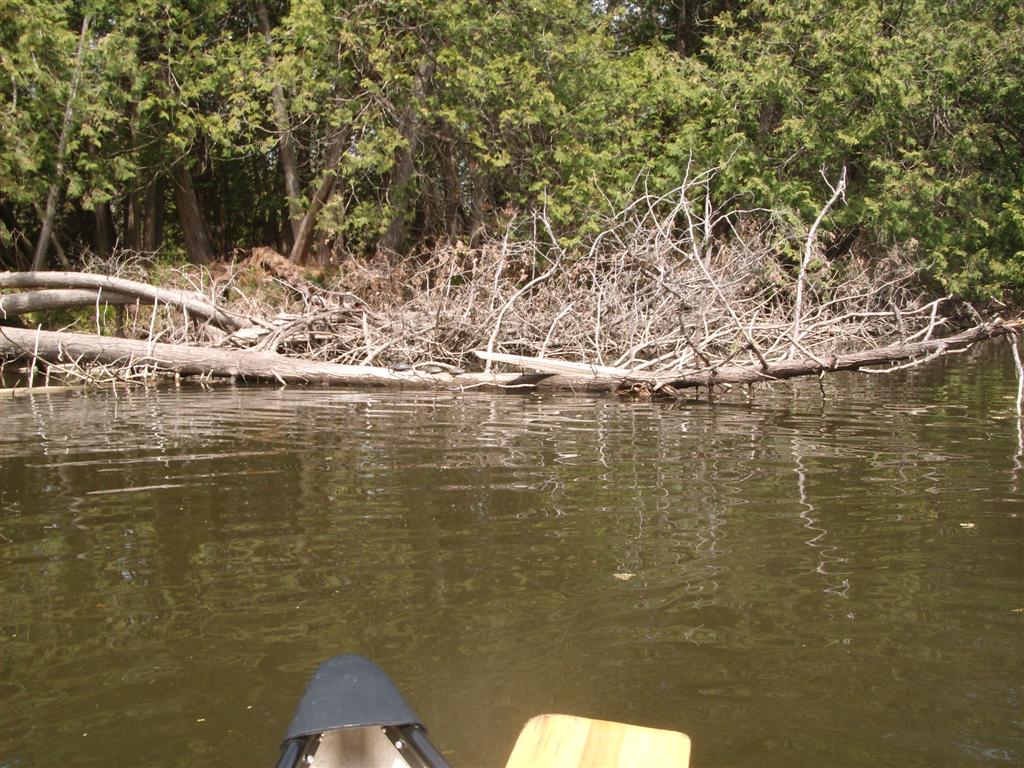 Here are three turtles lined up on a log. As we approach they slip off, plop!, one by one into the water on the far side of the log.
We didnít count, but we must have seen at least two dozen turtles this day, all sunning themselves.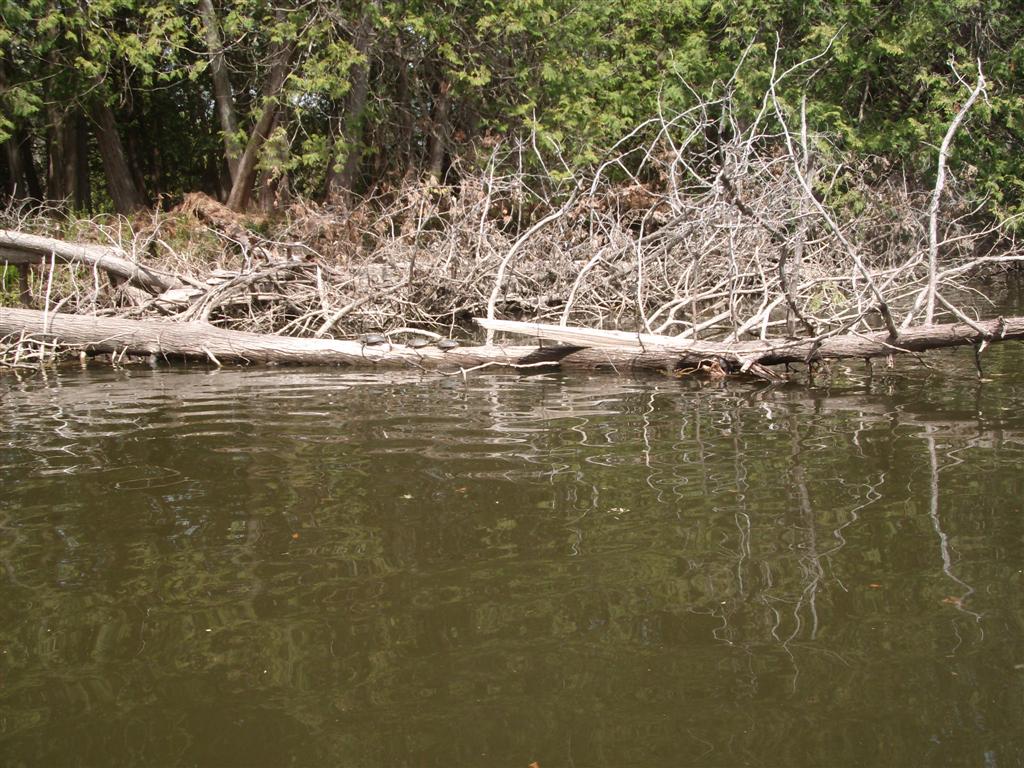 I had to make use of the Fred-paddle zoom feature for these shots, too.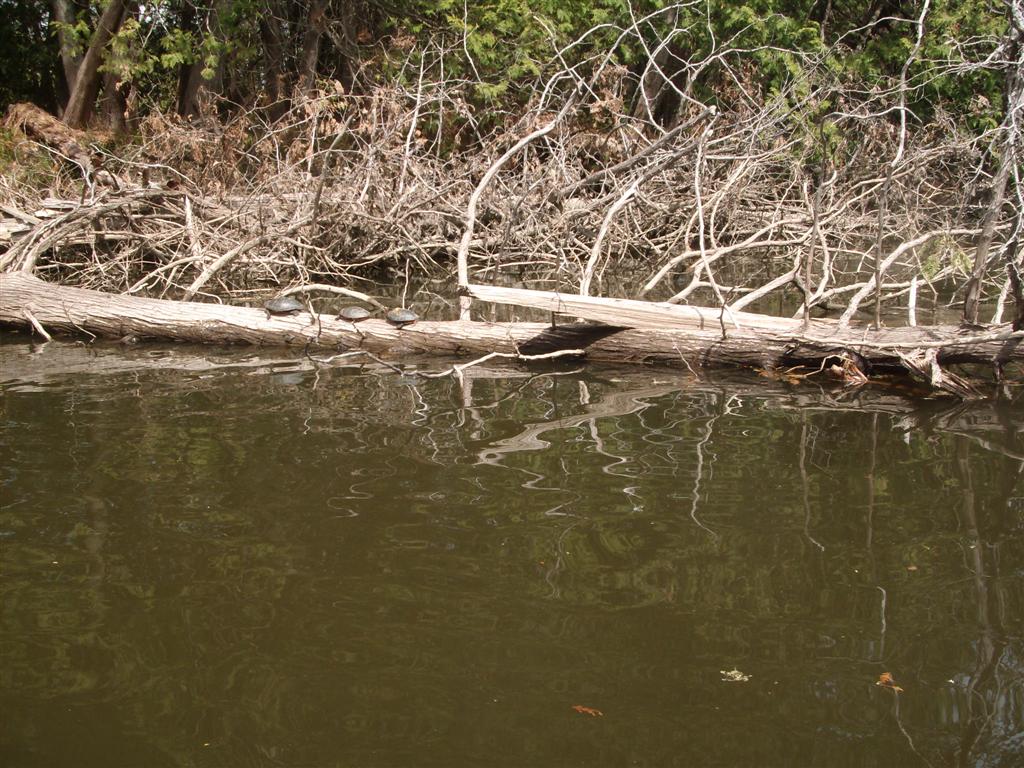 We had a close-up view of a Blue Heron, swooping right past us as it took off from the reed beds.
A kingfisher entertained us with his noisy calls as he flew up and down the river.
As well we witnessed several loud splashes in the reed beds. Fred thinks they are alligators, but I think heís mistaken. They are surely crocodiles!




Loading





416-993-4953 CPRGreaves@gmail.com
Toronto, Thursday, September 14, 2017 1:25 PM
Copyright © 1996-2017 Chris Greaves. All Rights Reserved.